Home / All Recipes / Japanese / Enoki Crabstick Salad with Wasabi Mayonnaise Dressing
Enoki Crabstick Salad with Wasabi Mayonnaise Dressing
Super easy 15-minutes Japanese salad with crab sticks, enoki mushrooms, scallions, and outrageously delicious yet simple wasabi mayonnaise dressing.
My number one favorite Japanese salad is potato salad, the next one is either this enoki crabstick salad with wasabi mayonnaise dressing or sarada no gomae (salad with sesame dressing).
When I need a super quick and easy salad though, then this enoki crabstick salad is definitely the best choice. If you have everything handy, you can easily prepare this delicious salad in under 15 minutes!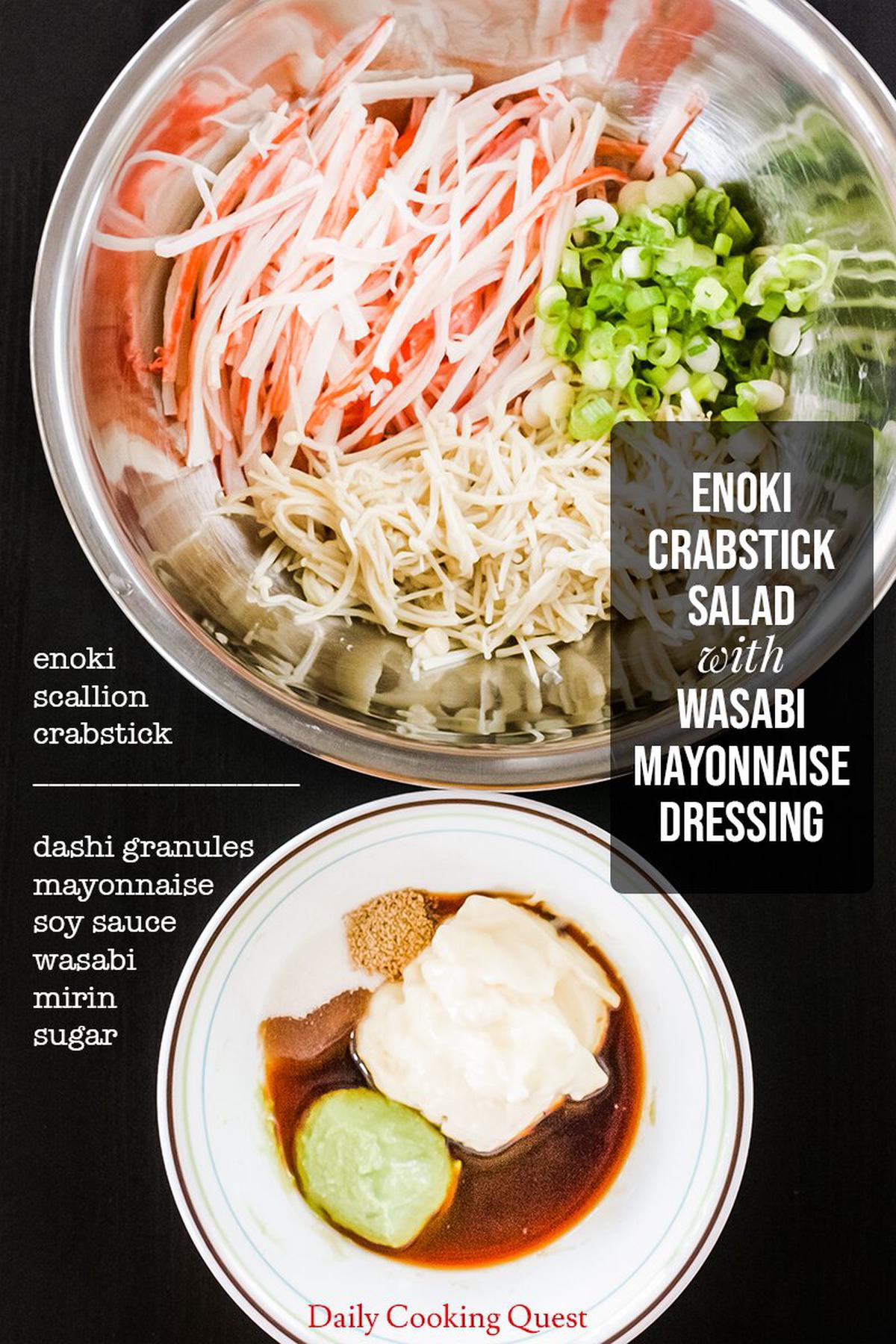 What you need to prepare enoki crabstick salad
For the salad, you need only three main ingredients:
crab sticks,
enoki, and
scallions.
The salad dressing needs a bit more ingredients, but not overwhelmingly so. You will need:
From my experience, all the listed ingredients shouldn't be too hard to come by. The only thing that could be difficult is enoki, you can substitute with shredded cabbage, or other salad greens of your choice.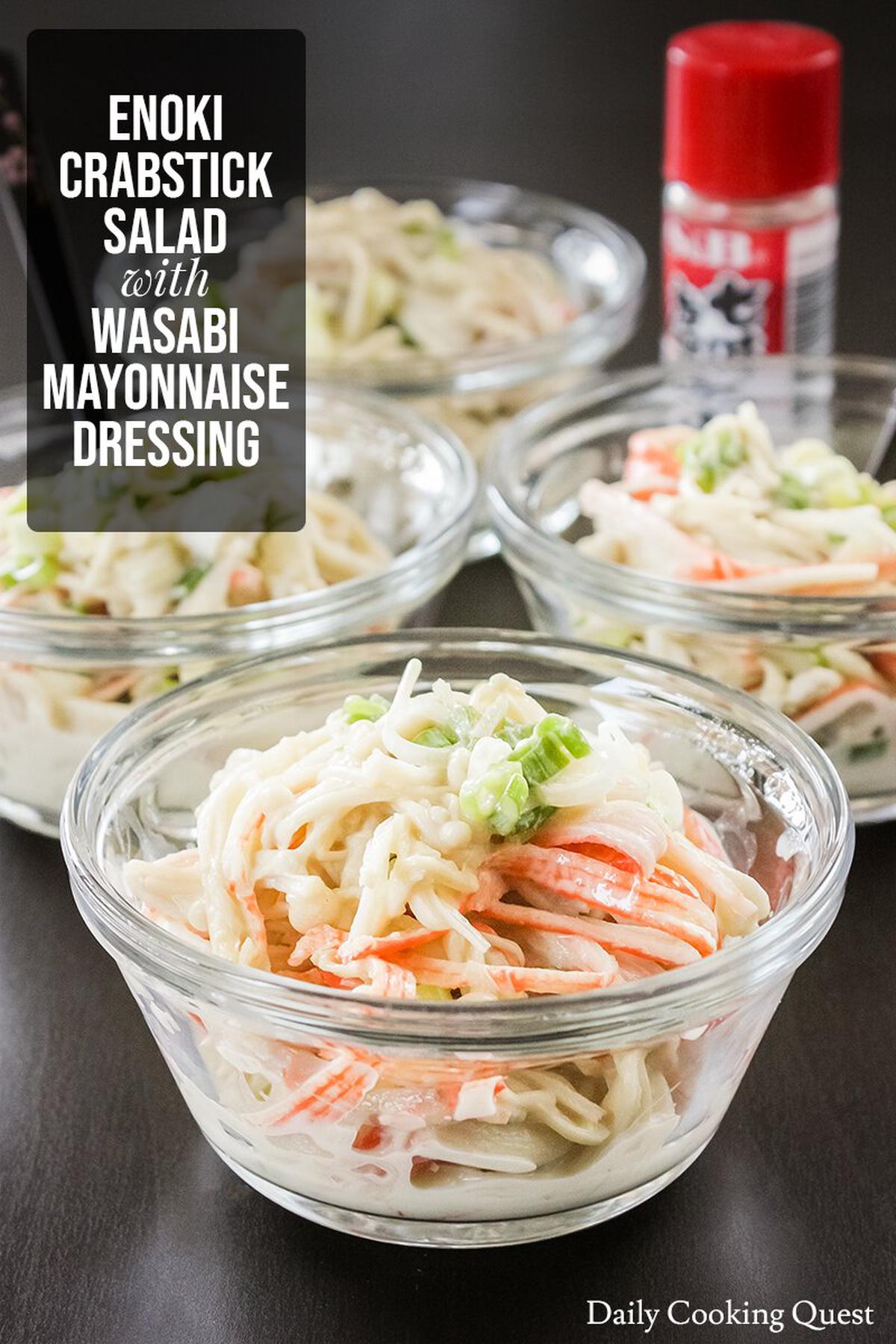 Preparing the Salad
The only cooking involved is to blanch the enoki, which if you are super lazy, you can kinda cook them in a microwave too.
Everything else is pretty basic, tear the crab sticks into shreds, chop the scallions, and mix the dressing.
To make the salad, just toss everything together so all the ingredients are coated with the sauce.
This salad is best served chill, so stick the whole thing in the fridge for an hour or two before serving.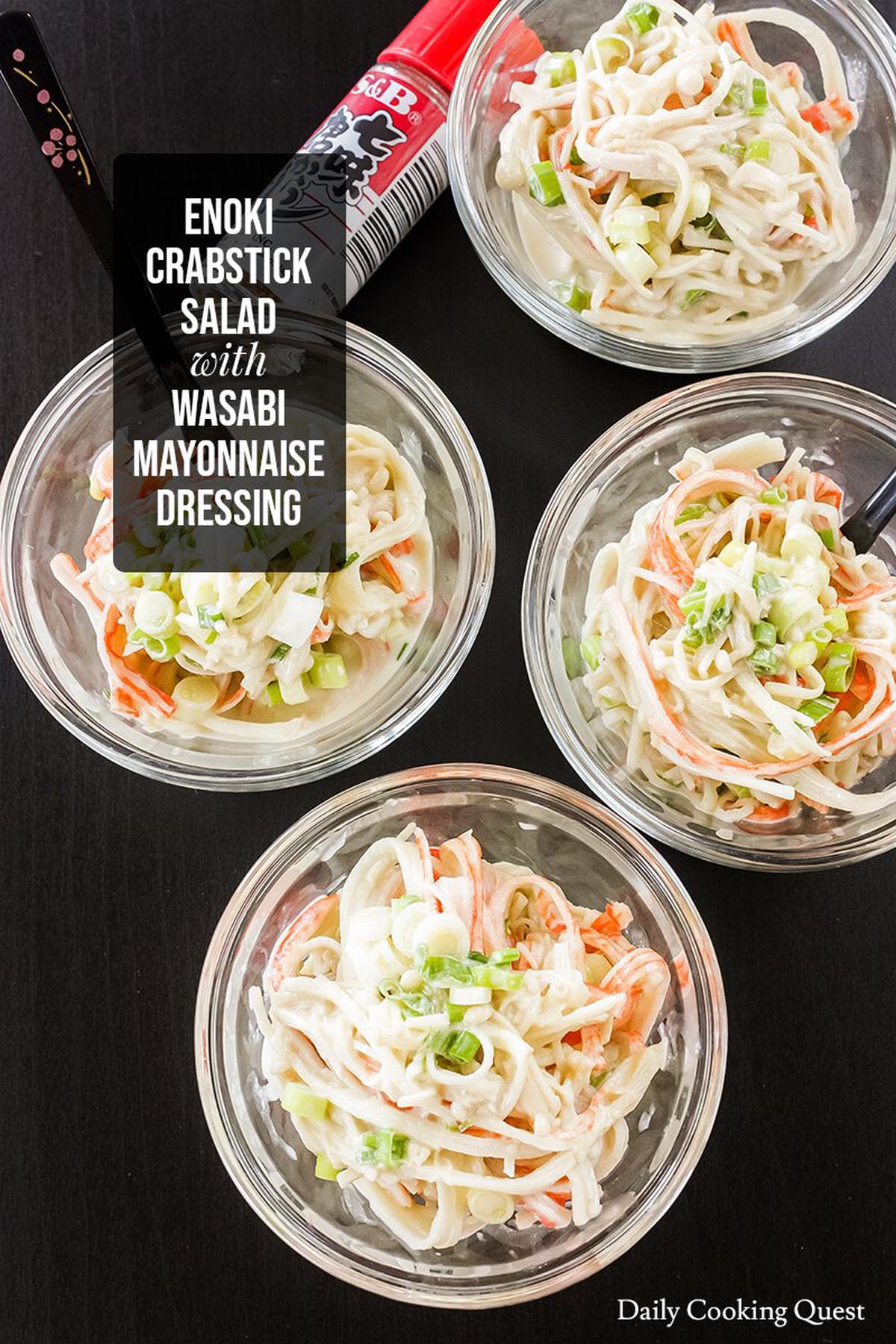 Enoki Crabstick Salad with Wasabi Mayonnaise Dressing
5.0 from 5 reviews
Ingredients
Salad
150 gram crab sticks, tear into shreds
1 packet enoki (7 oz/200 gram), remove root, halved, and blanched
2 scallions, thinly sliced
Dressing (mix the following together)
1/4 cup mayonnaise
1-2 tablespoon wasabi
1/2 tablespoon soy sauce
2 teaspoon mirin
1/2 teaspoon dashi stock granules
2 teaspoon sugar
Instructions
Toss the salad ingredients with the dressing to coat evenly.
Chill in the fridge for one or two hours prior to serving.