Home / All Recipes / Indonesian / Es Cincau Sirup Coco Pandan - Grass Jelly in Coco Pandan Syrup
Es Cincau Sirup Coco Pandan - Grass Jelly in Coco Pandan Syrup
You may wonder what to do with the canned grass jelly in your Asian market, but now you know you can have amazing grass jelly drink with little effort.
April is almost over, and the weather starts to feel a bit hot lately. Yay, we are finally almost done with the rainy season! Naturally, this makes me think of cold drinks and cold dessert all the time. One of the simplest drink/desserts that I can whip up is this es cincau sirup coco pandan, which has only 2 ingredients, cincau (grass jelly) and coco pandan syrup, unless you are counting drinking water and ice cubes too, which still make it like 4 ingredients, easy peasy.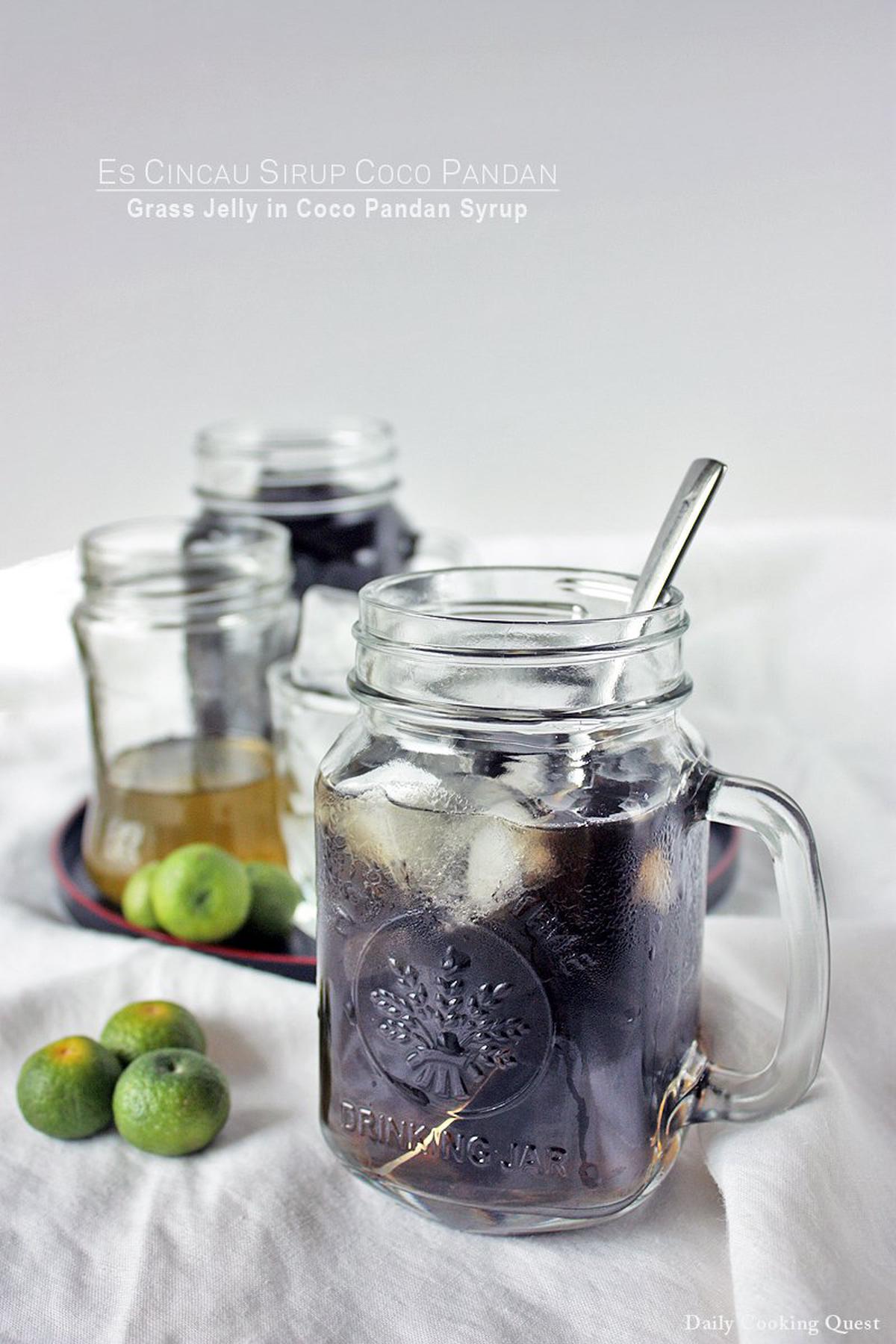 Here in Indonesia, you can find two kinds of grass jelly, black and green, which come from different plants. I have never encountered the green version outside of Indonesia, which I think is quite sad since it has a really bright green color, just like pandan leaves actually. You will probably quite easily find grass jelly in Asian grocers and they usually come in a can. I love to add some grass jelly cubes to my tea, and I think of them like the boba in bubble tea, but way tastier, and supposed to be healthier too. Which reminds me that you can totally still enjoy grass jelly even when you don't have coco pandan syrup, just add them to your ice tea! ♥
Es Cincau Sirup Coco Pandan - Grass Jelly in Coco Pandan Syrup
5.0 from 1 reviews
Ingredients
400 gram grass jelly (Indonesian: cincau)
drinking water
ice cubes
lime wedges (optional)
Instructions
Cut the grass jelly into small cubes, about 1/2 inch cubes should do.
Divide the grass jelly into four serving glasses, then top with water and sweeten with coco pandan syrup. Some ice cubes are nice in hot weather. You can also add a squeeze of lime juice to your es cincau.