Home / All Recipes / Indonesian / Fermented Cassava and Yoghurt Pancakes
Fermented Cassava and Yoghurt Pancakes
Tape (fermented cassava) is lovely and delicious on its own. But why not try making a batch of tape and yoghurt pancakes for a Sunday breakfast brunch?
This recipe is my entry to Indonesian Food Blogger Challenge No. 12, and believe it or not, it needs to have both cassava (fresh or fermented) and yoghurt as the main ingredients! I would not be surprised if many of the applicants are scratching and racking their brains trying to come up with a recipe, ANY recipe, that works, because believe me, I was just like that. Many are probably experiencing the first ever kitchen rage because of this challenge. :D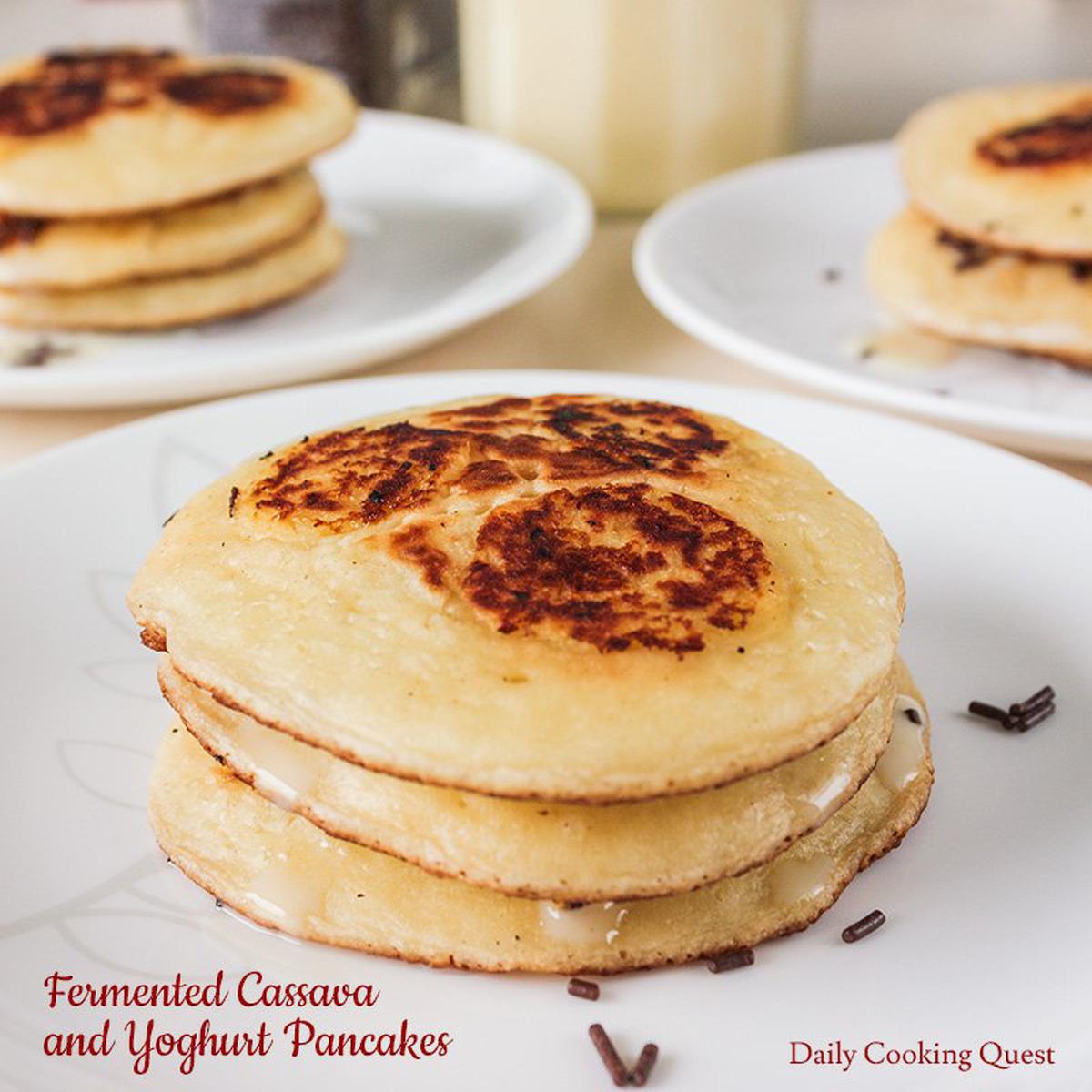 We do have quite a lot of traditional cassava recipes, mainly as desserts or snacks, from fried cassava chips a.k.a. kerupuk singkong, to steamed grated cassava with coconut flakes a.k.a getuk, to grilled fermented cassava a.k.a tape bakar. On the other hand, yoghurt is only getting popular since the frozen yoghurt craze that hit Indonesia from five years back. And as far as I know, no one has ever tried to combine the two in one dish.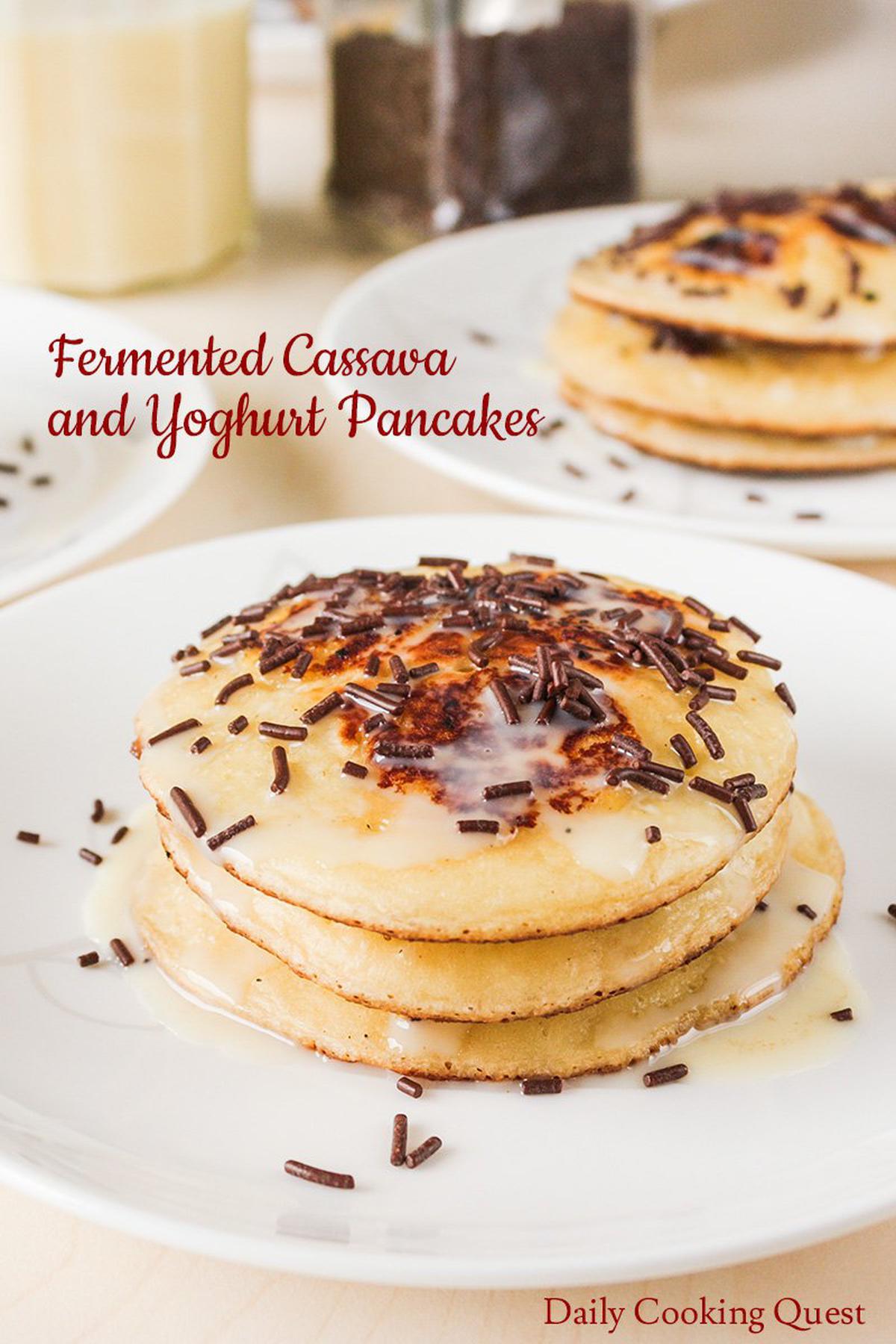 That is why this challenge is so interesting. The moment the new challenge was unveiled, I signed up. I didn't even blink, but then the reality slowly started to sink in and had a minor panic attack. :D. After a couple (and then some) failed attempts, I am actually quite pleased with my original recipe, yoghurt pancakes with fermented cassava slices, served with sweet condensed milk and chocolate sprinkles. Boy, it sounds nice, doesn't it? Just like how all the fancy restaurants do their menu, haha. I was so tempted to use that as the post title, but decided not to since it IS quite a mouthful. Pancake lovers will probably know where the inspiration comes from, banana pancakes, what else, right? But it works, I swear, the recipe works so beautifully I almost cried a happy tear when I taste tested the first batch, it was SO good. And to Indonesian palette, this is probably a better pancake than the one with banana served with maple syrup (not to mention we have to import the said syrup). So here goes. ♥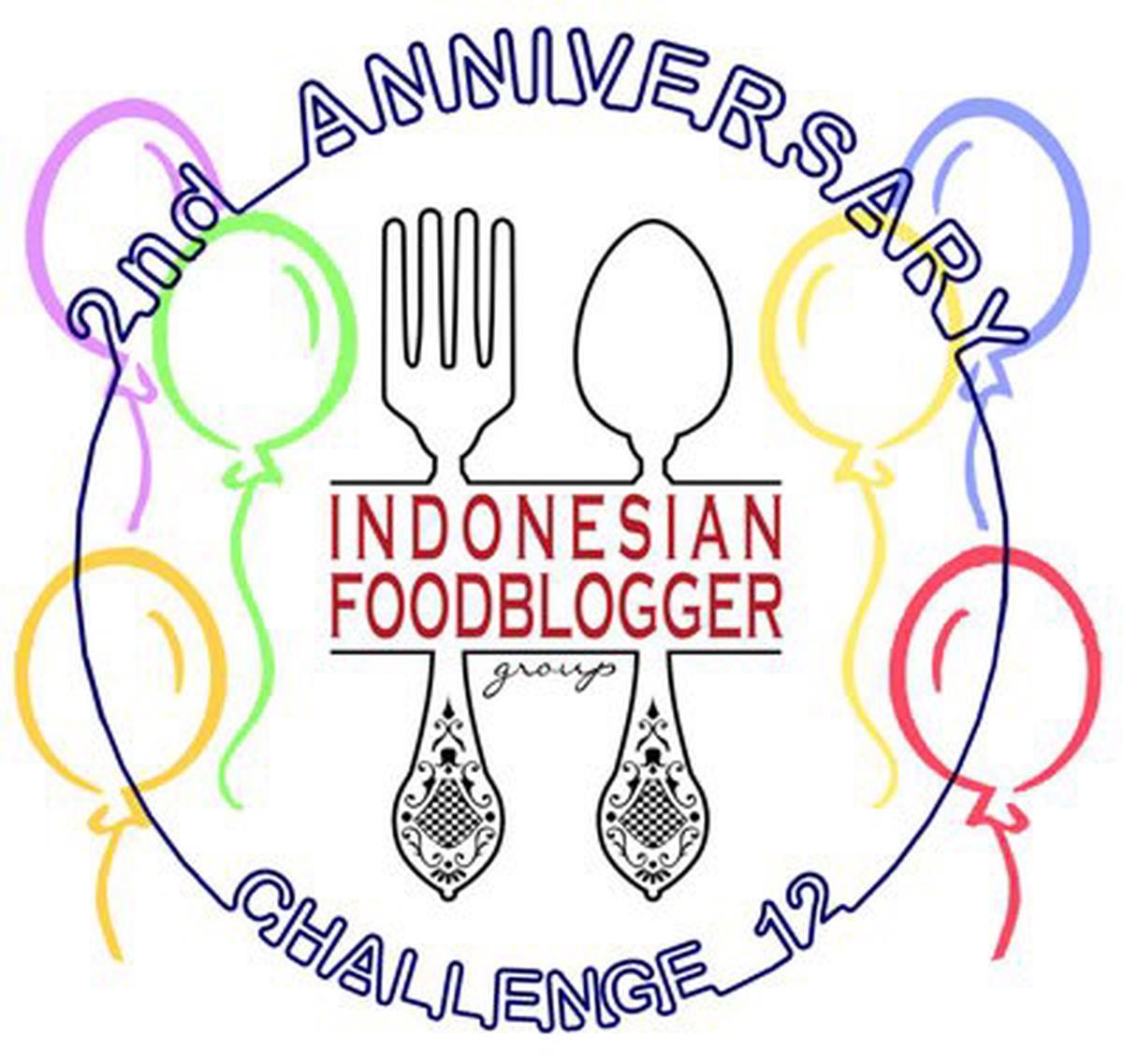 I am submitting this recipe to participate in Indonesian Food Blogger Challenge No. 12.
Fermented Cassava and Yoghurt Pancakes
5.0 from 1 reviews
Ingredients
1 cup all purpose flour
1/4 teaspoon baking soda
1/4 teaspoon salt
1/2 tablespoon sugar
1/2 cup plain yoghurt
1/2 cup fresh milk
1 egg
1 tablespoon melted butter (at room temperature), plus unmelted butter for cooking
250 gram fermented cassava (Indonesian: tape)
sweet condensed milk
chocolate sprinkles
Instructions
In a bowl, mix together all purpose flour, baking soda, salt, and sugar. Set aside.
In another bowl, whisk together yoghurt, milk, and egg until well combined, then stir in the melted butter.
Gently stir the yoghurt mixture into the dry ingredients, mix well with a spatula. Set the pancake batter aside.
Take 250 gram fermented cassava and remove the tough core. Mash, then make a teaspoon discs (the discs are banana slices re-imagined ♥) until all the fermented cassava is used up.
Heat a frying pan over medium heat. Brush with some unmelted butter to prevent pancakes from sticking to the pan each time you add batter (unless you are using a non-stick pan). When the butter foam subsides, ladle batter onto the pan, making any size pancakes you like. Add three to four fermented cassava discs to each pancake and press them into the surface of cooking pancakes. Once the bottom turns golden brown, flip and cook the other side for a couple more minute. Repeat until all pancake batter is used up.
To serve, stack three pancakes, add a bit of sweet condensed milk between layers. Top the pancake stack with more sweet condensed milk and sprinkled with chocolate sprinkles. Serve immediately.