Home / All Recipes / Chinese / Fish and Century Egg Congee
Fish and Century Egg Congee
I have a question guys. Do you eat congee only for breakfast? Or do you have it for supper as well? I actually love having congee more as supper item instead of breakfast, weird right? But then there are people who eat pancakes for dinner, so maybe I am not that weird ;) Anyway… this is a super simple congee recipe, and if you love the congee at dim sum restaurants, you are going to love this. And yeah, this is a really big batch. I usually cook one big batch, and then slowly deplete the good stuff within a week (or less).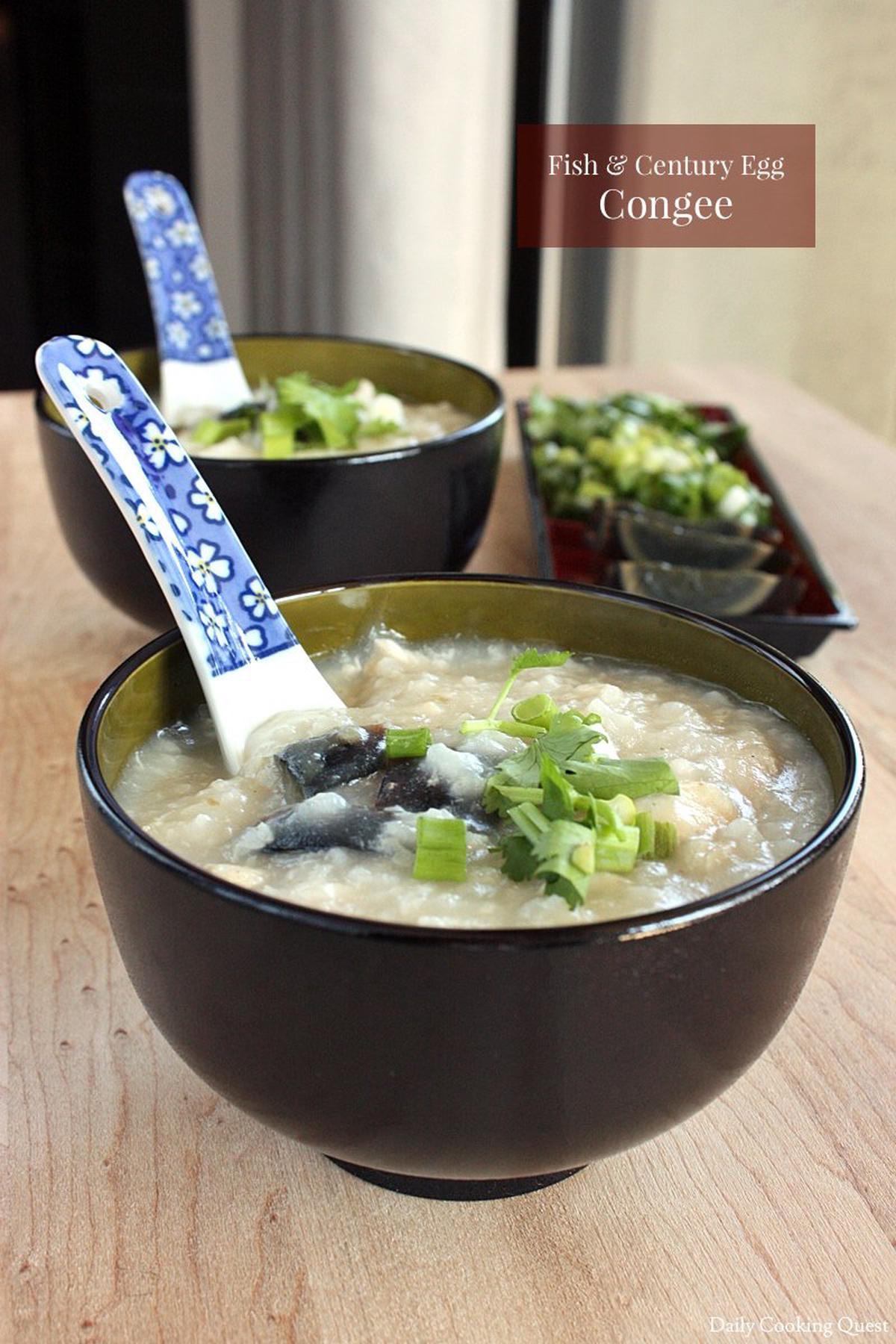 Fish and Century Egg Congee
4.0 from 1 reviews
Ingredients
3 rice cooker cup (or 2 1/4 regular cup) rice, washed and drained
2 inch ginger, cut into 4-6 pieces, bruised each piece
15 cup (3.75 liter) water
750 gram tilapia, thinly sliced
2 tablespoon soy sauce
1/2 tablespoon sesame oil
1 teaspoon ground white pepper
3 century egg, cut into small pieces
salt, to taste
Garnish
thinly sliced scallions
thinly sliced cilantro
Instructions
Place rice, ginger, and water in a soup pot. Bring to a boil. Reduce heat, cover, and simmer for 45 minutes to 1 hour.
Meanwhile, marinate tilapia with soy sauce, sesame oil, and ground white pepper in a mixing bowl.
Once the congee reach your desired consistency, turn the heat to medium, add thinly sliced fish. Mix well. Cook for 3 minutes.
Turn off heat, add century egg, stir to mix well. Season with salt according to suit your saltiness preference. I usually under salt since my family like to add soy sauce when eating our congee.
Serve the congee hot, garnished with scallions and cilantro.