Home / All Recipes / Chinese / Five Spice Braised Peanuts
Five Spice Braised Peanuts
Super easy recipe to make old fashioned Chinese five spice braised peanuts even a newbie cook can replicate at home.
I have a very old fashioned Chinese recipe for you today, five spice braised peanuts. This is such an old fashioned snack that I remember only my older aunties used to make this and share with their younger sisters, my Mom being one of them. :)
I almost forgot all about this snack until my friend shared hers. I simply must try her recipe and replicate, since it is so good and extremely easy. So a big thanks Pearlyn. :)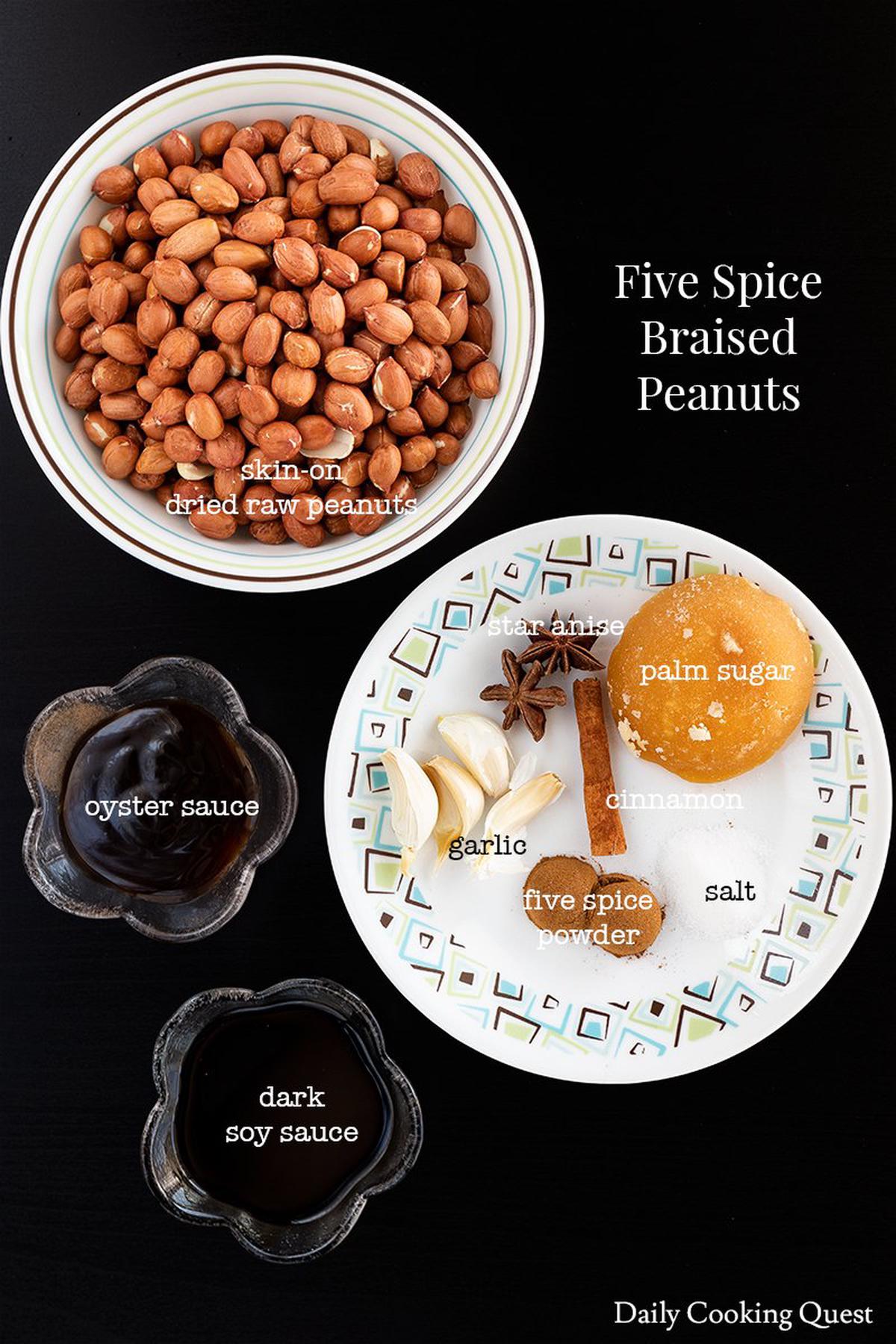 Peanuts with Skin On
For this recipe, you want to hunt down dried raw peanuts with skin on. I usually buy this kind of peanuts in my Asian grocery since I like sticking to using Chinese ingredients for Chinese recipe. Interestingly the ones I usually buy comes in a 12 oz (340 gram) packet, hence the same amount in my recipe. :D If you have no access to Asian grocery, feel free to use the one stocked in your regular grocery stores.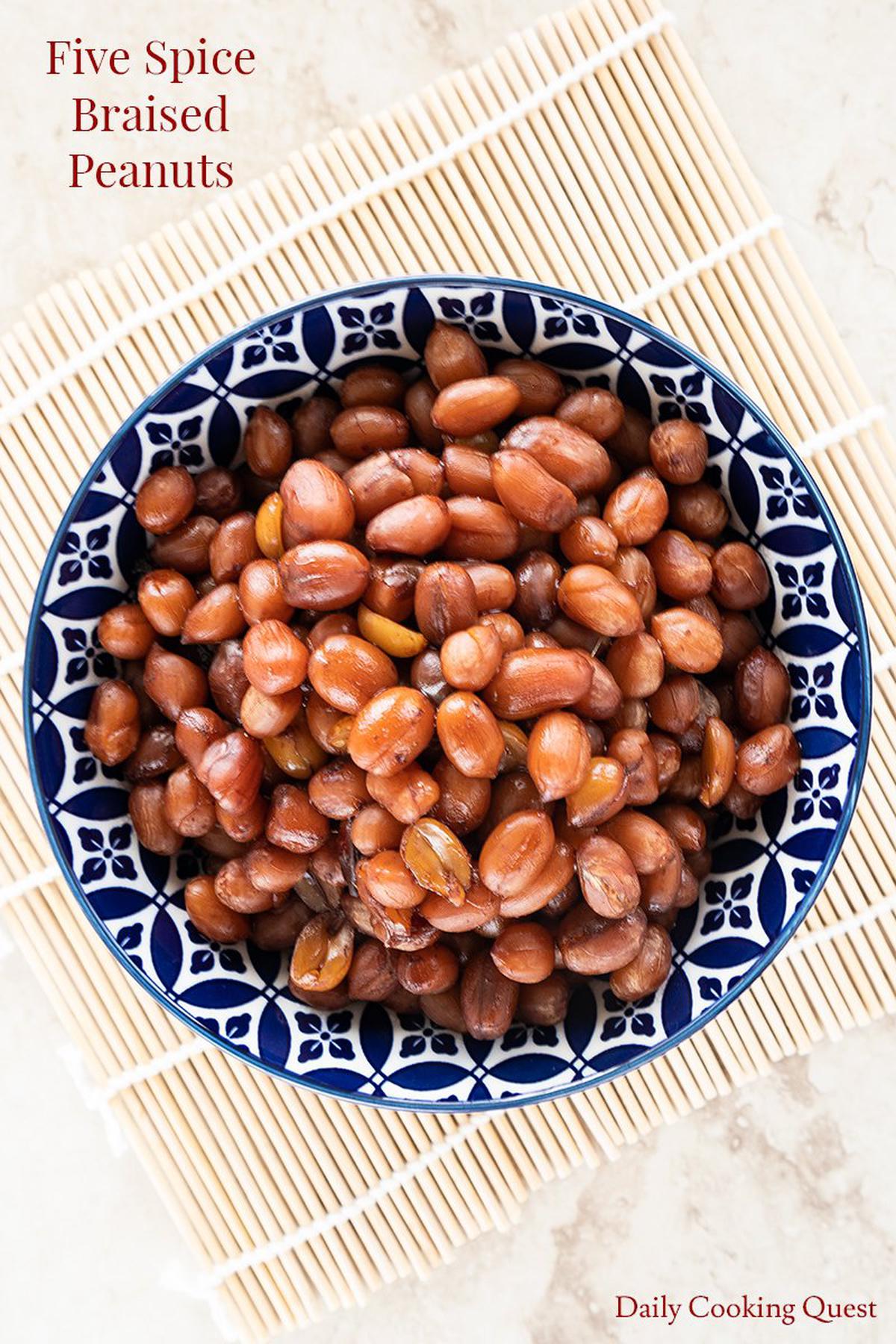 Regular pot vs. Pressure Cooker
Since I want to make sure even newbies can replicate this recipe, I make sure to cook this in a saucepot. It takes 2 hours, but it is super easy and not much work needs to be done. You simply have to check occasionally to make sure there is still enough water in the pot, and add some hot water if needed. If you are a more advanced cook and have a pressure cooker, you can cut down the cooking time to only 45 minutes. Either way, this five spice braised peanuts should turn out delicious.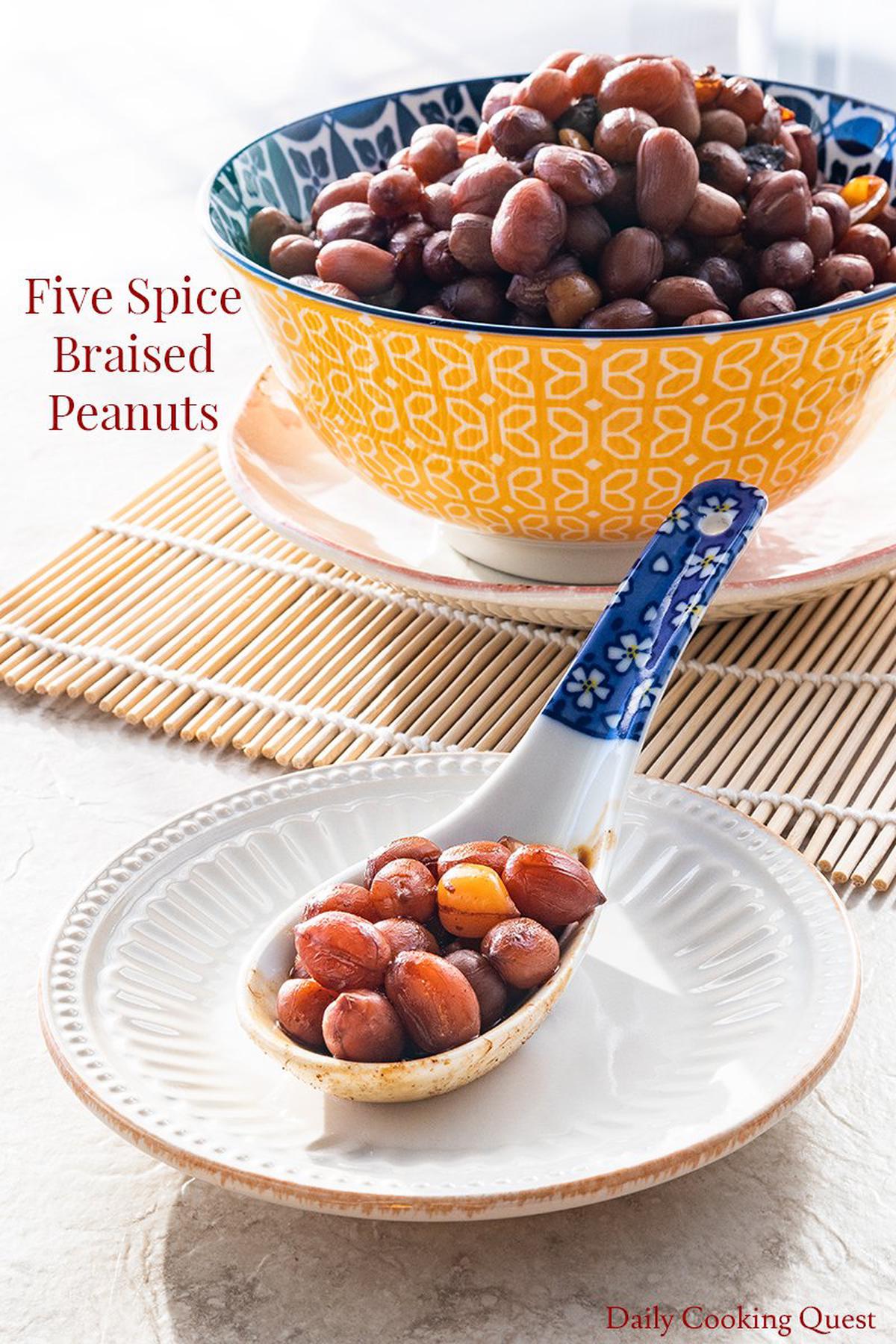 Five Spice Braised Peanuts
4.9 from 15 reviews
Ingredients
340 gram (12 oz) dried raw peanuts with skin on
1 tablespoon vinegar (optional)
3 cloves garlic with skin on
2 star anise
1/2 cinnamon stick
1 teaspoon Chinese five-spice powder
1 1/2 tablespoon oyster sauce
2 tablespoon dark soy sauce
50 gram palm sugar (or rock sugar), or to taste
1/2 teaspoon salt, or to taste
~ 2 cup water, or enough to cover peanuts
Instructions
(Optional step): Boil peanuts with a tablespoon of vinegar in a pot of water for 10 minutes, and drain. This optional step will remove any bitterness that may present in your batch of peanuts.
Place peanuts, garlic, star anise, cinnamon, Chinese five-spice powder, oyster sauce, dark soy sauce, palm sugar, salt, and water in a saucepot, making sure there is enough water to cover the peanuts completely. Cover the pot and bring to a boil.
Reduce heat to medium-low and simmer for 2 hours, or until peanuts are soft. Make sure to check occasionally and top off with more hot water if the sauce dries up before the 2 hours mark. The peanuts should be tender (but not falling apart) and very flavorful at this point.
If you have a pressure cooker, you can braise the peanuts in 45 minutes.