Home / All Recipes / Japanese / Fried Tofu in Spicy Shimeji Sauce
Fried Tofu in Spicy Shimeji Sauce
The spicy shimeji sauce in this recipe is made with a simple mixture of soy sauce, rice vinegar, oyster sauce, sugar, chili sauce (you can use any of your favorite chili sauce, be it South East Asian sambal oelek, Chinese dou ban jiang, or even sriracha), water (or your favorite stock), and katakuriko (Japanese potato starch, or corn starch). Shimeji mushroom is first stir fried in a little oil with garlic, scallion, and red chilies until wilted, then pour the sauce over the vegetables and cook until thicken. Once the sauce is cooked, just pour it over a plate of fried tofu cubes and a quick meal is served.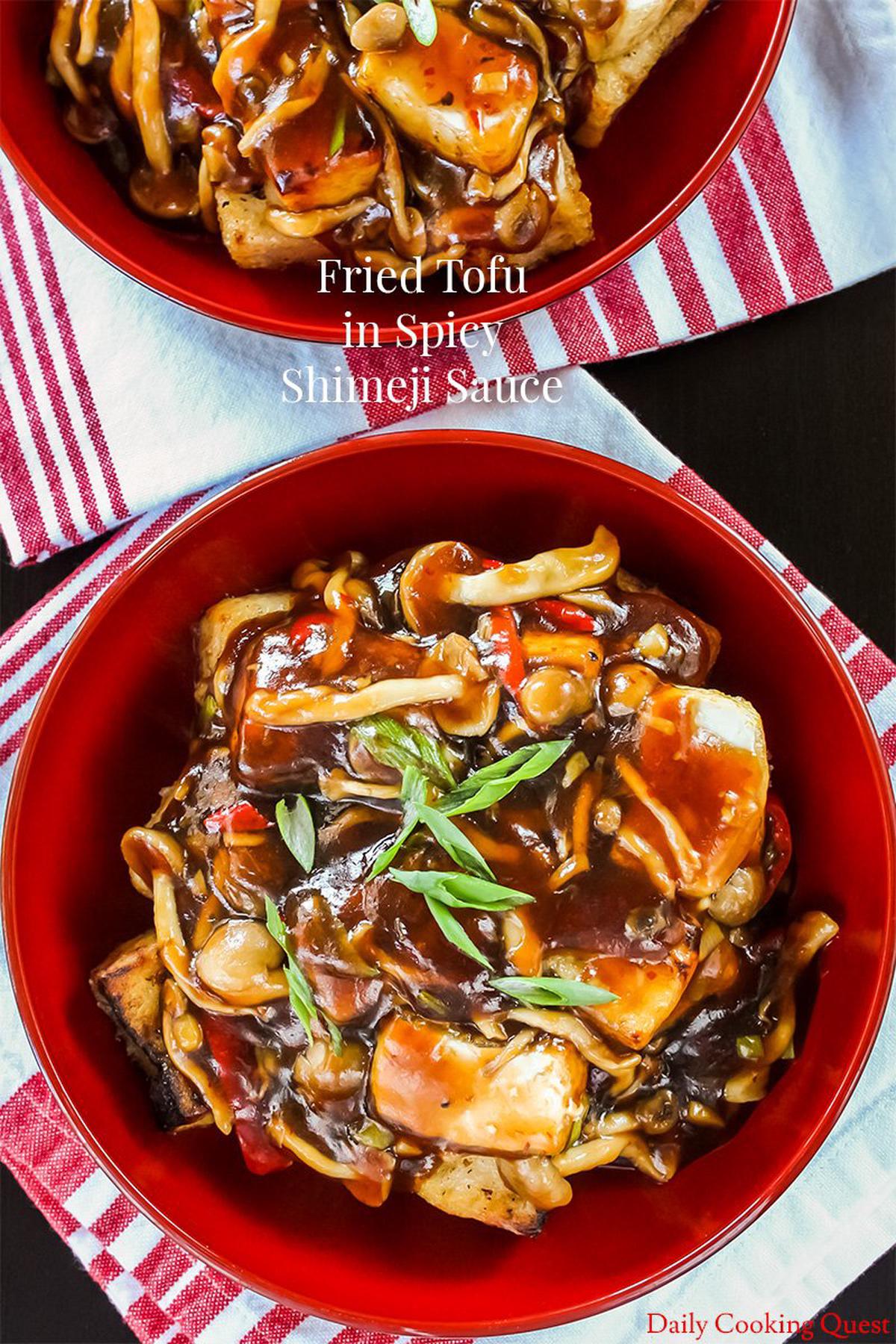 Before preparing the sauce, cook your choice of protein first. Here, I use two blocks of firm tofu, each about 400 gram. I cut each block into 8 pieces, coat with some katakuriko (potato starch), and fried in a cast iron skillet until all sides are golden brown. I cut each fried tofu cube into 2 pieces, so from the 2 blocks of tofu, I ended up with 32 pieces of tofu cubes. This is not an exact rule of course, but you can follow my steps if you want. Once I have finished arranging my tofu cubes in serving plates (my plate is rather small, so I needed two plates), then I proceed with making the sauce which should take less than 5 minutes. For busy Moms (or Dads), you can save time by making lots of fried tofu first before hand, then right before a meal, reheat some tofu cubes and cook the sauce. This way, you can prepare easy and healthy meal even when you don't have much time.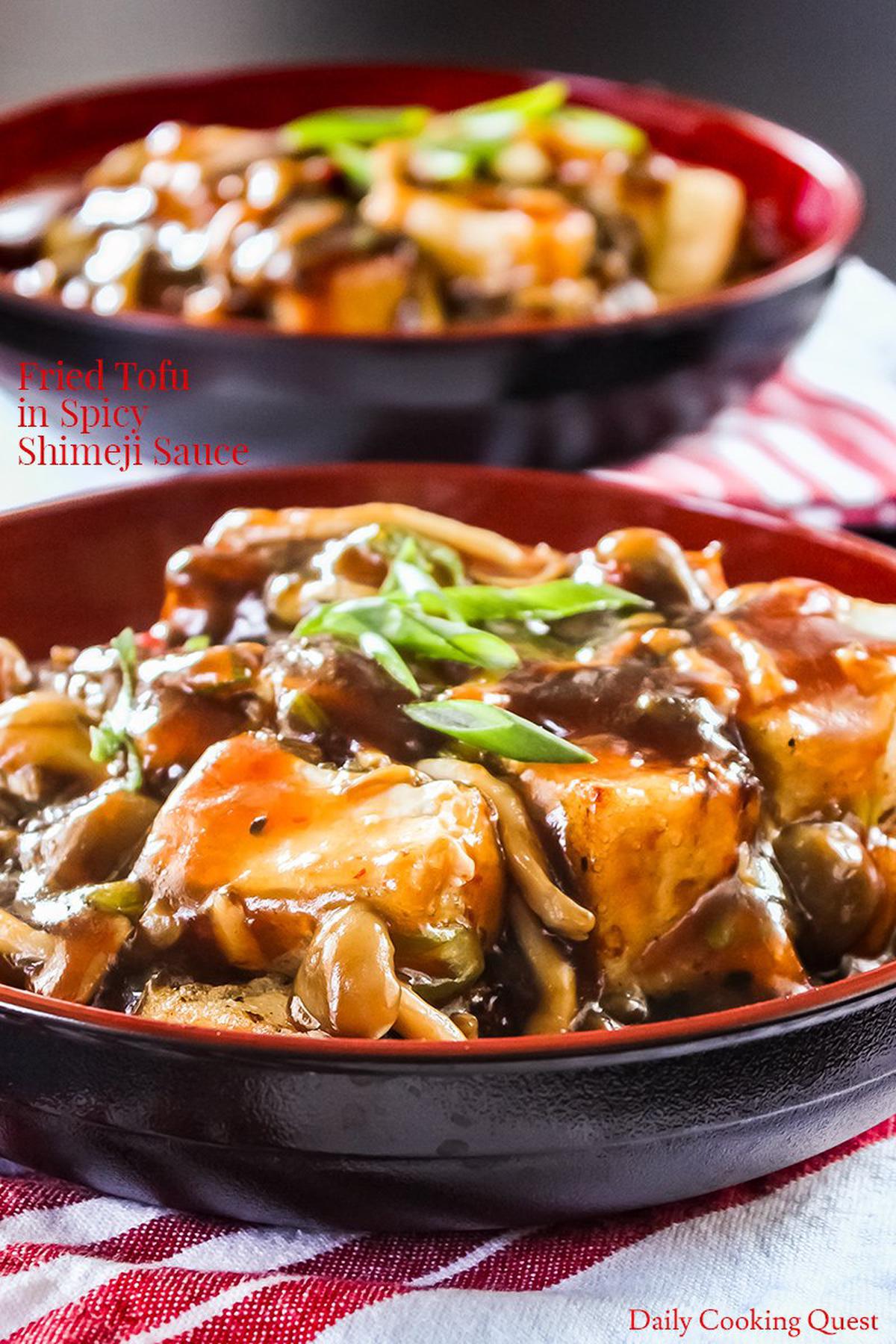 Fried Tofu in Spicy Shimeji Sauce
Ingredients
2 blocks firm tofu (each about 400 gram), drained
4 tablespoon katakuriko/potato starch (or corn starch), for dusting
3 tablespoon oil
3 cloves garlic, minced
2 scallions, thinly sliced, separate white and green parts
1-2 red chilies, seeded and thinly sliced
1 packet (100 gram) shimeji mushroom, separated
Sauce (mix together)
6 tablespoon stock (or water)
4 tablespoon soy sauce
4 tablespoon rice vinegar
4 tablespoon sugar
1/2 tablespoon oyster sauce
1/2 - 1 tablespoon chili sauce (e.g. sambal oelek, dou ban jiang, sriracha, etc)
1 tablespoon katakuriko/potato starch (or corn starch)
Instructions
Cut each tofu block into 8 pieces, dust each piece with katakuriko.
Heat oil in a non-stick frying pan or a well seasoned cast iron skillet over medium heat. Fry tofu cubes until golden brown. Set aside. Once cooled enough to handle, cut each tofu cube into 2 pieces. Arrange tofu in a serving plate.
Heat the frying pan/skillet again over medium high heat. There should still be leftover oil (about 1 tablespoon) from frying the tofu, otherwise, add a bit of oil.
Sauté garlic, white part of scallion, and red chilies until fragrant. Then add shimeji and cook until wilted. Pour sauce into the pan/skillet and cook just until the sauce thickens.
Turn the heat off, pour the sauce over fried tofu cubes. Garnish with green part of scallions. Serve immediately.