Home / All Recipes / Chinese / Fu Yung Hai Seafood with Gravy
Fu Yung Hai Seafood with Gravy
In my previous fu yung hai (egg foo young) recipe, I mentioned that the version served in Indonesia usually comes with a tomato based gravy. I have been meaning to do another fu yung hai recipe for a while since a couple of readers have asked me for an updated recipe. My family used to have deluxe fu yung hai for Chinese New Year, meaning the fu yung hai is made solely with shrimp and crab meat, and of course accompanied with the delicious gravy. And since today is Chinese New Year, this dish reminds me of my family tradition and brings back fond memory. So Happy Chinese New Year to everyone, and I hope this dish will bring you as much joy as it has been for me.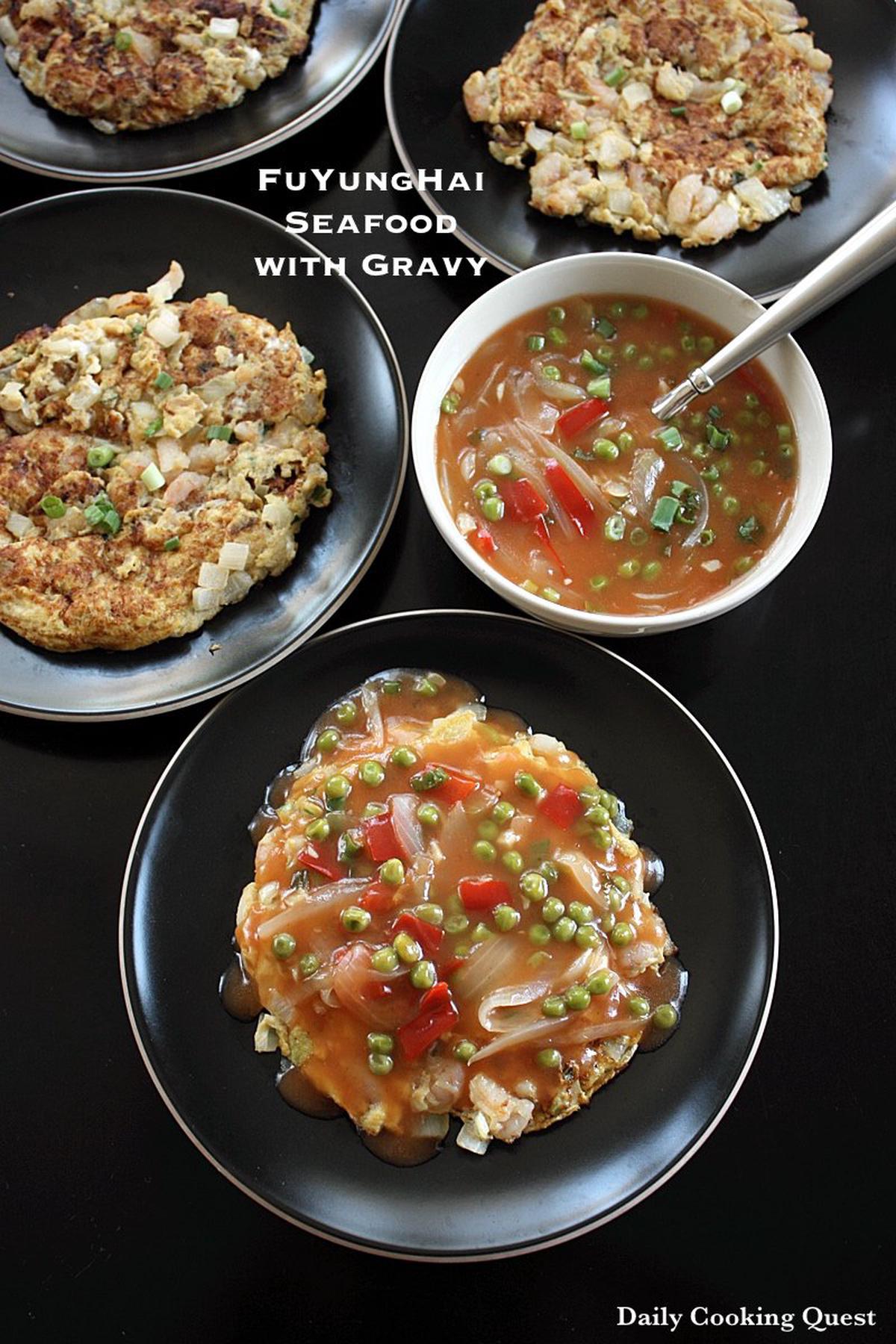 Fu Yung Hai Seafood with Gravy
Ingredients
Omelette
6 eggs, lightly beaten
12 ounce (350 gram) shrimp, peeled, deveined, and roughly chopped
12 ounce (350 gram) crab meat
1/2 onion, chopped
2 scallions, thinly sliced
1 tablespoon soy sauce
1 tablespoon oyster sauce
1 1/2 tablespoon Shaoxing wine
1 teaspoon sesame oil
1 teaspoon sugar
1/2 teaspoon ground pepper
oil
Gravy
3 tablespoon margarine (or butter)
2 cloves garlic, minced
1/2 onion, sliced
3 red anaheim chilies (Indonesian: cabe merah besar), seeded and chopped
2 scallions, thinly sliced
1 1/2 cup chicken stock
4 tablespoon tomato sauce
1 lemon, juiced
1 teaspoon salt, or to taste
2 teaspoon sugar, or to taste
1 tablespoon tapioca starch + 2 tablespoon water
1/4 cup green peas
Instructions
Omelette

Combine all ingredients in a mixing bowl, except the oil.
Heat oil in a wok/frying pan. Pour the egg mixture and cook until set and golden brown. Flip to cook the other side. Turn off heat and transfer to a serving plate. If your frying pan is small, you may do this in batches.

Gravy

Melt the butter in a sauce pot, then saute garlic and onion until the onion starts to wilt.
Add chilies into the pot, stir for 30 seconds.
Add scallions, and stir for another 30 seconds.
Add chicken stock, tomato sauce, and lemon juice into the pot.
Season with salt and sugar.
Bring to a boil, and adjust the taste as needed.
Pour the tapioca starch solution into the sauce, and keep stirring until the sauce thickens.
Add green peas, stir, and turn off the heat.

To serve

Pour the sauce onto the omelette right before serving.