Home / All Recipes / Chinese / Garlic and Chili Sweet Sauce
Garlic and Chili Sweet Sauce
The perfect chili sauce for spring rolls, fritters, radish cake, and other fried snacks. Homemade means you can make the sauce as mild or as spicy as you wish.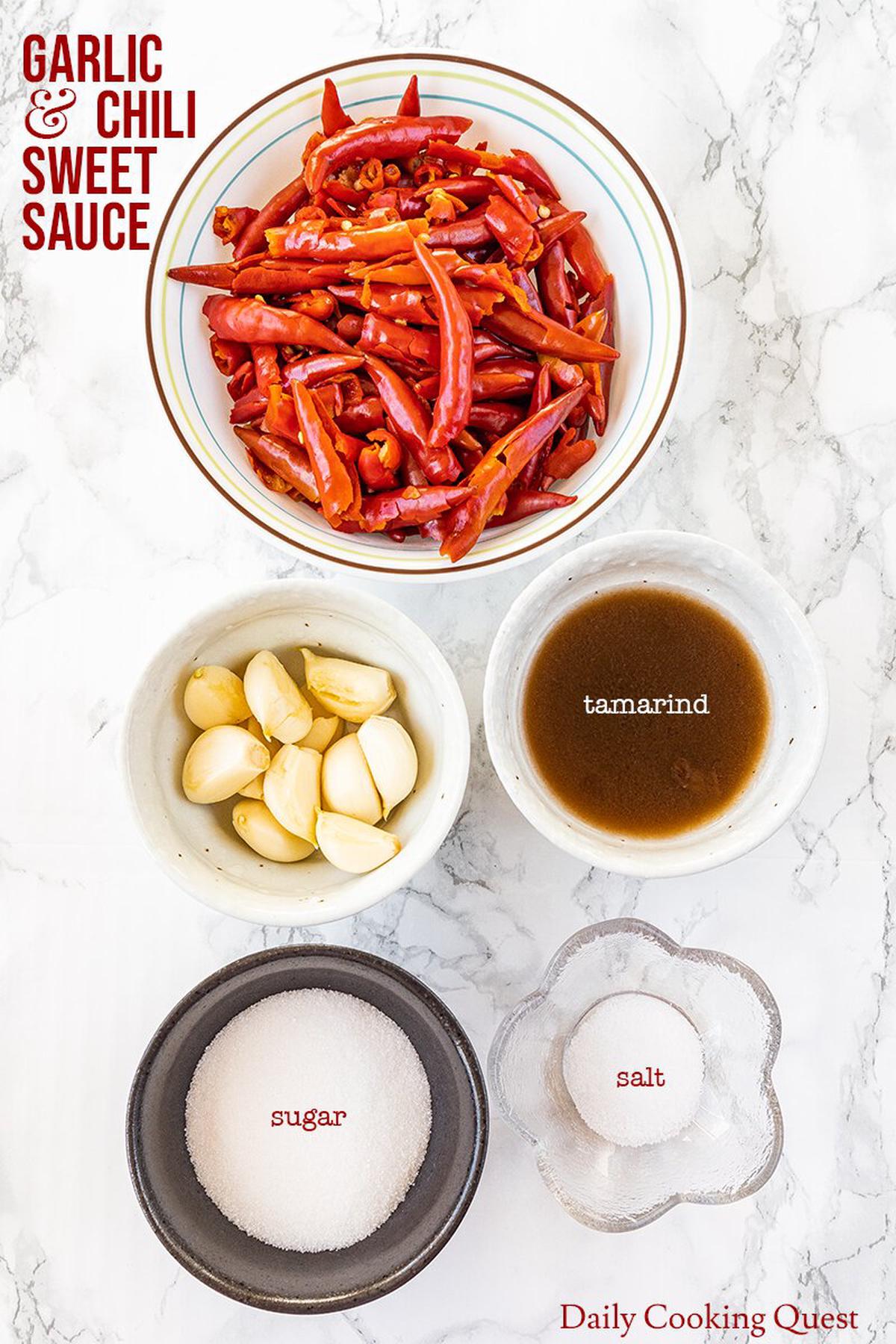 Garlic and chili sweet sauce is the perfect chili sauce to accompany Chinese dim sum deep-fried snacks such as spring rolls, taro fritters, radish cake, bakwan, and bakso goreng.
This chili sauce has a fiery chili kick, with an amazing garlic flavor, and is sweet, savory, with a slight tang from tamarind all at the same time.
It is hard to think of a dish or a savory snack that can't be improved slightly or a lot by dipping into this chili sauce.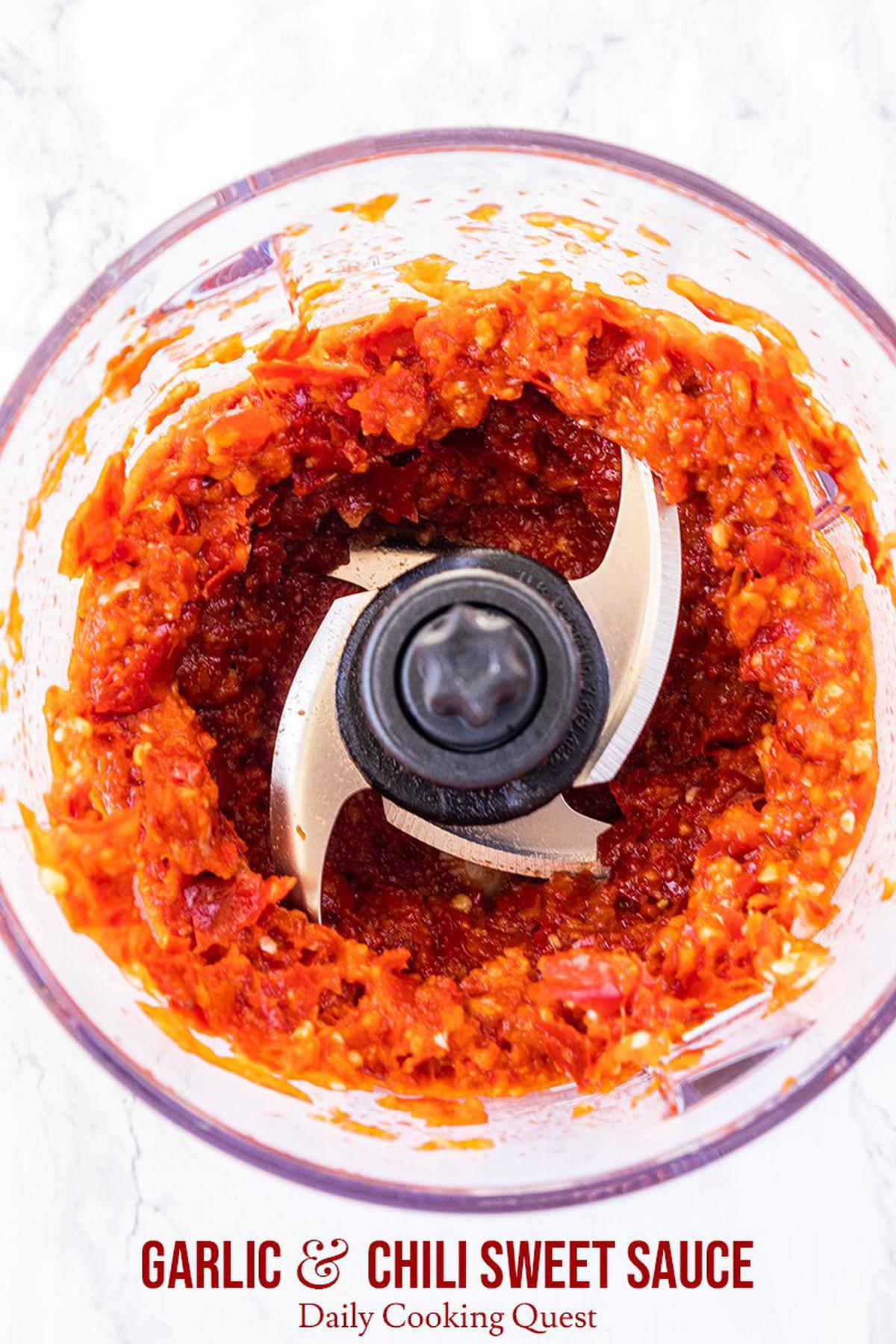 What goes into this chili sauce
We will only need a handful of ingredients to make this lovely chili sauce: red chilies, garlic, tamarind, salt, and sugar.
Red chili varieties
There are many varieties of red chilies to choose from, and different choice will yield a different spiciness level of the final chili sauce.
The most common red chili varieties we use to make this particular chili sauce are Fresno, cayenne, and birds eye. Fresno yields the mildest chili sauce, cayenne somewhere in the middle, and birds eye for those who prefer a strong chili kick.
Using dried chilies
If you don't have fresh chilies, you can also start with dried chilies. You will need to wash them first, then place in a saucepot and top with about 1 inch of water. Bring to a boil and simmer for 15 minutes to soften. Once drained, you can use the same amount (by weight) and proceed with the rest of the recipe.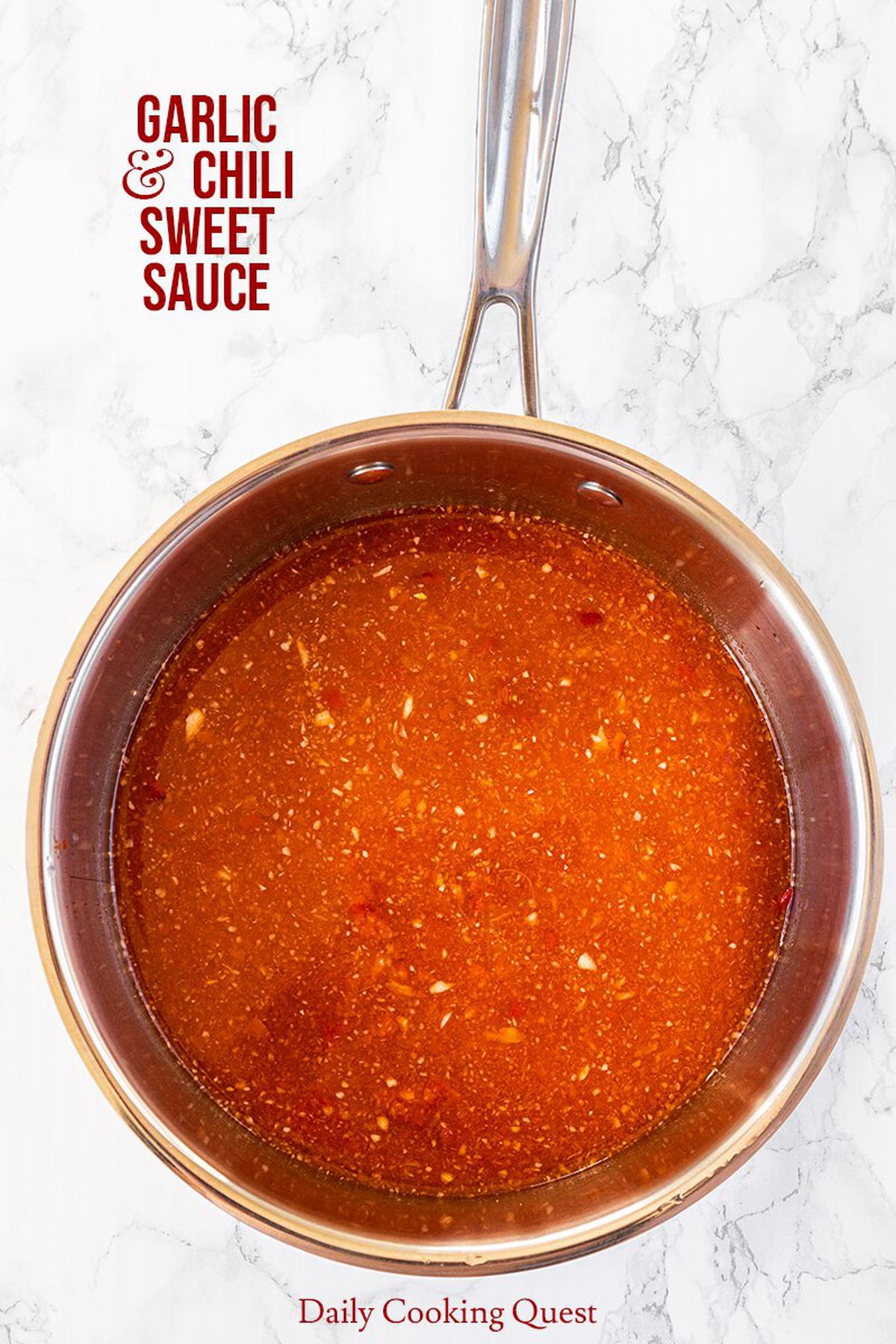 Prep work to prepare the chili sauce
1. Prepare red chilies
Weigh 200 grams of red chilies. Wash under cold running water to remove any dirt and drain. If you wish for a milder chili sauce, feel free to remove the seeds from the chilies.
2. Prepare garlic
We need one whole bulb of garlic, which gives about 10 cloves of garlic. Do peel away the garlic skin.
3. Prepare tamarind paste
For tamarind, I usually use a wet seedless tamarind packet. Scoop some from the big tamarind mass to get 10 grams. Mix tamarind with 1⁄4 cup of water, and massage into a paste, then strain to remove the pulp and any seed.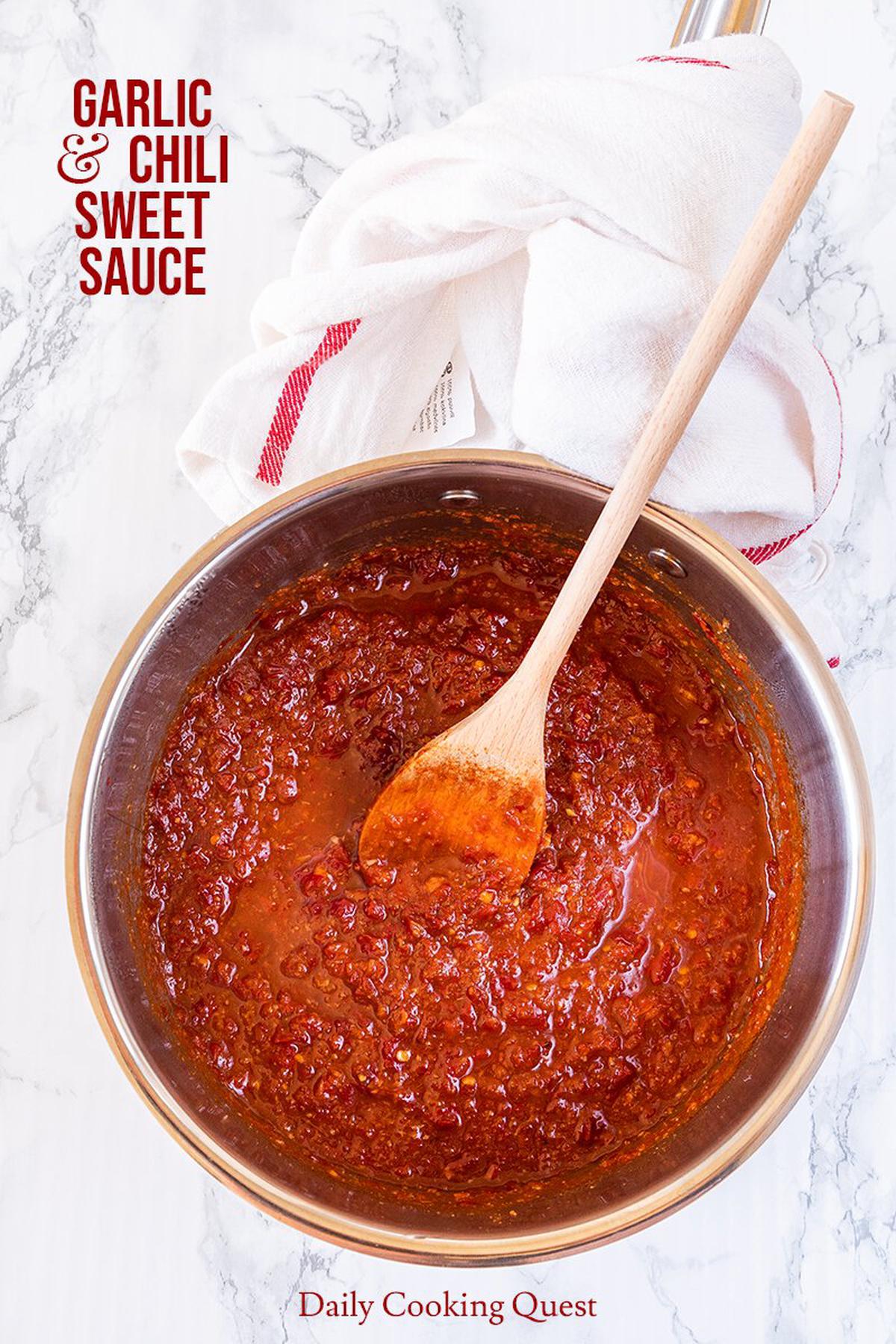 Homemade garlic and chili sweet sauce
Once the prep work is all done, we are finally going to make our chili sauce.
First, use a blender/food processor to puree together red chilies and garlic into a coarse paste.
Transfer the blended chili and garlic paste into a sauce pot along with salt, sugar, tamarind paste, and water.
Bring the chili mixture to a boil, then reduce the heat and simmer until the sauce is thick and reduced. This takes about 30-45 minutes. Adjust the amount of salt and sugar as needed. Turn off the heat.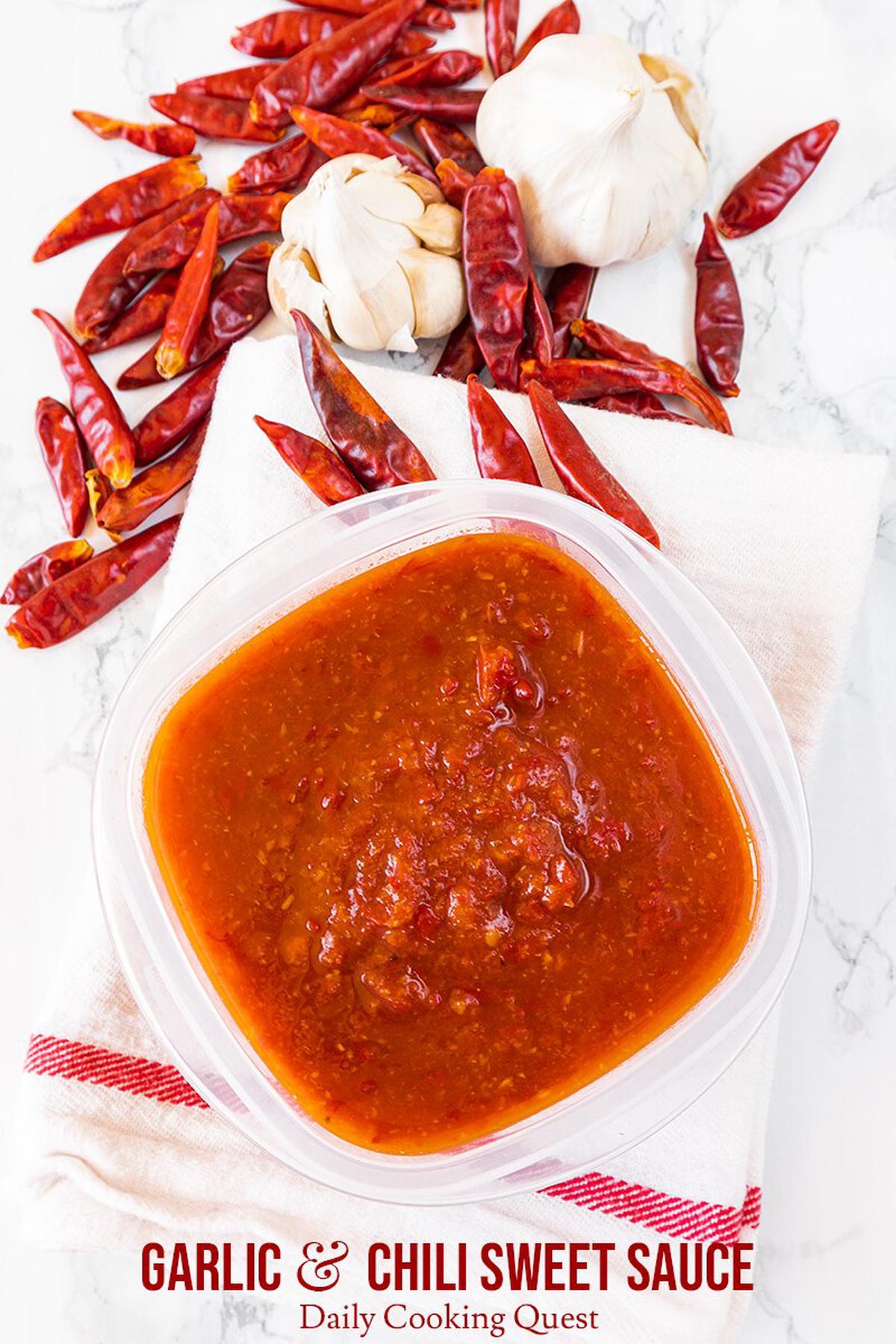 Storing the chili sauce
If you plan to finish the chili sauce within 2 weeks, you can simply transfer the chili sauce into an airtight container and store in the fridge.
For longer storage, please transfer the chili sauce into a sterilized glass jar. When stored in the fridge, an unopened glass jar of chili sauce should last for at least 2 months. For even longer storage, you can freeze the chili sauce for at least 6 months.
You will need to transfer the jar of frozen chili sauce into the fridge section and let the chili thaw. It may take several days for the chili sauce to thaw.
To serve, scoop out some chili sauce to a sauce bowl/plate. Avoid dipping food directly into the container/jar of chili sauce to extend the life of the sauce for as long as possible.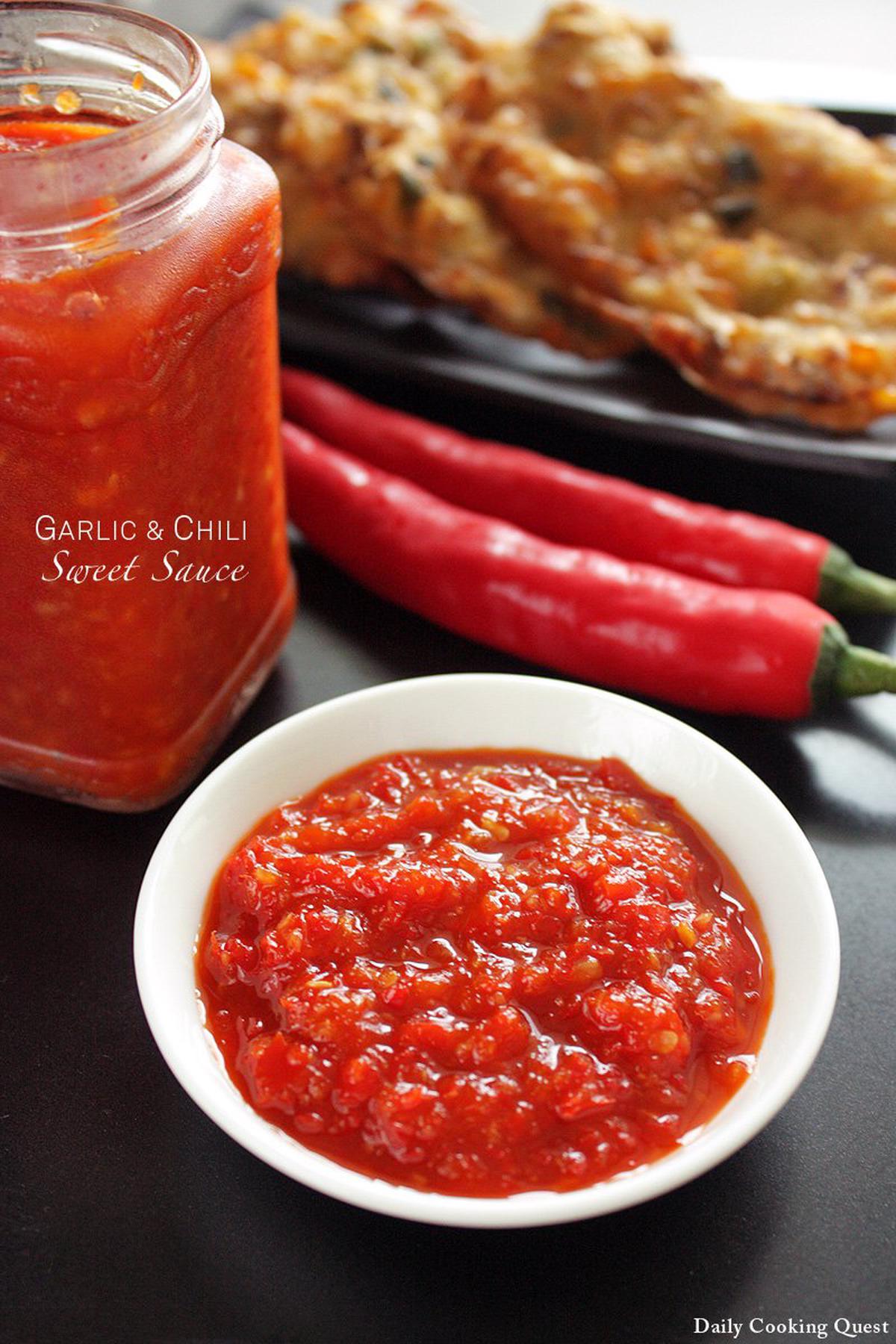 Garlic and Chili Sweet Sauce
5.0 from 6 reviews
Ingredients
200 gram red chilies, remove some or all seeds for a mild chili sauce (*)
1 head (~ 10 cloves) garlic
2 3/4 cup water
1/4 cup tamarind paste (from 10 gram tamarind pulp + 1/4 cup water, massaged into a paste and strain)
4 tablespoon sugar, or to taste
1/2 tablespoon salt, or to taste
Instructions
In a spice attachment for a blender (or food processor), grind together red chilies and garlic into coarse paste.
Boil together the chili paste, water, tamarind paste, sugar, and salt. Reduce heat and simmer for 30 to 45 minutes until the sauce has thickened. Adjust salt and sugar as needed.
Turn off the heat. Let it cool, then transfer to glass jar(s). Best if you let the chili sauce chill overnight in fridge before using.
Notes
(*) You can use a combination of red color chilies, popular choice includes Fresno, cayenne, and bird eye. If you wish to start from dried chilies, wash and place in a saucepot and top with 1 inch of water. Boil and then simmer for 15 minutes to soften, drain and then use the same amount by weight.