Home / All Recipes / Chinese / Ginger and Kaempferia Galanga Dipping Sauce
Ginger and Kaempferia Galanga Dipping Sauce
I grew up in a Cantonese family, so naturally white cut chicken (白切雞) is a familiar sight. After my grandparents passed away, somehow we have it less often, not sure why. We always eat our white cut chicken with a dipping sauce, which for a long long time, I only know it as the one with oyster sauce in it. But since my Grandma passed away, no one seems to be able to recreate the exact recipe for that sauce, until I chanced upon this recipe, and my hunch tells me that this might be the one. So, I gave it a try, tweaked a bit, and try to adjust the taste and texture to as close as I can remember it. And tadaa … I think I may have nailed it, so very happy. I hope you will like it as much as I do. ♥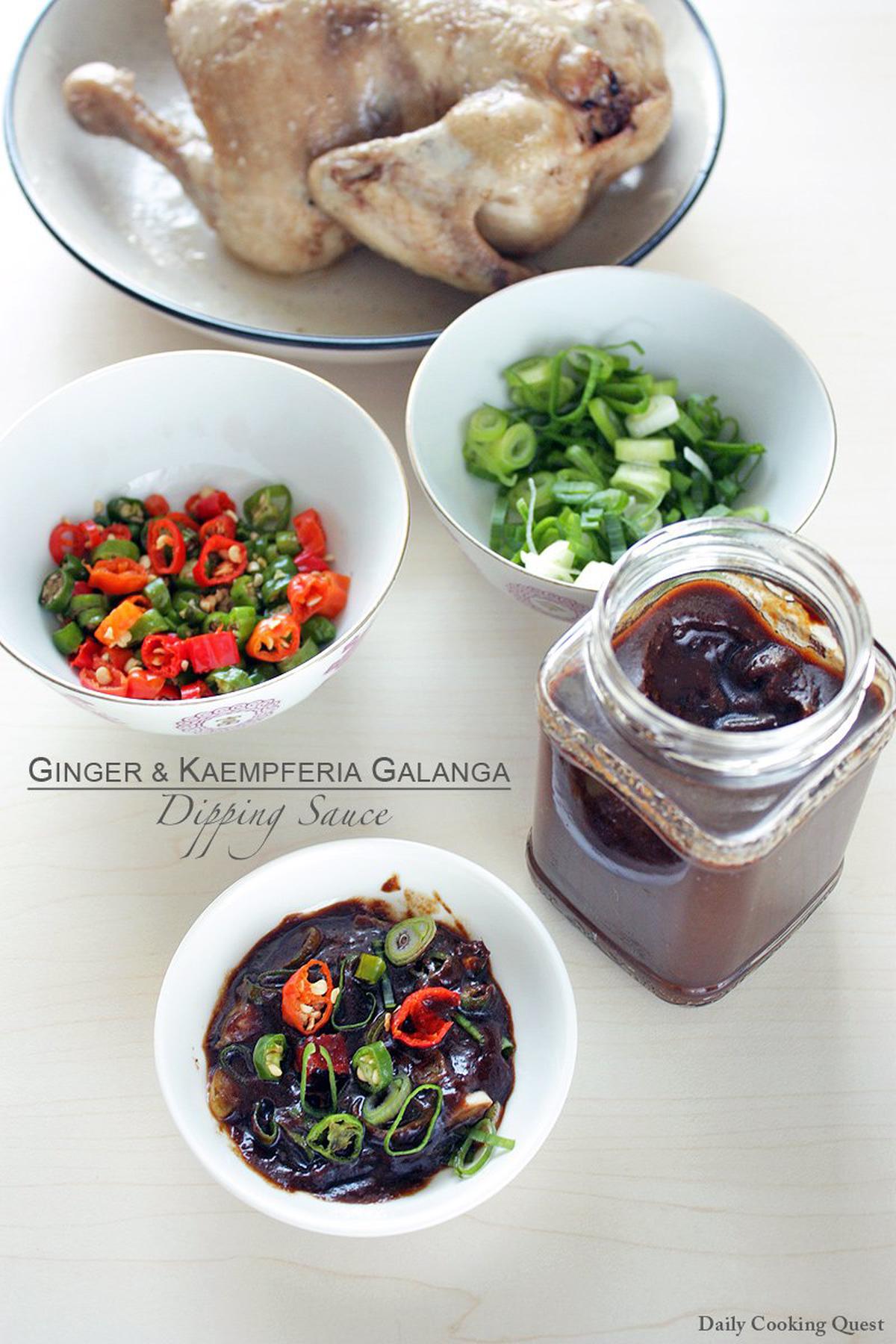 This sauce is usually not eaten as is, but further combine with thinly sliced Thai chilies and thinly sliced scallions. The amount of chilies and scallions is up to individual preference, so it is best to just have three separate bowls, one for the sauce, one for thinly sliced Thai chilies, and another for thinly sliced scallions, and let everyone mix their own dipping sauce in individual sauce dish.
Ginger and Kaempferia Galanga Dipping Sauce
Ingredients
50 gram ginger (Indonesian: ginger), peeled
50 gram kaempferia galanga (Indonesian: kencur), peeled
3 tablespoon oil
1/2 cup water
2 tablespoon dark soy sauce
1 tablespoon soy sauce
1/2 tablespoon oyster sauce
1/2 tablespoon sugar
Instructions
Puree together ginger and kaempferia galanga until smooth paste.
Heat oil in a sauce pan, then fry the ginger and galanga paste until fragrant. Add water, stir well, and bring to a boil.
Add dark soy sauce, soy sauce, oyster sauce, and sugar. Cook until the sauce thickens slightly. It should be close to the viscosity of oyster sauce.
Turn off heat and transfer to a glass jar for storage.