Home / All Recipes / Korean / Gochujang Meatballs
These lovely Korean gochujang meatballs are fantastic! The spicy cranberry gochujang sauce is truly delicious and these are always gone in a heartbeat.
Meatballs, who doesn't love them? Especially if they are super juicy, packed with flavor, seared to get that crunchy outside but juicy inside, and then the whole thing is dunk in sweet and spicy gochujang cranberry sauce.
These meatballs are out of this world folks, the ultimate comfort food, and also the best thing to serve as a party appetizer. Be prepared to double or triple the batch and watch them disappear into thin air, or more precisely, your guests' tummies.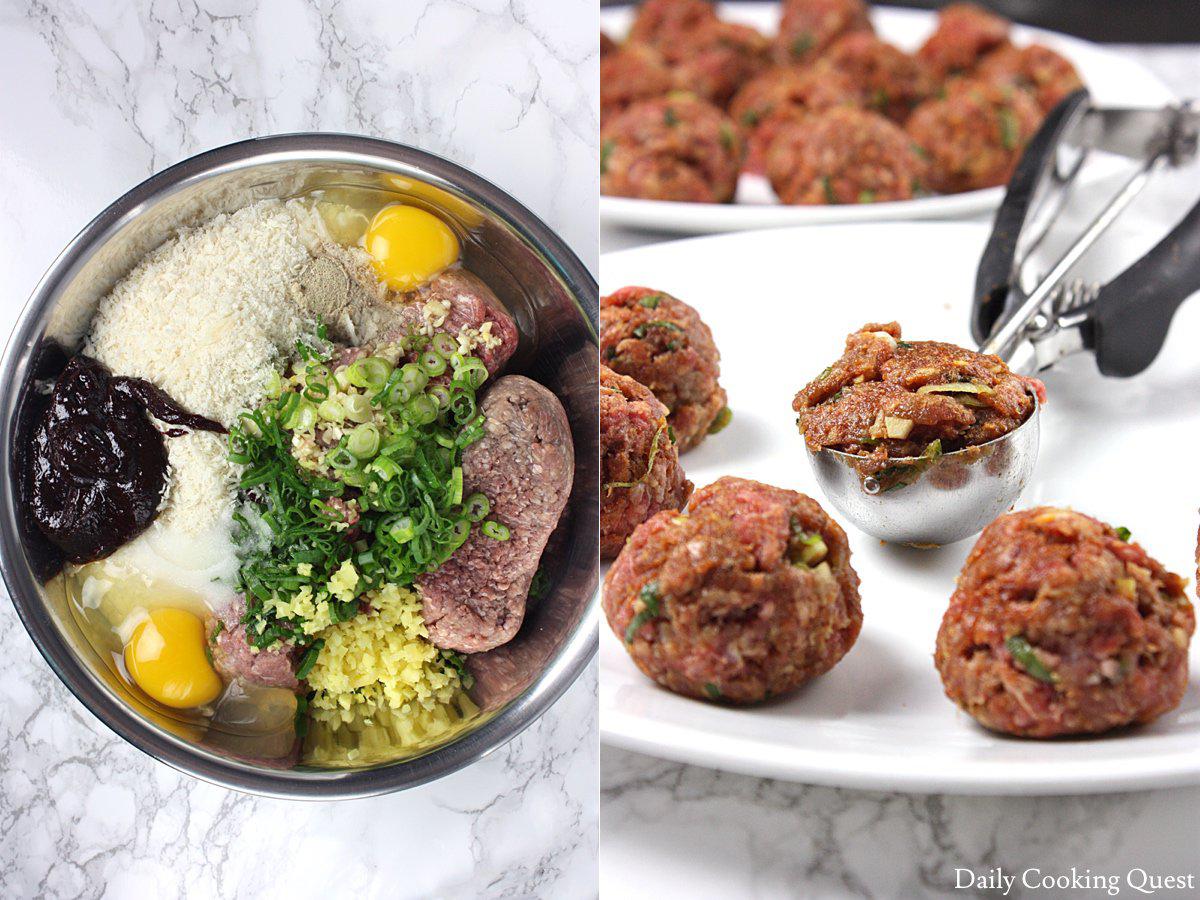 Use leftover cranberry sauce to make the gochujang glaze
The glaze in the recipe that I based this on was made with apricot jam, but I don't have it at home. Instead, I have a couple of jars of cranberry sauce/preserve that I made for Christmas and they are still sitting in my fridge, so I use that instead, and it turned out to be surprisingly delicious. And since I use cranberry instead of apricot, the glazing has the color of dark maroon, a rather sexy shade I think :)
For this lovely gochujang cranberries glaze, you will need:
cranberry sauce, if you have some leftover from Thanksgiving or Christmas, that will be perfect for this
gochujang
rice vinegar
soy sauce, preferably low sodium so it is not overly salty
This lovely glazing sauce is very easy to prepare, simply combine all the glaze ingredients in a small saucepot, and cook on a medium heat while stirring until it thickens. Set the sauce aside while we prepare the meatballs.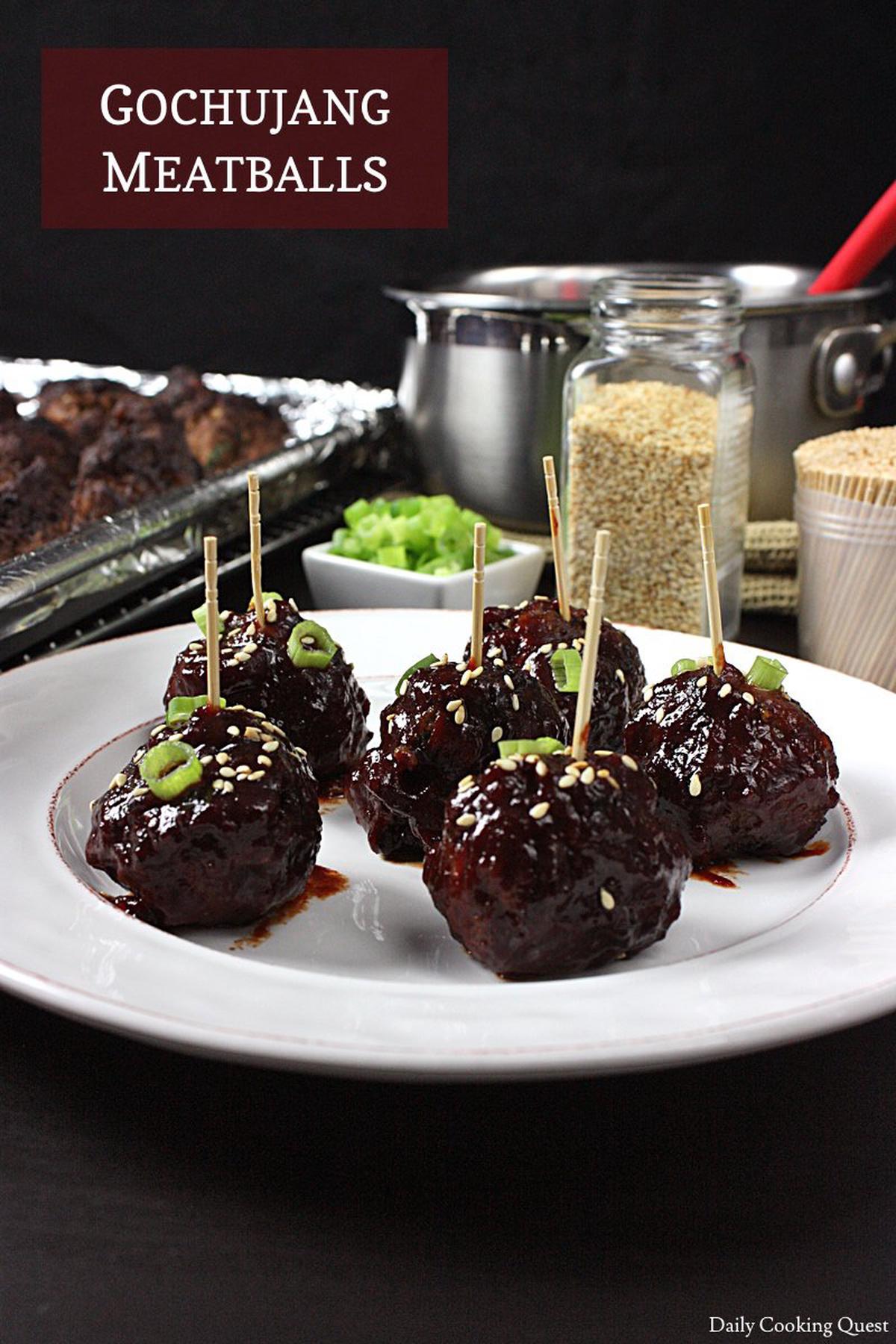 Use an ice cream scoop to portion the meatballs
I use an ice cream scoop to portion the meatballs. If you don't have one, I would say each portion is about the size of a golf ball.
But seriously you can shape the meatballs as tiny or as huge as you like, just make sure to adjust cooking time, which for beef, this means the internal temperature should reach about 70 Celsius (160 Fahrenheit) once cooked. An instant thermometer is useful for this.
Once they are cooked, brush the meatballs with the glazing sauce, and you can further garnish them with toasted sesame seeds and thinly sliced scallions. If you are serving them for a party, it looks nice and is super convenient to stick a toothpick to each meatball.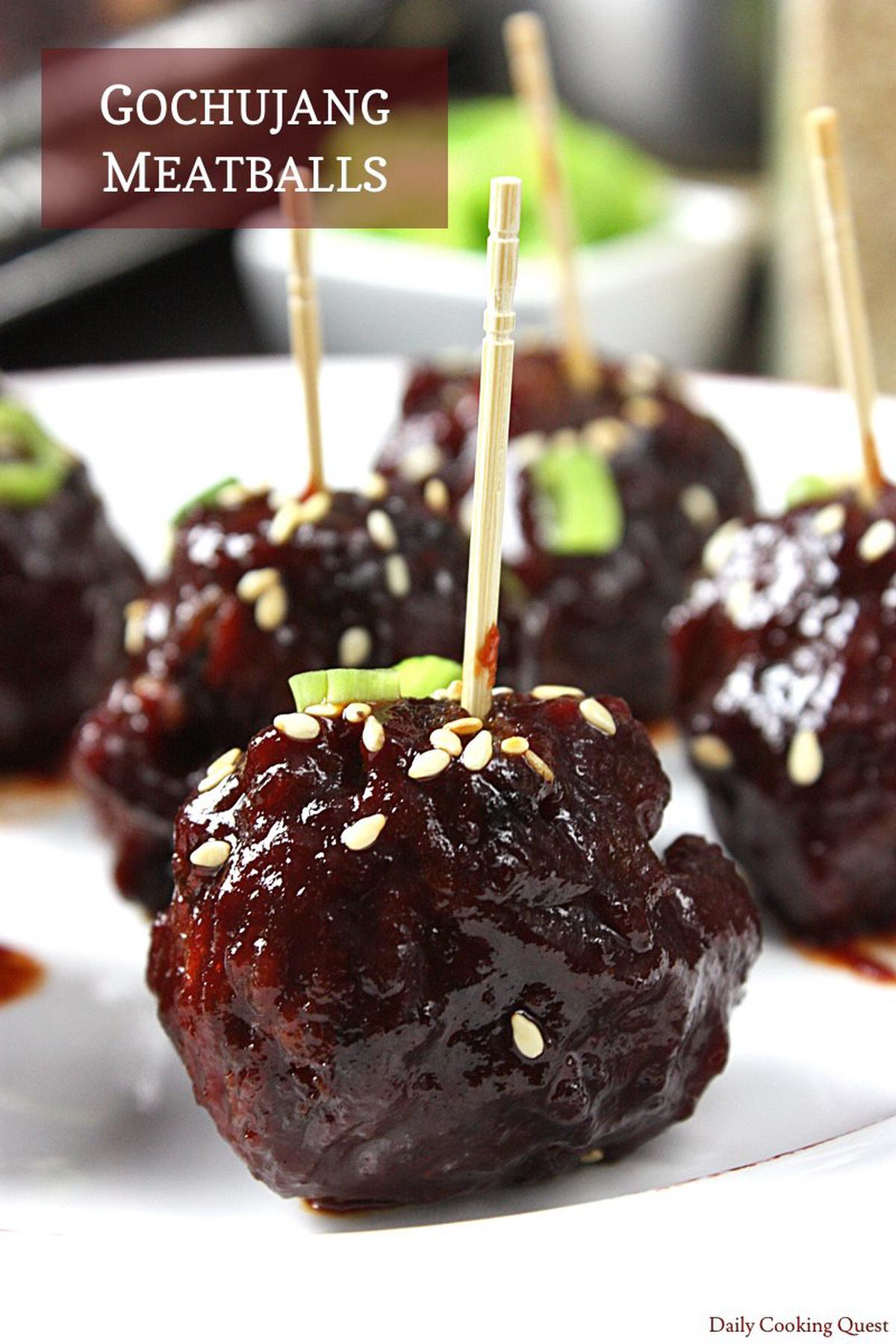 Gochujang Meatballs
5.0 from 8 reviews
Ingredients
Gochujang meatballs
1 kilogram ground beef
5 cloves garlic, minced
1 inch ginger, minced
5-6 scallions, thinly sliced
1 cup panko (Japanese breadcrumbs)
2 eggs
2 teaspoon salt
1 teaspoon ground pepper
4 tablespoon gochujang
Gochujang cranberries glaze
2/3 cup cranberry sauce
4 tablespoon gochujang
3 tablespoon rice vinegar
2 tablespoon soy sauce
Garnish
toasted sesame seeds
thinly sliced scallions
Instructions
Prepare gochujang meatballs

Combine all meatballs ingredients in a mixing bowl and mix well. Shape meatballs with an ice cream scoop (about the size of a golf ball).
Preheat oven to 175 Celsius (350 Fahrenheit). Line a rimmed baking tray with aluminum foil and set aside.
Heat a little oil (about 2 tablespoons) in a large frying pan/skillet on medium-high. Sear all sides of meatballs until browned. Transfer to the prepared baking tray. You may need to do this in batches.
Bake meatballs in the preheated oven for 10 minutes, or until internal temperature reaches 70 Celsius (160 Fahrenheit).

Prepare gochujang cranberries glaze

Combine all glaze ingredients in a saucepot, stir until well mixed. Cook on medium heat until slightly thickens. Set aside.

Serve the meatballs

Brush each meatball with the glaze, then garnish with toasted sesame seeds and thinly sliced scallions.
If you are serving this for a party, it is easier for your guests and looks nicer to stick a toothpick to each meatball.