Home / All Recipes / Indonesian / Gulai Telur Padang - Eggs Braised in Spicy Coconut Broth
Gulai Telur Padang - Eggs Braised in Spicy Coconut Broth
Hard-boiled eggs are totally not boring when they are made into delicious gulai telur Padang (egg curry). They are just like the ones from a Padang restaurant.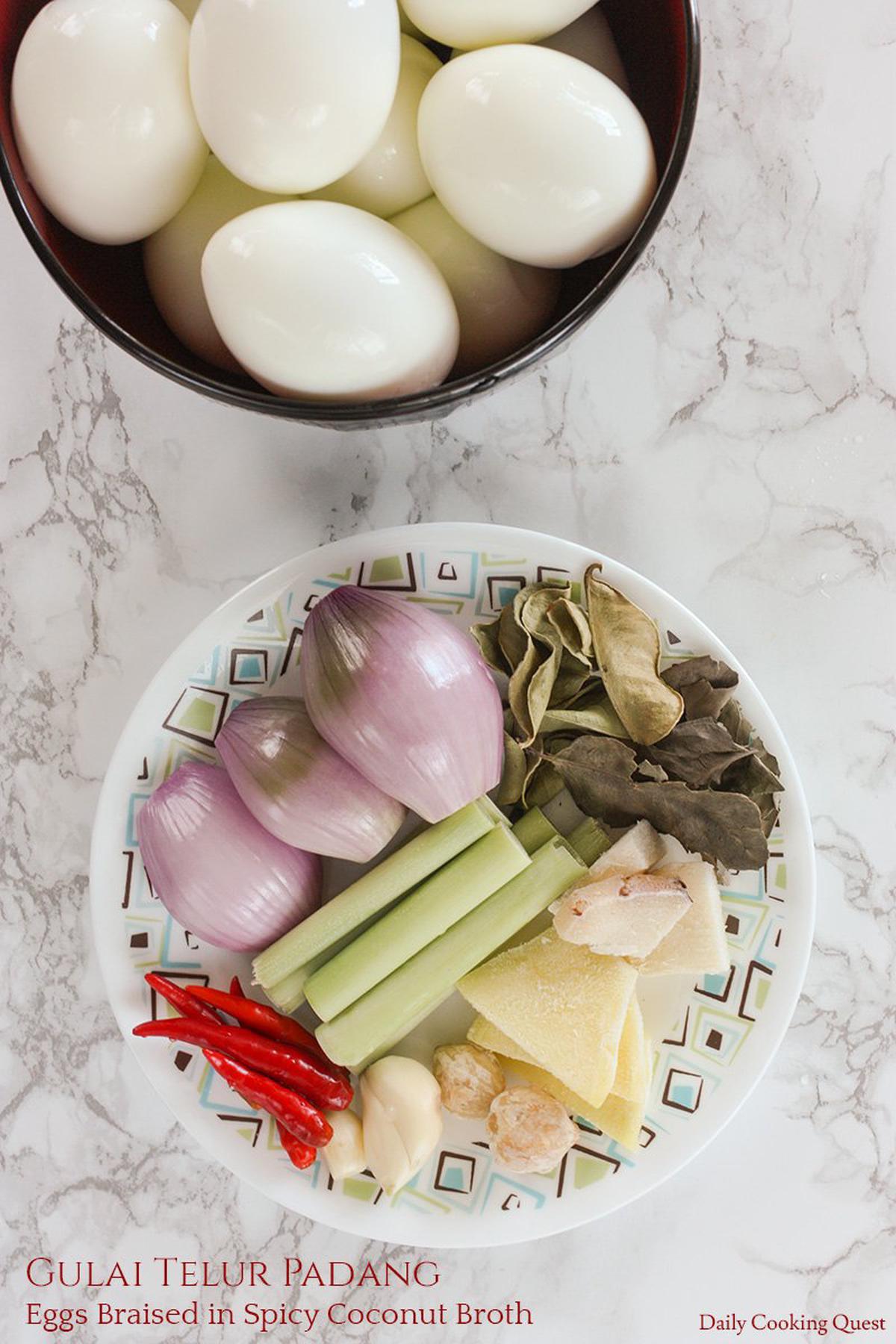 Eggs are my go-to easy dishes. I love making hard-boiled eggs, and then further cook them in delicious sauces like this gulai telur Padang.
You can fry the hard-boiled eggs in hot oil first to create a blistered golden brown crust on the eggs. I usually skip this step, but the ones sold in Padang restaurants usually have this golden brown crust, so it is up to you if you want to or not.
Gulai Padang sauce
The sauce is simple, just need to gather the ingredients and make a spice paste with food processor or blender.
You will need lemongrass, shallot, garlic, bird eye chilies, candlenuts (or macadamia), ginger, galangal, kaffir lime leaves, daun salam, tumeric powder, and coconut milk.
If bird eye chilies are too spicy for your liking, feel free to use milder varieties, such as cayenne, or even Fresno. Just make sure to use red color chilies.
Daun salam is Indonesian bay leaves. The flavor is super different compared to regular bay leaves. So if you can't find daun salam, the best option would be to simply omit them.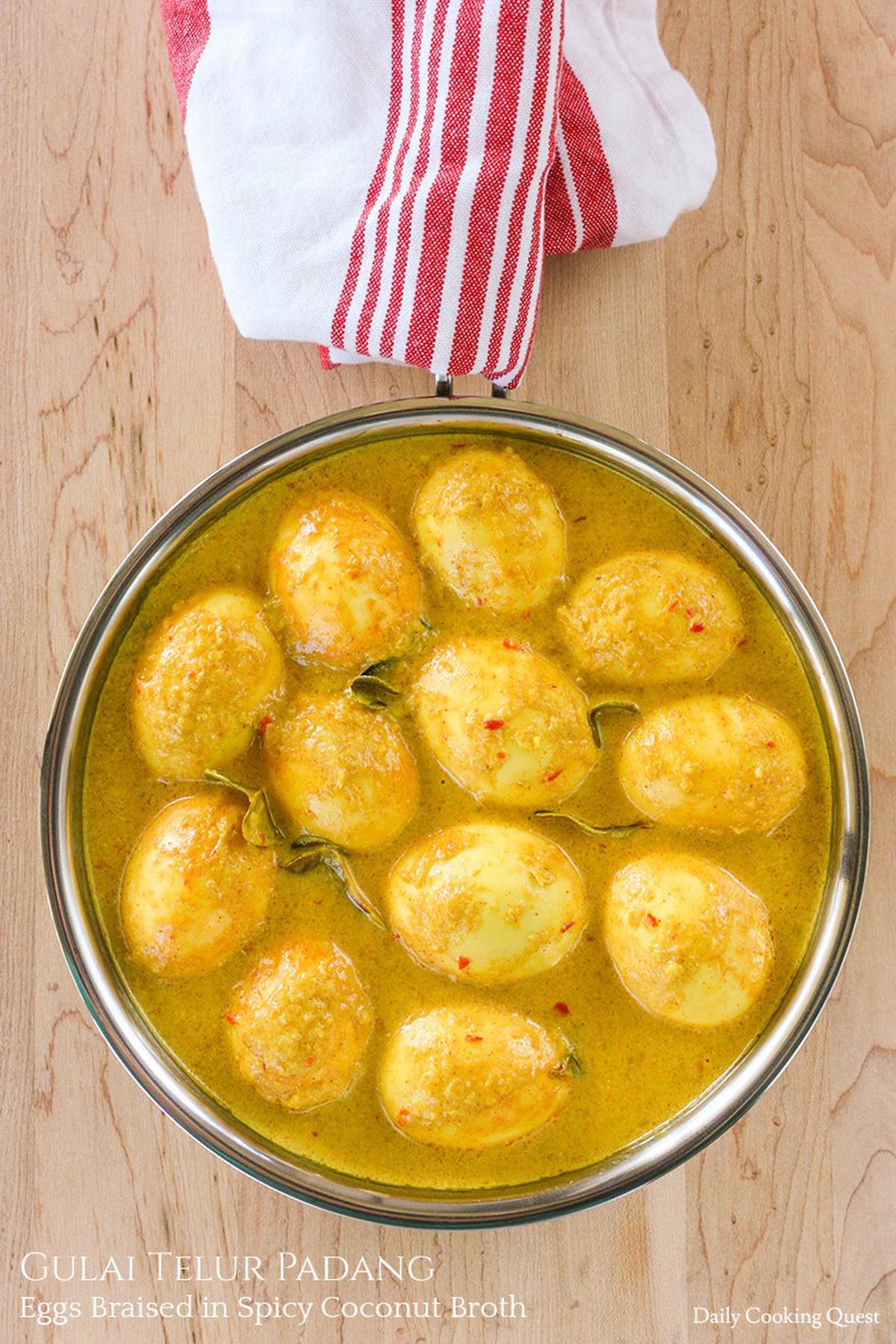 How to cook gulai telur Padang?
First, sauté spice paste and all seasoning ingredients until fragrant and the color turns into a darker shade.
Then, add water and coconut milk and bring to a boil. Add the peeled hard boiled eggs and simmer for 15 minutes until the sauce thickens.
Turn off the heat, discard the leaves, and serve gulai telur padang with steamed white rice.
A typical packet of nasi Padang
Typically if you buy a packet of Padang rice meal, you get a serving of rice, a serving of egg (gulai telur or telur balado, you get to choose usually), a serving of vegetables, and a serving of meat (rendang, gulai ayam, ayam bakar, ayam pop), and a generous amount of sambal lado.
A rice packet like this is very filling and most likely costs less than $2, a truly delicious and satisfying meal at a very reasonable price. Give it a try if you ever visit Indonesia :)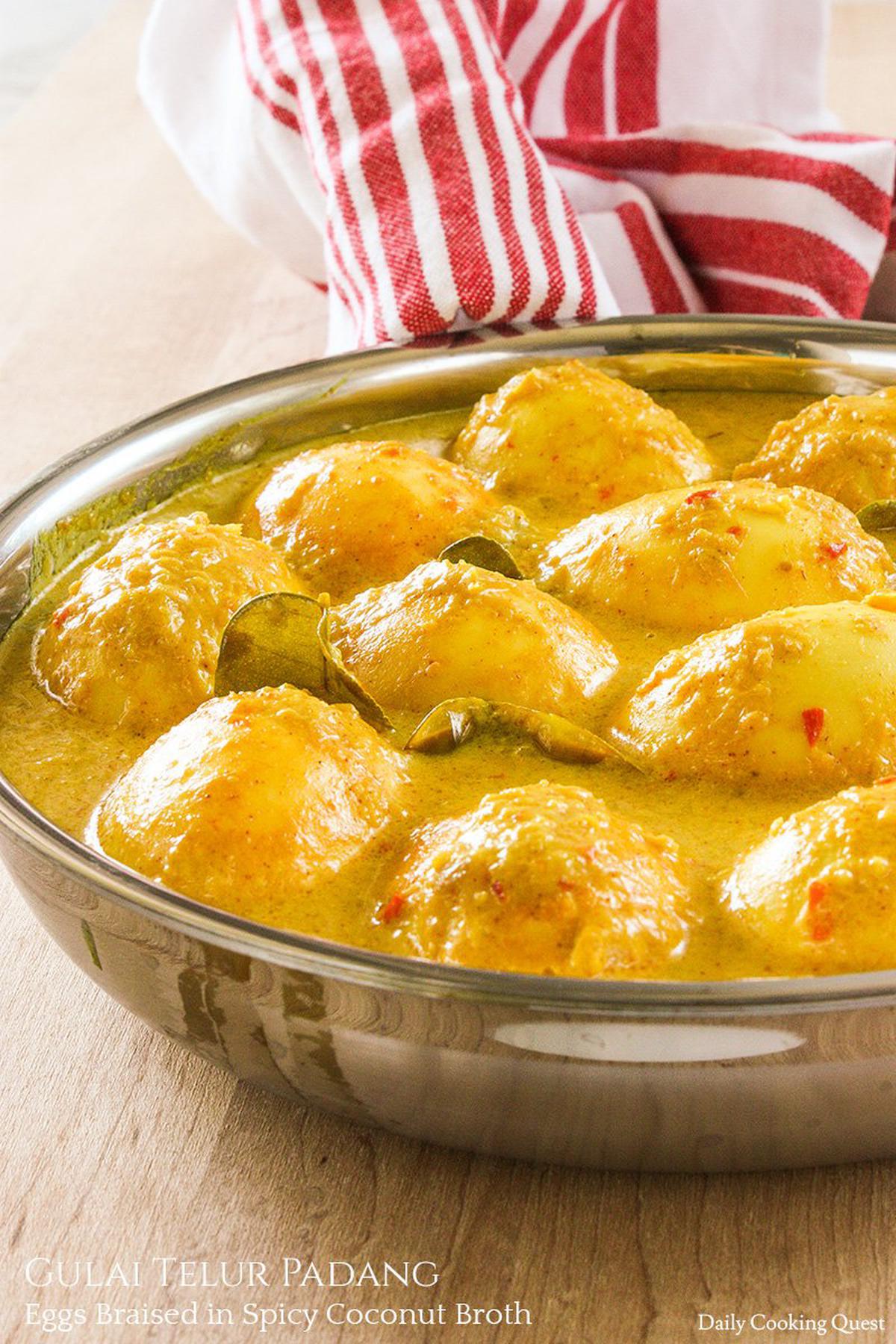 Gulai Telur Padang - Eggs Braised in Spicy Coconut Broth
4.8 from 10 reviews
Ingredients
3 tablespoon oil
2 lemongrass, cut into 2 inch sections, bruised
3 Indonesian bay leaves (Indonesian: daun salam)
5 kaffir lime leaves (Indonesian: daun jeruk)
1 cup coconut milk (from canned coconut milk)
1 cup water
12 hard boiled eggs, peeled
Spice paste (grind the following together)
80 gram shallot
5-8 red bird eye chilies (or fresno chilies)
2 cloves garlic
1 inch ginger
1 inch galangal
2 candlenuts
1/2 teaspoon turmeric powder (or 1" of fresh turmeric)
1/2 tablespoon salt
Instructions
Heat oil in a wok on medium heat. Sauté spice paste, lemongrass, Indonesian bay leaves, and kaffir lime leaves until fragrant and the spice paste turns a darker shade. About 5 minutes.
Add coconut milk and water. Stir to mix. Bring a boil.
Add hard boiled eggs. Once it returns to a boil again, reduce heat to a simmer. Cook for 15 minutes, or until the sauce is thick.
Turn off the heat. Discard the leaves. Serve with steamed white rice.