Home / All Recipes / Japanese / Gyuuniku to Yasai no Umani - Simmered Beef and Vegetables
Gyuuniku to Yasai no Umani - Simmered Beef and Vegetables
Umani (旨煮) is a Japanese simmered dish, think of it as a stew, of meat and root vegetables in dashi, sake, mirin, and soy sauce. The rule for an umani is pretty simple, choose your meat, this can be chicken, beef, or pork, and add as many vegetables as you like. Since umani is popular in winter, so winter root vegetables are usually used, which ranges from taro root (里芋 - satoimo), lotus root (れんこん - renkon), bamboo shoots (竹の子 - takenoko), daikon, carrot, burdock (ごぼう - gobou), shiitake, to kabocha just to name a few. I also like adding either shirataki noodles or konnyaku when making umani, but this is not a must and you can skip if you are not a fan. In short, if you have some meat, some root vegetables, and some non-root vegetables, you can prepare umani.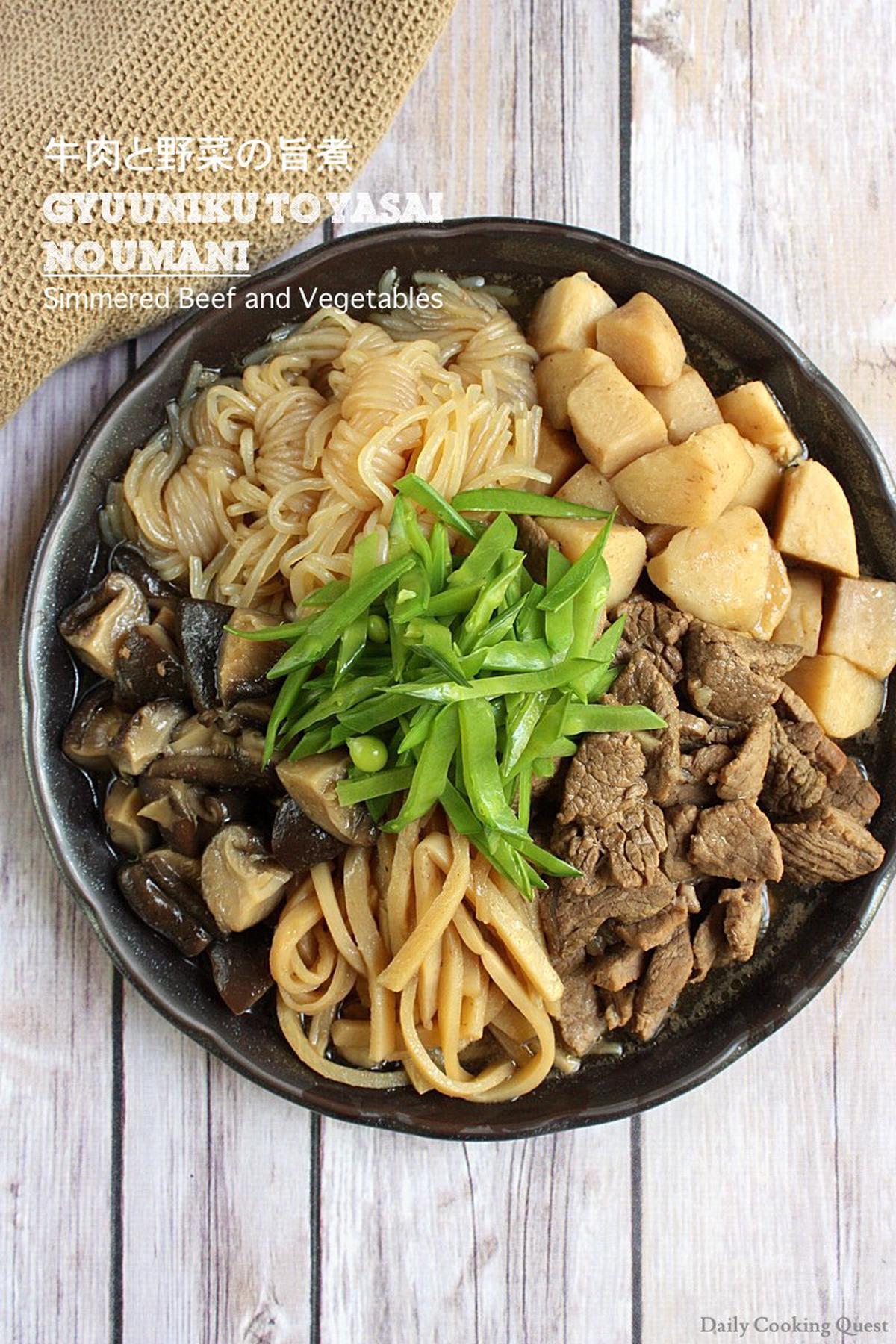 Gyuuniku to Yasai no Umani - Simmered Beef and Vegetables
5.0 from 1 reviews
Ingredients
2 tablespoon oil
300 gram tenderloin beef, thinly sliced
2 inch ginger, thinly sliced
4 taro roots (里芋 - satoimo), peeled and quartered
150 gram bamboo shoots, julienned
8 fresh shiitake mushrooms, remove stems and quartered
500 ml dashi
100 ml sake
8 shirataki noodles
3 tablespoon sugar
1 tablespoon mirin
4 tablespoon soy sauce
100 gram snow peas, blanched and julienned
Instructions
Heat oil in a pan and stir fry beef and ginger until the beef is no longer pink.
Add taro roots, bamboo shoots, and shiitake mushrooms. Mix well.
Add dashi and sake. Bring to a boil, then simmer over medium heat for 20 minutes.
Add shirataki noodles, sugar, mirin, and soy sauce. Continue to simmer for 15 minutes.
Turn off heat, add snow peas. Mix well, and serve immediately.