Home / All Recipes / Chinese / Hakka Char Yoke
Hakka Char Yoke, or melt-in-your-mouth braised pork with wood ear mushroom, is a Chinese dish fit for festive occasions.
My parents are Cantonese, but my in-laws are Hakka, and so over the years I have been slowly exposed to more and more Hakka dishes. One such dish is Hakka Char Yoke, a braised pork dish with wood ear mushrooms, often served in Chinese New Year or other festive gathering. This is very easy to prepare at home, so it doesn't have to be a once a year dish.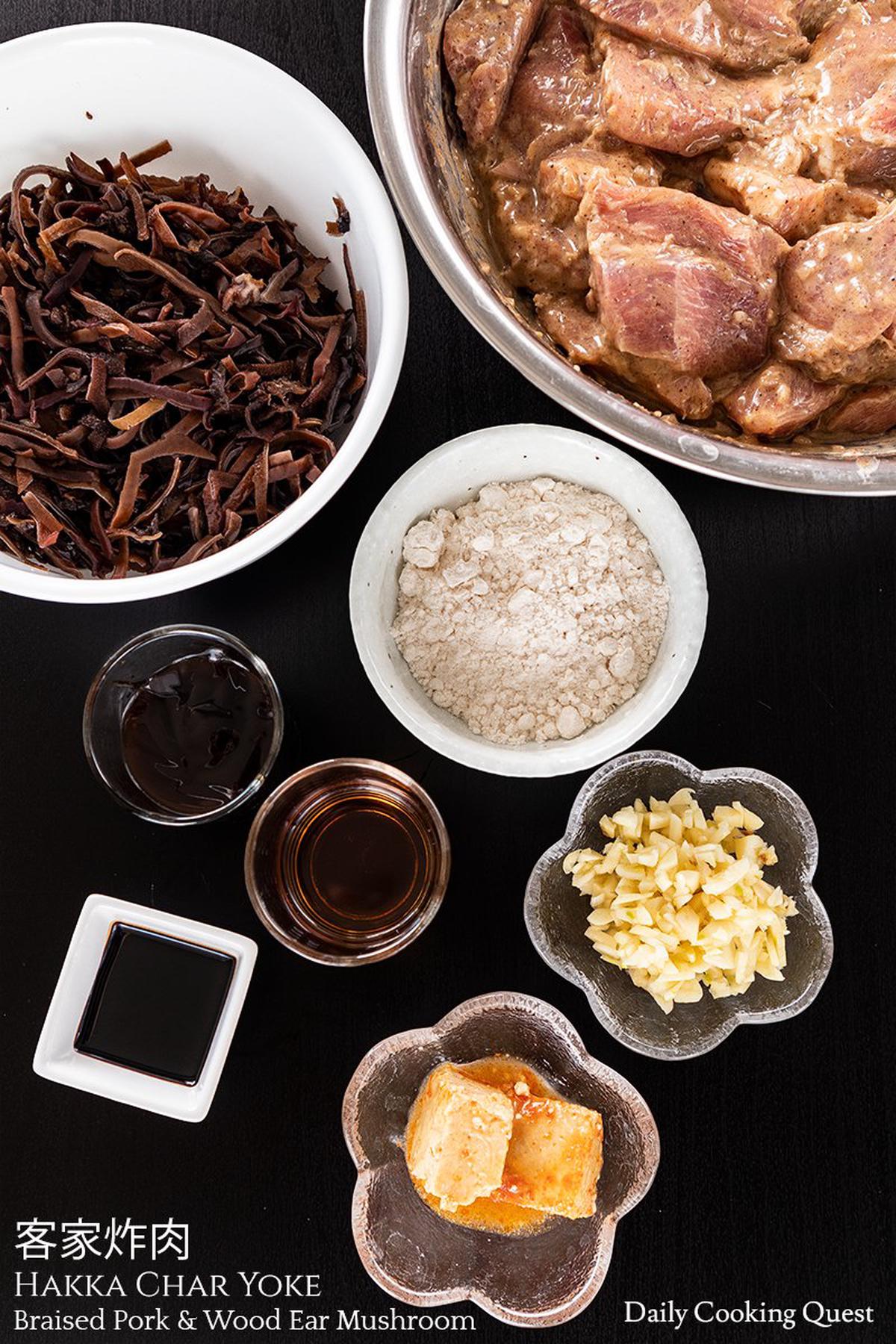 Fermented red beancurd
The key ingredient to prepare Char Yoke is fermented red beancurd. You can usually find this alongside other jarred soybean products in your Asian market. Also, notice that there are two versions of fermented beancurd, the red version, and the white version. Red version is usually used in cooking, while the white one has milder taste and is typically served as condiment for congee. If you have no access to brick-and-mortar Asian market, you can also get this from Amazon.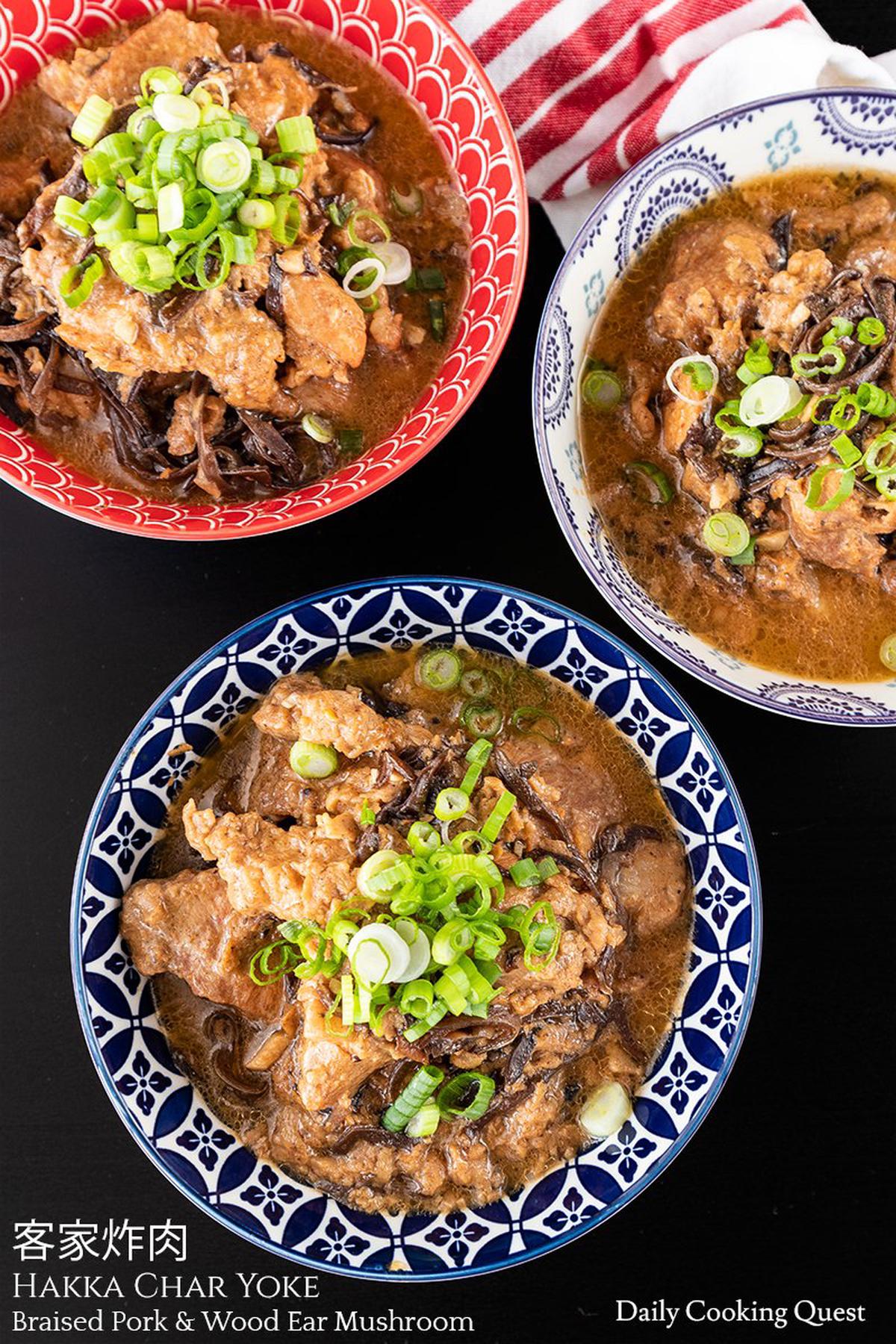 Pork belly vs. pork shoulder
Traditional recipes will use pork belly, and if this is served for a family gathering, I do think it is best to stick with pork belly. But for daily rotation, I prefer using a less fatty cut such as pork shoulder. The end result is still a very tender melt-in-your-mouth pork, and hopefully healthier for my family. But regardless of the pork cut you choose, this dish is indeed very flavorful and delicious.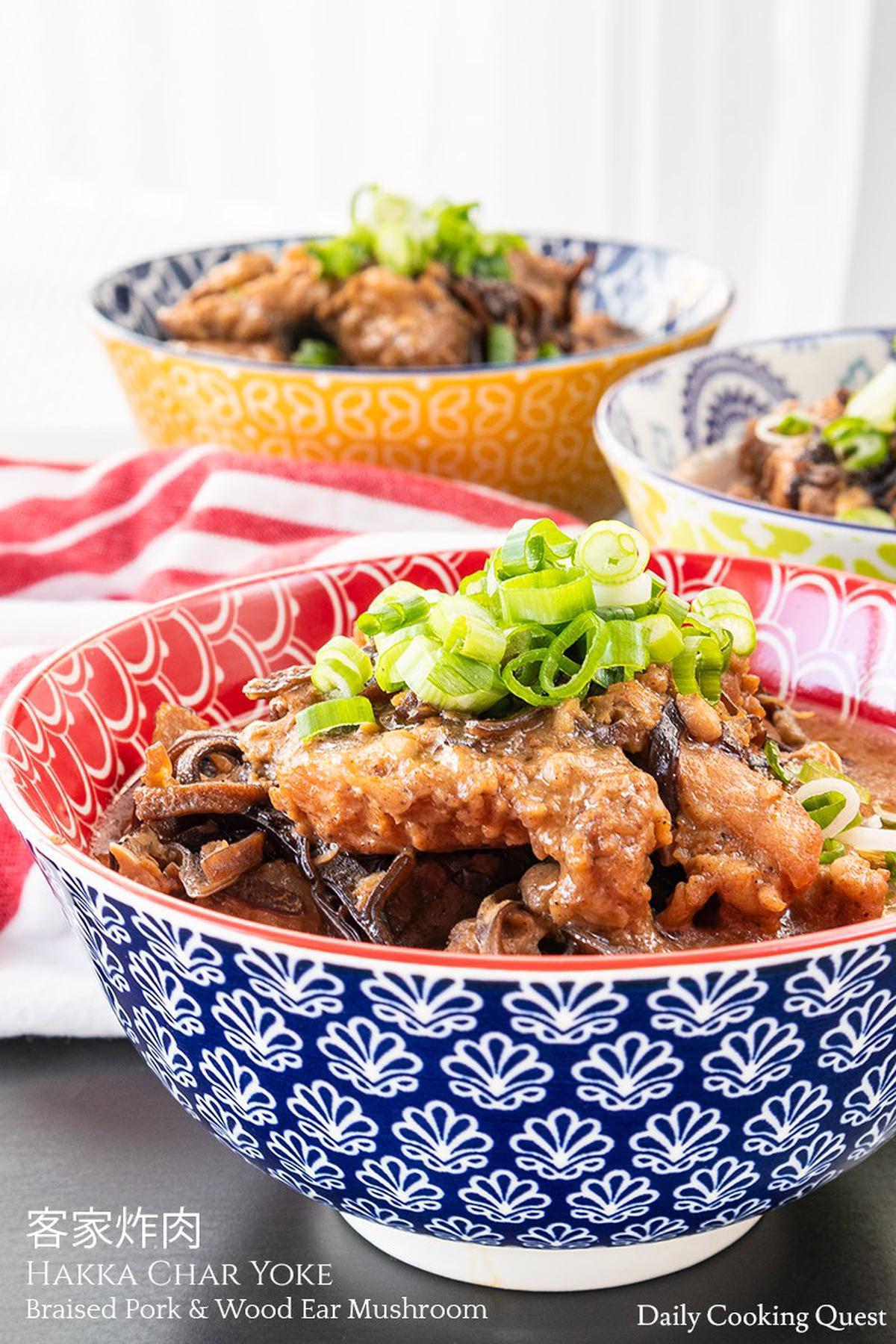 Hakka Char Yoke
4.9 from 14 reviews
Ingredients
900 gram (2 lb.) pork shoulder, cut into 1-inch pieces (*)
1 egg
5-6 tablespoon all-purpose flour
enough oil for deep frying
4 cloves garlic, minced
30 gram fermented red beancurd
30 gram dried wood ear mushroom, soaked in cold water to rehydrate
4 tablespoon Shaoxing, divided
1 liter (4 cup) water
2 tablespoon oyster sauce
1 teaspoon dark soy sauce
1 scallion, thinly sliced (optional garnish)
Marinade (puree together the following)
75 gram shallot
50 gram fermented red beancurd
1 teaspoon five spice powder
1/2 teaspoon sugar
1/2 teaspoon ground pepper
1 tablespoon Shaoxing
1 teaspoon sesame oil
Instructions
Mix pork with marinade in a mixing bowl. Cover the bowl, and rest in the fridge for at least 4 hours, overnight is best.
Prepare a pot of hot oil for deep frying.
Add egg to the pork mixture, mix well. Coat the pork pieces with all-purpose flour, then deep fry in hot oil until golden brown. Set aside on a wire rack to drain off excess oil.
In a wok/deep skillet, heat 2 tablespoon of oil over medium-high heat. Sauté garlic and fermented red bean curd until fragrant.
Add wood ear fungus and fry for 1 minute. Return fried pork to the pan, along with 2 tablespoon of Shaoxing. Cook for 2 minutes.
Add the remaining 2 tablespoon Shaoxing, along with water, oyster sauce, and dark soy sauce. Bring to a boil, then reduce to a simmer. Cook until pork is tender, about 45 minutes.
Notes
(*) Most people use pork belly, but I like to prepare this dish with a less fatty cut.