Home / All Recipes / Indonesian / Ikan Nila Bakar - Broiled Tilapia
Ikan Nila Bakar - Broiled Tilapia
Ikan bakar (grilled fish) is one of my favorite food. In Indonesia, there are many restaurants specializing in seafood dishes, and the first thing I will order will definitely be ikan bakar :)
In such places, all the grilling is done in a charcoal griller in an open kitchen usually at the front of the restaurant, the idea being the wafting smell will entice customers into waking into the restaurant.
At home though, I don't own a charcoal griller, so I usually resort to making my ikan bakar with a broiler in an oven. It is good enough, especially when I am feeling homesick and my last proper ikan bakar is years ago!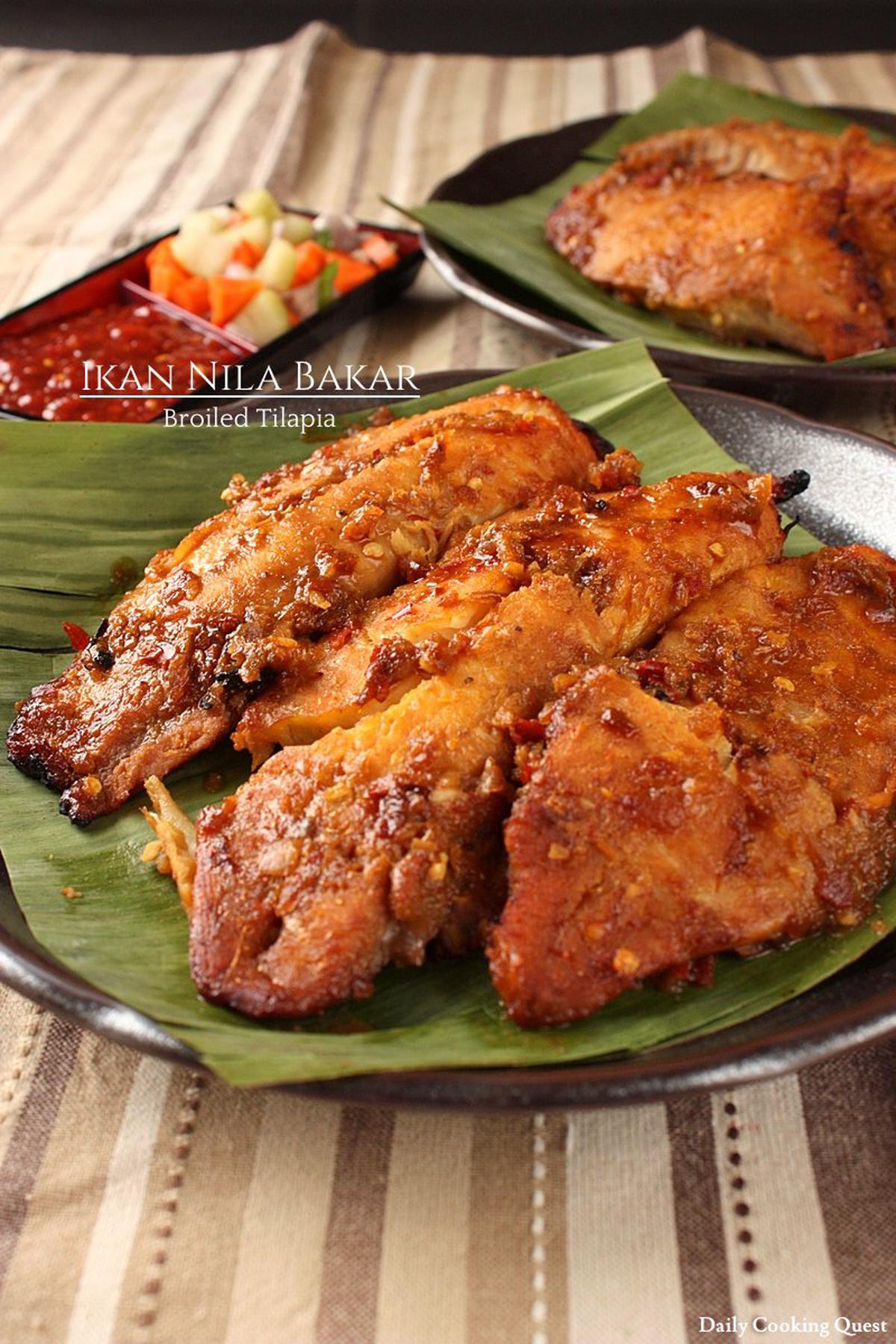 I know that eating a whole fish can be a shocking experience for some, but you are guaranteed to be served one if you order ikan bakar in a restaurant.
At home, I usually use fish fillet since it is easier, and my family is happier when they don't see a whole fish staring at them. Actually, they have no qualm seeing a whole fish in a platter, but they hate having to pick through the bones, haha :)
Ikan Nila Bakar - Broiled Tilapia
5.0 from 3 reviews
Ingredients
500 gram tilapia fillets (Indonesian: filet ikan nila)
1 tablespoon lime juice
1 teaspoon salt
1/2 teaspoon sugar
2 teaspoon ground coriander
tamarind juice (from 1 teaspoon tamarind + 2 tablespoon warm water, mix well, strained)
4 tablespoon Indonesian sweet soy sauce (Indonesian: kecap manis)
Grind the following together into spice paste
6-10 red cayenne chilies
50 gram shallot
2 cloves garlic
1 inch ginger
Instructions
Rub tilapia fillets with the rest of the ingredients and marinate for 30 minutes in the fridge. Return to room temperature before broiling.
Preheat broiler and line a baking tray with aluminum foil. Transfer tilapia fillets to the prepared tray.
Broil each side for 3-4 minutes, until slightly charred. Baste with marinate while broiling.
Serve immediately with steamed white rice.