Home / All Recipes / Indonesian / Ikan Patin Sambal Sereh - Fried Shark Catfish in Lemongrass Chili Sauce
Ikan Patin Sambal Sereh - Fried Shark Catfish in Lemongrass Chili Sauce
Fresh water fish like ikan patin (shark catfish) tends to be fishier than the salt water fish, and this lemongrass chili sauce is super great for this type of fish since the lemongrass fresh citrus flavor will completely mask the fishy smell and turns any river fish into a wonderful dish. If you prefer to use salt water fish instead, like red snapper or grouper, you can do that too :)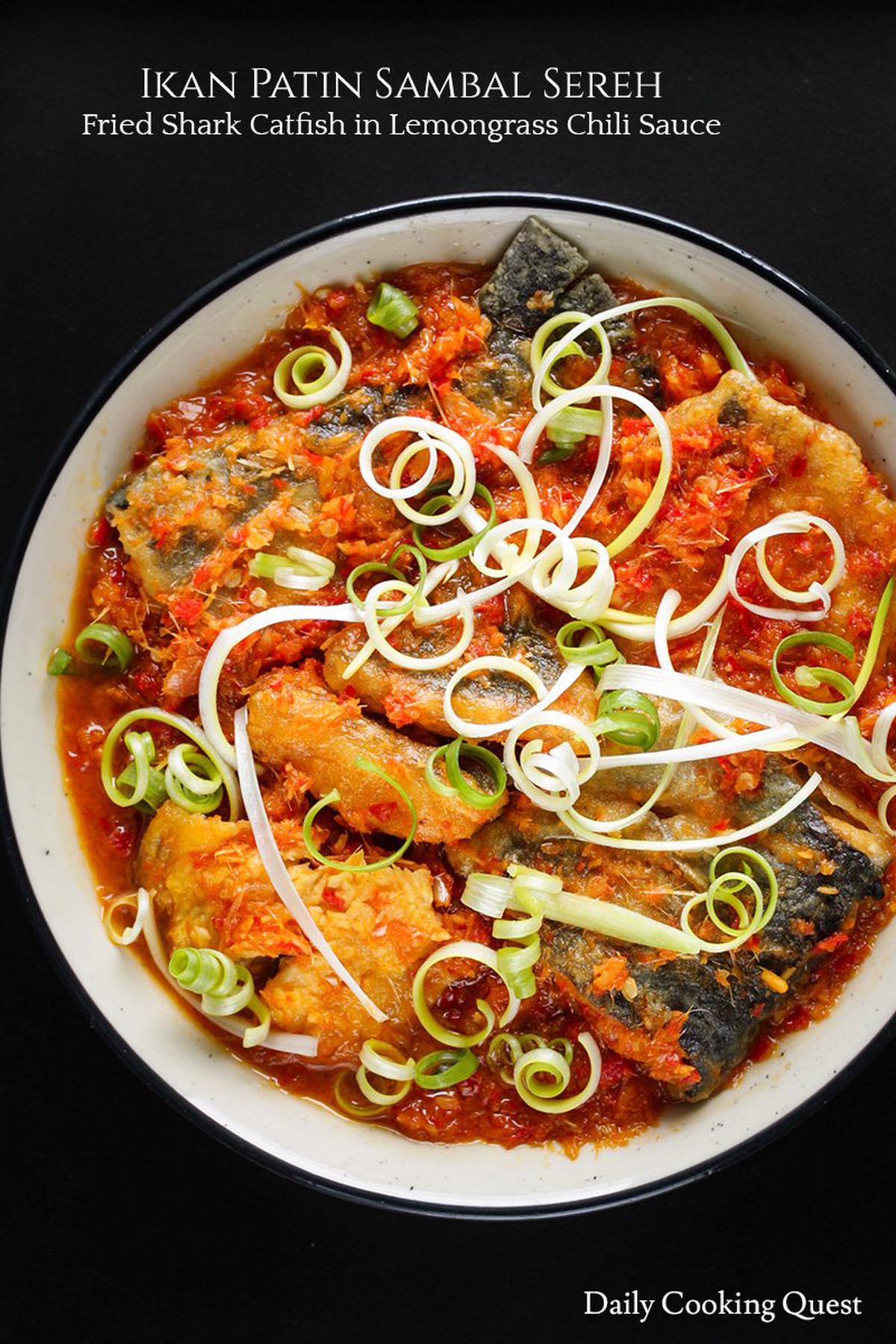 Ikan Patin Sambal Sereh - Fried Shark Catfish in Lemongrass Chili Sauce
5.0 from 2 reviews
Ingredients
Pan fried fish
1 whole shark catfish (Indonesian: ikan patin), about 800 gram
juice of 1 lime (Indonesian: jeruk nipis)
salt
pepper
corn starch
4 tablespoon oil
Lemongrass chili sauce
6 lemongrass (Indonesian: sereh), white part only
6 red chilies (Indonesian: cabe merah besar)
3 to 6 Thai chilies (Indonesian: cabe rawit), seeded
6 shallots (Indonesian: bawang merah)
6 cloves garlic (Indonesian: bawang putih)
4 tablespoon oil
2 tablespoon fish sauce (Indonesian: kecap ikan)
1 tablespoon lime juice (Indonesian: jeruk nipis)
75 gram palm sugar (Indonesian: gula Jawa)
1 cup water
Garnish
1 scallion (Indonesian: daun bawang), cut into thin ribbons
Instructions
Pan fried fish

Clean and gut the fish, cut into 6 to 8 pieces. Place in a mixing bowl, sprinkle with salt, pepper, and lime juice. Set aside to marinate for 15 minutes.
Heat oil in a frying pan. Drain and pat dry the fish, coat with corn starch, then fry each side for 4 minutes. Set aside on a serving plate.

Lemongrass chili sauce

Grind lemongrass, red chilies, Thai chilies, shallots, and garlic into a fine paste.
Heat 4 tablespoon oil in a frying pan, sauté lemongrass chili paste until fragrant, about 3 minutes. Add fish sauce, lime juice, palm sugar, and water and bring to a boil. Reduce heat and simmer for another 5 minutes.
Pour the sauce onto the fish, and garnish with scallion ribbons. Serve immediately with steamed white rice.