Home / All Recipes / Japanese / Inari Zushi - Sushi in Tofu Pouches
Inari Zushi - Sushi in Tofu Pouches
What is the solution for people who like sushi but currently lack a sushi mat to make maki (sushi rolls) and too lazy (or cheap LOL) to buy fresh sashimi to make nigiri? The immediate solution that comes to my mind is inari zushi, or sushi in tofu pouches. Of course, the next question then, where do one get said tofu pouches? Curiously, I can find this way easier in the States than here in Indonesia, where the distance between Japan and Indonesia is much much closer than between Japan and US, but I digress.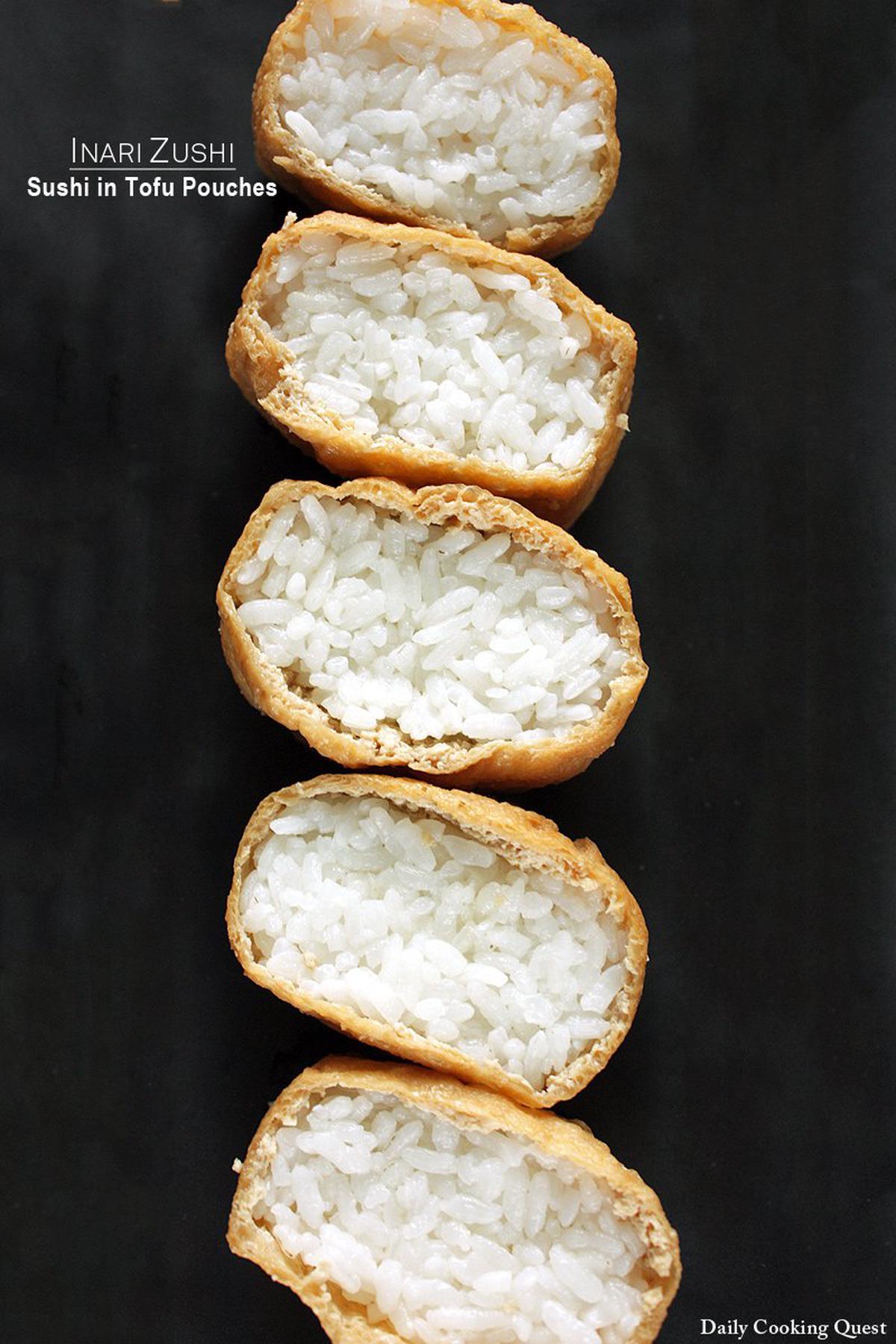 If you are willing to suspend your believe, then I would like to tell you my super cheat way of making tofu pouches for inari zushi. Ready? Go buy some tahu pong, yup, your eyes do not just deceive you. This deep fried tofu that is everywhere in Indonesia is actually a really good start for making your very own tofu pouches, not to mention they are super cheap right? Even if you manage to finally locate tofu pouches that are ready to be stuffed for inari zushi, I am willing to bet they are gonna cost quite a lot more than making them at home.♥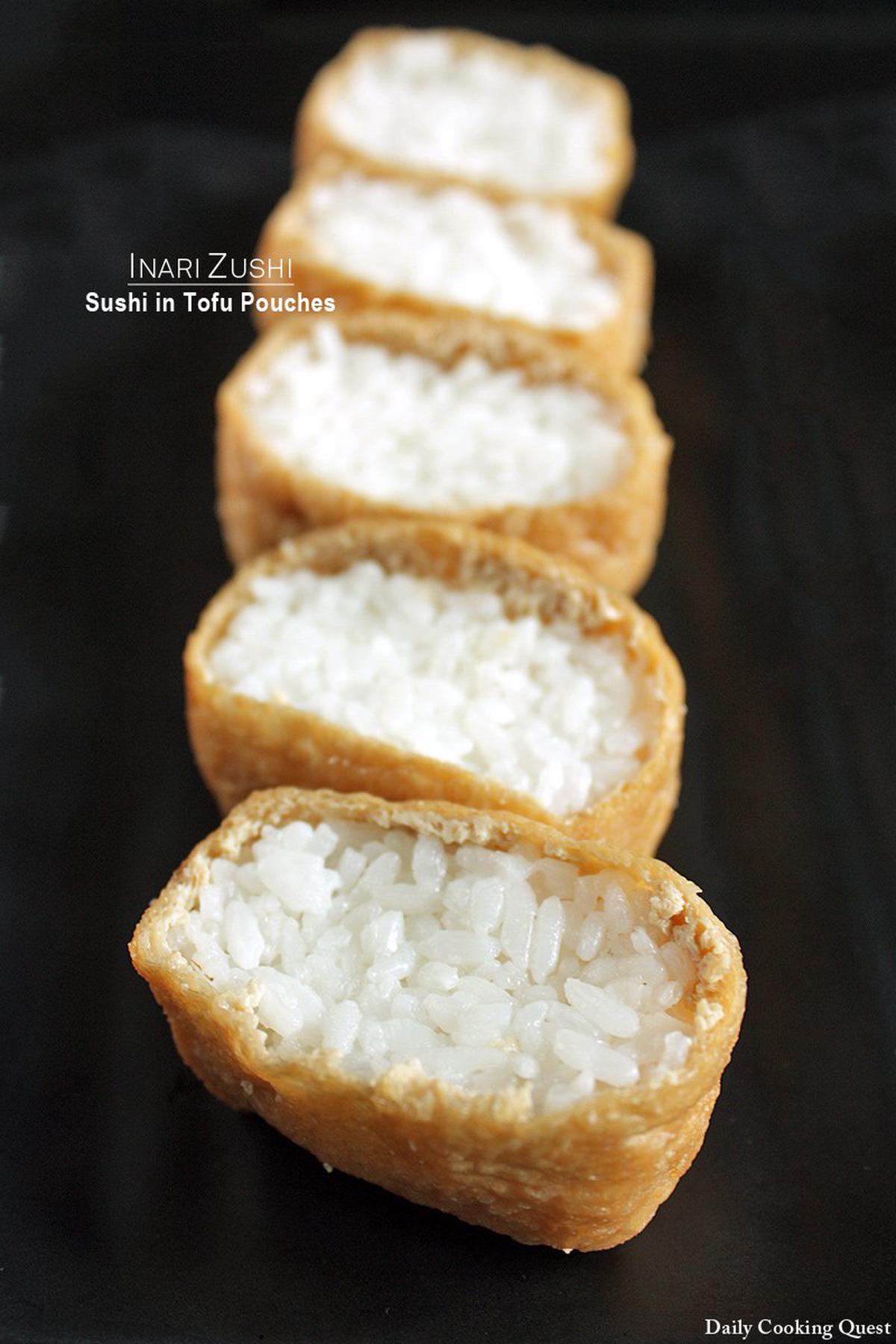 Inari Zushi - Sushi in Tofu Pouches
5.0 from 1 reviews
Ingredients
Tofu Pouch
20 deep fried tofu (Indonesian: tahu pong)
400 ml dashi stock (or 400 ml water + 1 teaspoon bonito flavored dashi seasoning)
3 tablespoon soy sauce
3 tablespoon sugar
1 tablespoon mirin
Sushi Rice
2 rice cooker cup (or 1 1/2 regular cup) short grain rice
water to cook rice according to your rice cooker, minus 2 tablespoon of water
2 tablespoon rice vinegar
1 1/2 tablespoon sugar
1/2 teaspoon salt
Instructions
Tofu Pouch

Bring a pot of water to a rolling boil and blanch deep fried tofu to remove excess oil. Drain and let cool.
Cut one end of each tofu, then scoop out the tofu with a small spoon, leaving only the tofu skin. This tofu skin is what we will use to make tofu pouch.
Place dashi stock, soy sauce, sugar, and mirin in a pot and bring to a boil.
Add tofu skins, partially cover the pot (or use a drop lid if you have one), and simmer on medium heat until the sauce is almost gone. Set aside to cool.

Sushi Rice

Wash and drain the rice, then add enough water to cook the rice according to your rice cooker. Remove 2 tablespoon of water from the usual amount of water needed. Then cook the rice in rice cooker until it turns to "warm". Let stand for 10 minutes.
Meanwhile, mix together rice vinegar, sugar, and salt in a bowl and stir until sugar has completely dissolved. This is our sushi vinegar.
Open the rice cooker, and transfer the rice to a mixing bowl, making a mound. Pour sushi vinegar over the rice, and mix rice with a paddle (this should come with your rice cooker), and cool it with a fan.

Assembling Inari Zushi

Squeeze out tofu pouch and stuff with sushi rice, then serve immediately. This is the easiest way, and you get an open pouch where you can see the rice (see my photo).
Alternatively, you can fold the edges over the rice so the sushi rice is completely covered inside the tofu pouch.
If you want to get even fancier, you can top the open pouch version with some tobiko, shredded nori, unagi, etc.