Home / All Recipes / Indonesian / Rendang Ayam - Indonesian Chicken Rendang
Rendang Ayam - Indonesian Chicken Rendang
An easy recipe to prepare Indonesian style rendang. The same recipe for the chicken rendang can be used to prepare beef, pork, eggs, and even young jackfruit.
Rendang regularly shows up among the list of world's most delicious food, and if you have ever sink your teeth into the savory, spicy, and slowly braised rendang, you are sure to nod your head in agreement. Beef is probably the more popular rendang, but if you want a quicker meal, chicken rendang is definitely trailing in a close second.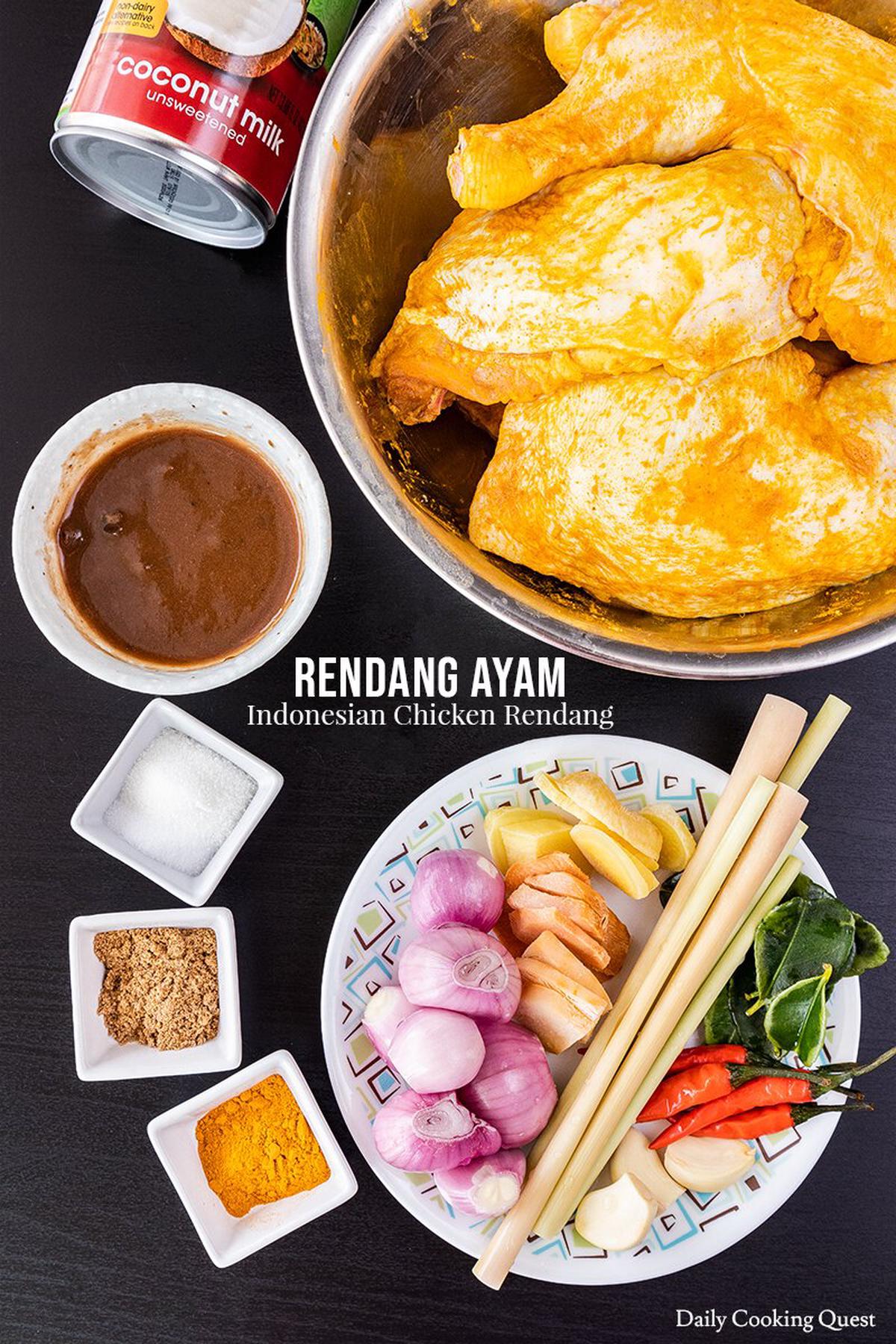 Where is the origin of rendang?
Rendang is the most distinguished dish of the Minang people, and the people of Minang has existed since long before either Indonesia or Malaysia becomes a country. Minang people traveled far and wide, and the rendang that existed today originates from Minang, with slight differences in different regions.
You will hear debates and claims from the two countries that rendang is theirs, but I like to think the Minang will scoff and remind both sides that rendang is theirs, and since there are plenty of Minang descents in both countries, everyone should just shut up and eat their rendang happily.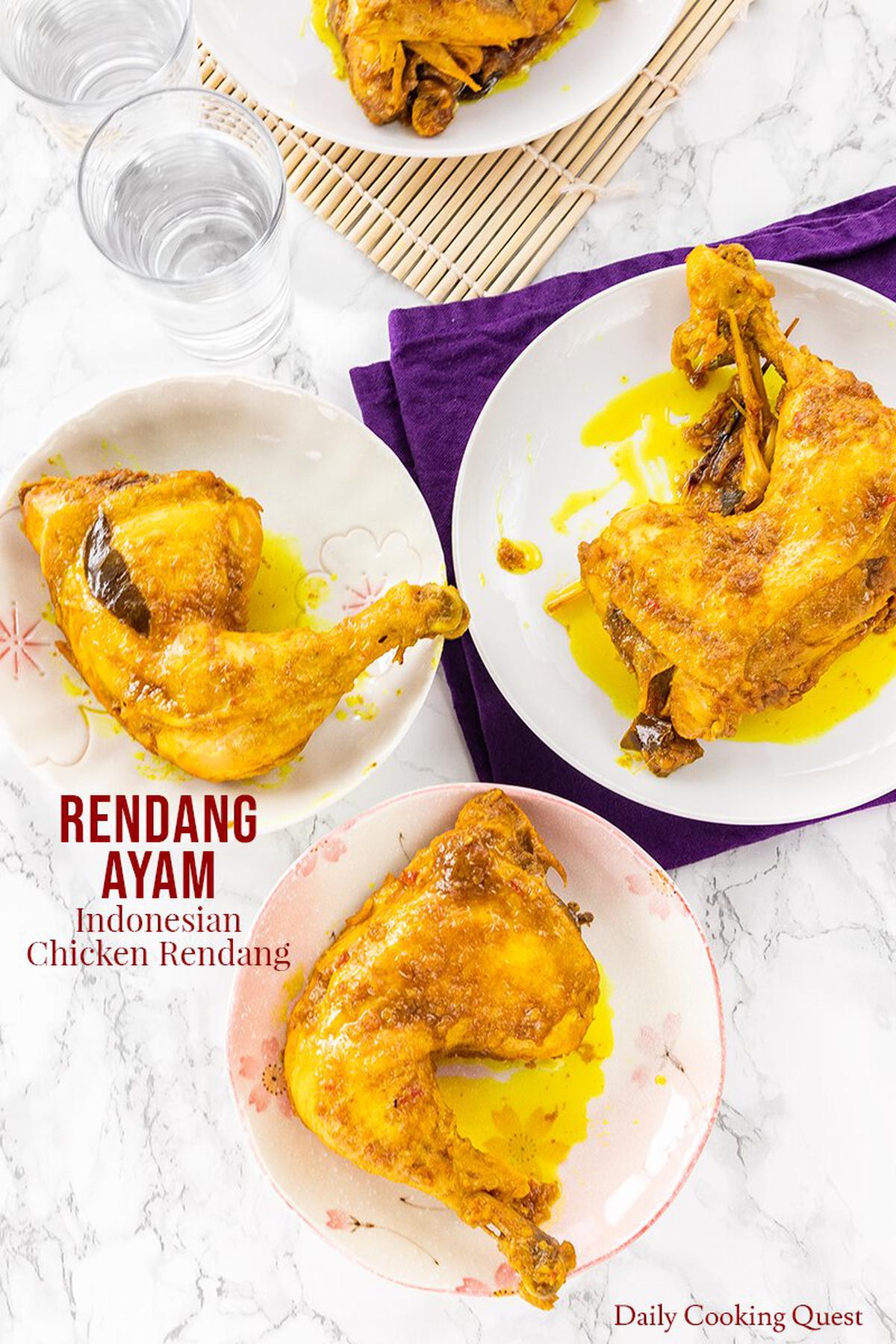 How long do you cook a rendang?
After a long discussion with my Minang friend, I arrive at this wisdom. One needs to cook rendang on a slow fire (simmering), in a wok, without any cover, until the sauce is reduced and even darken and caramelized (if possible).
If one is in a hurry and leave the sauce reduced only by half, it is best to call it a gulai instead of a rendang.
And if one is slightly more patient and wait until the sauce is reduced to less than a quarter, it should be called a kalio.
Only when the sauce is truly reduced and even turn slightly dark, then the dish can be called a rendang.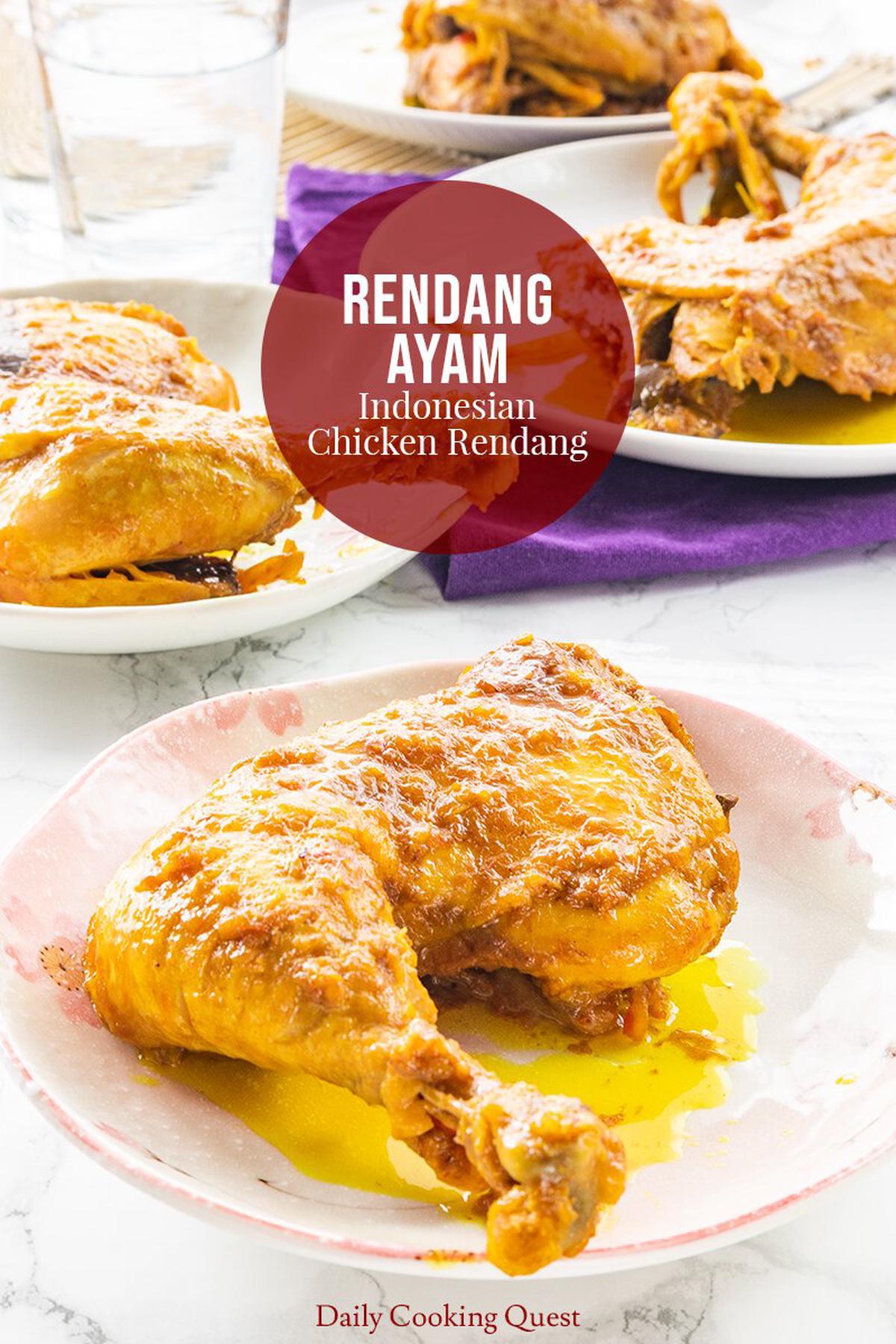 Rendang Ayam - Indonesian Chicken Rendang
5.0 from 26 reviews
Ingredients
4 chicken leg quarters
1 teaspoon turmeric
1 teaspoon salt
3 tablespoon oil
6 kaffir lime leaves, remove the ribs
3 lemongrass, bruised and knotted
1 can (400 ml) coconut milk
400 ml water
1 tablespoon (~ 25 gram) tamarind + 4 tablespoon hot water, mix into a thick paste and strained
1 teaspoon salt
1/2 tablespoon sugar
Spice paste (grind the following together)
100 gram shallot
3 cloves garlic
5-10 fresh red chilies (use fresno, or bird eye), seeded
1 inch ginger
1 inch galangal
1 teaspoon turmeric powder (or 1 inch fresh turmeric)
1 teaspoon coriander powder
Instructions
Rub chicken leg quarters with the 1 teaspoon of turmeric and 1 teaspoon of salt. Set aside for 15 minutes.
Heat oil in a wok and sauté spice paste, kaffir lime leaves, and lemongrass until fragrant. About 5 minutes.
Add in the chicken leg quarters, and cook until no longer pink.
Add coconut milk, water, strained tamarind paste, salt, and sugar. Stir briefly to mix, and bring to a boil. Reduce heat to a simmer and continue cooking, uncovered, until the sauce is almost dry and clings to the chicken quarters.
Turn off heat. Transfer to a serving plate and serve with steamed white rice.