Home / All Recipes / Japanese / Japanese Braised Daikon With Miso Sauce
Japanese Braised Daikon With Miso Sauce
Enjoy daikon in winter with this simple and elegant Japanese braised daikon dish, served with a simple miso sauce from red miso, sugar, sake, and mirin.
Furofuki daikon (ふろふき大根) is a Japanese braised daikon dish served with miso sauce. This is a popular winter dish served in most Japanese households since winter is the time when daikon is sweetest and tastes the best.
The way to slowly boil the daikon until tender is mostly standard across households, but I am quite certain the miso sauce will differ slightly from family to family. But here is the way I prepare my miso sauce and I hope you will like it.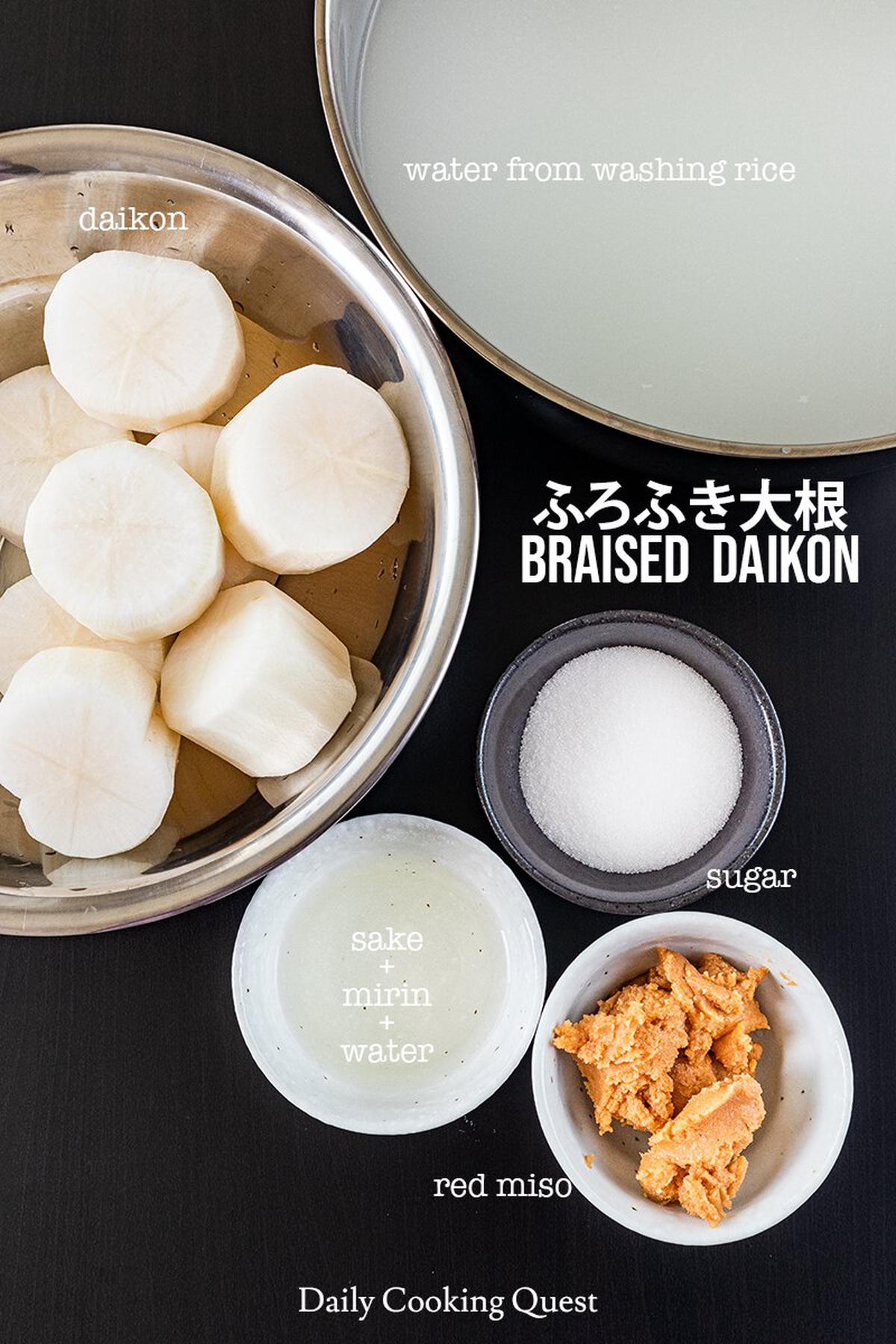 Boiling daikon with water from washing rice to reduce its bitterness
From the time when my Grandmother was still with us, we have always been boiling our daikons with water from washing rice. Since we cook rice daily, we will naturally have water from rinsing and washing rice. We collect this water and use it to boil daikon to reduce the bitterness of daikon.
What if I don't cook rice and have no water from washing rice?
In that case, I suggest wrapping 2 tablespoons of rice in a cheesecloth (or a fine-mesh tea strainer), and boil your daikon with water and the small packet of rice. Once you have finished boiling the daikon, simply remove the rice packet and proceed with the remaining steps of the recipe.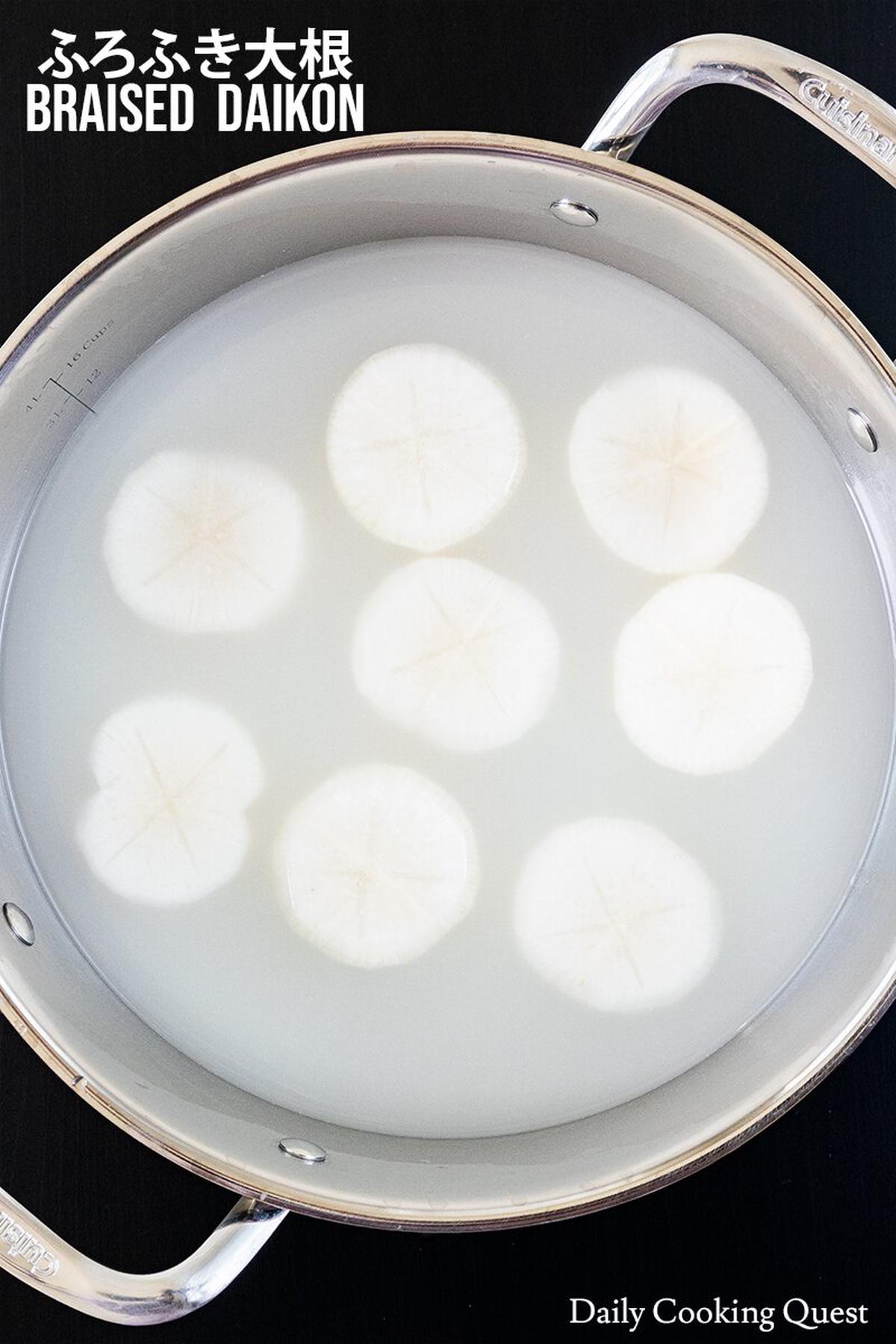 Boil the daikon further in a konbu stock or vegetable stock
Once the daikon is boiled until tender in the washing rice water, we drain the boiling water and replace it with clean water with a small piece of konbu. A small 3" square is enough. If you don't have konbu, you have several alternatives:
use vegetable stock
use dashi stock (for non-vegetarian only)
use chicken stock (for non-vegetarian only)
This time, we only boil and simmer the daikon for a mere 8-10 minutes to lightly flavor the daikon.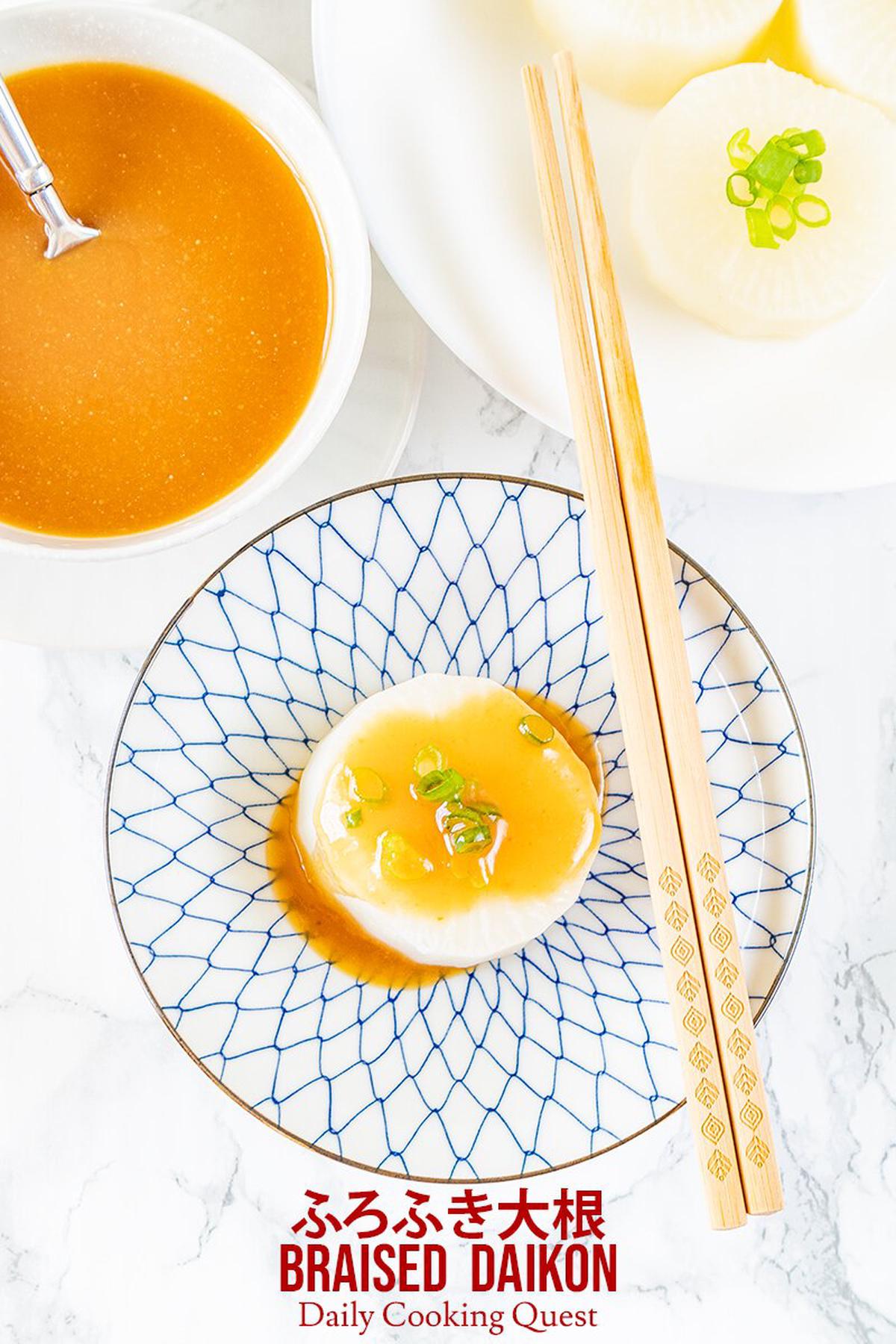 Preparing miso sauce for the braised daikon
For the miso sauce, you will need:
Simply boil together sugar, sake, mirin, and water in a small sauce pot until the sugar has completely dissolved. Remove from heat, then add red miso paste and whisk into a smooth sauce.
Miso paste is full of health benefits and although the taste of your sauce will be okay if you cook it along with everything else, the highly valued nutrients in miso paste will not survive the cooking. So, always add miso paste to hot liquid and slowly whisk it instead of cooking it.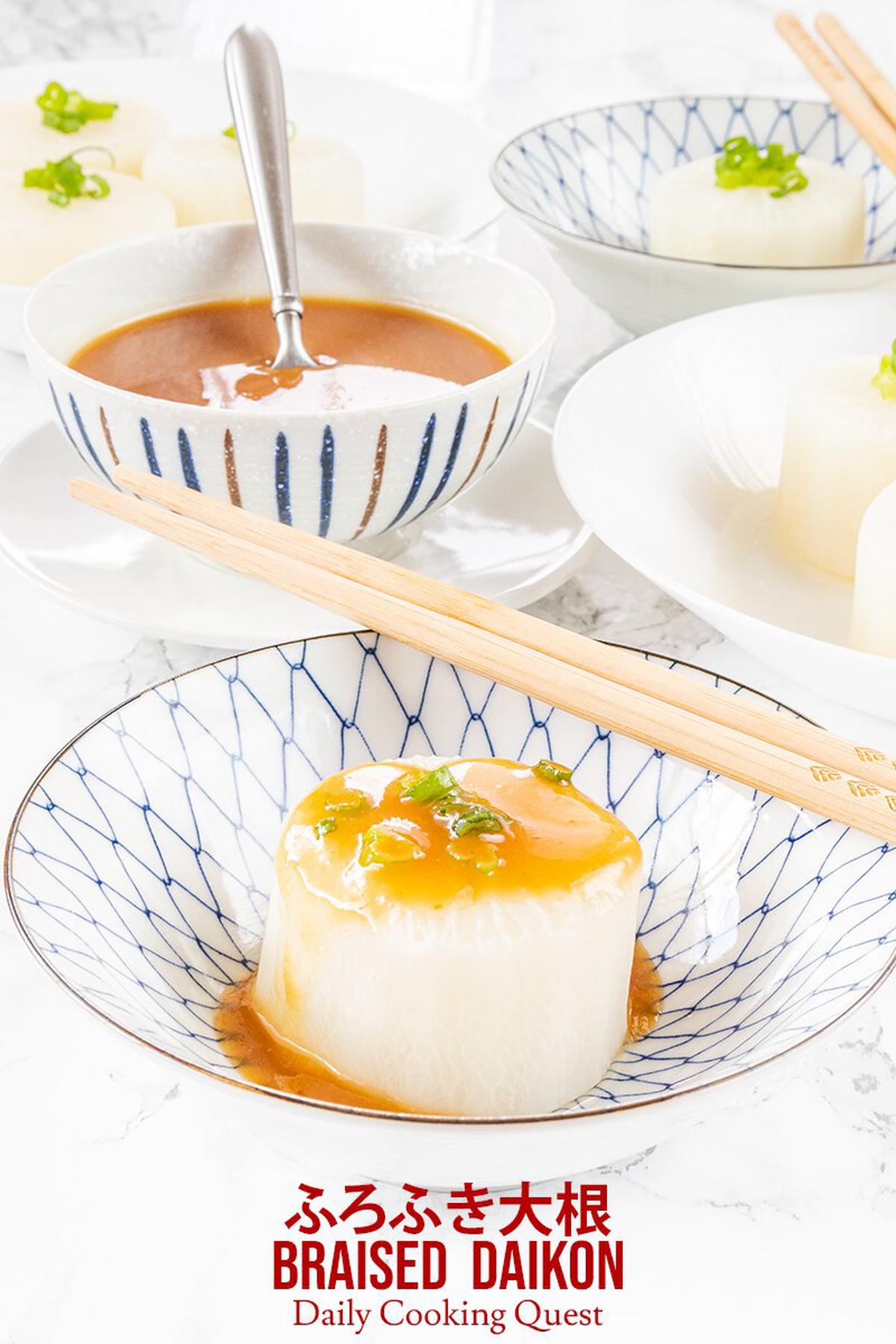 Serving braised daikon with miso paste
To serve this dish, simply arrange one piece of daikon in a small plate/bowl per person. Garnish the daikon with some thinly sliced scallions, and let each person add the miso sauce when they want to eat it. I think this is a very simple way to enjoy daikon, and the presentation is quite elegant too. :)
If you have a different way to prepare the miso sauce, please share with me in the comment.
Japanese Braised Daikon With Miso Sauce
5.0 from 11 reviews
Ingredients
1 daikon (~ 1 kilogram/2.2 lb.)
water from washing rice (~ 2 liter/8 cup)
1 piece of konbu (~ 3-inch square) + 1 liter water, or 1 liter (4 cups) vegetable stock
thinly sliced scallions, for garnish (optional)
Miso sauce
1/4 cup sugar
2 tablespoon sake
1 tablespoon mirin
2 tablespoon water
1/4 cup red miso paste
Instructions
Peel and cut daikon into 1.5-inch tall cylinders. Make a cross (X) slit on one of the surfaces. Set aside.
Place daikon and water from washing rice in a soup pot. Bring to a boil, then lower heat to a simmer, cover the pot, and simmer for 30-45 minutes, or until the daikon is tender. (*)
Drain the boiling water, replace with either clean water and konbu, or vegetable stock. Bring to a boil, then simmer for 8-10 minutes. (**)
To make the miso sauce, combine all sauce ingredients, except red miso paste, in a small saucepot and bring to a boil, turn the heat off once the sugar has completely dissolved. Add red miso paste and whisk until the miso paste is completely mixed and turn into a smooth sauce.
Arrange daikon in small plates/bowls, garnish with some thinly sliced scallions, and serve with miso sauce.
Notes
(*) Boiling daikon with water from washing rice can reduce its bitterness. You can also replace the water from washing rice with 2 tablespoons of rice wrapped with a piece of cheesecloth (or place in a fine-mesh tea strainer) and water and use this combination to boil the daikon.
(**) If you don't plan to make this strictly vegetarian, you can also use chicken stock or dashi stock.