Home / All Recipes / Japanese / Japanese Char Siu (Plus Deluxe Shoyu Tamago)
Japanese Char Siu (Plus Deluxe Shoyu Tamago)
I have been meaning to share this super easy and super delicious Japanese char siu recipe for the longest time.
You know why the delay? Because I was super lazy to buy some kitchen string and tie my pork belly into pretty looking round bundle.
The extra step doesn't do anything to improve the taste, the recipe is awesome as is, but it does give you the look of char siu sold in ramen shops.
But… if I keep waiting for that to happen, I don't know when that will happen, so here goes.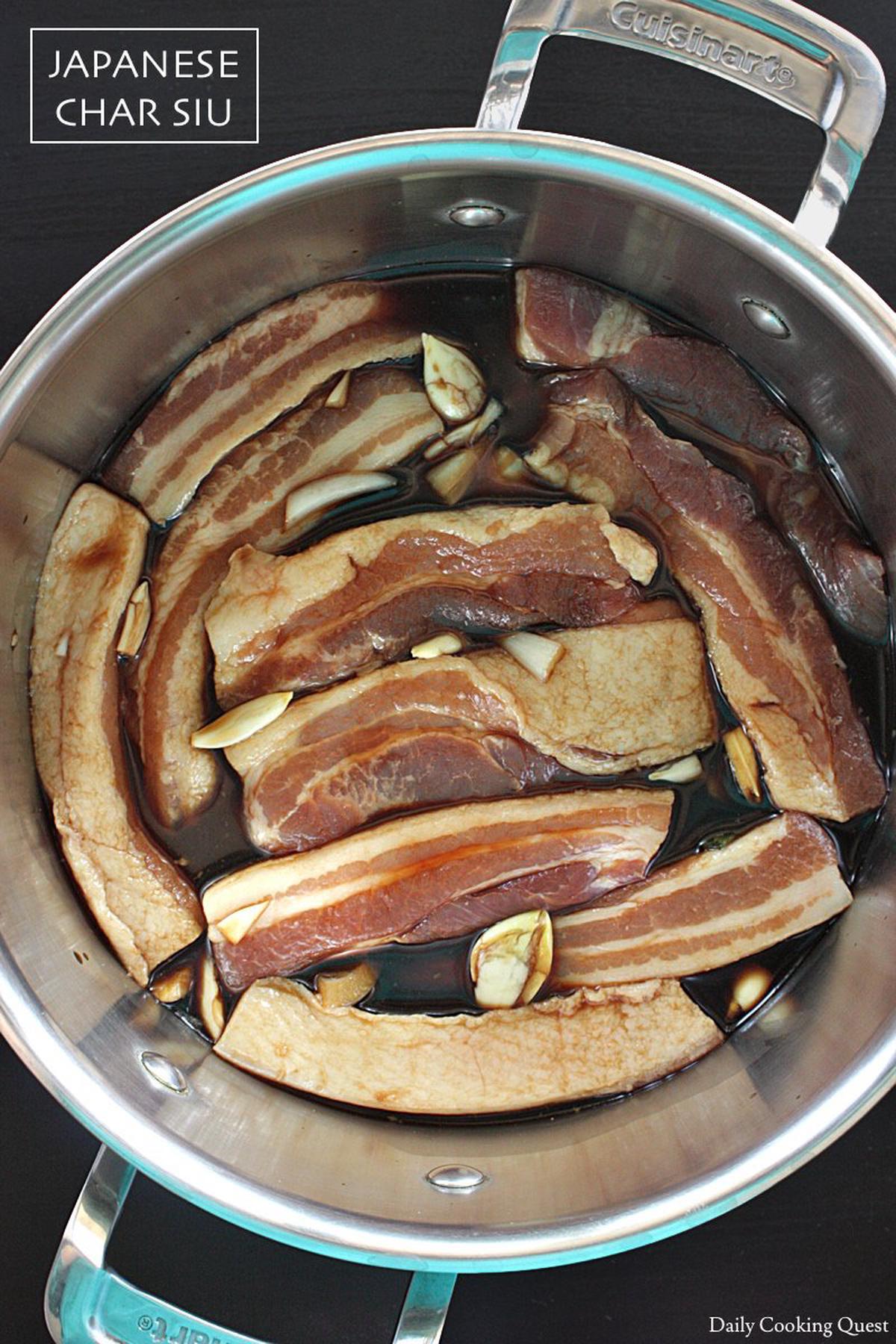 Pork belly, to tie or not to tie
To get the most traditional ramen shop char siu look, you need to start with a slab of pork belly, and not the ones already cut into smaller strips/chunks like the one I use. But either you use a slab or strips/chunks, just make sure you use pork belly.
If you do get yourself a nice slab or pork belly, you can go ahead and tie it into a round log (think pretty looking pork served in Christmas!). A quick Google with 'how to roll and tie pork belly' should give you plenty of instructional videos :)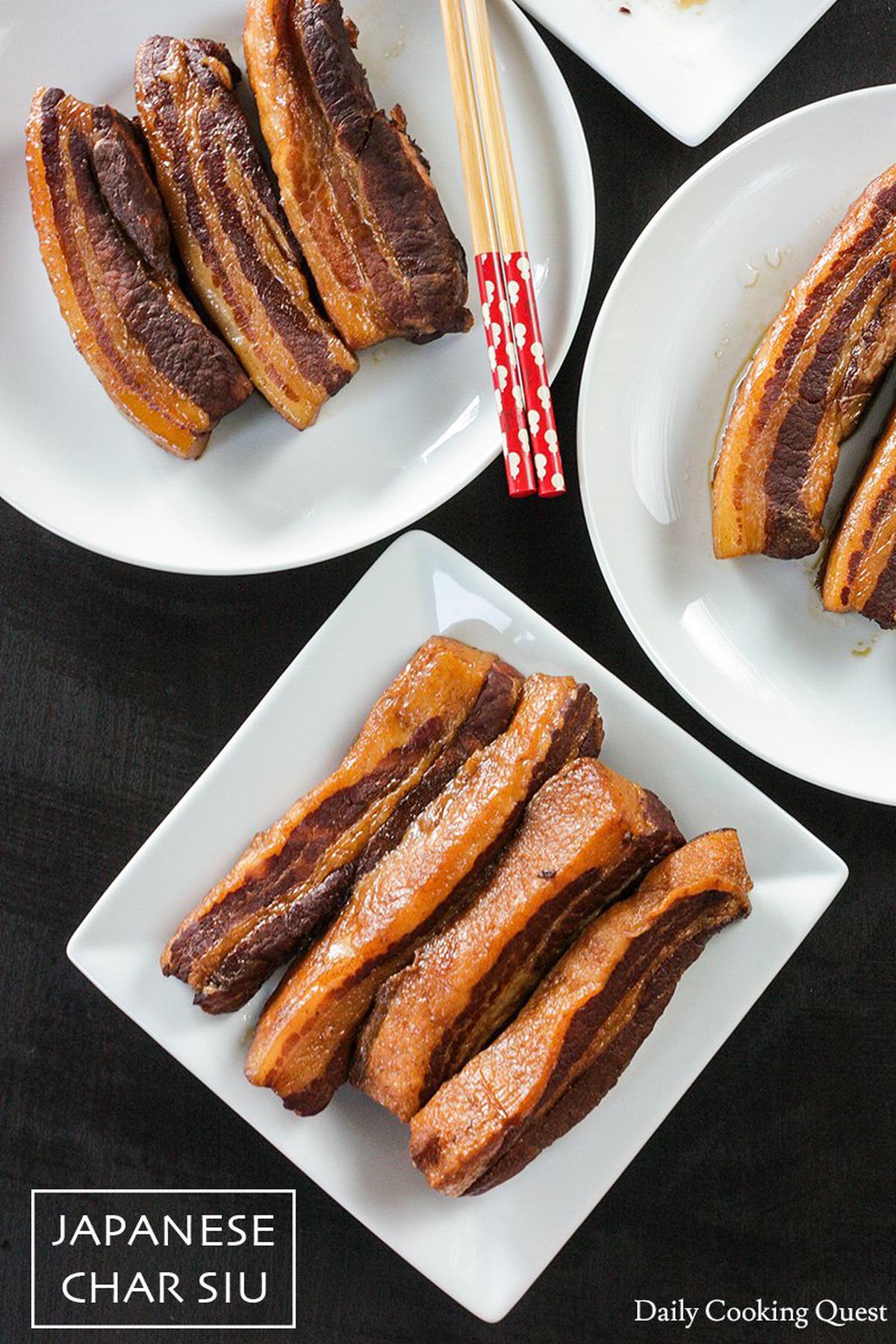 Shoyu based broth
The next most important thing to prepare once you have your pork belly is to prepare the broth. This is a soy sauce (shoyu) base broth, and you do need plenty of it.
For 1 kilogram meat, I use 6 cups low sodium soy sauce, 1 cup sake, 1/4 cup brown sugar, 2 onions, 1 bulb garlic, 4 scallions, 2" ginger, and 1 cup carrot.
I love this broth so much, and once you are done cooking the char siu, don't throw the broth away.
Note that I am using low sodium soy sauce and not regular soy sauce. Regular soy sauce will make the dish too salty, so please be aware of this.
If you only have regular soy sauce, use 3 cups of regular soy sauce + 3 cups of water instead of 6 cups of low sodium soy sauce.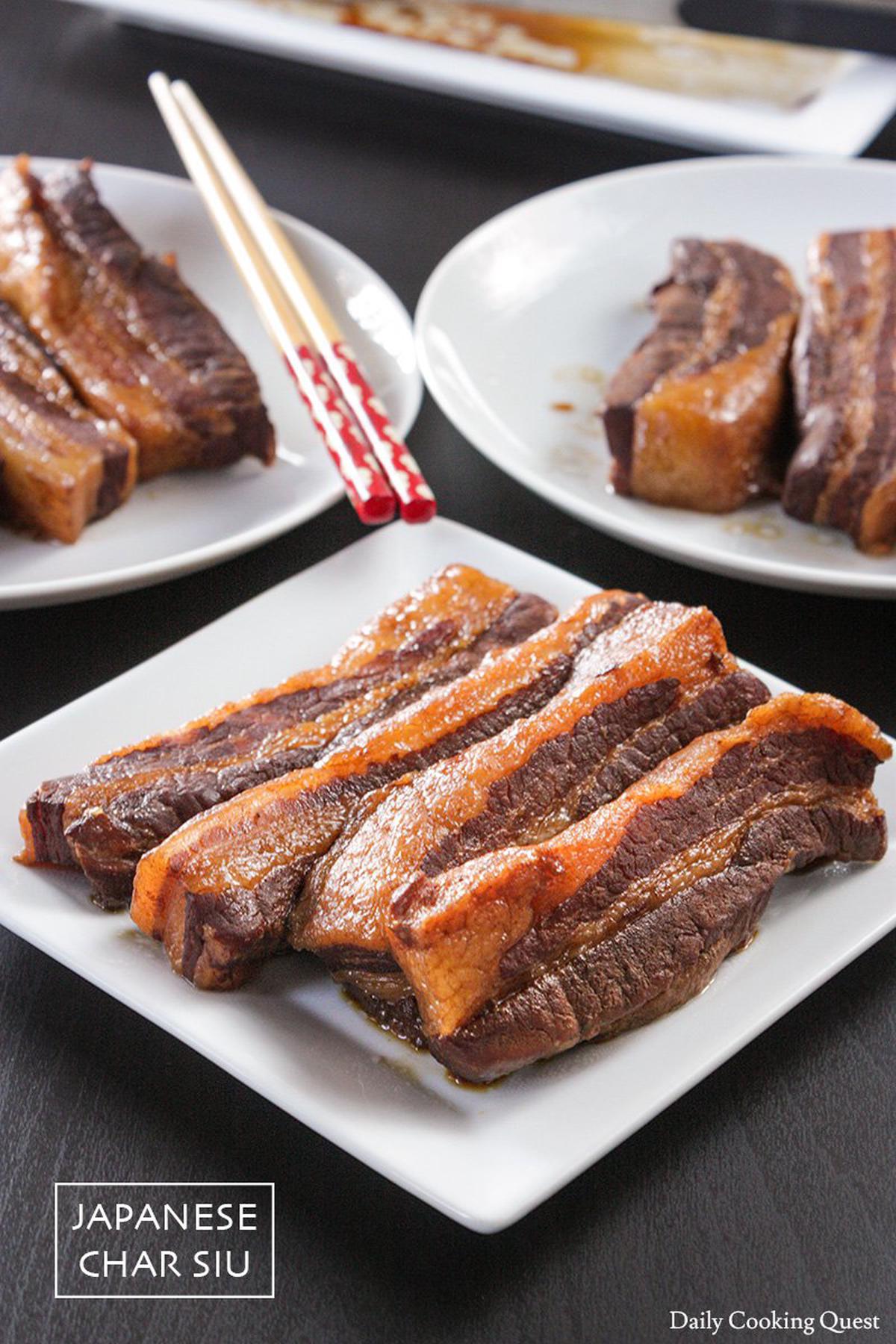 Deluxe shoyu tamago
This super delicious soy sauce based broth is perfect for making shoyu tamago! So prepare some soft boiled eggs, and once the broth is cool (or at room temperature), gently drop peeled eggs into the broth.
I really like shoyu tamago prepared with this broth compared to the traditional recipe since the broth has so much depth from cooking the char siu. If you look at my picture, it is clear that the broth can be used for even 2 dozens egg!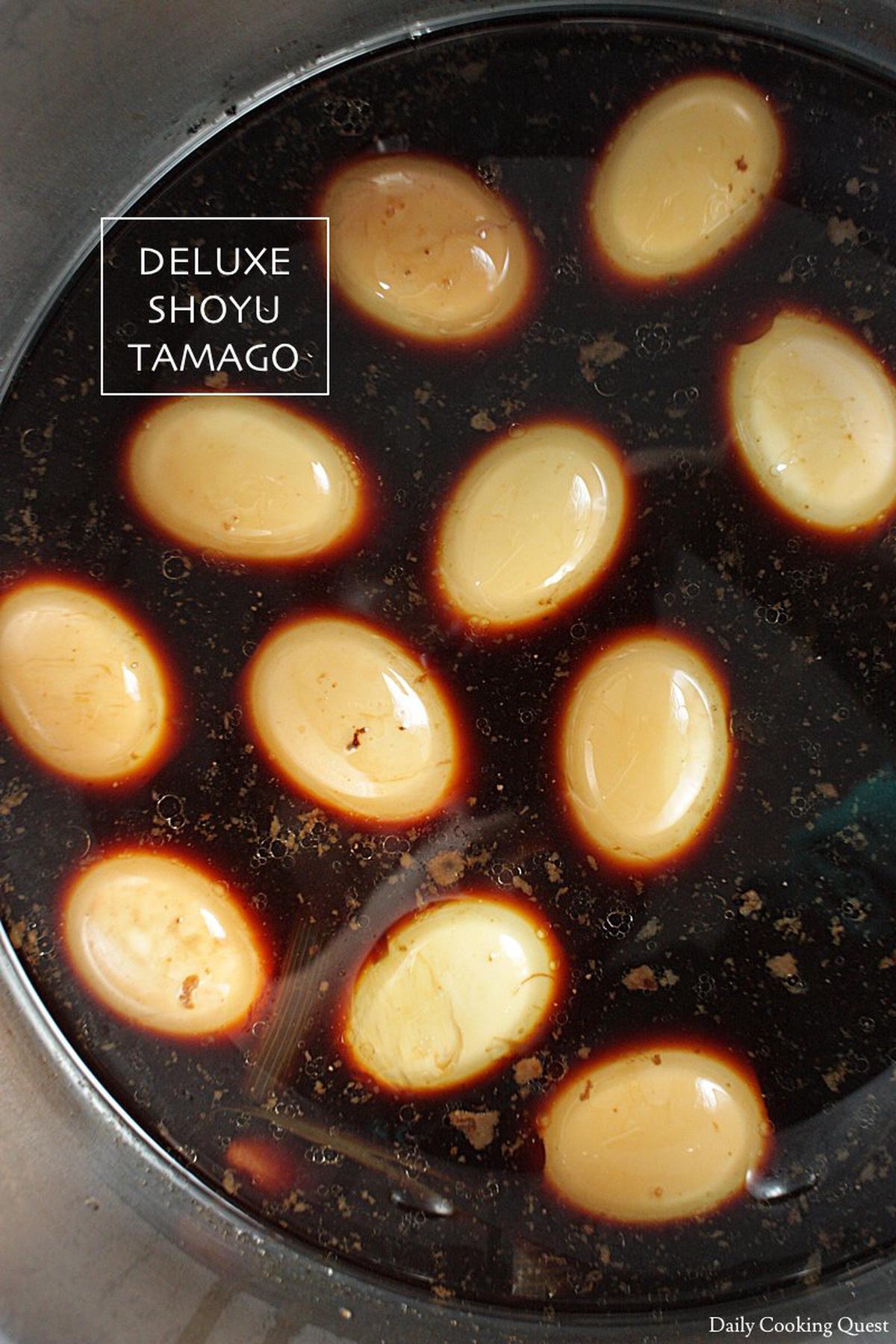 Japanese Char Siu (Plus Deluxe Shoyu Tamago)
5.0 from 3 reviews
Ingredients
6 cups low sodium soy sauce (Note 1)
1 cup sake
1/4 cup brown sugar
1 kilogram (~ 2.2 lbs.) pork belly
2 onion, cut each into 8 pieces
1 bulb garlic, bruise each clove
4 scallions
2" ginger
1 cup carrot
1-2 dozens soft boiled eggs, peeled
Instructions
Place soy sauce, sake, and brown sugar in a soup pot, mix well. Add pork belly, onion, garlic, scallions, ginger, and carrot into the pot. Bring to a boil, the quickly reduce to a very gentle simmer. Cover the pot and cook for 90 minutes.
Gently remove the pork belly from the broth and set aside.
Once the broth is around room temperature, gently drop the eggs into the broth to marinate. Even an hour of soaking time is enough to make delicious shoyu tamago.
Notes
(1) If you use regular soy sauce, use 3 cups regular soy sauce + 3 cups water.