Home / All Recipes / Japanese / Kabocha to Atsuage no Nimono - Simmered Kabocha and Deep Fried Tofu
Kabocha to Atsuage no Nimono - Simmered Kabocha and Deep Fried Tofu
Nimono (煮物) is a basic Japanese cooking technique in which the ingredients are simmered in soup stock - typically dashi - and further seasoned with soy sauce, sake, and mirin. You will want to use the heaviest bottom pot/pan you own to prepare a nimono so the heat will spread much more evenly. An otoshibuta (落し蓋 - drop lid) is typically used to cover the pan to ensure that the heat is evenly distributed, the lid also help keeps fragile ingredients in their original shape. If you do not own one, it can be substituted with a sheet aluminum foil.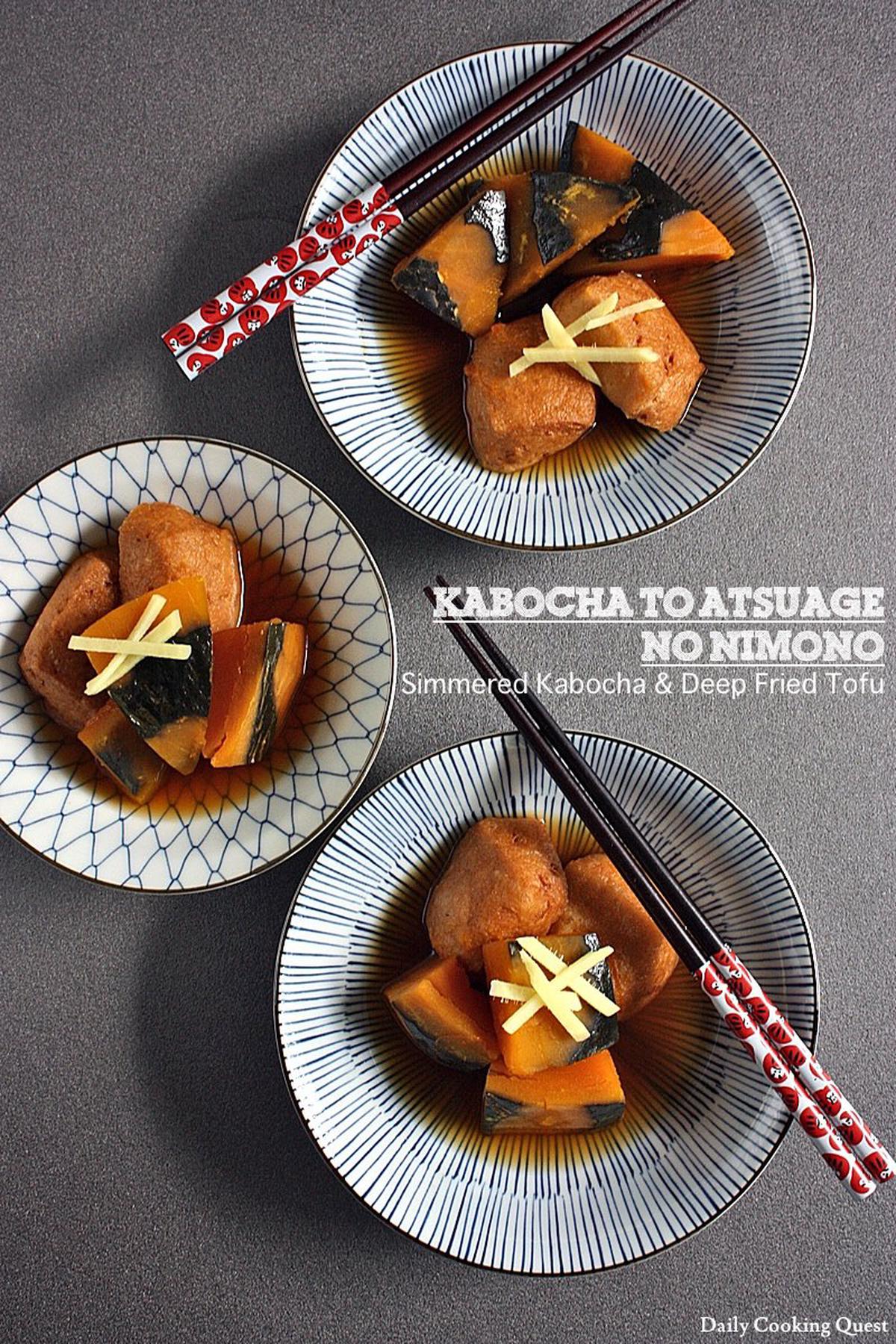 Kabocha to Atsuage no Nimono - Simmered Kabocha and Deep Fried Tofu
Ingredients
1/2 kabocha (about 500 gram)
200 gram atsuage/deep fried tofu
Sauce
800 ml dashi
100 ml mirin
2 tablespoon sugar
4 tablespoon sake
6 tablespoon soy sauce
Garnish
1 inch ginger, peeled and thinly sliced
Instructions
Cut the kabocha into 2 inch chunks, and partially peel the skin.
Blanch atsuage in boiling water to remove excess oil. Drain well. Cut into 1-2 inch cubes.
Place kabocha in a pan with the skin side down, top with tofu, and add all the sauce ingredients. Cover the pan with an otoshibuta (落とし蓋 - drop lid), and bring to a boil over high heat. Reduce heat to low, and simmer for 30 minutes until the kabocha is tender.
Serve in small serving bowls topped with thinly sliced ginger.