Home / All Recipes / Indonesian / Kari Bihun Medan - Medan Rice Noodles Curry
Kari Bihun Medan - Medan Rice Noodles Curry
The city of Medan is a great place to be for sampling good food in almost every corner of the city. My family moved to Jakarta when I was 11, and I crave the food still even now! It is true that as the years gone by, more and more restaurants with main branch in Medan are opening up and setting up shops in Jakarta, especially in North Jakarta centering around Pluit-Muara Karang-Pantai Indah Kapuk area.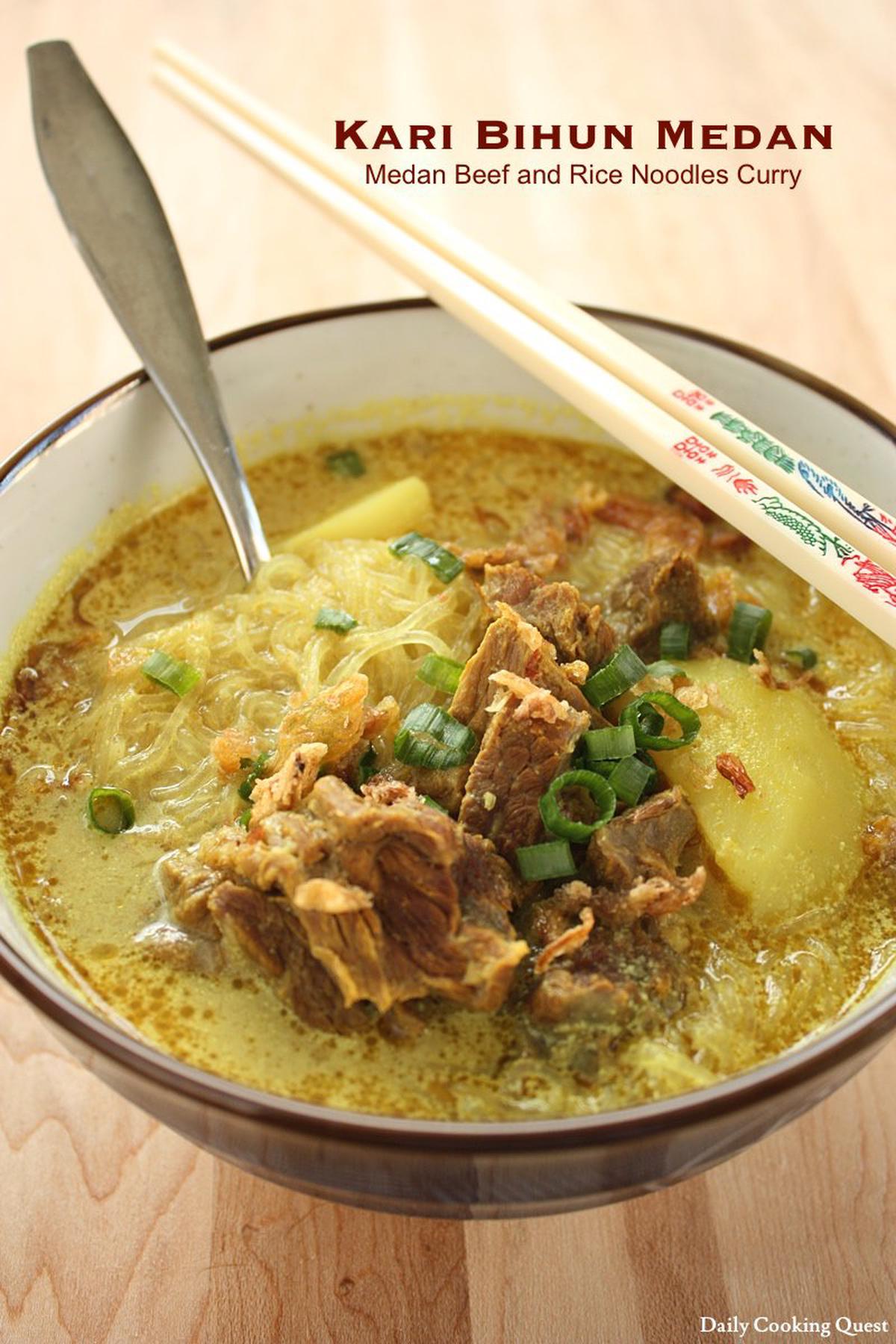 One of my favorite kari bihun Medan is sold by Tabona. Their kari bihun is famous in Medan, and it is just as famous in Jakarta. So, before I relocated to the States, I have no trouble fixing my cravings of a really good kari bihun. Now though, after 5 months in the States, I am craving like mad for one, and after searching for the perfect kari bihun recipe, I think I have finally nailed it pretty close. :D
Kari Bihun Medan - Medan Rice Noodles Curry
5.0 from 4 reviews
Ingredients
8 cups (2 liter) water
800 gram beef shank, cut into 1 inch cubes
1 teaspoon salt
3 tablespoon oil
3 bay leaves (Indonesian: daun salam)
2 star anise (Indonesian: bunga lawang/pekak)
2 inch cinnamon stick (Indonesian: kayu manis)
4-5 medium size potatoes, peeled and cut into wedges
1 can (400 ml) coconut milk (Indonesian: santan)
2 tablespoon palm sugar (Indonesian: gula Jawa), or to taste
2 teaspoon salt, or to taste
Grind the following into spice paste
8 dried chilies (Indonesian: cabe merah kering), soaked in hot water until soften
4 cloves garlic (Indonesian: bawang putih)
100 gram shallot (Indonesian: bawang merah)
2 tablespoon coriander seeds (Indonesian: biji ketumbar)
2 teaspoon turmeric powder (Indonesian: bubuk kunyit)
2 teaspoon cumin powder (Indonesian: bubuk jinten)
1/4 teaspoon cardamom seeds (Indonesian: biji kapulaga)
4 candlenuts (Indonesian: kemiri), or macadamia
Serve with
300 gram rice noodles (Indonesian: bihun), cooked following instructions on the packet
Instructions
Place water, beef, and salt in a pot and bring to a boil. Reduce heat, cover the pot with a lid, and simmer until the beef is soft, about 2 hours. Remove scum as needed. (*)
Heat oil in a frying pan and sauté spice paste, bay leaves, star anise, and cinnamon stick until fragrant. Pour into the soup.
Add potato wedges into the pot and return to a boil. Reduce heat, and simmer until potatoes are cooked through.
Add coconut milk, palm sugar, and salt. Stir, and continue to simmer for another 15 minutes. Adjust the amount of palm sugar and salt to suit your taste.
Turn off heat. Divide the cooked rice noodles into 8 bowls, top with the beef and potatoes curry. Serve piping hot.
Notes
(*) You can cook the beef in a pressure cooker to speed up the process.