Home / All Recipes / Chinese / Ketan Kunyit Kari Ayam
Ketan kunyit (turmeric sticky rice) and kari ayam (chicken curry) is a dish many Chinese prepares to celebrate one month old of a healthy baby.
In many Chinese households, when a baby reaches one month old, it will be celebrated by preparing boxed meals of ketan kunyit (turmeric sticky rice) and kari ayam (curry chicken).
Usually, the meal will also include one hard boiled egg dyed with red color, and one ang ku kue (red tortoise cake).
These boxed meals are then distributed to relatives and friends by the happy family so everyone get to celebrate and wish for the baby's good health throughout his/her life.
Living so far away from most of my family and friends mean it has been ages since I receive this meal, so I decided to make it and just enjoy it, sans one month old baby. :D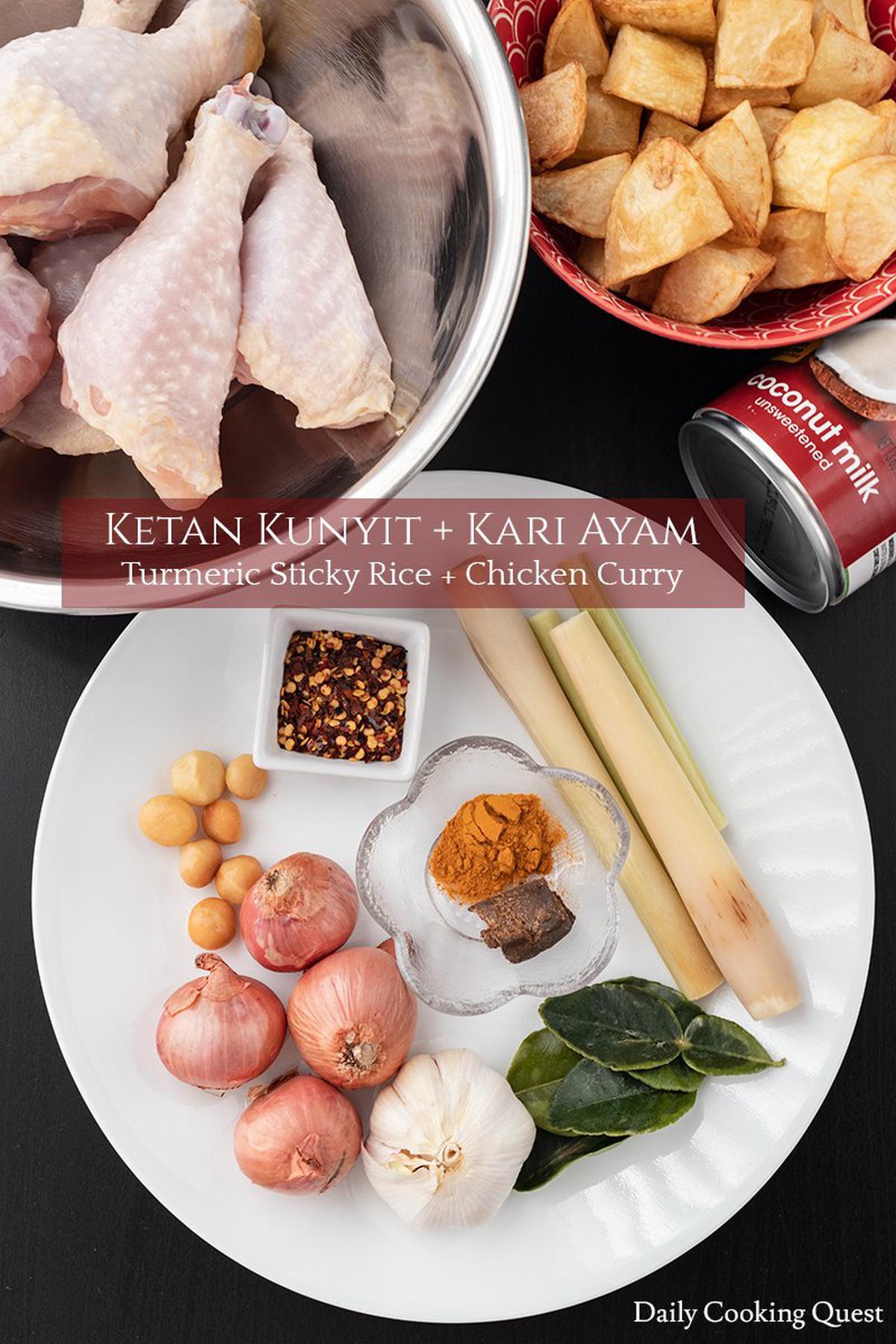 The one month old celebration tradition
Back in the days when infant mortality rate is high, many family goes all out to celebrate the day when their baby turns one month old. This was because if a baby can succesfully pass the one month mark without any hitch, the chance of the baby surviving into adulthood is going to be high. At least, that was the believe in the old days.
Back in the days, outsiders don't even get to see the baby before this day. So the celebration is the very first time people get to meet the baby and even the mother since giving birth. Friends and relatives that are invited to the celebration bring gifts, and the family will distribute this boxed meal set to all well-wishers.
Nowadays, many families don't prepare these boxed meal at home anymore. Instead, there are caterers that offer the one month old celebration package to make thing easier.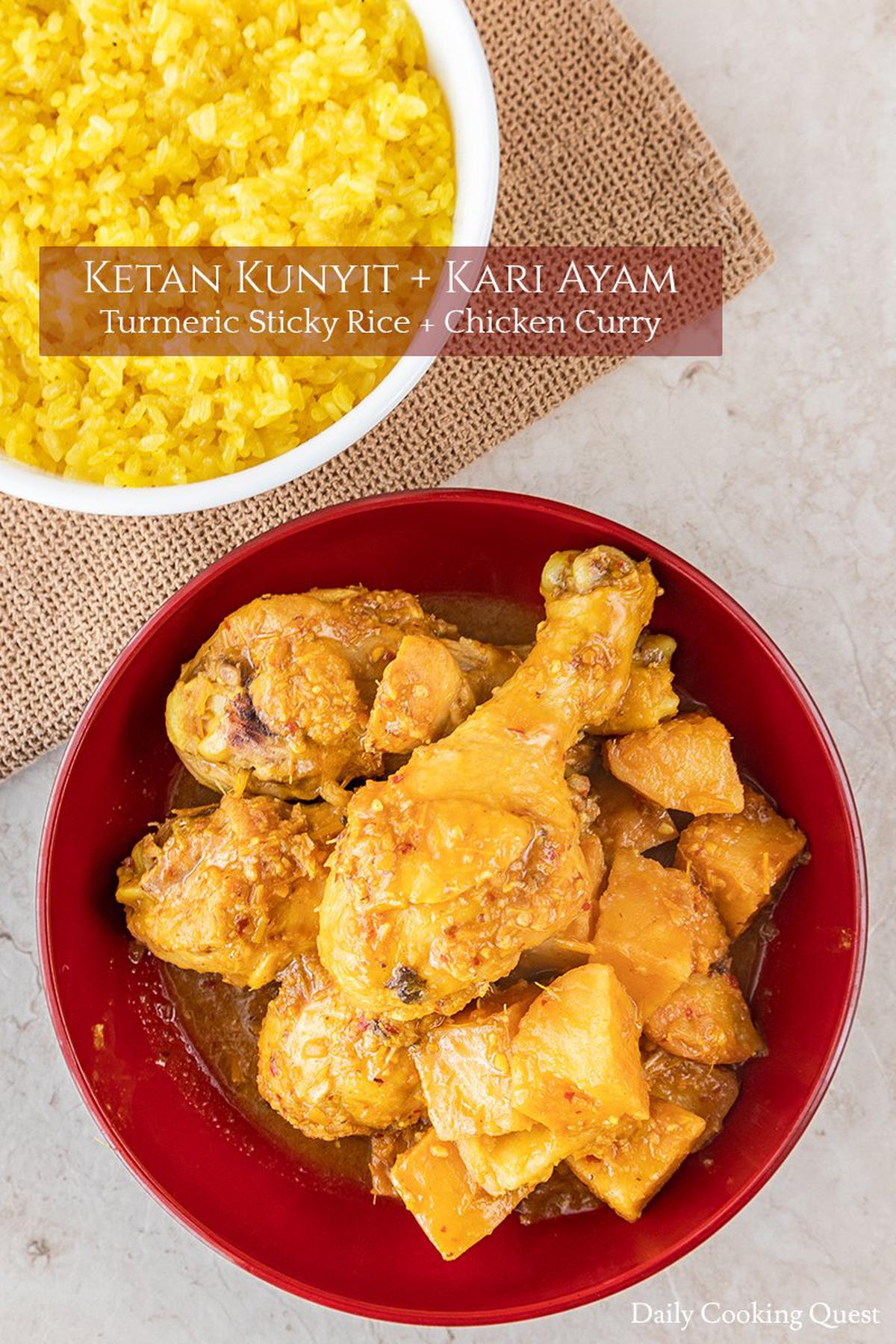 Not just for celebration
I was always happy when I received this one month old celebration boxed meal. I simply love the ketan kunyit and kari ayam that is almost always included. But if this combo is such a win, I don't see why I can't make it more often at home, just to be enjoyed because it simply is good food.
Of course, if you happen to have a healthy one month old baby and want to celebrate, feel free to make this and share your happiness and joy with family and friends.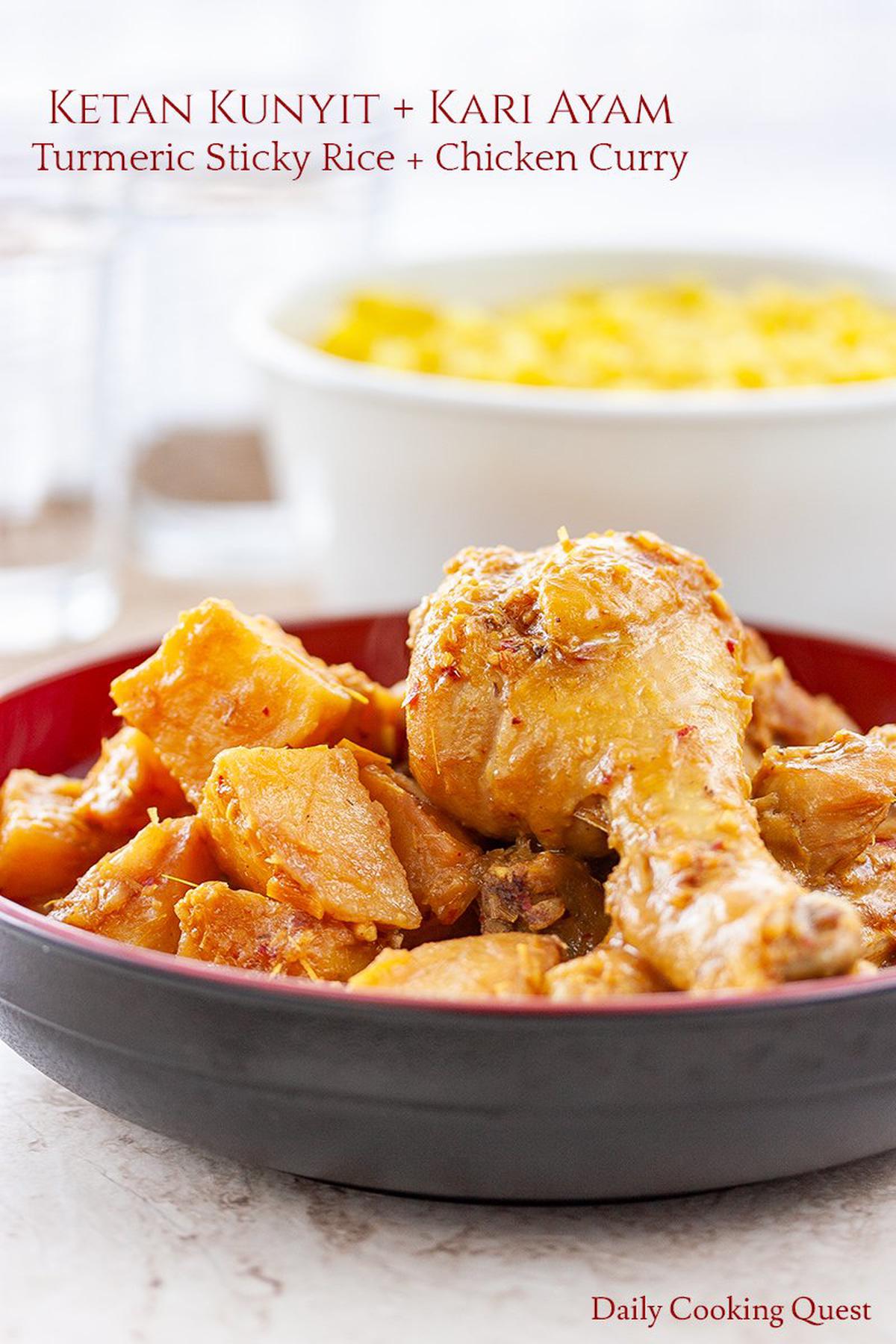 Ketan Kunyit Kari Ayam
5.0 from 13 reviews
Ingredients
Ketan kunyit (turmeric sticky rice)
1 1/2 cup sticky rice
1/2 teaspoon turmeric powder
10 gram tamarind
2 pandan leaves, knotted
100 ml coconut milk
2 tablespoon sugar
1 tablespoon peppercorns (optional)
Kari ayam (chicken curry)
500 gram potato, peeled, cut into wedges
2 lemongrass
100 gram shallot
8 cloves garlic
3 candlenut (or 6 macadamia)
1-3 tablespoon chili flakes
1/2 teaspoon turmeric powder
10 gram terasi/belacan (shrimp paste), toasted
6 chicken drumsticks (or 4 chicken thighs)
300 ml coconut milk
1-2 teaspoon salt, or to taste
5 kaffir lime leaves
Instructions
Ketan kunyit (turmeric sticky rice)

Wash and drain sticky rice until the water is clear. Place in a bowl along with turmeric powder and tamarind. Top with enough water to cover the rice by 1 inch. Set aside for 4 hours, or overnight.
Prepare a steamer. Discard tamarind, wash and drain the rice, place in a steamer proof bowl/pan and top with pandan leaves. Steam over high heat for 30 minutes.
Drizzle 1/3 of the coconut milk. Steam for another 15 minutes, drizzle another 1/3 of coconut milk. Steam again for 15 minutes, or until fully cooked.
Once the sticky rice is cooked, turn off the heat, discard pandan leaves, drizzle the remaining 1/3 coconut milk, sugar, and peppercorns. Stir well with a rice spatula/spoon. Close the steamer lid, and let the rice rest for another 10 minutes before removing from steamer.

Kari ayam (chicken curry)

Heat a pot of oil for deep frying. Deep fry potato wedges until a golden crust formed. Drain excess oil with a strainer.
Make a spice paste by pureeing together lemongrass, shallot, garlic, candlenut/macadamia, chili flakes, turmeric powder, and toasted terasi.
Heat 3 tablespoon oil in a wok/deep skillet over medium high heat. Sauté spice paste until fragrant, about 5 minutes.
Add in drumsticks/thighs, cook until the chicken is no longer pink.
Add fried potatoes, along with coconut milk and salt. Bring to a boil, cover with a lid, reduce heat and simmer for 30 minutes, or until chicken is tender and fully cooked.
Adjust amount of salt if needed, and stir in kaffir lime leaves.
Serve with turmeric sticky rice.