Home / All Recipes / Korean / Kimchi Jjigae (Kimchi Stew)
Kimchi Jjigae (Kimchi Stew)
Here is my very first post on a Korean dish, kimchi jjigae, a.k.a kimchi stew. This stew is just amazingly good, especially in cold weather. If you love hot, sour, and spicy food, you are going to love this stew. I use store-bought kimchi for this, if you are super awesome and make your own kimchi, go ahead and use that to make this kimchi jjigae tastes even better. The rice cake (tteok) is optional, but I love dropping in a handful whenever I make Korean stew, so feel free to skip if you cannot find this.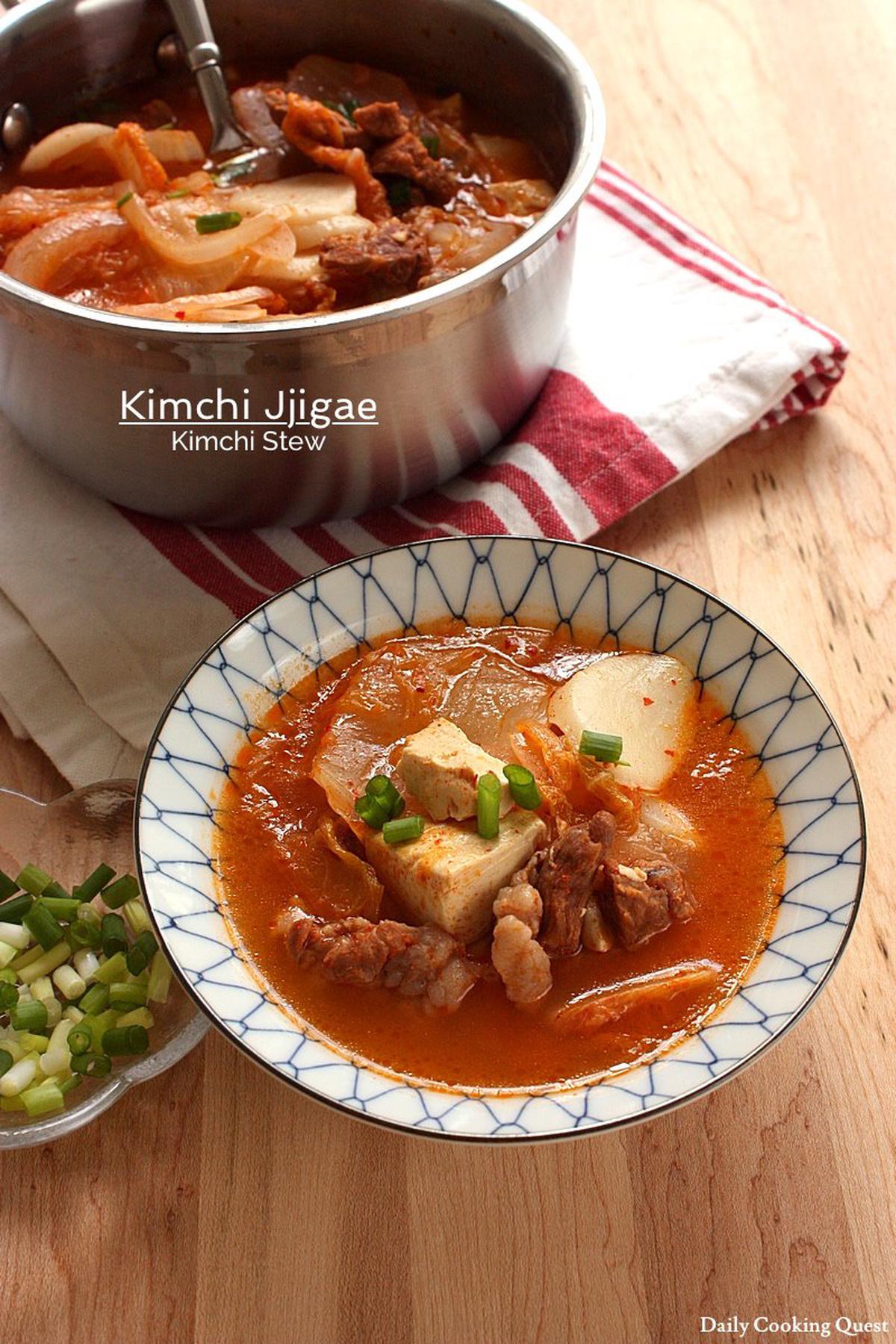 Kimchi Jjigae (Kimchi Stew)
Ingredients
1 onion, sliced
1 garlic, grated
250 gram boneless pork ribs (or pork belly), cut into thin slices
500 gram cabbage kimchi + 1/2 cup of its juice
1 block silken tofu, cut into large cubes
a handful of tteok (Korean rice cakes), optional
1 tablespoon chili flakes
2 tablespoon rice wine
2 teaspoon fish sauce
2 1/2 cup anchovy stock/dashi stock/water
2 scallions, thinly sliced for garnish
Anchovy stock
6 large dried anchovies
3" square dried sea kelp (konbu)
3 cup water
Instructions
Kimchi Jjigae (Kimchi Stew)

In a shallow pot, spread onion slices and grated garlic at the bottom, then top with thin slices of pork, then kimchi, and finally, tofu cubes, and tteok if using.
Sprinkle with chili flakes, rice wine, fish sauce, kimchi juice, and stock/water.
Cover the pot, and bring to a boil. Lower heat, and simmer for 30 minutes until the pork is fully cooked and the kimchi is tender.
Garnish with scallions, serve hot with steamed white rice.

Anchovy stock

Boil together anchovies, konbu, and water in a pot. Reduce heat, and simmer for 10 minutes.
Turn off heat. Let it rest for 15 minutes so the stock will be more flavorful. Strain to get clear anchovy stock.