Home / All Recipes / Korean / Kimchi Pancake with Tangy Dipping Sauce
Kimchi Pancake with Tangy Dipping Sauce
Kimchi is a really handy item to stock at home, it is refreshingly good as a side dish, or when cook with fried rice, and it is one of the easiest and tastiest Korean pancake you can make. Today I am sharing two recipes with you, a kimchi pancake recipe along with the recipe for tangy dipping sauce that goes really well with the pancake, or any Korean pancake for that matter.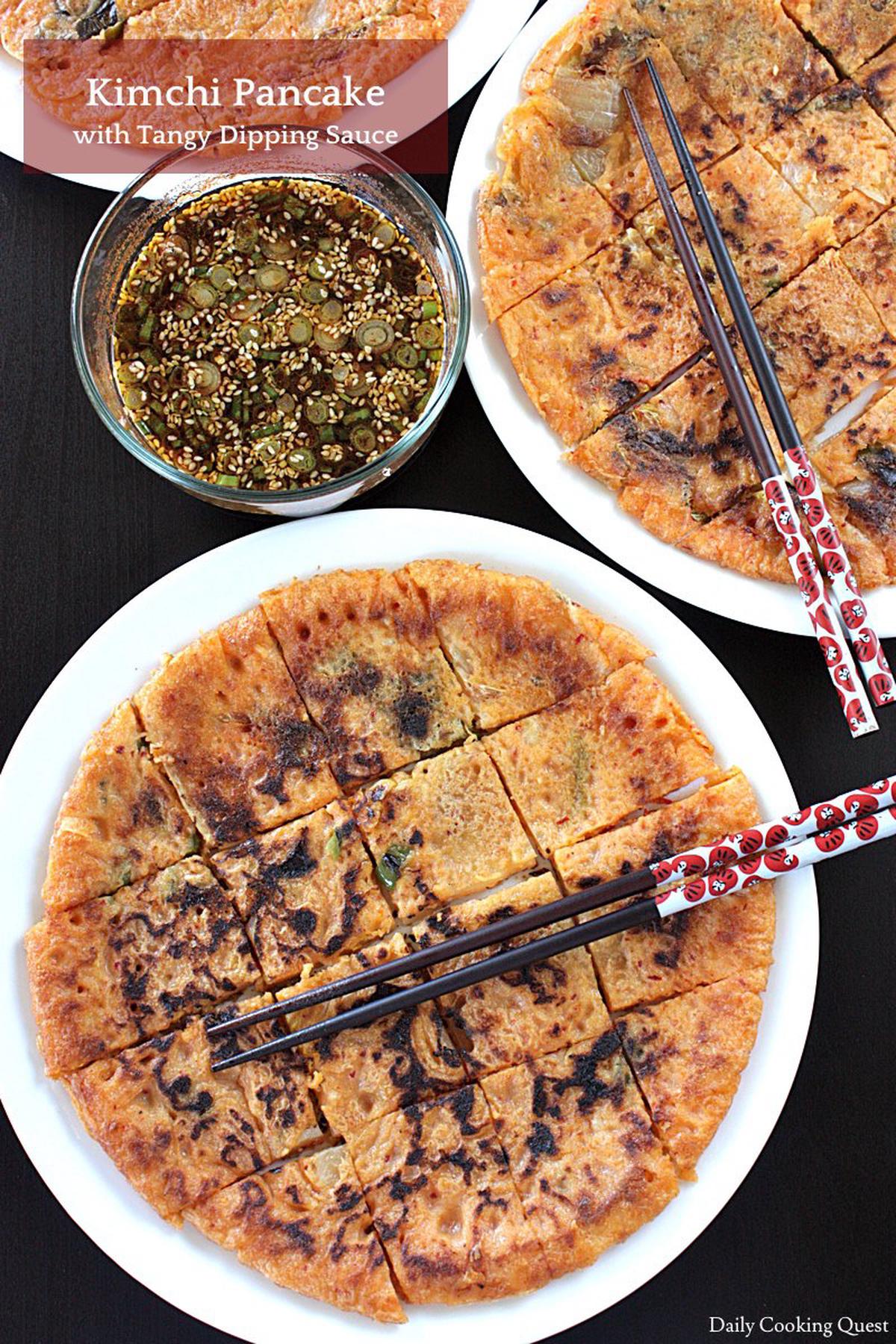 Kimchi Pancake
To make the pancake, first mix together all purpose flour, salt, and ice cold water, then add egg, kimchi, and chilies. Since everyone agrees that crispy pancake is better than chewy pancake, the batter needs to be as cold as possible, and to help that, please add 4-5 ice cubes into the batter mix. Fry the pancakes with a non-stick pan or a cast iron skillet, and if you use a 10.25" cast iron skillet like me, you should get a total of 4 pancakes, which is pretty plenty even if you have guests coming.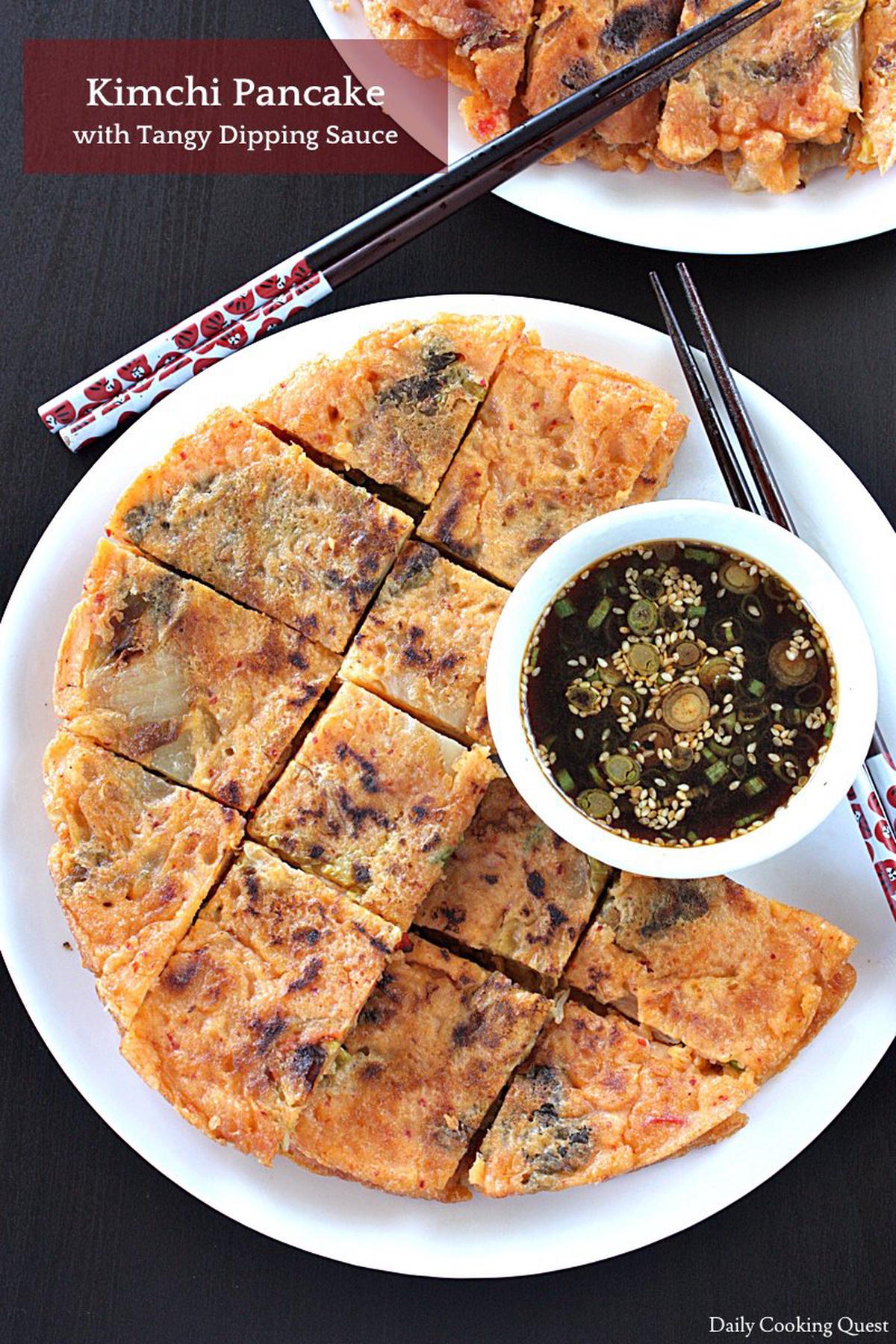 Tangy dipping sauce
The tangy dipping sauce cannot be easier, you simply mix together sugar, soy sauce, water, rice vinegar, gochugaru, sesame seeds, sesame oil, grated garlic, and chopped scallions. If you want to make the sauce ahead of the time, please leave out the garlic and scallions from the sauce, and only add them at the last minute prior to serving with pancakes.
Kimchi Pancake with Tangy Dipping Sauce
5.0 from 6 reviews
Ingredients
Kimchi Pancake
2 1/2 cup (375 gram) all purpose flour
1/2 teaspoon salt
2 1/2 cup ice cold water
1 egg
2 cup (450 gram/1 pound) kimchi, sliced to bite sizes
1 tablespoon kimchi liquid/juice
1-2 green and red chilies (optional), seeded and sliced
4-5 ice cubes
Tangy Dipping Sauce
4 tablespoon soy sauce
2 tablespoon sugar
4 tablespoon water
4 tablespoon rice vinegar
1/2-1 teaspoon gochugaru (optional)
1/2 teaspoon sesame seeds
1 teaspoon sesame oil
2-3 tablespoon thinly sliced scallions, from 1 scallion
grated garlic, from 1-2 cloves of garlic
Instructions
Kimchi Pancake

Whisk together all purpose flour, salt, and water, then add egg, kimchi, kimchi liquid/juice, chilies, and mix well. Finally, add 4-5 ice cubes to keep the batter cold.
Heat 2-3 tablespoon oil in skillet/non-stick frying pan over medium high heat, then once the pan is hot, ladle pancake batter to the pan and spread evenly (about 1/4 of the total batter). After 30 seconds on medium high, reduce heat to medium, and once the edges look cook and more solid, flip the pancake to cook the other side, pressing lightly with a spatula to make the pancake crispy. Remove cooked pancake to a plate, and repeat the process for 3 more pancakes.
Slice the pancakes into bite sizes and serve with the tangy dipping sauce.

Tangy Dipping Sauce

If you make the sauce right before serving the pancake, simply mix everything together. But if you want to make the sauce ahead, mix everything except garlic and scallion, and only add those two ingredients prior to serving.