Home / All Recipes / Indonesian / Kolak - Plantain, Cassava, and Sweet Potato in Coconut Milk
Kolak - Plantain, Cassava, and Sweet Potato in Coconut Milk
Kolak is an Indonesian dessert made with coconut milk, palm sugar, and scented with pandan leaves. Popular ingredients in a kolak are plantain (either pisang tanduk or pisang kepok is fine), cassava, sweet potato, pumpkin, kabocha, jackfruit, atap seeds (toddy palm seeds), and sago (tapioca pearls). This dessert is widely consumed throughout the years, and especially popular during the holy month of Ramadan to break the fast. Jackfruit and atap seeds do not need to be cooked, so if you are using any of the two, add them to the pot only at the very end of the cooking time.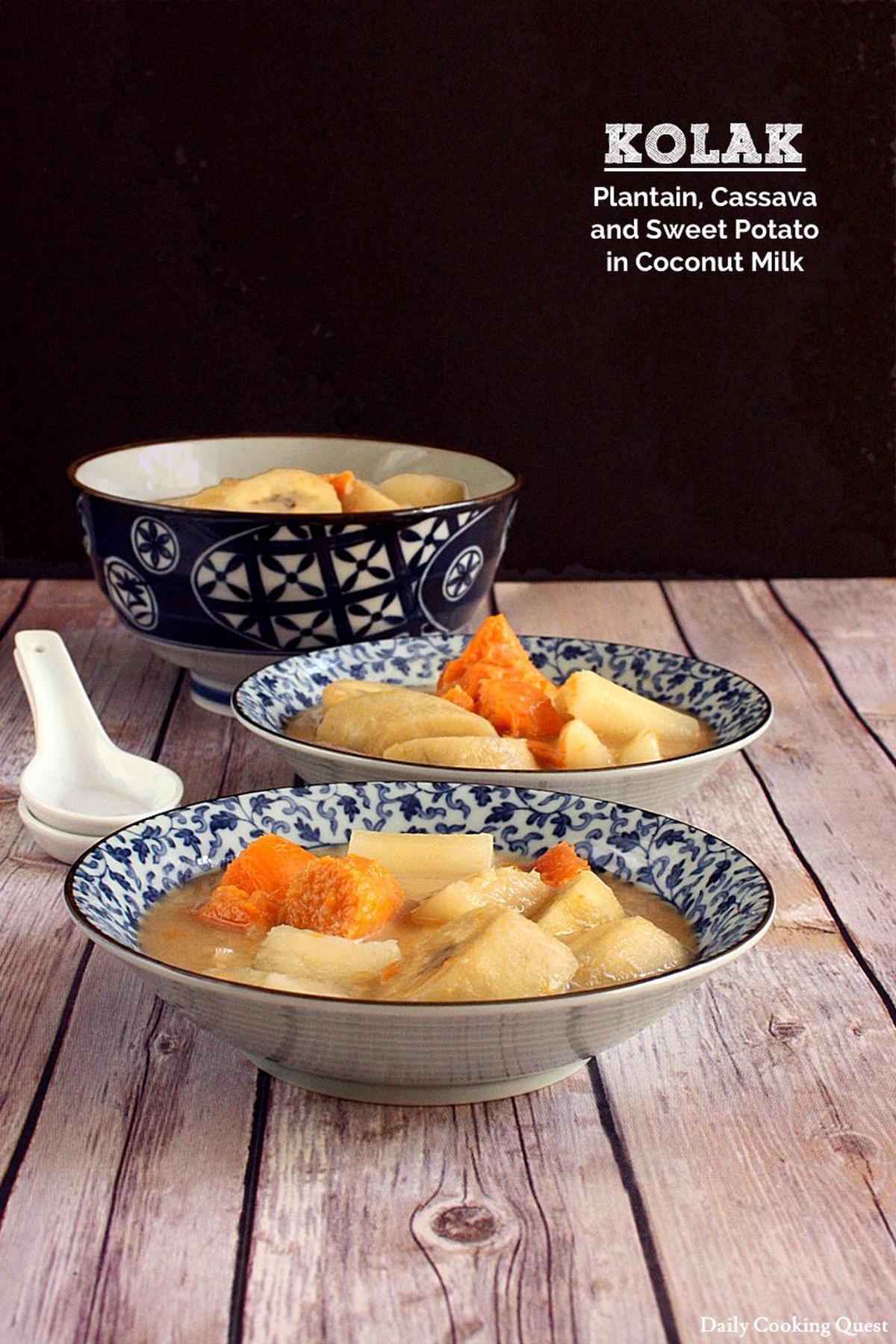 Kolak can be enjoyed either hot straight out of the pot, or cold after being refrigerated for a couple of hours. I love a cold one in the summer, and in winter time I can gobble them up when they are still piping hot.
Kolak - Plantain, Cassava, and Sweet Potato in Coconut Milk
5.0 from 1 reviews
Ingredients
500 gram cassavas (Indonesian: singkong), peeled
6 cups water
3/4 cup coconut milk
2 pandan leaves, knotted
1/2 teaspoon salt
500 gram sweet potatoes (Indonesian: ubi jalar), peeled and cut into bite size wedges
125 gram palm sugar (Indonesian: gula Jawa)
500 gram ripe plantains (Indonesian: pisang kepok/pisang tanduk), cut into 1 inch slices
Instructions
Prepare a steamer, steam cassavas until tender, about 30 minutes. Remove from steamer, cut cassavas into halves lengthwise, remove the tough core, and cut into bite size wedges. Set aside.
Add water, 1/4 cup of the coconut milk, pandan leaves, and salt in a pot. Cook until the liquid is barely simmering. Make extra sure that throughout the cooking time, the liquid should stay in a barely simmering point.
Add sweet potatoes and palm sugar, cook for 15 minutes.
Add saba bananas and cassavas, cook for another 15 minutes.
Add the remaining coconut milk (1/2 cup), cook for another 15 minutes. Stir frequently.
Turn off heat, serve hot or warm.