Home / All Recipes / Korean / Korean Spinach Pancakes
In life, often times, simple is best. This philosophy extends to cooking as well, just like this spinach pancakes. You will only need spinach, all purpose flour, shallot, salt, and water. And it doesn't even take long to prepare, or to cook for that matter. This is as simple as it gets, and this pancakes, are definitely best eaten piping hot straight out from the frying pan.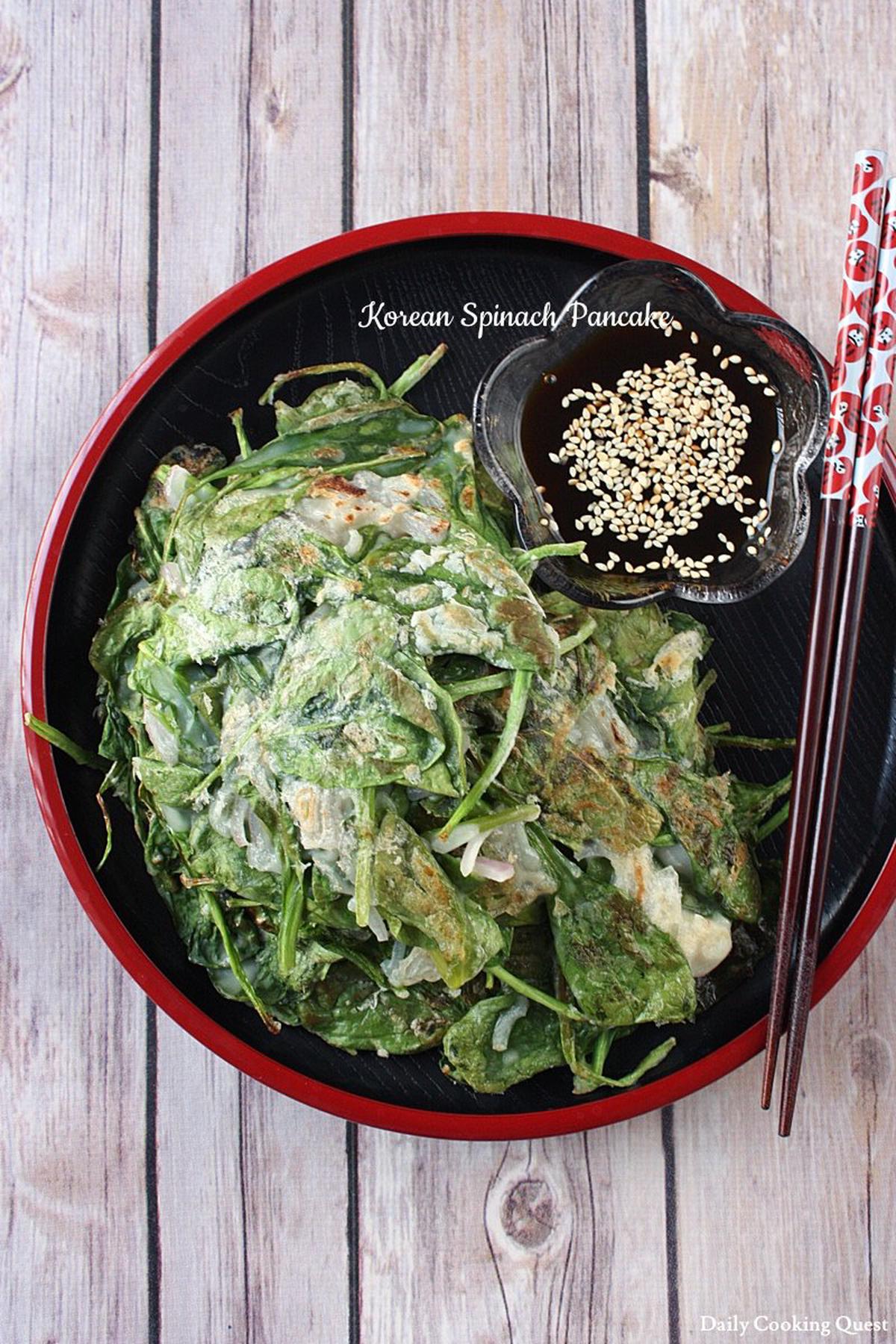 You can serve the pancakes as is, or with your favorite dipping sauce. Mine would be a simple ponzu dipping sauce (a really fancy name which basically is just soy sauce + lemon juice) and toasted sesame seeds. A spicy chili sauce is also quite good. But really, they are okay as is, in case you want to skip the dipping sauce altogether.
Korean Spinach Pancakes
Ingredients
250 gram spinach (I use baby spinach), washed and drained
75 gram shallot, thinly sliced
1/4 teaspoon salt
1 cup all purpose flour
3/4 cup water
Ponzu sauce
2 tablespoon soy sauce
1 tablespoon lemon juice
1 teaspoon toasted sesame seeds
Instructions
In a mixing bowl, place spinach, shallot, salt, and flour. Pour the water and gently toss and mix until the spinach is well coated with the batter.
Heat 1 tablespoon of oil in a non-stick frying pan (or skillet) on a medium heat. Place about 1/4 cup of spinach mixture to the pan, cook until the batter turns slightly golden brown, about 3 minutes, then flip and cook the other side until golden brown, another 3 minutes. Repeat until all the spinach mixture is used up.
Serve immediately with the ponzu sauce.