Home / All Recipes / Indonesian / Kuah Bakso Sapi - Beef Balls Soup
Kuah Bakso Sapi - Beef Balls Soup
Bakso is a popular street food in Indonesia. There's even a children song about this food, which I am quite proud to say that I still remember the lyrics to it, haha. The main thing about bakso is, of course, the meatballs, the most common one is made from beef, but no one says you cannot use other meat of your choice. But a bakso is not just meatballs, it needs to come with the broth, the greens, the rice noodles, the toppings such as scallion, Chinese celery, deep fried shallots, and some sambal for those who love spicy food.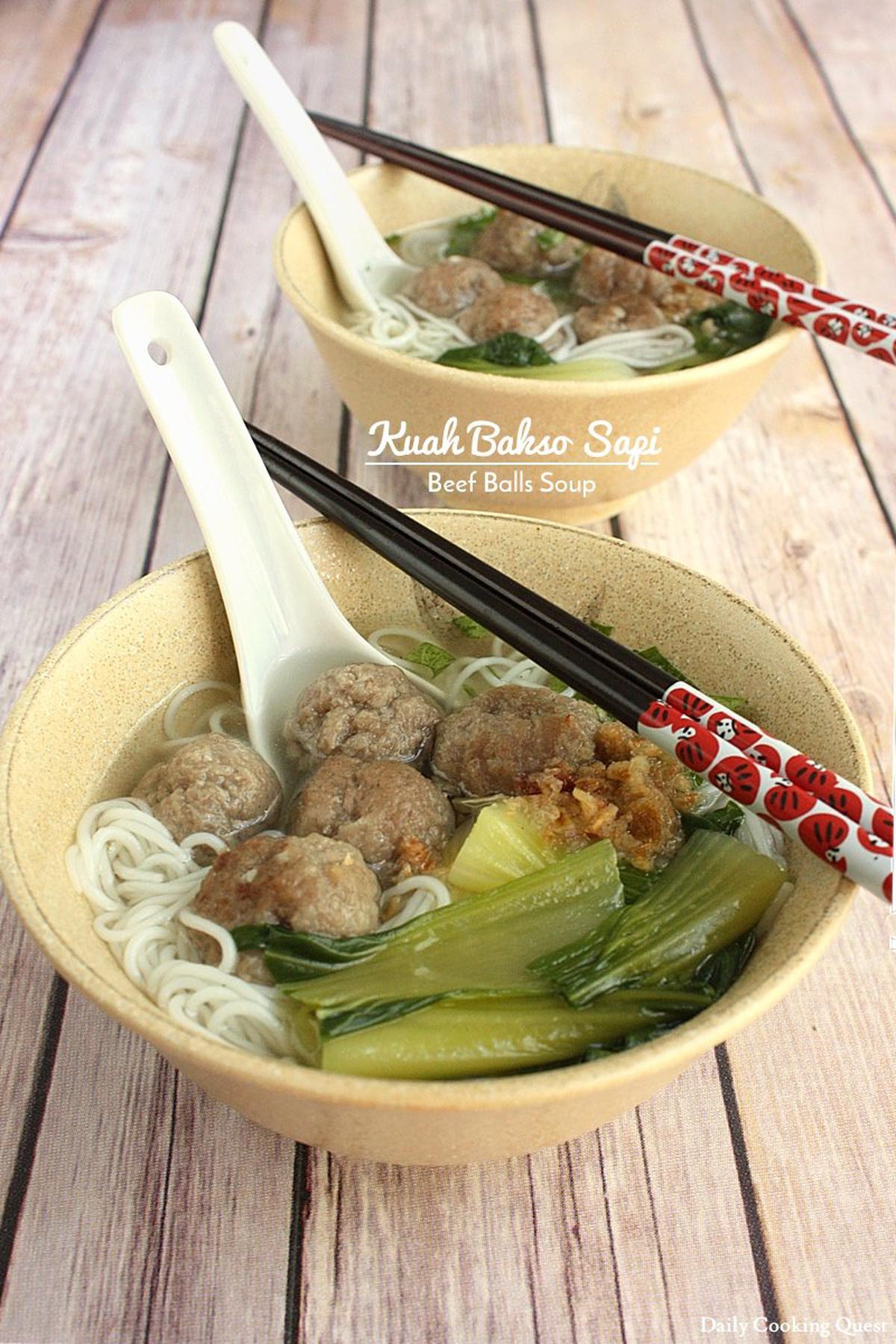 Bakso is such a common food that most people nowadays do not make their own meatballs. Any market, be it traditional wet market, the neighborhood convenient store, or the modern big box supermarket, carries packages of frozen bakso. They come in many varieties as well, from the traditional beef and chicken, to fish, shrimp, and cuttlefish. But, if you are worrywart like me, you probably still want to make your own bakso at home, just to be on the safe side (cos I am a worrywart, right?), and because it is actually not that hard to make anyway.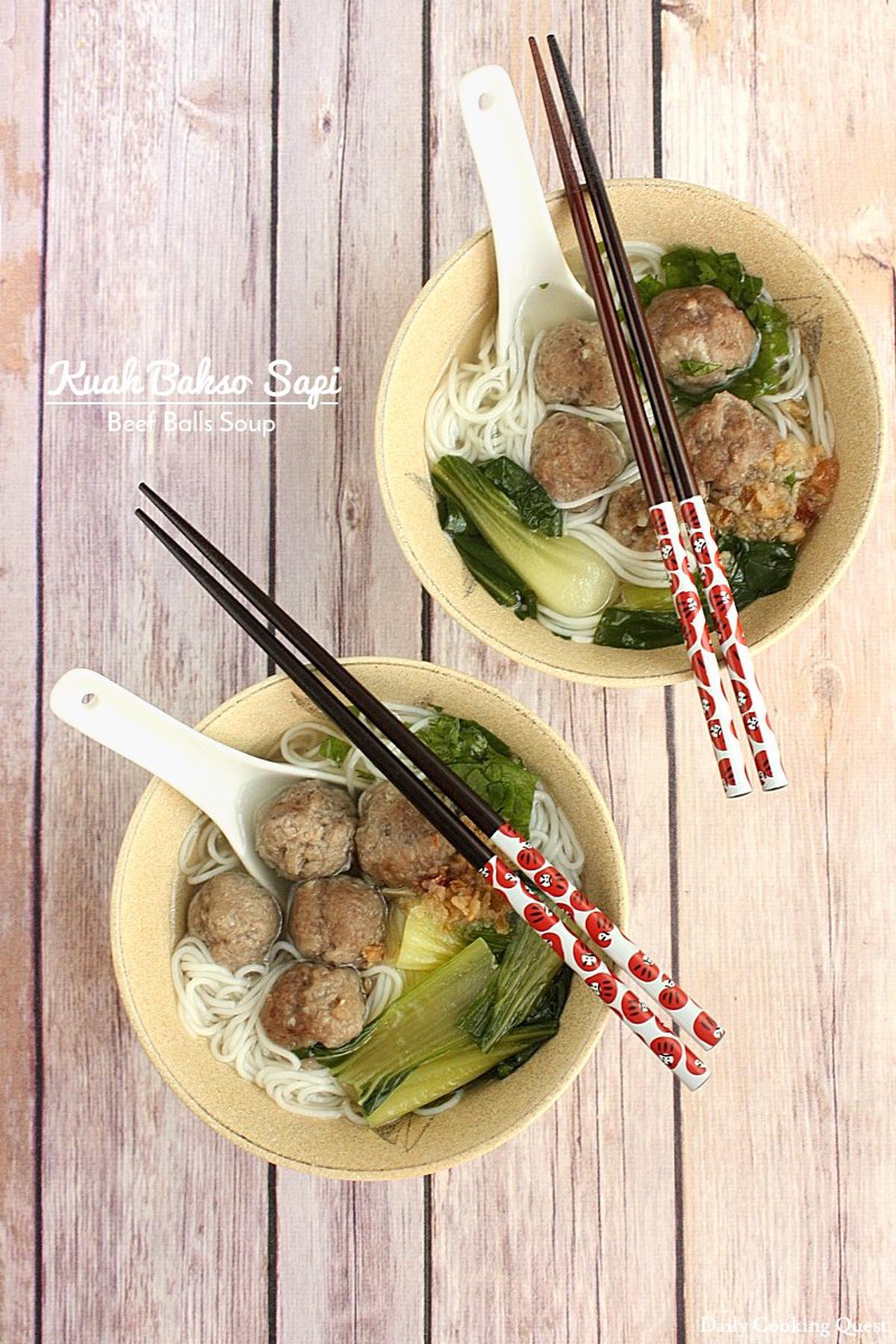 Kuah Bakso Sapi - Beef Balls Soup
5.0 from 1 reviews
Ingredients
Bakso (meat balls)
250 gram beef
80 gram ice cubes
2 cloves garlic
1 1/2 teaspoon salt
1/2 teaspoon ground white pepper
100 gram tapioca starch
Broth
8 cups beef stock (*)
4 stalks Chinese celery, knotted
4 stalks scallion, knotted
4 cloves garlic, mashed
1 tablespoon salt
1/2 teaspoon ground white pepper
Accompaniments
4 servings of rice noodles (Indonesian: bihun), cooked according to the packet's instruction
4 bunches baby bok choy, washed and drained, halve each bunch, parboiled
thinly sliced scallions (Indonesian: daun bawang)
thinly sliced Chinese celeries (Indonesian: daun seledri)
deep fried shallots (Indonesian: bawang goreng)
chili sauce (Indonesian: sambal)
Instructions
Bakso (meat balls)

Grind together all meat balls ingredients in a food processor until smooth. Take about 1 tablespoon of the mixture and shape into a ball. Repeat until all beef mixture are used up.
Boil a pot of water and cook the beef balls. They will sink to the bottom, and once cooked, will float to the top. Remove cooked beef balls from the pot and set aside.

Broth

Place all broth ingredients in a soup pot and bring to a boil.
Add beef balls into the broth, turn off heat when it boils again.

To serve

Divide cooked rice noodles and blanched baby bok choy into 4 serving bowls. Top with beef balls and hot broth. Serve with sliced scallions, Chinese celeries, and deep fried shallots. Serve white hot with a side of chili sauce.
Notes
(*) Chicken stock or even water is okay too.