Home / All Recipes / Chinese / Kue Lobak
Kue lobak (Chinese radish cake) is a steamed daikon/radish cake, a very popular dimsum item, and also widely sold as street food in many Asian countries.
Kue lobak or Chinese radish cake is one of the popular dish you can find in Chinese dim sum. But this snack is also a common street food you can find in Indonesia. In fact I grew up with this as one of the many snacks to choose from food carts parking outside my school compound. It was only later in life when going for a Sunday dim sum has become a family tradition that I learn that this is a standard dim sum offering.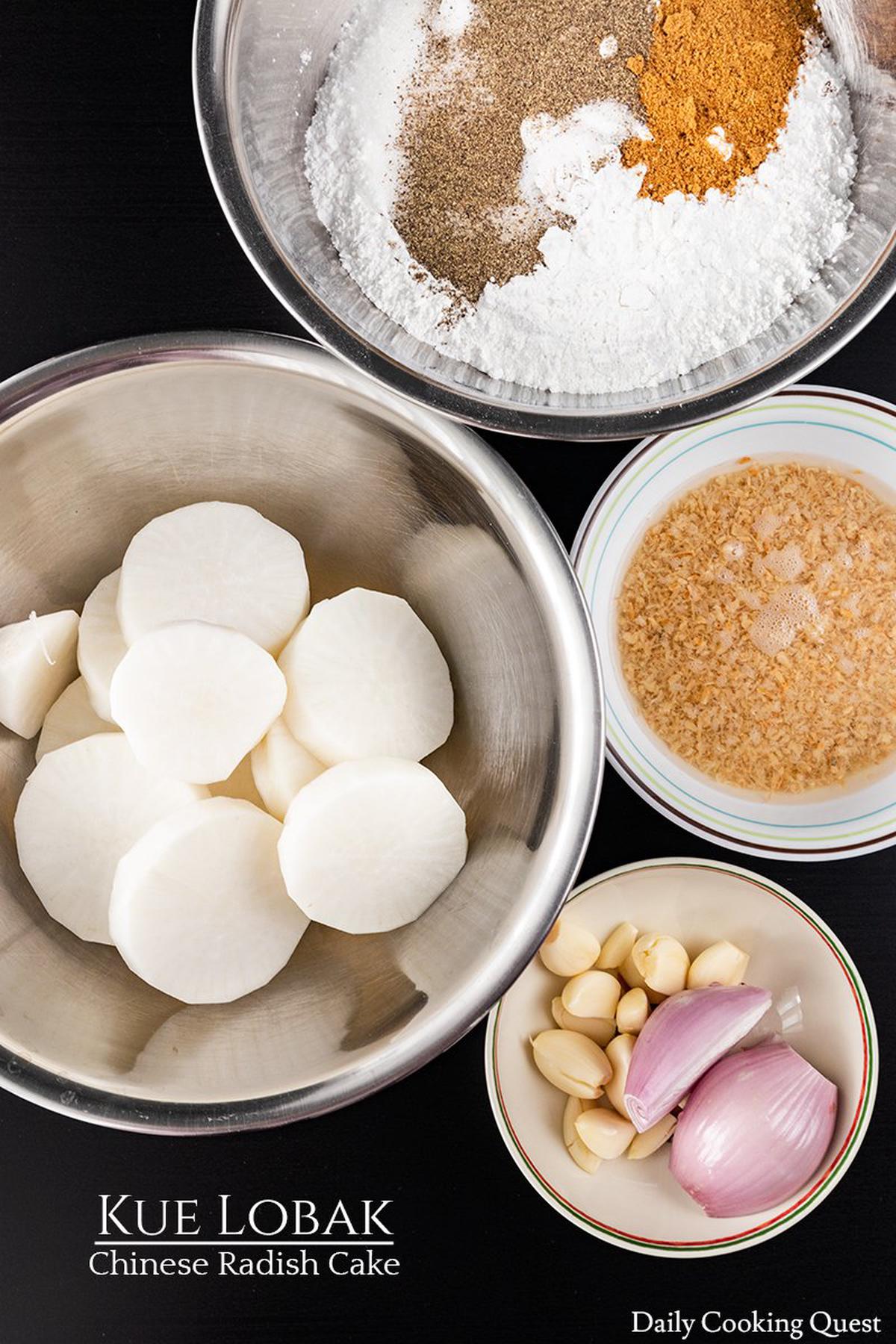 Daikon and dried shrimp
The two essential ingredients to make this radish cake are daikon and dried shrimps. Chinese daikon is closer to Japanese ones, but if all you can find is Korean daikon, feel free to use that. Dried shrimps are called ebi in Indonesia, and you can most likely find them in the frozen section in your Asian market. Alternatively, you can also use Maesri shrimp powder since this doesn't require refrigeration and is a safer bet if you need to get it online.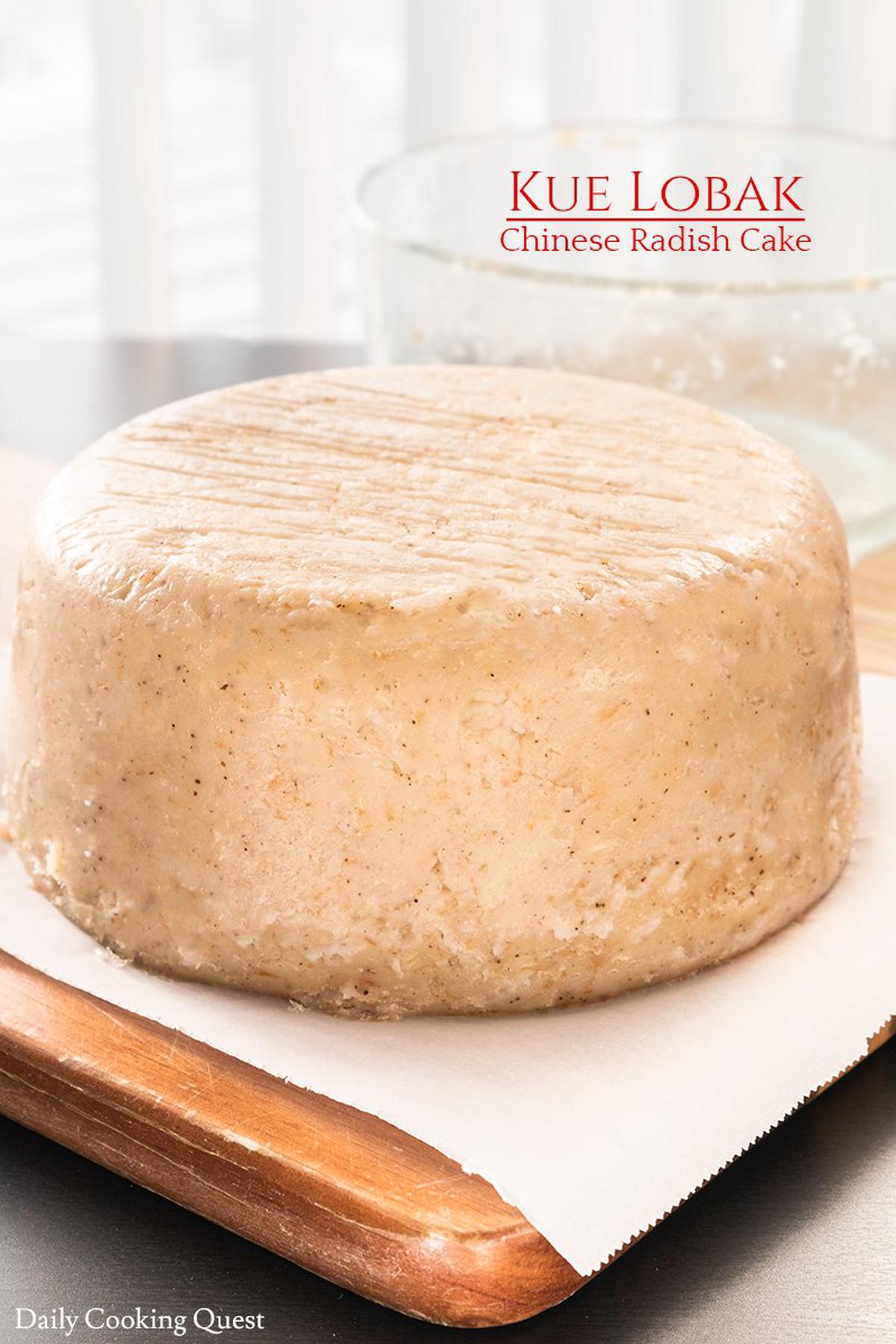 Steaming and Deep frying
Kue lobak requires a two step cooking process: steaming and deep frying. In the first part, a thick batter is poured into a greased pan and steam into a solid block of cake. Once it is totally cool, you can remove the steamed cake from the pan. Although technically the cake is fully cooked and you can eat it as is, everyone in Asia is used to having this as deep fried snack, so it feels kinda weird to eat it as is, though there is nothing wrong and you won't get sick from doing so. The second step, of course, is deep frying. Most people use a square 8"x8"x2" pan to steam the cake, and if this is the way you do it, then simply cut the cake into 16 slices (cut into 2 long blocks, then each block into 8 slabs) and deep fry. We love eating this deep fried radish cake with some chili sauce, and I think either sriracha or sambal oelek is probably the easiest option for most.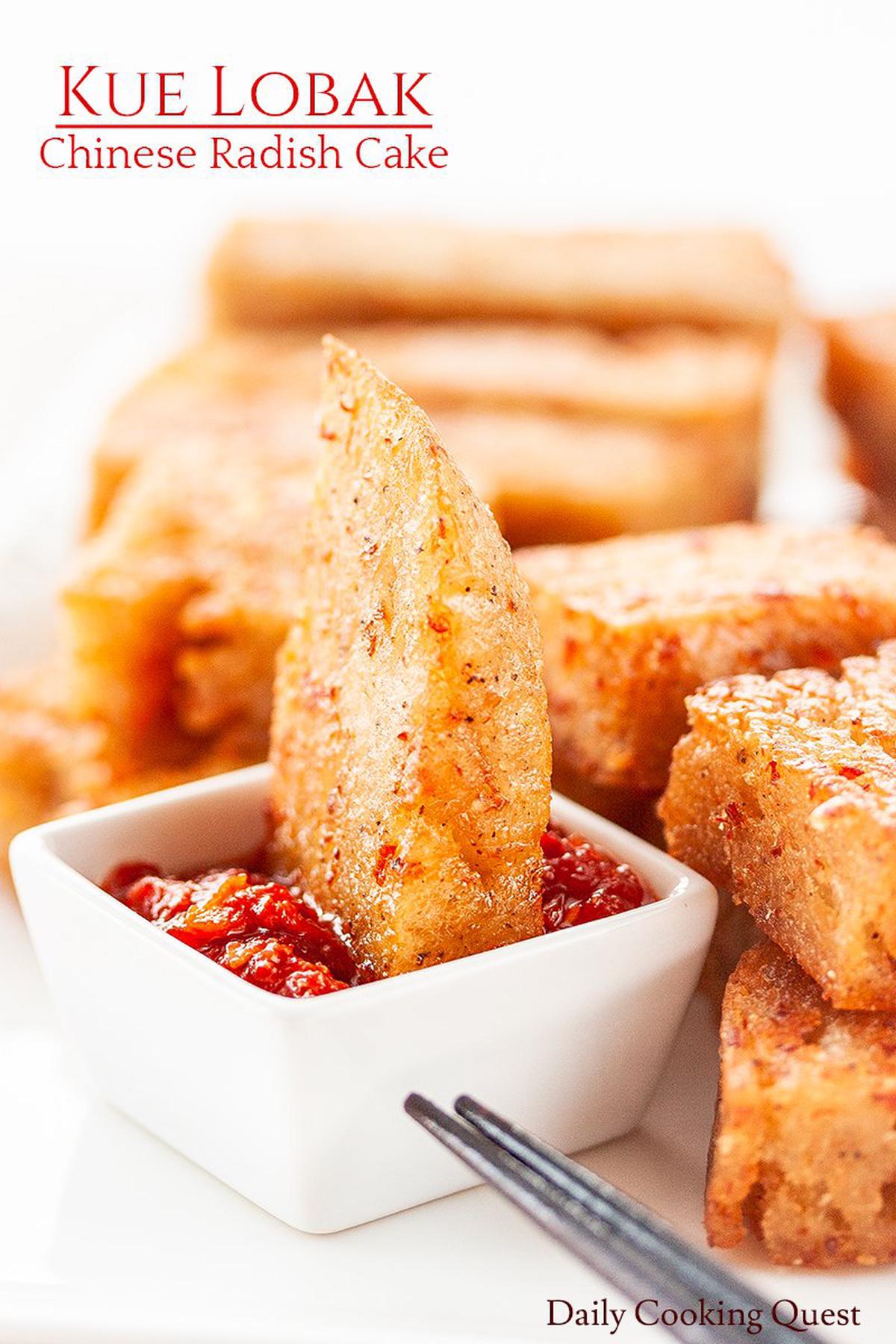 Kue Lobak
5.0 from 10 reviews
Ingredients
50 gram dried shrimp (Indonesian: ebi), soaked in 1/2 cup of water for 15 minutes
500 gram daikon (Indonesian: lobak), cut into wedges
360 gram rice flour (Indonesian: tepung beras)
90 gram wheat starch (Indonesian: tepung tangmien)
2 tablespoon sugar
1 teaspoon ground pepper
1/2 tablespoon anchovy/dashi/chicken stock granules
2 cup water
1/4 cup oil
75 gram shallot, thinly sliced
1 whole bulb garlic (~ 40 gram), minced
Instructions
Grease and line a round 7"x3" pan, or a square 8"x2" pan with parchment paper and set aside. (*)
Separate ebi from the soaking water. Ground the soaked ebi.
In a blender, puree daikon with just the soaking water.
In a big mixing bowl, whisk together rice flour, wheat starch, sugar, ground pepper, and anchovy/dashi/chicken stock granules. Add water, stir until smooth. Add in the pureed daikon, stir again until smooth.
Heat oil in a wok/deep skillet over medium heat. Sauté shallot and garlic until fragrant, then add in ground ebi and cook again until fragrant.
Remove wok/skillet from heat, add in the rice flour and daikon batter, stir until smooth. With medium heat, cook this mixture until thickened, stirring frequently. The batter is thick enough when you can stand a spoon and it stays upright in the middle of the batter.
Pour the thick batter into prepared pan, press and smooth the batter with a spatula, making sure there are no trapped air bubbles or the finished steamed cake will have holes like swiss cheese, which is not good.
Steam for about 1 hour over medium heat, or until a skewer comes out clean from the cake.
Remove the steamed cake from the steamer and set aside to cool completely before unmoulding. Once the cake is completely cool, cut into thin slices, about 16-20 equal servings. (**)
Prepare a pot of oil for deep frying. Once the oil reaches 160 Celsius (320 Fahrenheit), fry the steamed cake slices until golden brown. Set aside over a strainer to remove excess oil, and serve immediately with some chili sauce (sriracha, or sambal oelek).
Notes
(*) Basically, choose the pan that can fit into your steamer. If you have a small steamer, you may even divide the batter into several smaller pans and steam in batches.
(**) A plastic knife is the best utensil to cut the steamed cake to prevent the cake from sticking to the knife. Otherwise, you can also oiled your standard metal knife first to reduce the sticking problem.