Home / All Recipes / Chinese / Kwetiau Goreng Sapi - Stir Fried Beef and Flat Rice Noodles
Kwetiau Goreng Sapi - Stir Fried Beef and Flat Rice Noodles
This recipe is a build up from my previous post on Kwetiau Goreng with the addition of beef, egg, and sweet soy sauce. If beef is not your choice of meat, you can also use chicken, shrimp, squid, etc, but we like our beef and hence the recipe. To increase the success rate of your kwetiau goreng, you must be on top of your mise en place (that is, all ingredients needs to be ready to go into the wok when it is needed), since the cooking has to be done very quickly, definitely under 4 minutes, with ingredients going into the wok in a rapid succession. You don't want to have to scramble for your salt, or soy sauce or anything like that or the end result will be a mushy mess and we really do not want that to happen. All manner of stif fried noodles (kwetiau included) and stir fried rice are usually served with a side of acar and chili sauce. For those who regularly cooks Indonesian dishes, acar is really something that you need to have in your fridge at all time and I have just the recipe for that.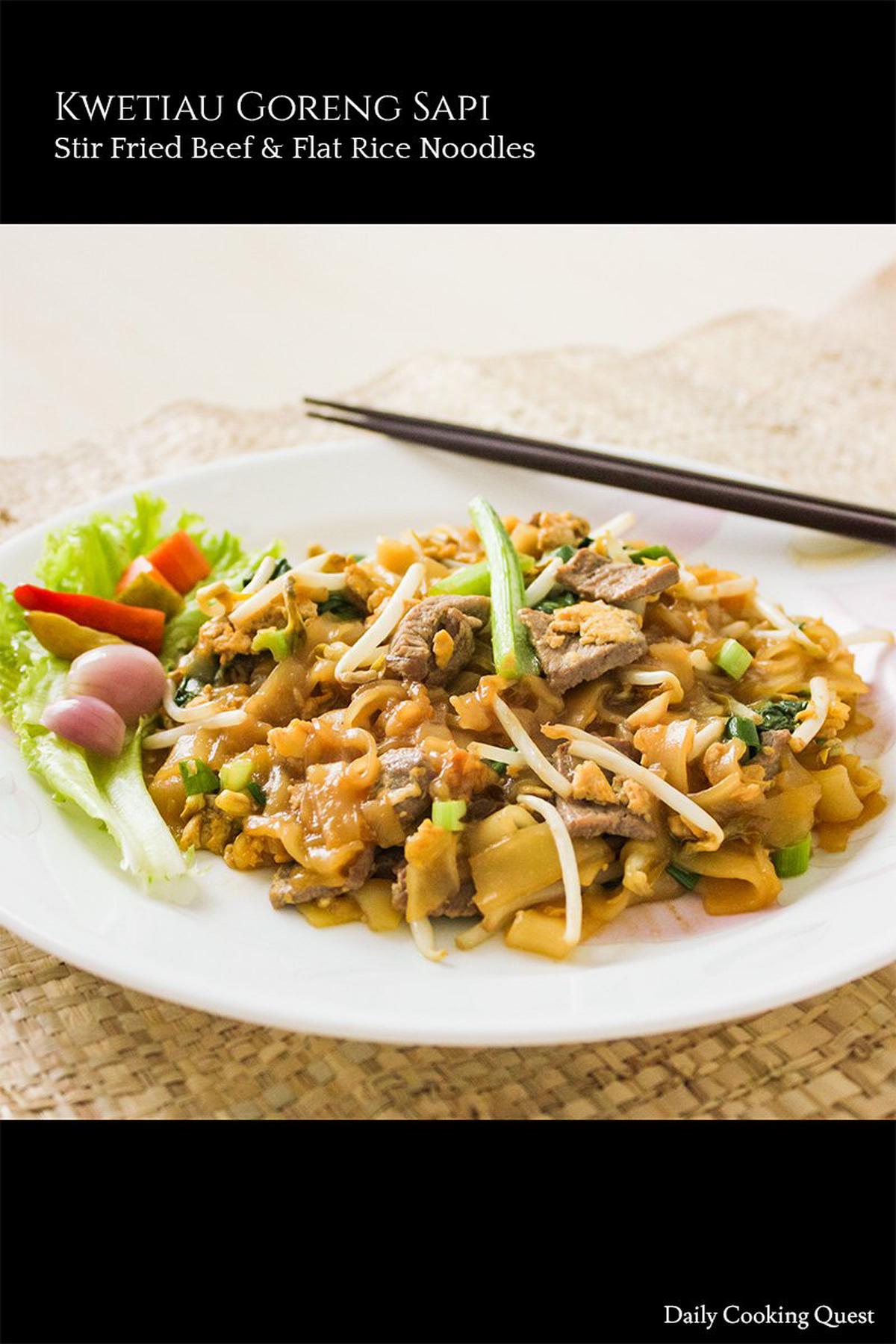 Kwetiau Goreng Sapi - Stir Fried Beef and Flat Rice Noodles
5.0 from 1 reviews
Ingredients
2 tablespoon oil
2 cloves garlic, minced
100 gram beef (any part is okay as long as it is not too fatty), thinly sliced
1 teaspoon salt
25 gram Chinese mustard green (Indonesian: chaisim), chopped into bite size pieces
2 eggs, beaten
100 gram bean sprout (Indonesian: taoge)
250 gram fresh kwetiau (*)
1 scallion, finely chopped
2 tablespoon soy sauce
1 tablespoon sweet soy sauce (Indonesian: kecap manis)
½ teaspoon sugar
Instructions
Heat oil in a wok/frying pan on high heat and stir fry garlic for 1 minute or until fragrant and starts to turn golden brown.
Add the beef and salt and stir fry until the color starts to change.
Add the mustard green stir fry for 15-30 seconds.
Push aside the stuff in the wok and pour the beaten egg. Quickly scramble the egg and break off any lump, do this for 15-30 seconds until the egg is no longer runny. Toss lightly so the egg, the beef, and the mustard green are mixed well.
Add the bean sprout and fresh kwetiau and stir fry for another minute.
Add chopped scallion, season with soy sauce, sweet soy sauce, and sugar, mix well.
Remove from heat and serve immediately with a side of acar.
Notes
(*) A lot of time, fresh kwetiau is sold in the frozen section in the supermarket along with tofu, fresh egg noodles, etc. The fresh kwetiau is usually packed tightly together and to untangle them and make them supple and manageable again, you will need to place them in a mixing bowl and pour enough hot boiling water and let sit for 15-30 minutes until they sort of untangle themselves. Drain before using.