Home / All Recipes / Chinese / Kwetiau Kuah dan Bakso Ikan - Flat Rice Noodles in Fish Ball Soup
Kwetiau Kuah dan Bakso Ikan - Flat Rice Noodles in Fish Ball Soup
This version of fish ball soup is all about enjoying the fish balls, so try to get the best quality money can buy. Only three ingredients are needed to make the soup : fish balls, Tianjin preserved vegetables, and garlic. The soup can be served as is, or with steamed white rice. But the best way, I think, is to prepare some flat rice noodles (Indonesian: kwetiau) to be enjoyed together with the soup, with slivers of finely chopped scallions, and a simple chili soy sauce. ♥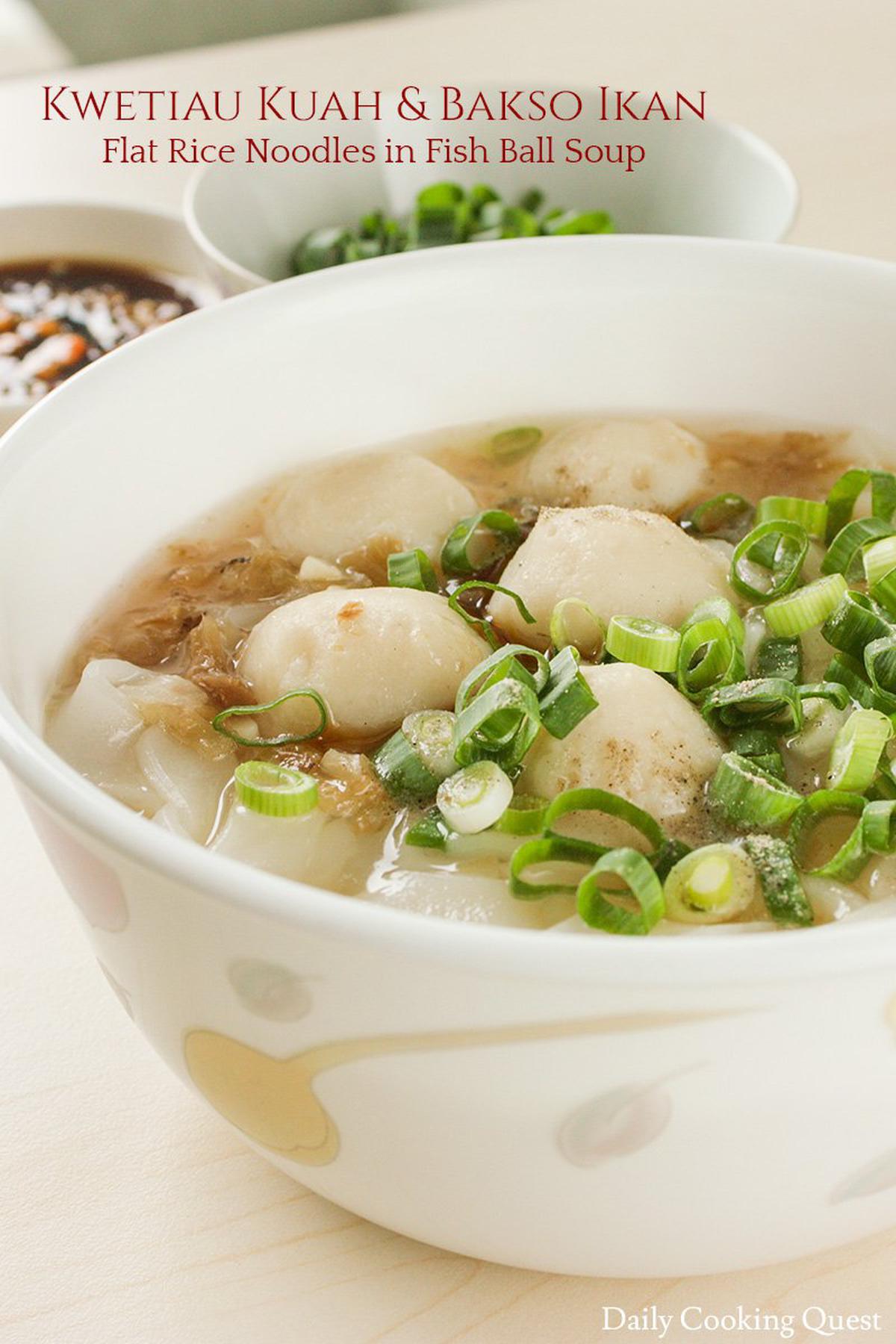 Kwetiau Kuah dan Bakso Ikan - Flat Rice Noodles in Fish Ball Soup
5.0 from 2 reviews
Ingredients
Fish ball soup
1 tablespoon oil
4 cloves garlic, minced
3 tablespoon Tianjin preserved vegetables, minced
2 liter water
25 fish balls
Accompaniments
500 gram flat rice noodles, soaked in boiling water until soft and supple, drained
2 scallions, finely chopped
ground white pepper
sesame oil
Chili soy sauce
3 Thai chilies (Indonesian: cabe rawit)
2 tablespoon soy sauce
Instructions
Fish ball soup

Heat oil in a soup pot and sauté garlic and Tianjin preserved vegetables until fragrant. Pour water and bring to a boil.
Add the fish balls and bring the soup to a boil one more time. Adjust with salt if needed. Turn off the heat and set aside.

Chili soy sauce

Remove the seeds from the Thai chilies and finely chopped into thin slices.
In a small bowl, mix together soy sauce and chopped chilies.

To serve

Divide flat rice noodles into 4 serving bowls. Add some fish balls and pour the soup so the rice noodles is completely submerged by the soup.
Add a dash of ground white pepper and a couple drop of sesame oil. Top with some chopped scallions and serve with the chili soy sauce.