Home / All Recipes / Indonesian / Labu Siam Tumis - Chayote in Spicy Coconut Milk
Labu Siam Tumis - Chayote in Spicy Coconut Milk
This chayote dish with coconut milk is really yummy, with plenty of spicy chili kick. You must have labu siam tumis when you make Indonesian nasi rames.
There is a really common nasi bungkus (wrapped rice) in Indonesia called nasi rames which is basically steamed white rice + labu siam tumis + meat/egg of your choice. Of course, the one with egg is cheaper than the one with meat (usually chicken).
The literal translation to tumis is stir fry, but I don't think it is really appropriate for this dish since it is so wet and has lots of sauce, more like broth or stew than a stir fry. So, though most people lovingly called this dish labu siam tumis, I am going to translate this dish to chayote in spicy coconut milk. Note the spicy part, and be warned that this dish is super fiery hot! Just the perfect accompaniment for steamed white rice. ♥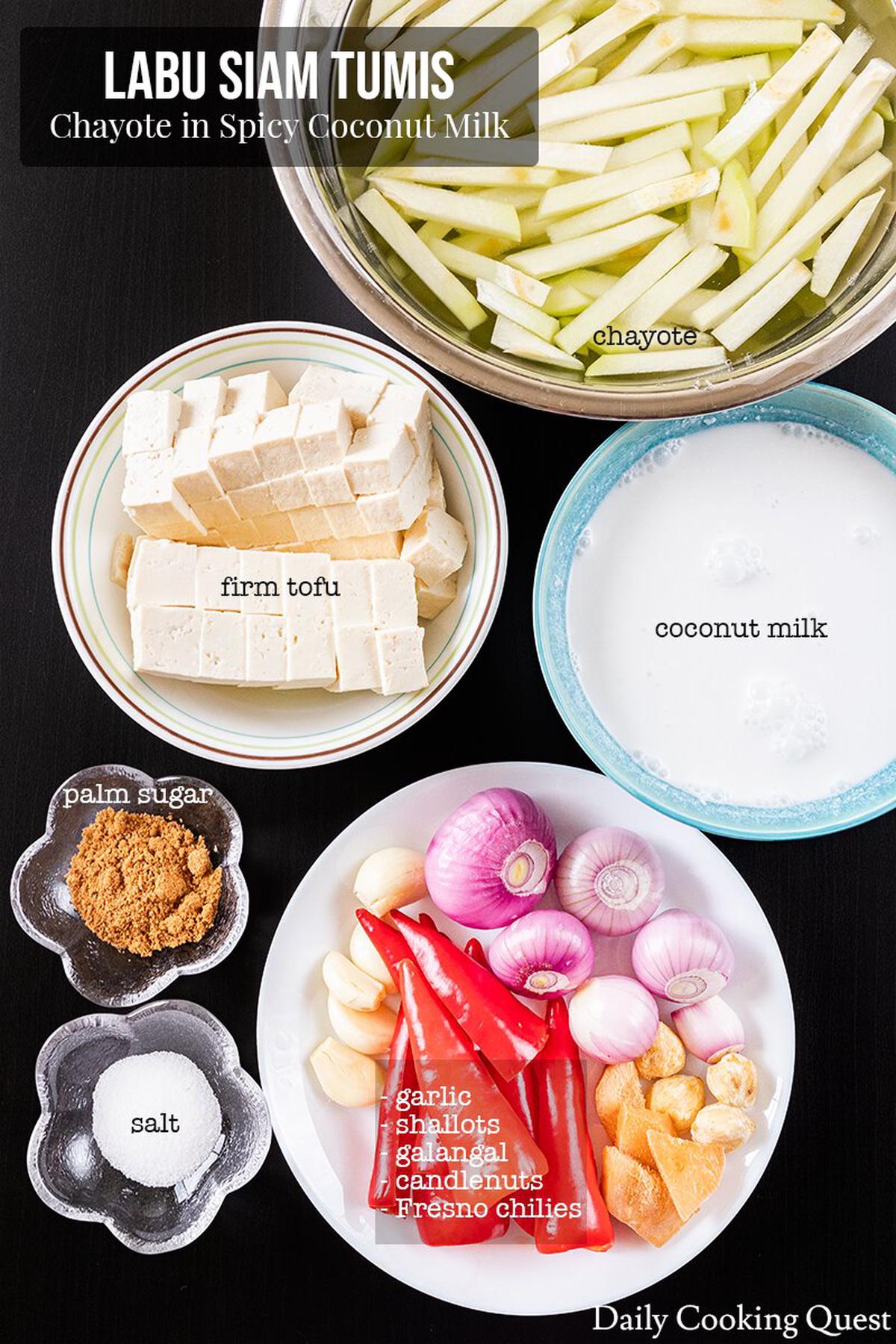 What you need to make labu siam tumis at home
Whenever I see some fresh and lovely chayotes, it's almost an automatic response to grab some of those, along with the following ingredients:
firm tofu
coconut milk
shallots, I buy the smaller Chinese/Asian shallots, but French shallots work too, even red onions if that's all your grocery has
garlic
galangal
red chilies, we use a combination of cabe keriting (cayenne chilies) and cabe besar (Fresno chilies). If you want a milder dish, go with 100% Fresno. If you want a spicier dish, go with cabe rawit (bird eye chilies) and Fresno.
candlenuts, sub with an equal amount of macadamia nuts
palm sugar, block or granulated versions are both fine
daun salam (Indonesian bay leaves), simply omit if you don't have them
salt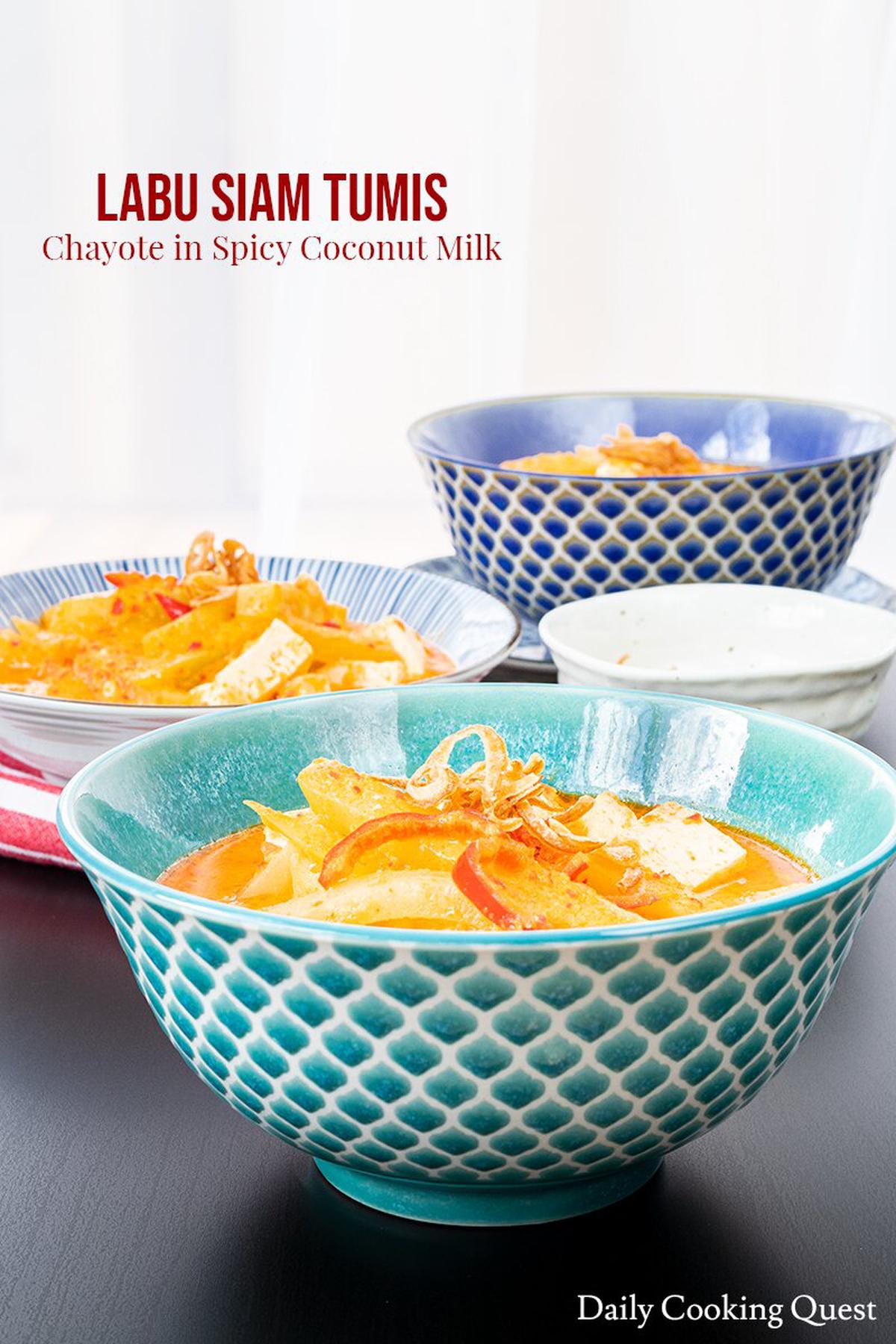 How to prepare chayotes
Chayotes have a slight natural bitterness to it, and if that bothers you, you will need to do the following:
Cut 1/2 to 1 inch of the top part.
Rub the top part and the bottom part together in a circular motion until you see white residue emerges. Do this for about 2 minutes to draw out as much of the white stuff as possible.
Wash and drain the chayote with cold water. Your chayotes should be so much less bitter now.
If the steps above sound familiar, it may be because you are also doing the same steps with cucumbers! Personally, I rarely do this since the bitterness is very slight and it doesn't really bother me at all. I also don't do these same steps with my cucumbers. So I guess, if you fall into the camp of people who need to do this with their cucumbers, you possible want to do the same with chayotes.
Whether or not you do the steps above, you need to do the following steps to prep the chayotes for this dish:
Peel the skin with a peeler.
Cut into half lengthwise, then cut into matchsticks. It is not necessary to remove the seed/pit as that can be eaten.
Now that your chayotes are ready, let's finish cooking labu siam tumis following my recipe. :)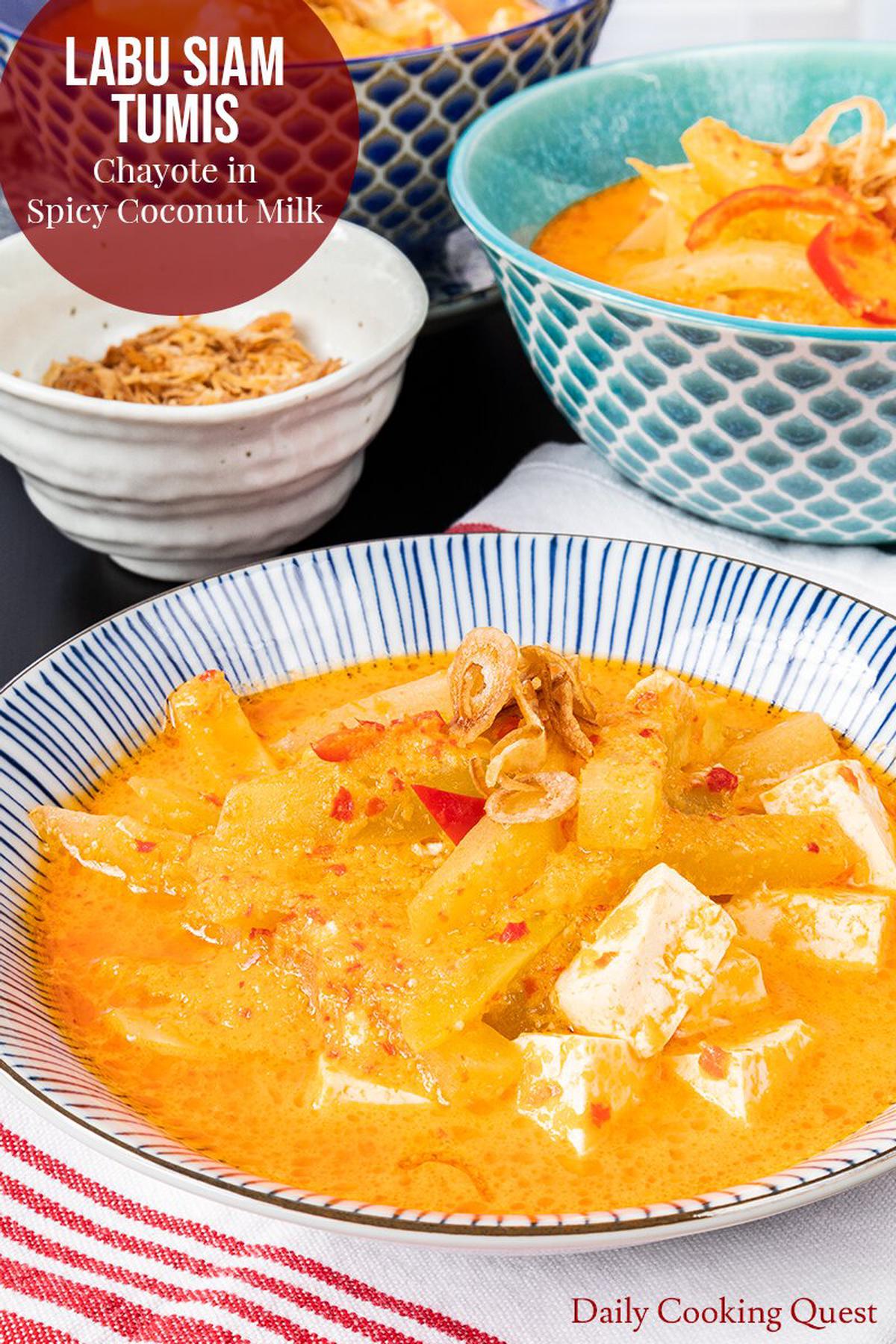 What other dishes do I need to prepare nasi rames?
For festive occasions or for when you just want to indulge yourself, why not make a complete Indonesian nasi rames meal set? Some dishes that you can make other than this labu siam tumis and steamed white rice include:
When I think of nasi rames, or when most Indonesians think of nasi rames, we think of a rice meal set with at least three dishes on top of the rice. So if you want to serve your nasi rames with labu siam tumis, you can pick another two dishes from my suggestion.
Labu Siam Tumis - Chayote in Spicy Coconut Milk
5.0 from 9 reviews
Ingredients
4 tablespoon oil
2 Indonesian bay leaves (Indonesian: daun salam)
4 red Fresno chilies (Indonesian: cabe merah besar), sliced diagonally
1 chayote (Indonesian: labu siam), about 300 to 400 gram, peeled and cut into match sticks
2 teaspoon salt, or to taste
2 teaspoon palm sugar (Indonesian: gula Jawa), or to taste
500 ml coconut milk (Indonesian: santan)
1 block (1 lb./450 gram) of firm tofu (Indonesian: tahu putih), cut into 1/2 inch cubes
Grind the following into spice paste
100 gram shallots (Indonesian: bawang merah)
4 cloves garlic (Indonesian: bawang putih)
8 red cayenne chilies (Indonesian: cabe keriting merah)
2 red Fresno chilies (Indonesian: cabe besar merah)
4 candlenuts (Indonesian: kemiri)
1 inch galangal (Indonesian: lengkuas)
Instructions
Heat oil and sauté spice paste and Indonesian bay leaves (if using) until fragrant, about 4 to 5 minutes.
Add sliced Fresno chilies and cook until slightly wilted, about 2 minutes.
Add chayote sticks, season with salt and palm sugar. Stir so everything is mixed well.
Pour coconut milk, stir, and cook on medium heat until boiling. Stir every 2 minutes or so, this is to prevent the coconut milk from curdling.
Once the chayote is cooked, make sure it is still slightly crunchy, add the tofu, mix well, and bring to a boil. Reduce heat and simmer for 3 minutes. Turn off heat and serve immediately.