Home / All Recipes / Indonesian / Laksa Ayam Jakarta - Chicken Coconut Milk Soup
Laksa Ayam Jakarta - Chicken Coconut Milk Soup
You will want to serve this delicious bowl of Jakarta chicken laksa (chicken in spicy coconut milk soup) with rice vermicelli/steamed rice all winter long.
The weather is getting cold, the snow is falling, and people are trying to stay warm. It is wintertime in Minnesota, and most definitely a perfect time to cook up a batch of laksa ayam Jakarta (chicken coconut milk soup). Spicy hot soup is just the perfect remedy for cold weather, don't you think? :) Serve this spicy chicken soup with some boiled rice vermicellis (Indonesian: bihun rebus) or steamed white rice (Indonesian: nasi putih) and be ready for a second or third helping.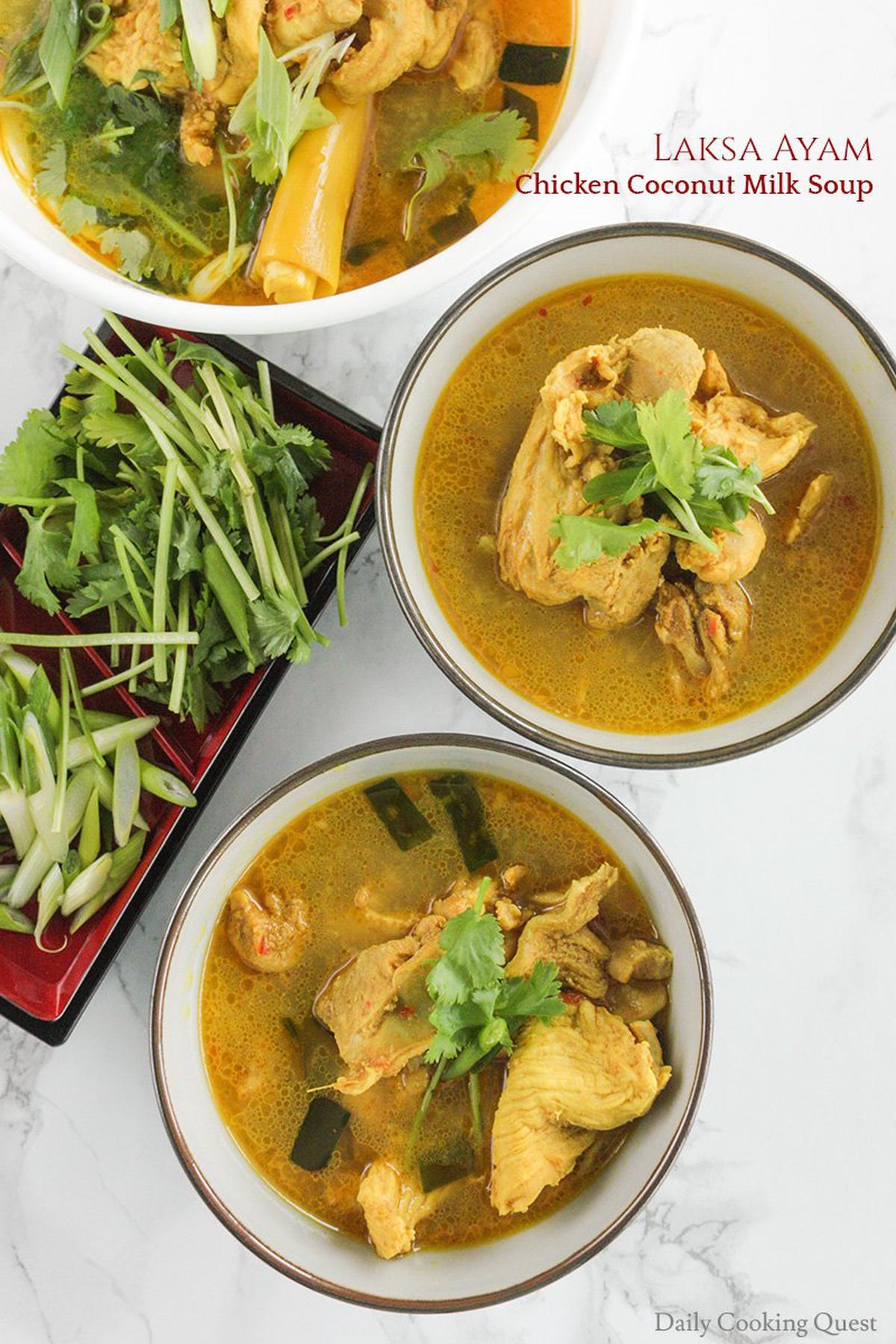 What is laksa?
Laksa is a spicy noodle soup dish popular in Indonesia, Malaysia, Singapore, and Southern Thailand. This dish is particularly popular among Chinese descent and is one of the more popular dishes of Peranakan cuisine. Since laksa is such a popular dish in so many different countries, each country, and even each region within a country, has its own distinct variety of laksa. Just in Indonesia alone, we have laksa Medan, laksa Palembang, laksa Bogor, laksa Tangerang, and laksa Jakarta. The laksa recipe I share today is the one that is popular in Jakarta, the capital city of Indonesia.
What ingredients do I need to prepare laksa ayam Jakarta (Jakarta style chicken laksa)?
Laksa Jakarta, similar to other laksa varieties, is full of spices and herbs, and we will indeed be using plenty of those. First, there's the laksa spice paste, which is made from:
shallots
garlic
ginger
ground coriander
ground turmeric
ground cumin
ebi (dried tiny shrimps)
red chilies, I only use Fresno chilies, but you can also add bird-eye chilies for a spicier laksa
Then, we will also need these to complete the laksa:
chicken breast/thigh, we are making chicken laksa after all
chicken stock
coconut milk
lemongrass
kaffir lime leaves
scallions/green onions
coriander leaves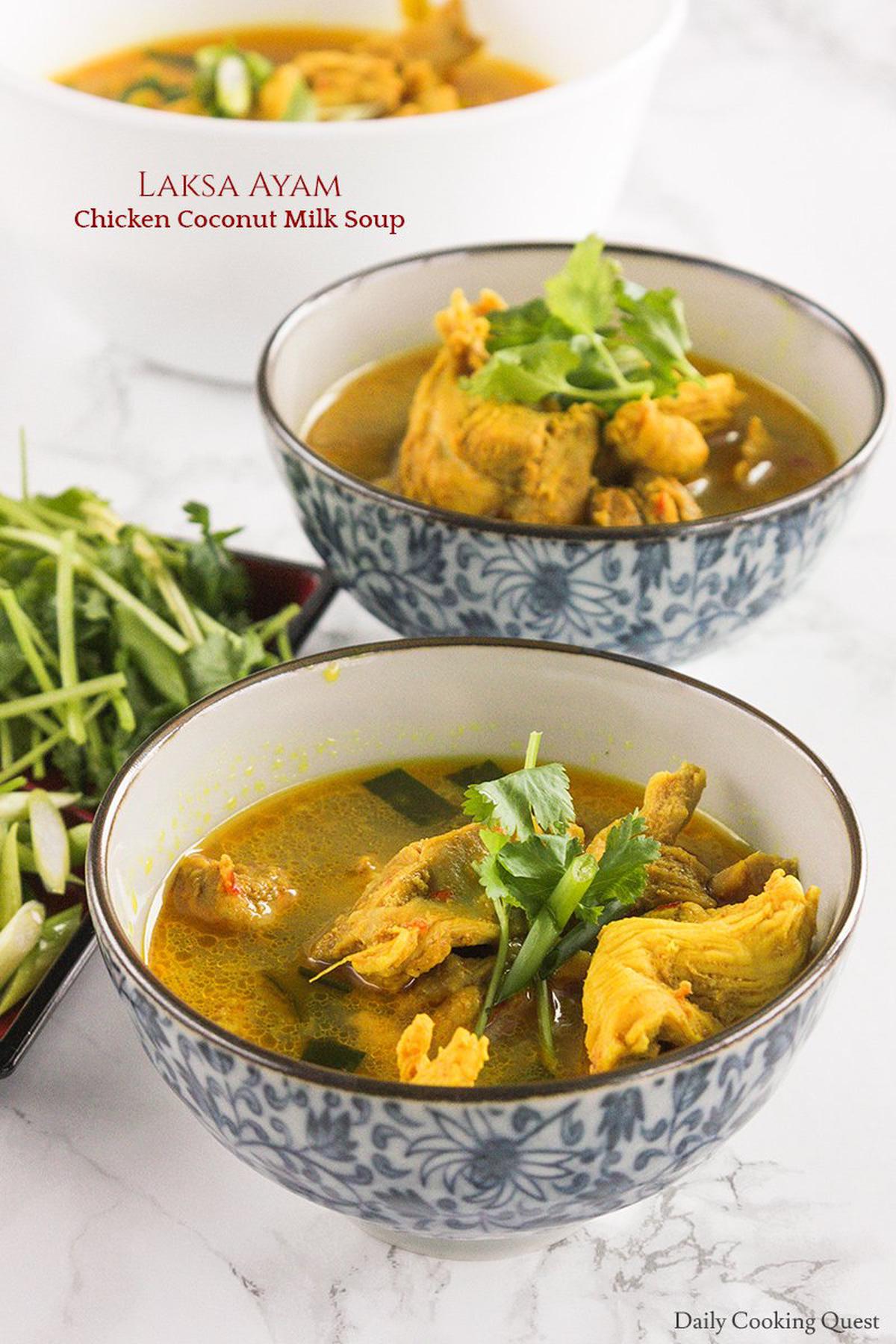 What is ebi and how do I use this?
Ebi is dried tiny shrimps. You may have spotted these sold in little plastic packets in the refrigerated section in your Asian/Chinese market. These little guys will add so much flavor to your soup, and to be honest, laksa Jakarta just doesn't taste quite right without them.
How do I use ebi?
To use ebi, simply measure the needed amount, then wash and soak in cold water until slightly puffy and soft. Then you can ground this with the rest of the spice paste ingredients in a blender/food processor to make the laksa spice paste.
Laksa Ayam Jakarta - Chicken Coconut Milk Soup
5.0 from 4 reviews
Ingredients
3 tablespoon oil
2 lemongrass (Indonesian: sereh), bruised and knotted
900 gram (~ 2 lbs) boneless skinless chicken breast and/or thigh, cut into thin strips
3 cup chicken stock
1 can (400 ml) coconut milk, divided
2-3 teaspoon salt, or to taste
2-3 teaspoon palm sugar, or to taste
1/4 teaspoon ground pepper
6 kaffir lime leaves (Indonesian: daun jeruk), thinly sliced
2 scallions (Indonesian: daun bawang), thinly sliced
1/4 cup coriander leaves (Indonesian: daun ketumbar), thinly sliced
Spice paste (grind the following together)
100 gram shallot (Indonesian: bawang merah)
2 cloves garlic (Indonesian: bawang putih)
1 inch ginger (Indonesian: jahe)
1/2 tablespoon ground coriander (Indonesian: bubuk ketumbar)
1 teaspoon ground turmeric (Indonesian: bubuk kunyit)
1/4 teaspoon ground cumin (Indonesian: bubuk jinten)
2 tablespoon dried tiny shrimps (Indonesian: ebi), soaked in cold water until puffy and soft
3 red fresno chili peppers
2-5 Thai bird eye chilies (optional)
Laksa accompaniments
boiled rice vermicelli, or steamed white rice
hard-boiled eggs
fried shallots (Indonesian: bawang goreng)
mung bean sprouts (Indonesian: tauge)
lemon basil (Indonesian: daun kemangi)
emping crackers
Instructions
Heat oil in a soup pot over medium-high heat. Sauté spice paste and lemongrass until fragrant, about 3 minutes.
Add in chicken strips, stir until no longer pink.
Pour chicken stock and 1/2 can of coconut milk to the pot, season with salt, sugar, and ground pepper.
Once it boils, reduce heat to a simmer and cook until chicken is fully cooked.
Reduce heat to as low as possible, then add in the remaining coconut milk. Give it a taste test and add salt/sugar as needed.
Turn off heat. Add in thinly sliced kaffir lime leaves, scallions, and coriander leaves. Serve laksa hot with all the accompaniments.