Home / All Recipes / Chinese / Lemon Macadamia Cookies
Macadamia nuts and lemon zest pair really well in this delectable Chinese New Year cookies. Greet your CNY guests with this easy and delicious cookies.
I only make two batches of cookies for this Chinese New Year, one is lidah kucing (langues de chat/cat's tongue cookies), and the other one is this delicious batch of lemon macadamia cookies. Unlike langues de chat, you can create pretty shapes with this lemon macadamia cookie dough. Of course you can also go simple like me with nothing but a fork!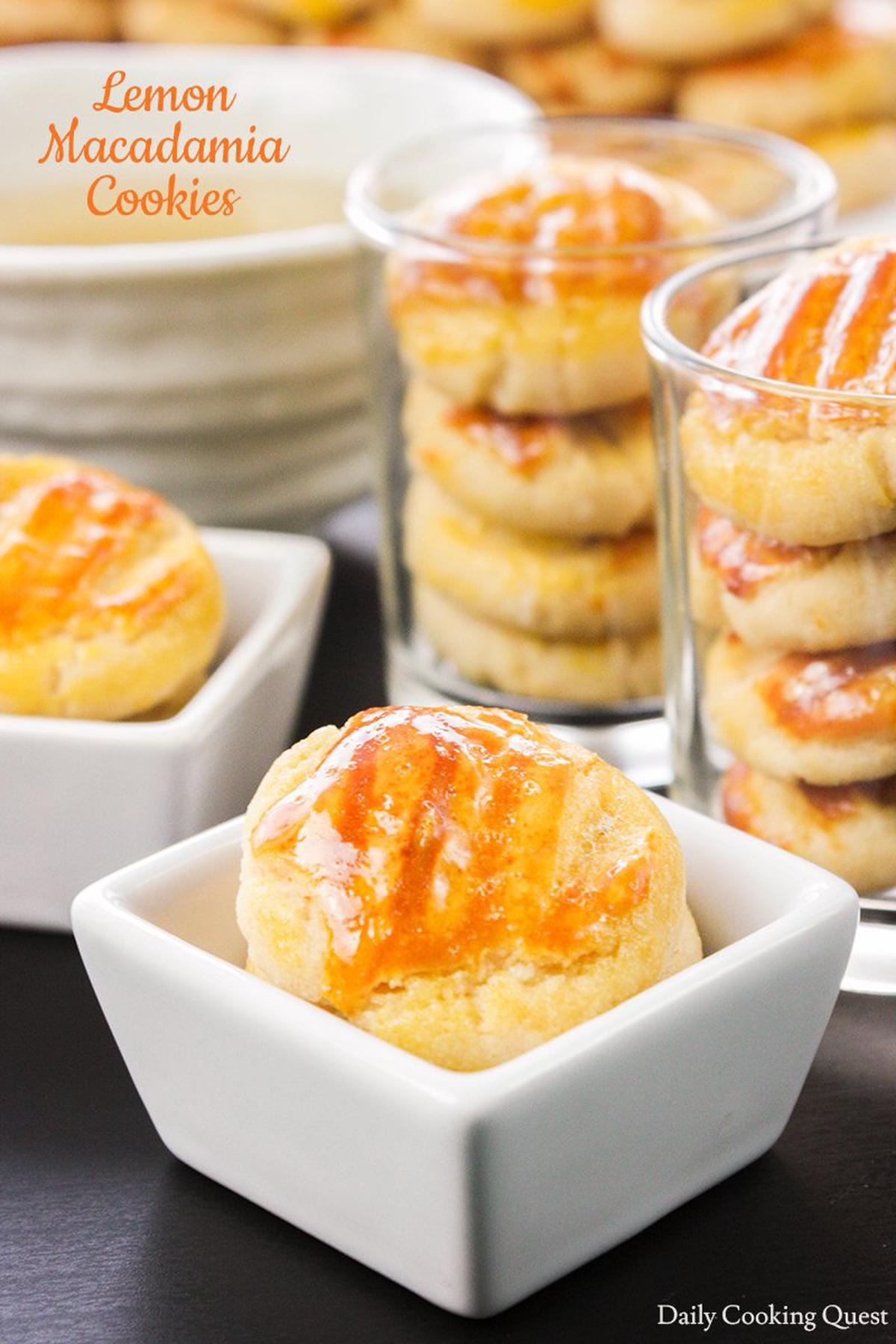 Shaping the cookies
Assuming you are going to keep the one teaspoon of dough per cookie irregardless of your design choice, you should be able to get about 36-40 cookies from this recipe. This year there are only me and my hubby, so the amount is just right. If you are going to have families and friends dropping by, feel free to double or triple the batches.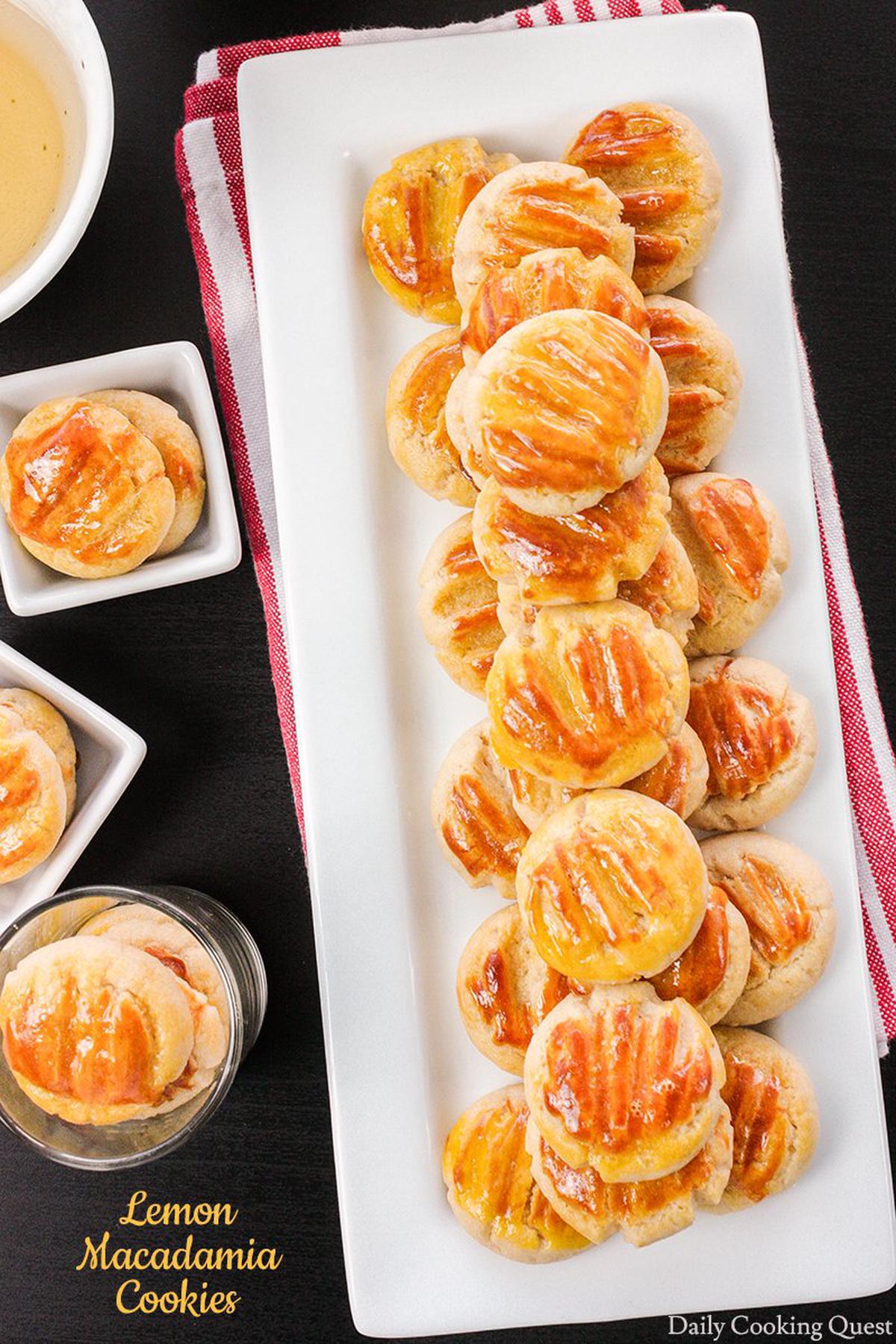 Happy Chinese New Year!
Since today is probably going to be the last day for most people to prepare for the big Chinese New Year feast, I wish you all a very happy Chinese New Year. And also, the diet can wait, CNY only comes once a year and should be fully celebrated! 恭喜发财. 祝你大吉大利, 年年有余, 吉祥如意!
Lemon Macadamia Cookies
5.0 from 9 reviews
Ingredients
6 tablespoon (90 gram) unsalted butter, softened
30 gram dark brown sugar
30 gram sugar
zest of 1 lemon (~ 2 teaspoon)
1 teaspoon vanilla extract
15 gram ground macadamia nuts (or almond)
1/4 teaspoon salt
3/4 teaspoon baking powder
120 gram all purpose flour
egg wash (1 egg yolk + 1/2 tablespoon honey)
Instructions
Preheat oven to 320 Fahrenheit (160 Celsius) and line a baking sheet with parchment paper.
Beat butter, brown sugar, and sugar in a mixing bowl until flight and fluffy. Add lemon zest and vanilla extract, mix again until fully incorporated.
With a lower speed, mix in ground macadamia nuts, salt, and baking powder. Then, gradually add the all purpose flour in 2-3 batches. Stop beating once soft dough is formed.
Option 1 (which is what I do): scoop 1 teaspoon of dough and roll into a ball, arrange on baking sheet with 1" spacing around each cookie. Use a fork and press each cookie to create a simple pattern.
Option 2: transfer cookie dough to a cookie press and press out cookie directly onto prepared baking sheet with 1" spacing around each cookie.
Brush the top of each cookie with egg wash, then bake in preheated oven for 20-25 minutes, or until golden brown.
Optional step: brush baked cookies one more time with egg wash, then return to oven (turned off), close the door, and let the cookies sit for 5 minutes, then take them out.
Make sure cookies are completely cool prior to storing in an air-tight container.