Home / All Recipes / Indonesian / Lemongrass Jelly
Citrusy and fresh agar-agar dessert using lemongrass. Delicious as is, or when paired with ginger and palm sugar syrup. Vegan friendly and gluten-free.
This lemongrass jelly is a really simple dessert and a pretty healthy one too :) I am a lemongrass lover and anything with lemongrass will be good for me, so this agar-agar jelly made with lemongrass is just my kind of dessert. I am pretty satisfied eating the jelly as is, but pairing it with a simple ginger syrup is quite nice too, especially with a squeeze of lime juice. Anyway, unlike chocolate or vanilla pudding, the taste is quite grown up, so maybe kids will not go wild for it.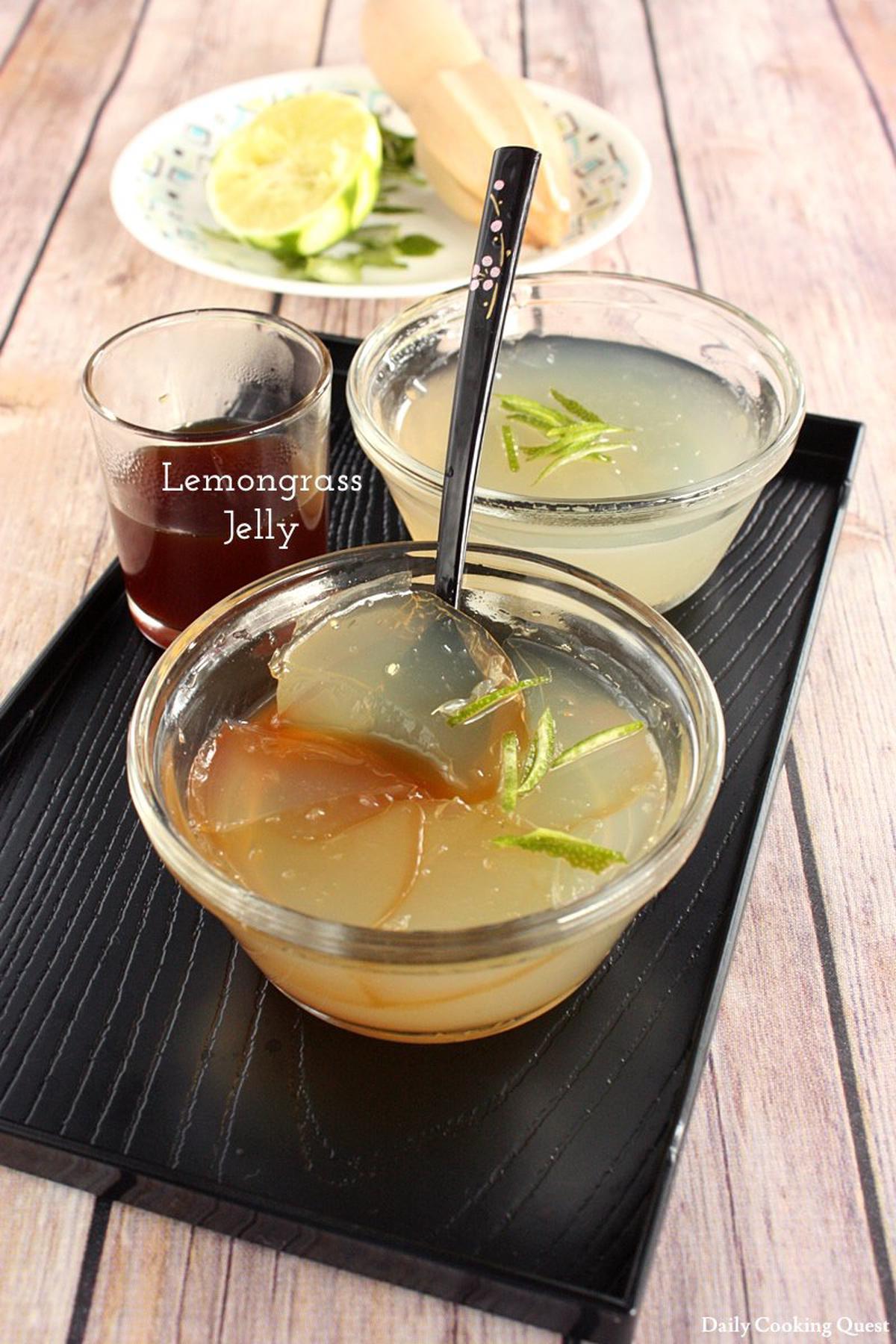 Lemongrass Jelly
5.0 from 2 reviews
Ingredients
Lemongrass jelly
900 ml water
4 stalks lemongrass, cut into 2 inch sections and bruised
75 gram sugar
7 gram agar-agar powder
Ginger syrup
3/4 cup water
50 gram palm sugar (or use brown sugar)
50 gram sugar
4 inches ginger, peeled and bruised
1 pandan leaves, knotted
Optional
freshly squeezed lime juice
Instructions
Lemongrass jelly

In a small sauce pot, boil together water, lemongrass, and sugar. Once it boils, reduce heat to a simmer, cover the pot, and cook for another 10 minutes.
Discard the lemongrass from the pot, add agar-agar powder into the pot, turn the heat to med-high and continue stirring until the liquid boils and the agar-agar powder has completely melted. Turn off heat, pour into pudding/jelly molds.
Let the agar-agar firm up in the fridge.

Ginger syrup

In a small sauce pot, boil together all ginger syrup ingredients. Once it boils, reduce heat to a simmer, cover the pot, and cook for another 10 minutes. Strain.

To serve

Pour some ginger syrup over the jelly. I love adding a small squeeze of lime juice, but this is optional for those who don't like sour dessert :)