Home / All Recipes / Indonesian / Limpang Limpung - Deep Fried Banana and Bread
Limpang Limpung - Deep Fried Banana and Bread
I love deep fried food, especially for snacking. I have a couple of sad looking bananas (read: really ripe), and a couple of almost stale sliced wheat bread sitting on my counter top. My first instinct was to throw both items away, but I was glad that I decided to make limpang limpung instead. Instant hot snacks in 15 minutes. I even managed to brew a glass of hot tea to accompany my limpang limpung!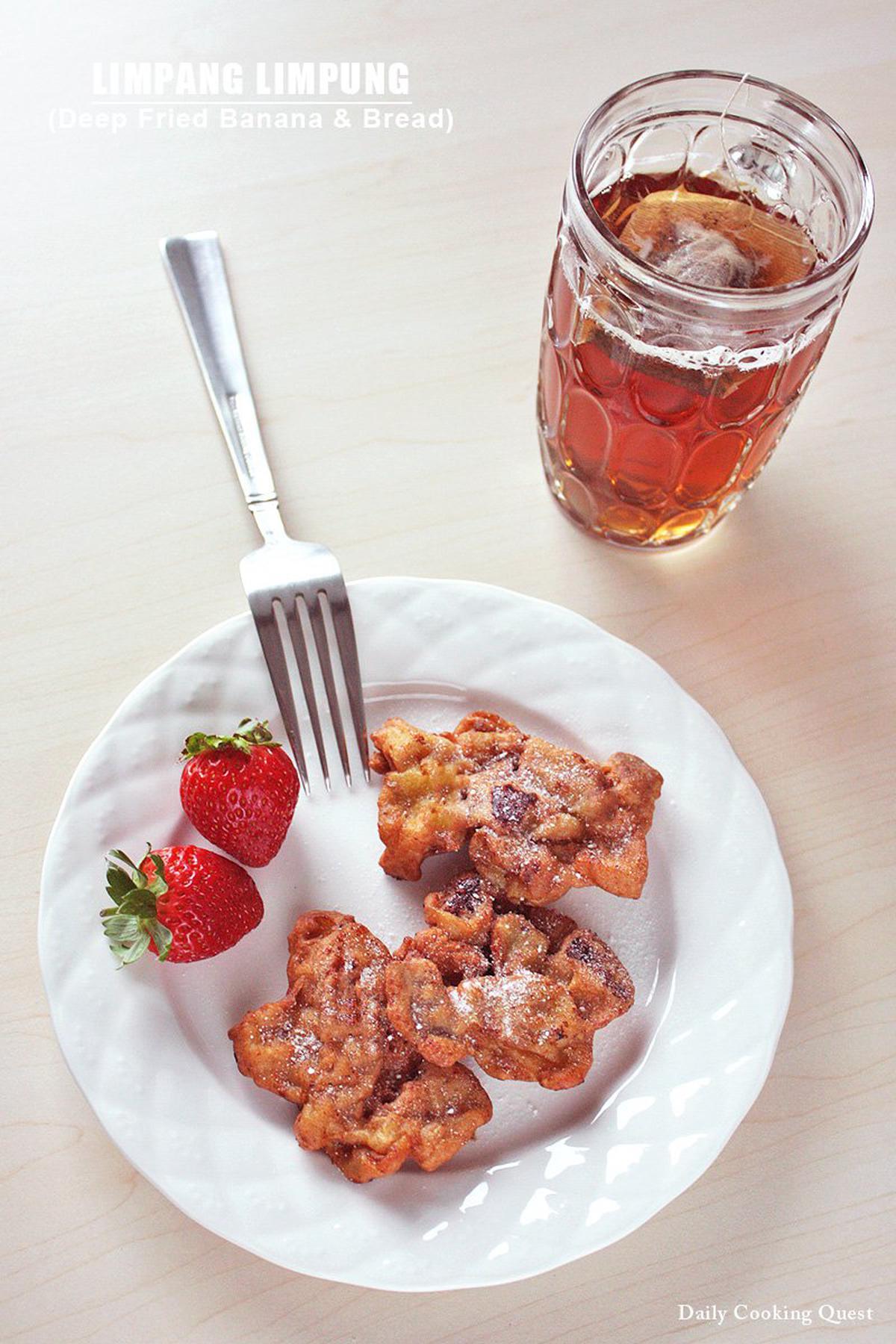 Limpang limpung is deep fried banana fritters. Unlike pisang goreng, banana must be sliced into thin rounds and mixed with batter prior to deep frying and it resembles Malaysian kuih kodok. The traditional limpang limpung combines banana and jackfruit, but since jackfruit is not commonly found outside Indonesia (and I did have to use my stale bread, right?), I improvised and came up with my version of limpang limpung, and I also added a bit of cinnamon for a nice hint of spice. ♥
Limpang Limpung - Deep Fried Banana and Bread
5.0 from 2 reviews
Ingredients
75 gram all purpose flour
1 tablespoon sugar
1/4 teaspoon salt
1/4 teaspoon vanilla essence
1/4 teaspoon cinnamon powder
1 egg
100 ml milk
2 ripe bananas, preferably plantains, but regular bananas are okay, cut into thin rounds
2 slices of (almost) stale bread, cut into small cubes
Instructions
Heat enough oil for deep frying.
Meanwhile, whisk together flour, sugar, salt, vanilla essence, egg, and milk until well combined. Add banana rounds and bread cubes into the batter. Mix well.
Using a tablespoon, drop spoonful of the banana and bread mixture into the hot oil. Cook until golden brown and crispy. Remove from oil and drain on wire rack. Serve immediately.