Home / All Recipes / Indonesian / Malbi Sapi Palembang - Palembang Beef Stew
Malbi Sapi Palembang - Palembang Beef Stew
If the Javanese have semur, then the Sumatrans have malbi. They are both stew made with Indonesian kecap manis (sweet soy sauce) and a lot of spices. Luckily, the spices used are pretty common, so there should be no problem finding them in your neighborhood grocery stores. As for the other main ingredient, i.e. the kecap manis, most Asian markets in the States should carry them, or as last resort, you can always get them online from Amazon. :)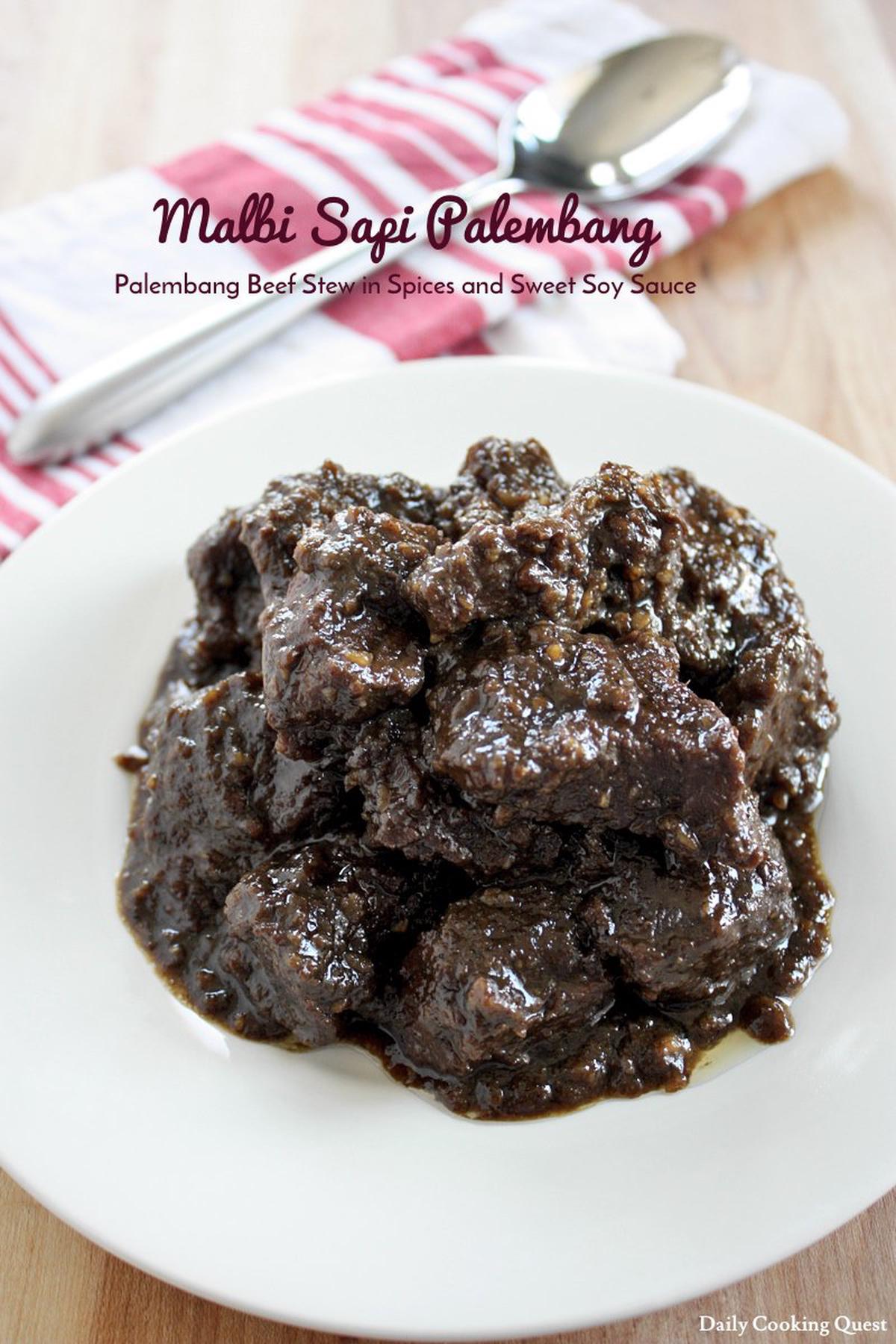 Malbi Sapi Palembang - Palembang Beef Stew
5.0 from 6 reviews
Ingredients
3 tablespoon oil
800 gram beef, cut into 1 inch cubes (pick your favorite cuts for stew)
1 liter (4 cups) water
100 ml sweet soy sauce (Indonesian: kecap manis)
1 teaspoon salt
1 teaspoon sugar
1/2 teaspoon ground nutmeg (Indonesian: bubuk pala)
1/2 teaspoon ground pepper (Indonesian: bubuk merica)
Grind the following into spice paste
100 gram shallot (Indonesian: bawang merah)
4 cloves garlic (Indonesian: bawang putih)
1 inch ginger (Indonesian: jahe)
5 candlenuts (Indonesian: kemiri)
2 teaspoon coriander seeds (Indonesian: biji ketumbar)
1/2 teaspoon cumin (Indonesian: jinten)
Garnish
deep fried shallot flakes (Indonesian: bawang merah goreng)
Instructions
Heat oil in a pot and sauté spice paste until fragrant, about 3 minutes.
Add beef pieces and stir until well coated with the spice and no longer pink.
Add water, sweet soy sauce, salt, sugar, ground nutmeg, and ground pepper into the pot and bring to a boil. Reduce heat and simmer until beef are cooked and tender, and the sauce has reduced, about 45 minutes to 1 hour. Adjust with salt and sugar as needed.
Turn off heat. Transfer to a serving bowl, garnish with with shallot flakes and served immediately with steamed white rice.