Home / All Recipes / Japanese / Mamekan - Kanten and Red Bean with Kuromitsu
Mamekan - Kanten and Red Bean with Kuromitsu
Learn how to prepare Japanese mamekan - agar/kanten cubes, anko (red bean paste), and kuromitsu (black sugar syrup) - to enjoy all summer long.
Mitsumame is a traditional Japanese dessert where kanten (agar-agar) cubes is served with kuromitsu (sweet black syrup). There are many varieties of mitsumame, such as:
anmitsu: the deluxe version of mitsumame, with an (bean paste), mochi, shiratama dango, and seasonal fruit slices
mamekan: mitsumame served with bean only
coffee mitsumame: mitsumame where the kanten is made of coffee
cream mitsumame: mitsumame topped with ice cream
Mamekan is the simplest version of mitsumame, and once you can make a mamekan, you can pretty much conjure up the other four varieties without much effort. In this recipe, I use red bean as my mame of choice, but kuromame (sweeten black soy bean) is also a popular choice.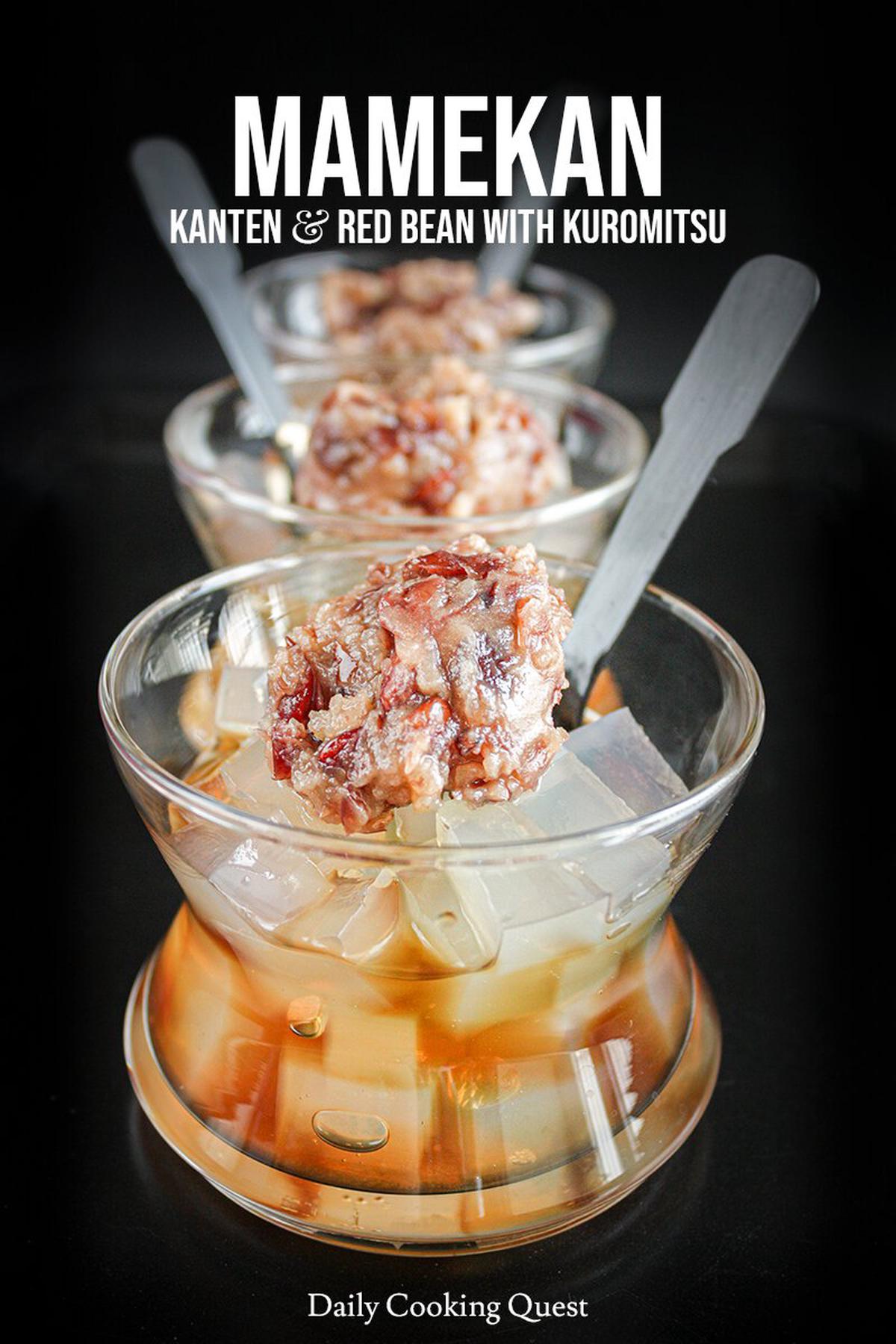 Mamekan - Kanten and Red Bean with Kuromitsu
Ingredients
Instructions
Kanten (agar-agar) cubes

Make the kanten by boiling together agar/kanten powder, water, and sugar. Different brand of agar/kanten powder may give different proportion of powder, water, and sugar, and it is best to follow your own instruction.
Pour into a baking pan and let it set at room temperature. Then chill for 1 hour in the fridge. Cut into small 1/2 inch cubes.

Kuromitsu (black sugar syrup)

Place all ingredients in a sauce pot and bring to a boil. Cook until the liquid is reduced to slightly more than 2 cups.
Turn off the heat, and let cool at room temperature. Then transfer to a jar and store in the fridge.

To serve

Place some kanten cubes in a serving bowl, top with 1 tablespoon of red bean paste, and pour some of the kuromitsu to fill about half of the bowl.
Notes
(*)Mizuame is liquid sweetener used in many traditional Japanese desserts/snack and is typically made of rice. You can also use honey or maple syrup if mizuame is not available.