Home / All Recipes / Chinese / Mango Pudding
One of the thing I look forward to when going for a dim sum is the dessert. One is the flaky crunchy egg tart, and the other is silky smooth mango pudding. I thought I might as well make some mango pudding while mango season is here.
Choose whatever mango variety you like, since the ones we have here in Indonesia are called kweni, indramayu, gedong, and so on and so forth, and I have totally no idea what they are called in English. As long as you like the variety, and they are ripe and sweet, I am sure the pudding should turn out fine. ♥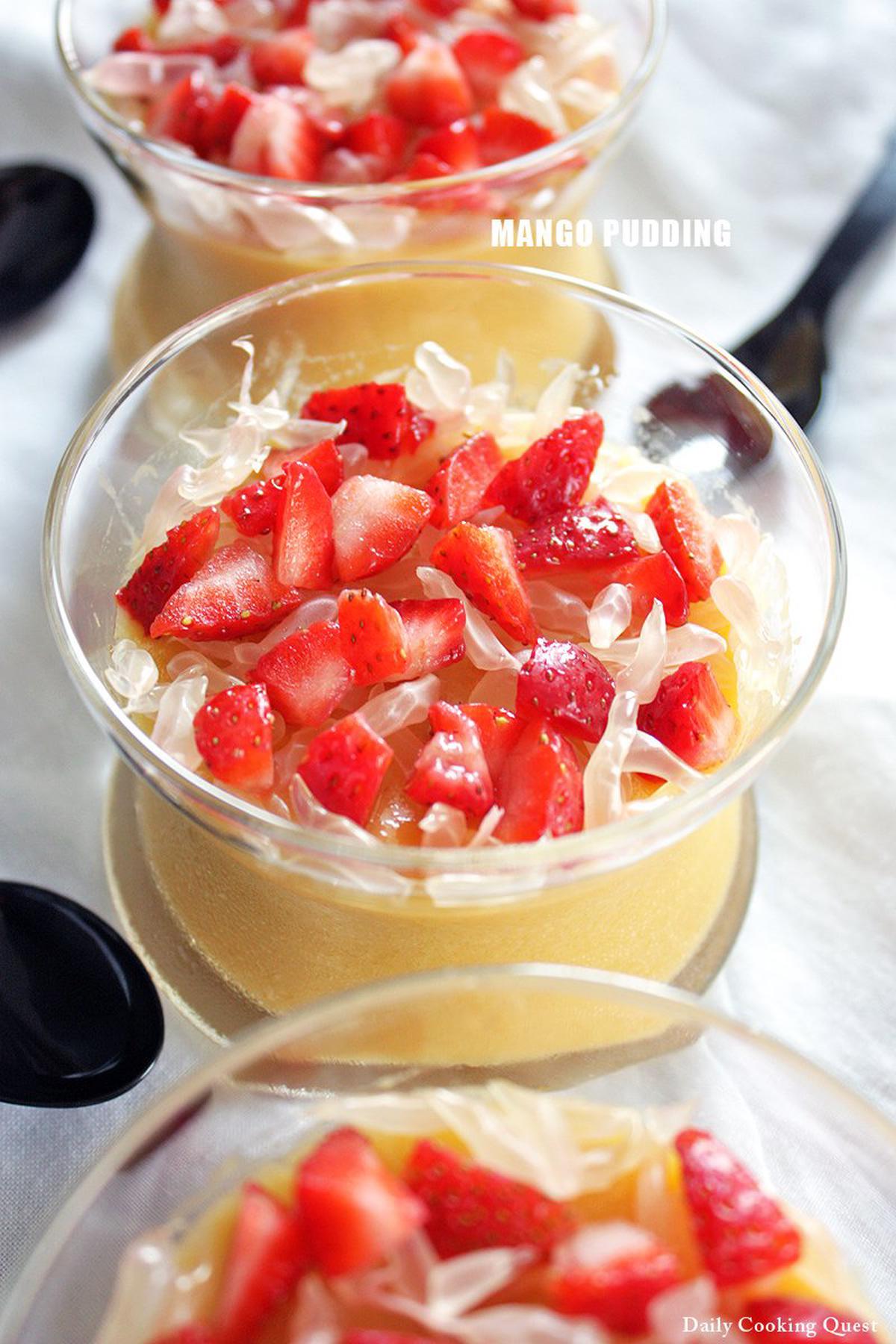 The traditional mango pudding uses evaporated milk to mix with the mango. I experimented using yoghurt and it came out alright. I was quite afraid that it might not set properly with yoghurt, what with acidic stuff usually mess up with the setting of agar. But it was not so, the pudding sets beautifully. And I actually like the yoghurt version better, somehow it makes the mango pudding even more refreshing, plus yoghurt is healthier than milk, so all is well. ;)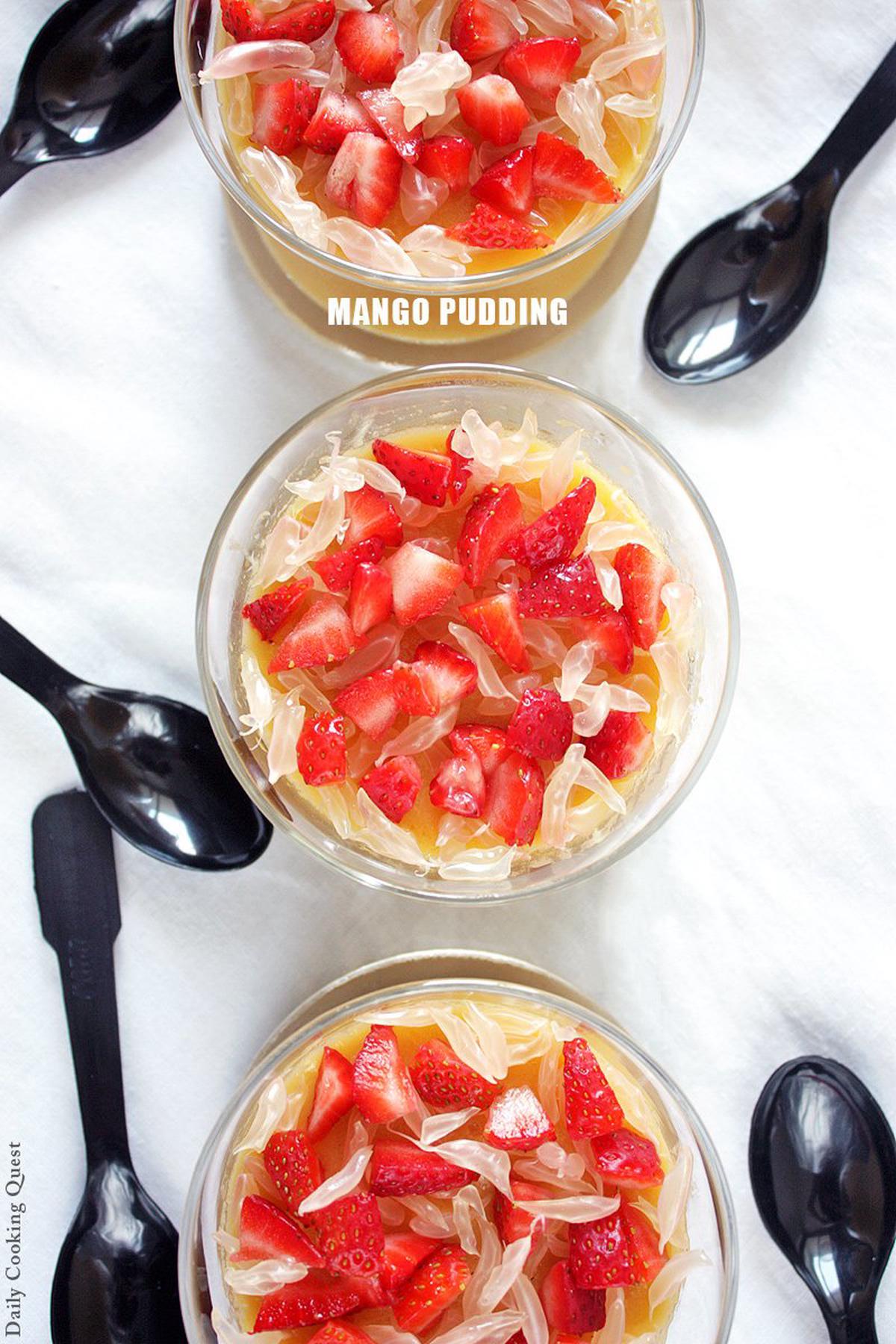 Most of the mango pudding I have tried in dim sum are either plain, or topped with even more diced mangoes. This topping of chopped strawberries and pomelo is purely an experiment, and I think it goes really well with the pudding. Color wise, it makes everything even more vibrant and looks decidedly inviting in the hot summer weather. I think some mint leaves will be right at home among the strawberries and pomelo. Anyhow, the choice of topping is rather irrelevant since you won't be able to put down that spoon until the last of the mango pudding is gone. ♥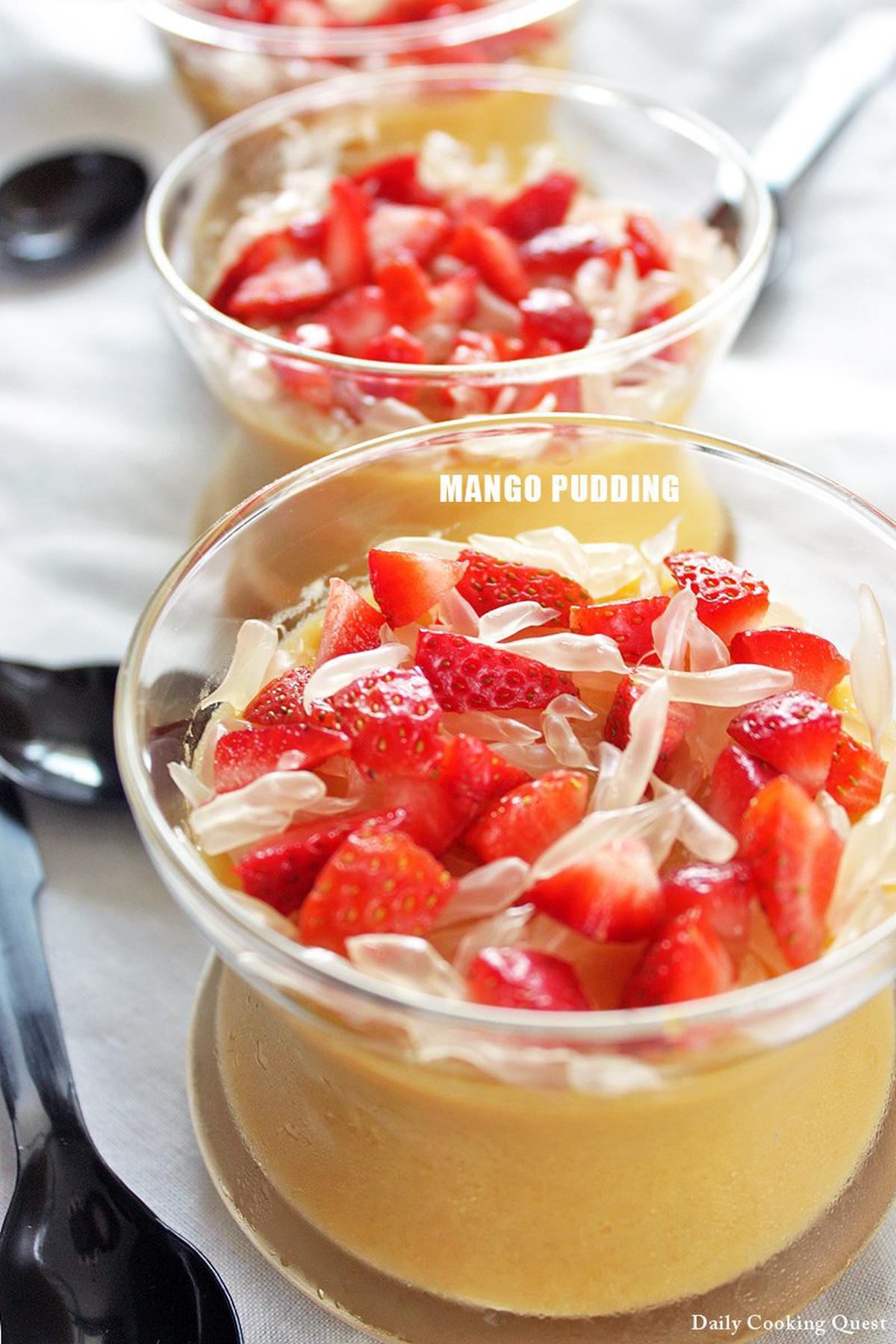 Mango Pudding
Ingredients
400 gram mango flesh
200 ml plain yoghurt
25 gram palm sugar (Indonesian: gula Jawa)
100 gram sugar, or to taste
juice of 1/2 to 1 lime, or to taste
300 ml water
5 gram agar powder, I use plain Kristal Agar from Swallow Globe brand (agar-agar and jelly powder)
Toppings suggestion
chopped fresh strawberries
chopped fresh mangoes
pomelo
mint leaves
Instructions
In a blender, process together mango, yoghurt, palm sugar, and sugar until smooth. Add more sugar as needed. Brighten the mango mixture with lime juice as needed.
With a strainer, strain the mango mixture to remove the stringy bits of the mango. This is to ensure a silky smooth pudding.
Heat water and agar powder together in a pot. Stir continuously until all the powder has dissolved. Reduce the heat to a bare simmer once it reaches rolling boil. Add the strained mango mixture to the pot and stir until well mixed. Turn off the heat.
Pour into serving glasses/bowls/molds of your choice. Let set at room temperature, then cover with a saran plastic wrap and chill in the fridge for 2 hours.
Serve plain, or with toppings of your choice.