Home / All Recipes / Thai / Mango with Black Sticky Rice
Mango with Black Sticky Rice
This is the dessert that come to my mind when someone mentions a Thai dessert. The sweet sticky rice that has been cooked with coconut milk, served with mango slices and topped with toasted sesame seeds is truly a comfort food, and one that is much healthier than the usual dessert loaded with flour, butter, and cream.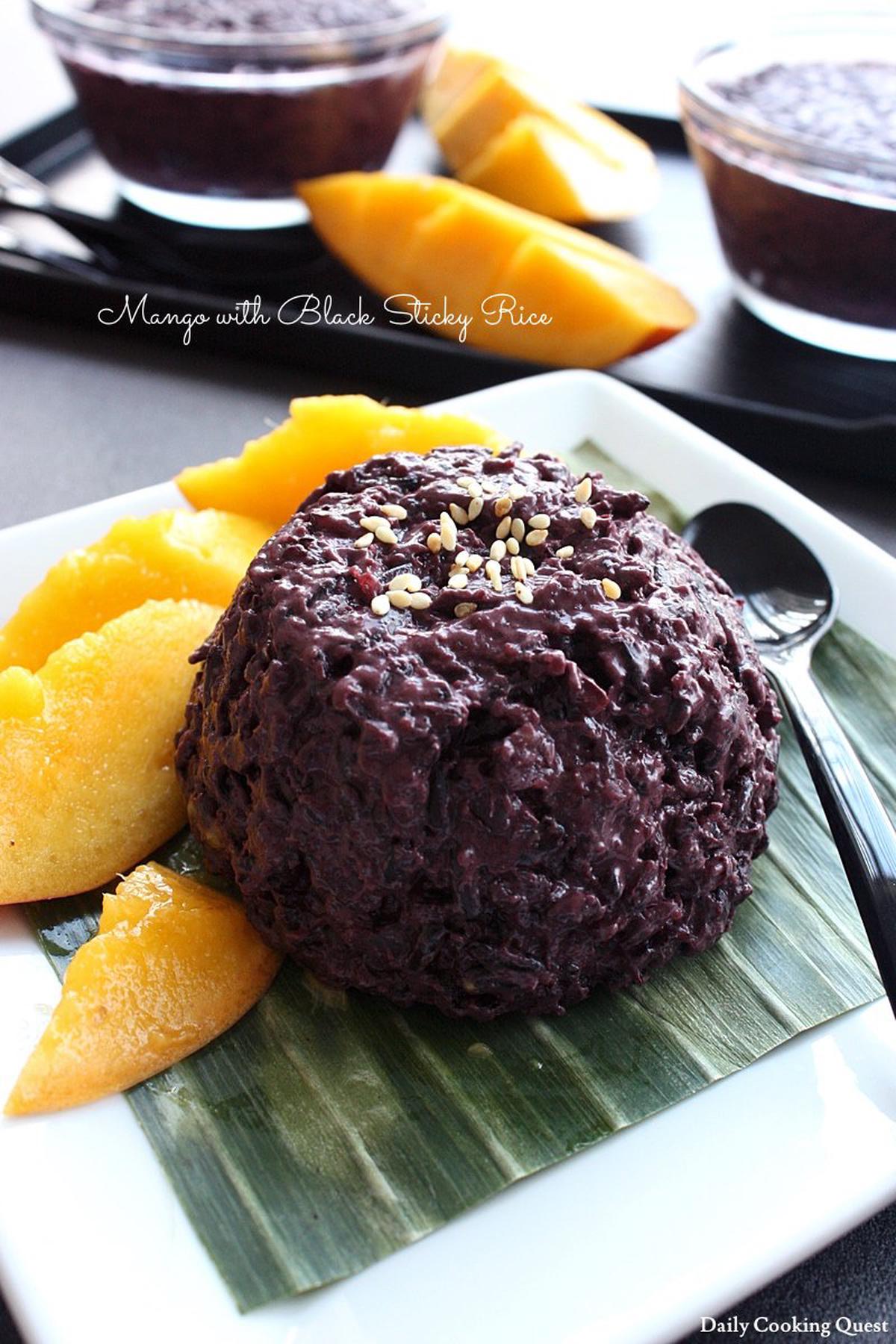 White sticky rice is actually more commonly used to make this dessert, so feel free to use white sticky rice if that is what you have. But I think black sticky rice has higher nutrient compared to white one, plus I love the color combination between the deep purple of the black sticky rice contrasting with the golden yellow of the mango :)
Mango with Black Sticky Rice
4.0 from 2 reviews
Ingredients
2 cups black sticky rice
1 can (400 ml) coconut milk
400 ml water
2 tablespoon sugar
1/8 teaspoon salt
2 pandan leaves, knotted
1 mango, cut into small bite size cubes/slices
toasted sesame seeds (optional)
Instructions
Washed and drained sticky rice, then soaked in cold water for at least 2 hours, overnight is best.
Drain the sticky rice and place in a sauce pan, along with coconut milk, water, sugar, salt, and pandan leaves. Bring to a boil, then quickly reduce heat to a simmer and cook (uncovered) until all the liquid has been absorbed, about 45 minutes. Stir frequently, especially towards the end. Discard the pandan leaves.
Transfer the sticky rice to a heat proof bowl, then place in a steamer and steam for 30 minutes until fully cooked.
Transfer the sticky rice to 4 individual serving bowls/ramekins. Let cool completely.
To serve, remove the sticky rice from bowl/ramekin into a serving plate. Serve each with 1/4 of mango and some toasted sesame seeds.