Home / All Recipes / Japanese / Matcha Braided Loaf
A freshly baked breaded loaf bread filled with delicious matcha filling. It is one of the best ways to enjoy quality matcha.
Lately, I see so many people in one of my FB groups showing off yummy looking bread, and they all use the same bread recipe. Although I already have my favorite bread recipe, I finally give this bread recipe a try, and it is delicious.
I highly recommend the bread dough recipe, and you can use it with all sorts of bread filling, and even plain one is a delight. Have fun!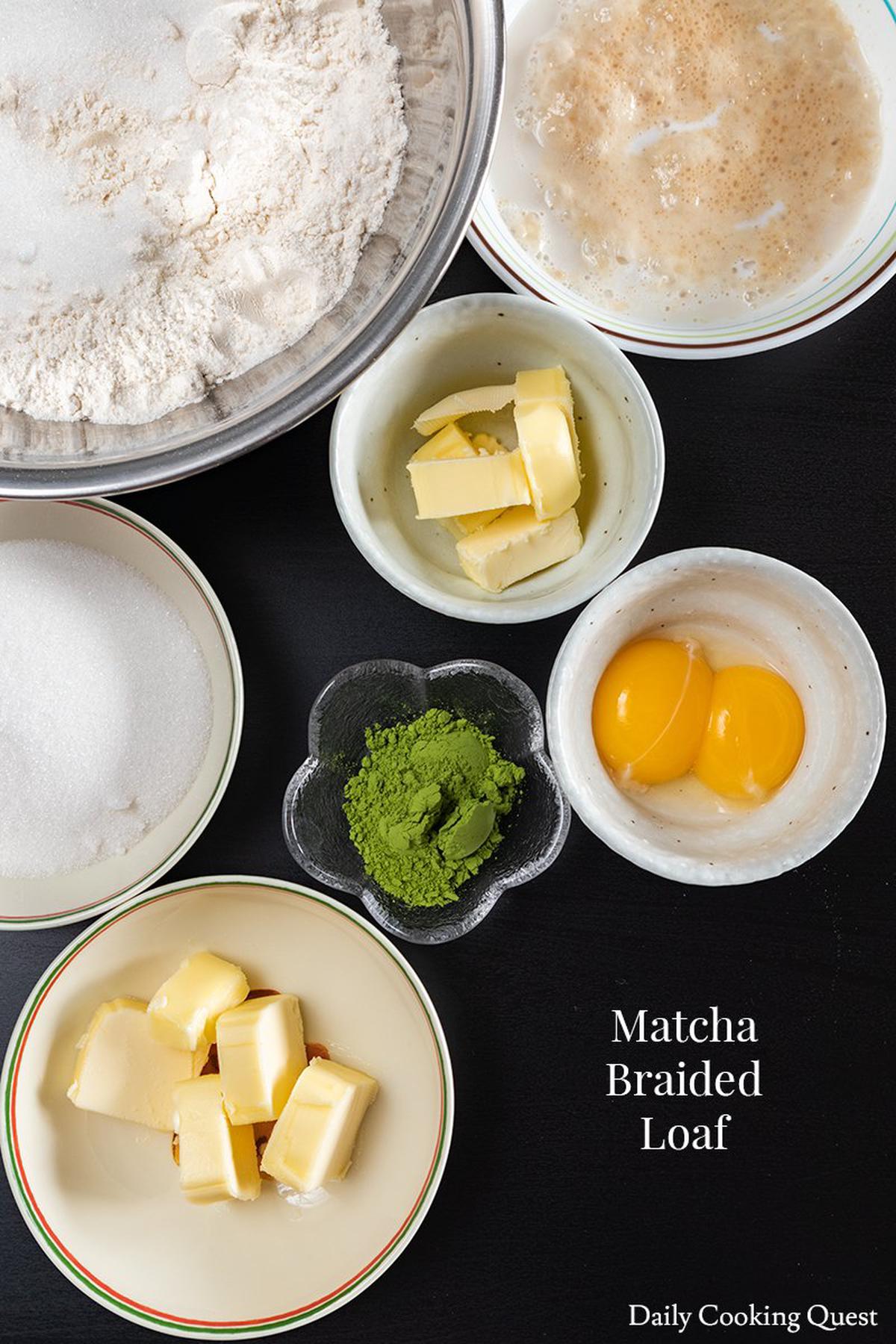 Hand Knead vs. Electric Mixer
This bread dough is a bit like brioche, so although you can knead with hand, it is better if you let your electric mixer does its thing for you. If you use your hands, you will tend to add too much flour and the bread will end up not as soft as it can be.
When I use an electric mixer, I start with 320 grams of flour, and at most only need to add 2 tablespoons of flour.
If you must use your hands, one trick I learn is to knead the dough a bit into a shaggy mass, walk away for 10 minutes or so, then continue kneading. If you do so, you tend to not add too much flour since the dough has time to develop enough gluten.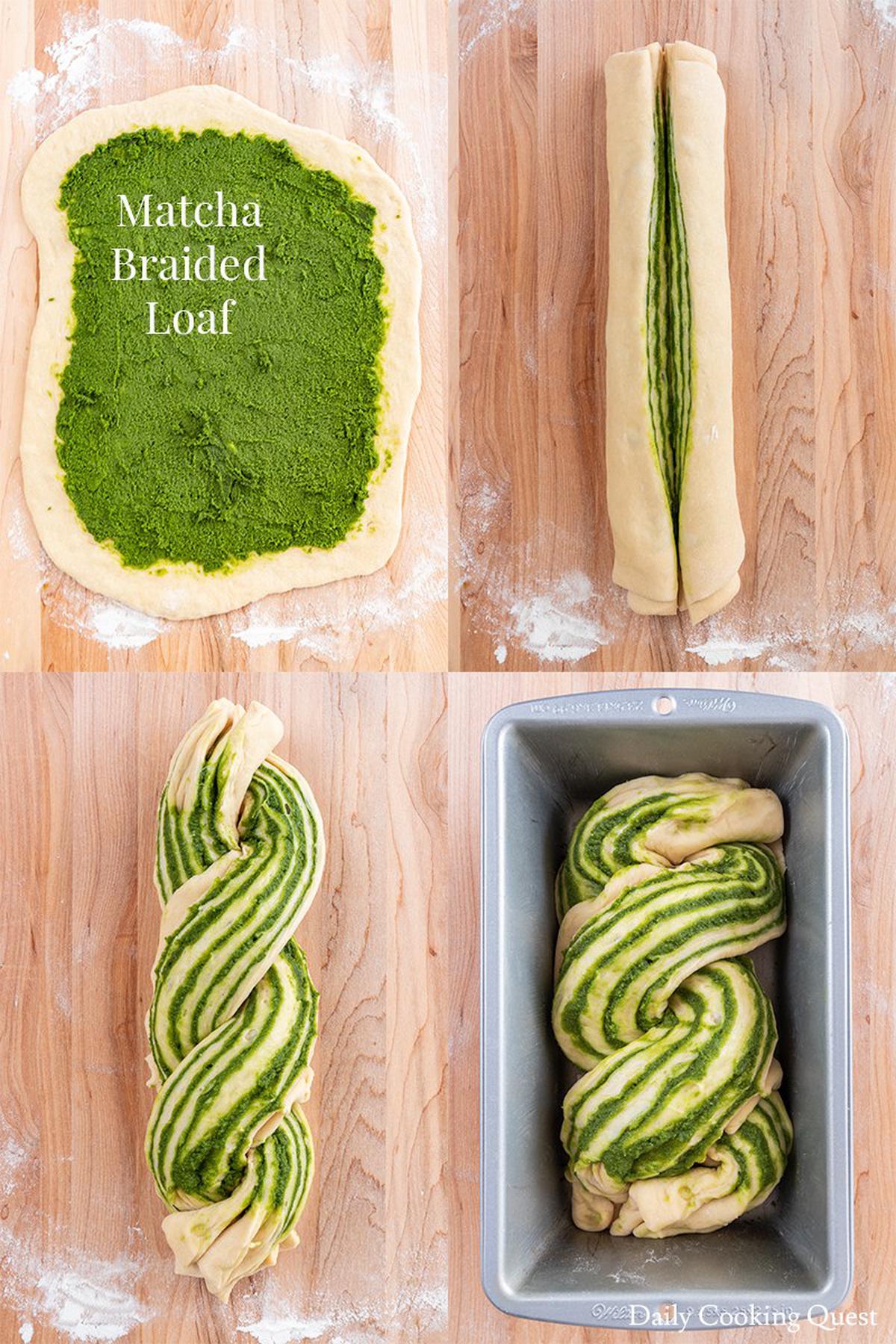 Braided Loaf
When I am lazy but still want to impress, I make a braided loaf. It looks super complicated, each bite is filled with delicious filling, and everyone looks at me like I am a master baker. :D
It is not hard to make a braided loaf. I have a super complicated step-by-step instruction written out in the recipe, but just refer to my photos as guide. I think the photos do a much better job at explaining the step.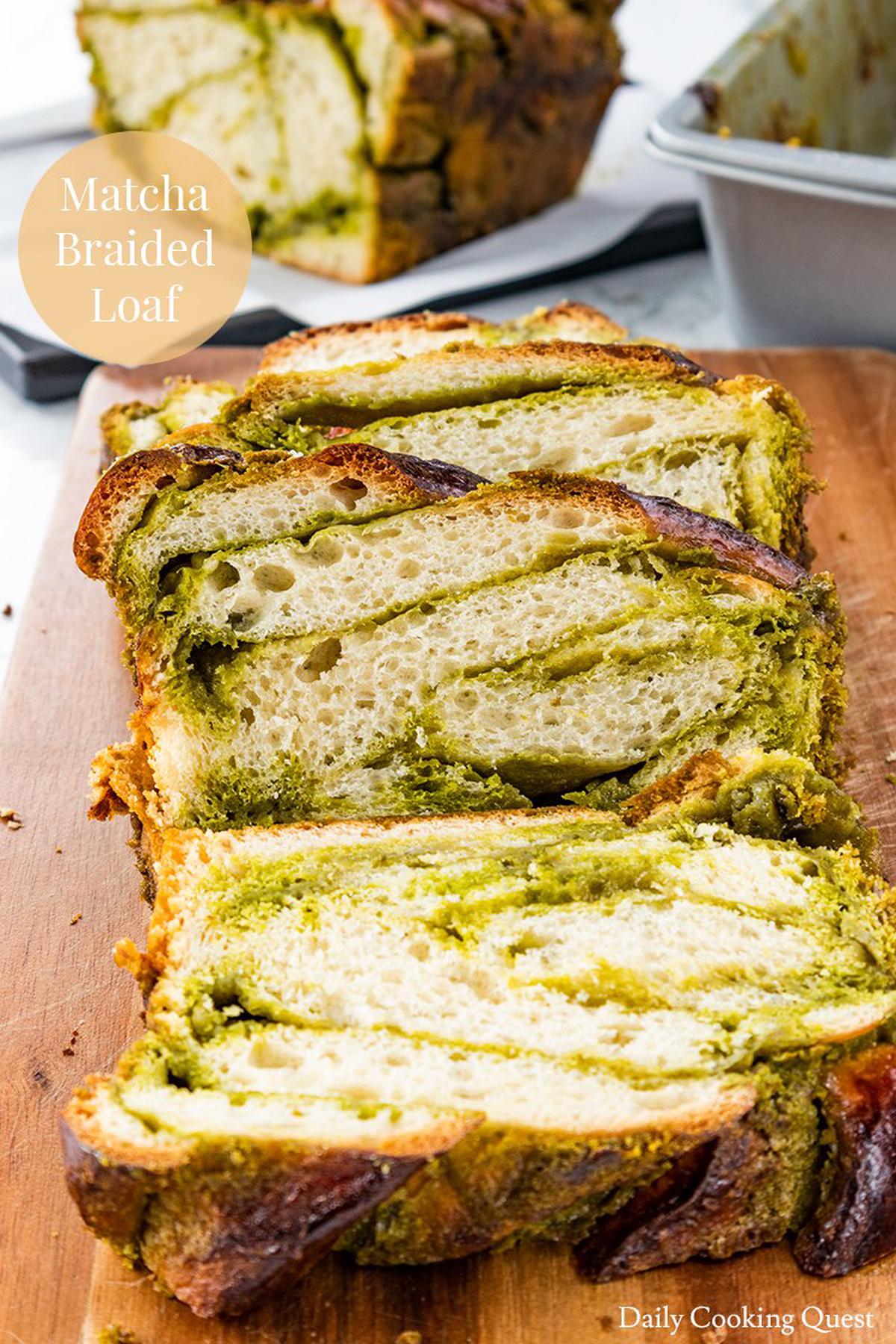 Warning: Filling Might Drip During Baking
This one is based on my own experience. As great as the filling is, it tends to bubble and drip during baking.
So if you have an extra baking sheet, and your oven has 2 racks, set up one rack at middle and place your loaf of pan there, and set up another rack at the bottom and place an extra baking sheet lined with aluminum foil as a precaution in case the filling drips.
Trust me, in case your filling does drip, the baking sheet is going to catch that dripping instead of your oven and making a smoky mess. And the aluminum foil means you can just toss away the mess instead of trying to clean it off from the baking sheet.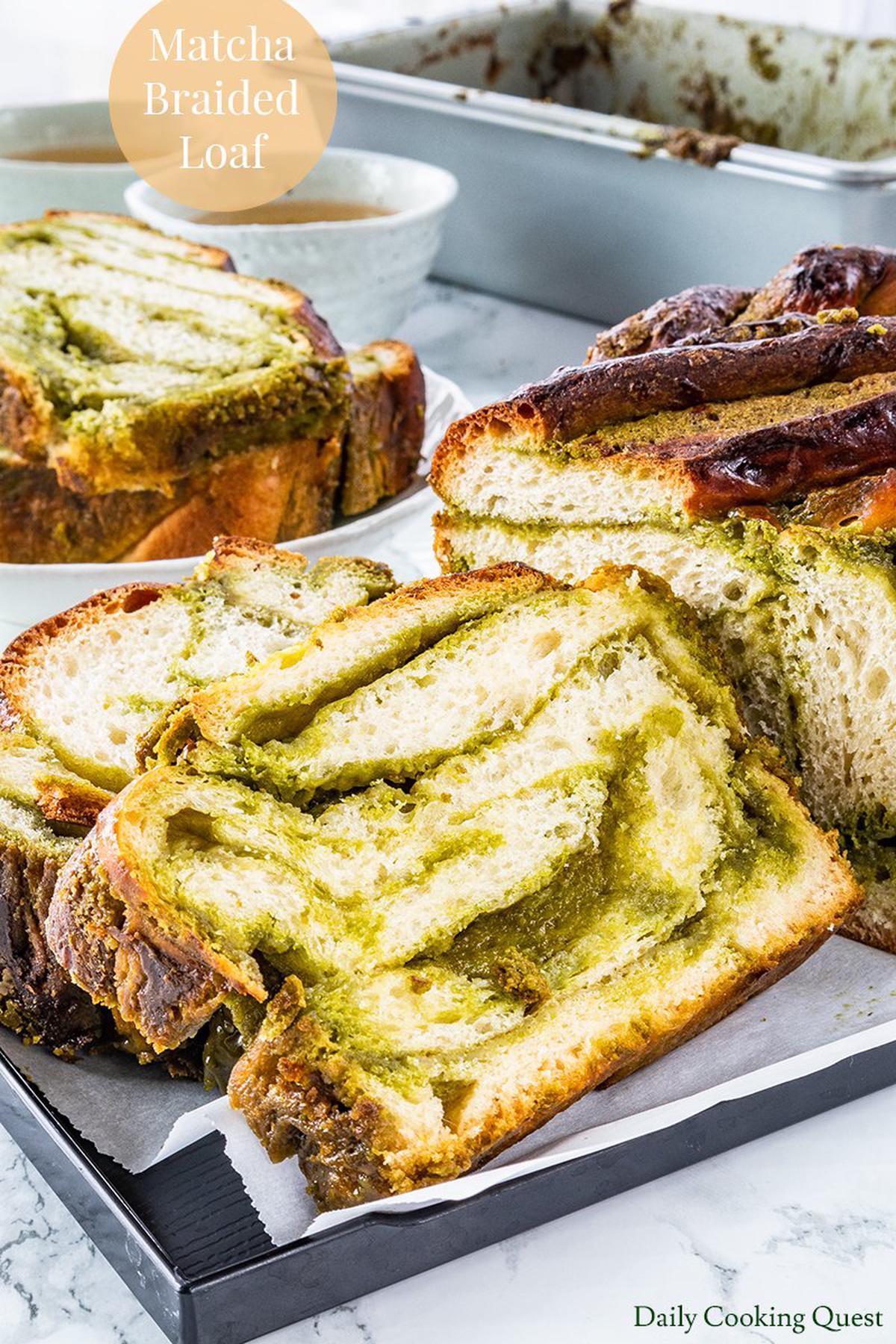 Matcha Braided Loaf
5.0 from 20 reviews
Ingredients
Bread dough
7 gram (1 packet, or 2 1/4 teaspoon) active dry yeast
5 gram (~ 1 teaspoon) sugar
200 ml (13.5 tablespoon) milk, lukewarm (38 Celsius/100 Fahrenheit)
320-360 gram (~ 3 cup) all-purpose flour
75 gram (~ 6 tablespoon) sugar
1/8 teaspoon salt
2 egg yolks
35 gram (~ 2.5 tablespoon) unsalted butter, softened
Matcha filling
60 gram (~ 4 tablespoon) unsalted butter, softened
100 gram (~ 1/2 cup) sugar
1 tablespoon matcha
Egg wash
1 egg yolk
1 teaspoon milk
Instructions
Mix together active dry yeast, 5 gram sugar, and lukewarm milk. Set aside to bloom, or until foamy and frothy, about 10 minutes.
In a mixing bowl, sift together all-purpose flour, sugar, and salt. Make a well, then add in egg yolks, butter, and yeast solution. Knead until smooth and soft, only adding a bit of flour if necessary. Kneading time is about 20-30 minutes.
Place bread dough in a bowl, cover with a wet kitchen towel/saran plastic. Set aside to proof until volume is almost doubled, about 1 hour in a warm kitchen.
Meanwhile, let's make the matcha filling. Beat together unsalted butter, sugar, and matcha until well mixed. Set aside.
Once the bread has finished proofing, punch down to remove air bubbles. Then transfer the bread to a lightly floured work surface. Knead for 2 minutes, then roll into a rectangle of about 10-inch by 15-inch.
Spread matcha filling on the rolled dough, leaving 1-inch uncovered around the edges. Roll the bread from the short end into a log. Use a sharp knife to cut the log into 2, place the two-half-logs side-by-side so the filling is facing up, then braid into a braided loaf. (Probably easier to refer to the photos!)
Tranfer the braided loaf into a 9"x5" greased loaf pan. Cover the pan with a wet kitchen towel/saran plastic and proof again until the dough fill the pan, about 1 hour in a warm kitchen.
Preheat oven to 170 Celsius (325 Fahrenheit). Brush the top of the bread with egg wash (mix together egg yolk and milk), and bake in the preheated oven for 40 minutes. At around 25 minutes or 30 minutes mark, if you see that the top of the bread is browning too much, you can use a sheet of aluminum foil to tent the loaf.
Remove the bread from oven. Let it rest in the pan over a wire rack for 10 minutes, then gently remove the bread from the pan and cool on a wire rack. It is best to serve the bread warm.