Home / All Recipes / Japanese / Matcha Kanten and Strawberry Parfait
Matcha Kanten and Strawberry Parfait
Matcha agar-agar/kanten cubes, strawberry slices, and a scoop of vanilla ice cream. This parfait is one of the best ways to enjoy agar-agar/kanten dessert.
I am positively in the mood for an ice-cold sweet dessert, and today's recipe is just that. There is nothing fancy with this matcha kanten and strawberry parfait, which is basically my way of throwing everything together with plain old vanilla ice cream and come up with a fancy name to go with it. The most complicated process to make this parfait is making your own matcha kanten, which even kids can do it. I mean, everyone knows how to make agar/jelly/kanten, right? It's like the first thing we learn to cook when we were kids, or maybe just me. ;)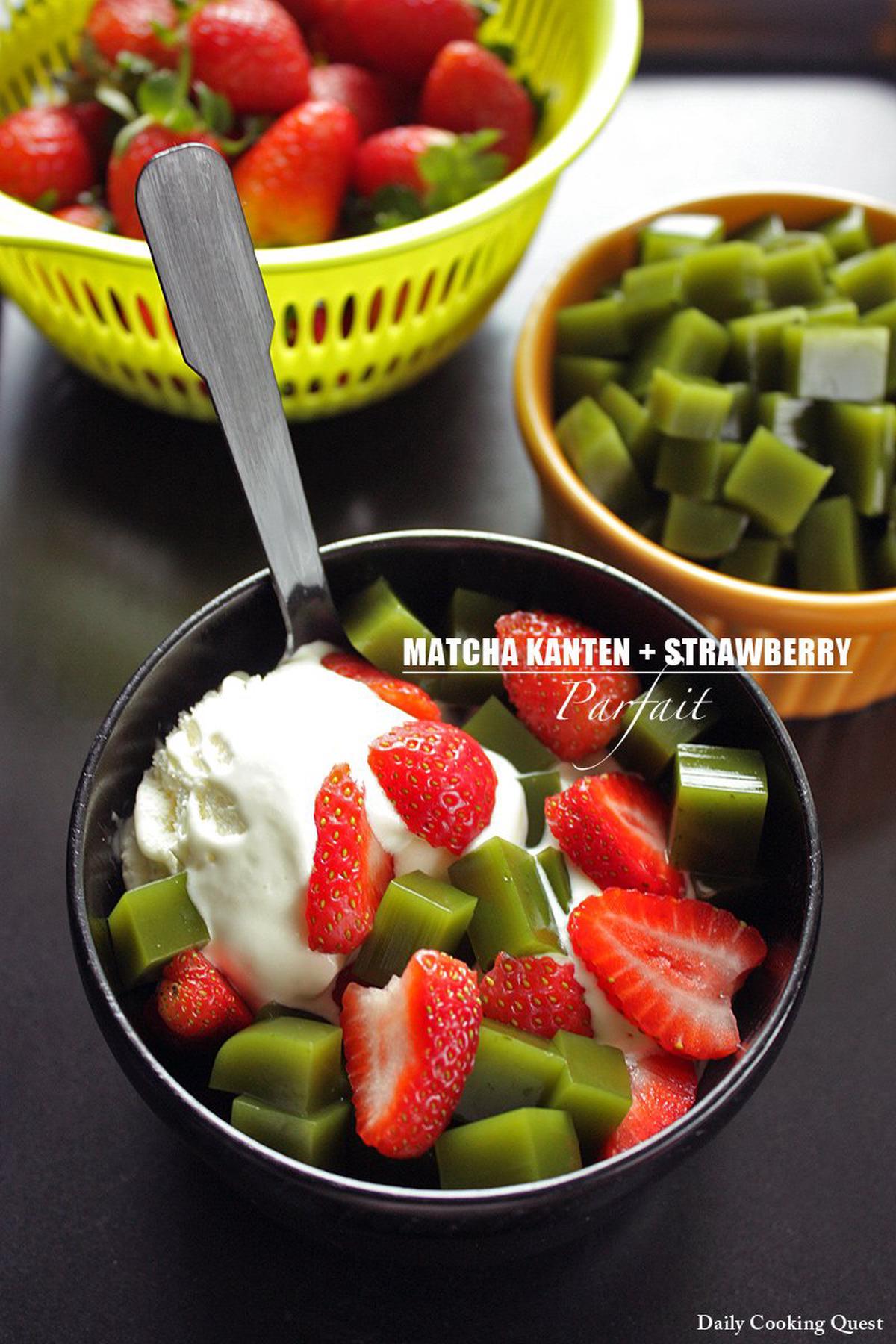 What are agar-agar and kanten?
For Indonesian, agar-agar is a jelly-like dessert made from seaweed powder. This seaweed powder is usually sold in pouches and comes in many colorful renditions, such as plain, red, chocolate, green, e.t.c. Pretty much almost the same way as to how jello is sold in the United States. In the United States though, agar-agar is mostly plain and mostly comes in bigger packaging and not a one-time pouch, like jello. If you love making agar-agar dessert at home, the US version is actually way more economical compared to Indonesian one-time use packets.
Agar-agar vs. kanten
Kanten is also a jelly-like dessert and also made from seaweed. Kanten is popular in Japan, while agar-agar is more popular in Indonesia and other Southeast Asian countries. Although it looks almost exactly the same and tastes almost exactly the same, agar-agar comes from a seaweed called Carrageenan, while kanten comes from another seaweed called Gelidiales.
The biggest difference between the two is in the texture of the final product. Agar-agar will give you a clear and softer texture, while kanten is usually more opaque and has more bite to it.
Should I use agar-agar or kanten to make this parfait?
For this particular parfait, you can make the matcha jelly part from either agar-agar powder or kanten powder. The end result shouldn't be too much of a difference to make a big fuss over which one to use. In most likeliness, no one should even be able to tell you with certainty which one you are actually using. :)
How much agar-agar powder or kanten powder do I need?
The general rule for using agar-agar powder or kanten powder is as follow:
1 cup liquid = 1 teaspoon of powder
That should give you a firm jelly dessert. If you prefer softer jelly, think silken tofu soft, it is better to use 300 ml (1.25 cup) liquid to 1 teaspoon of powder. But to be extra safe, double-check the instruction that comes with your agar-agar powder or kanten powder.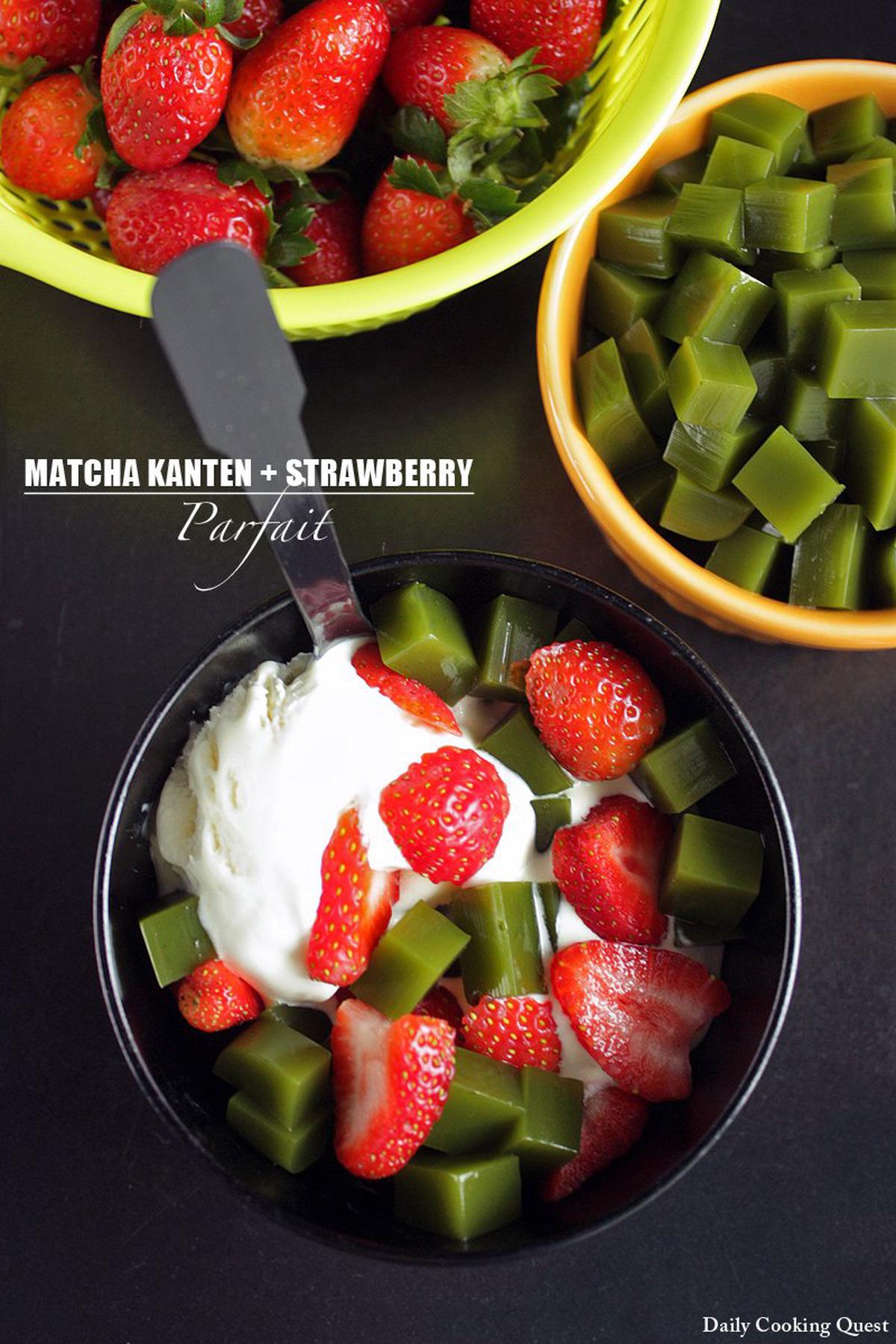 How do I add matcha to agar-agar or kanten to make matcha jelly?
Here is what I do:
Mixing 2 teaspoon matcha powder with 1 tablespoon water. Stir into a thick and smooth matcha paste.
Boil water, sugar, and agar-agar powder or kanten powder until a rolling boil. Stir until all the sugar is completely dissolved.
Turn off heat, then add matcha paste into the boiled agar-agar/kanten and stir until well mixed.
Pour into a baking pan or any mold of your choice. Set aside to cool until the agar-agar/kanten is set.
Once it has set, transfer to the fridge and chill for 2 hours.
How do I serve the parfait?
Obviously, you can make this as simple or as complicated as you wish. But I think the simplest way is like this:
Cut the chilled matcha agar-agar/kanten into small cubes.
Wash and drain fresh strawberries, then slice each into 4-5 slices.
Place some matcha agar-agar/kanten cubes and fresh strawberry slices in individual serving bowls, then add a big scoop of vanilla ice cream. Serve immediately.
I understand that not everyone loves strawberries, and fresh strawberries may not be available year-round. You can use other fresh fruits too, such as:
other berries, such as raspberries or blueberries
fresh stone fruits, such as peaches, nectarines, plums, or apricots
mango
pineapple
kiwi
And if you particularly love matcha, instead of vanilla ice cream, you can use some good quality matcha ice cream, or make your own with my homemade matcha ice cream recipe.
Matcha Kanten and Strawberry Parfait
5.0 from 6 reviews
Ingredients
Instructions
Matcha kanten

In a small bowl, stir together the 2 teaspoon of matcha with 1 tablespoon of water to make a smooth paste. Set aside.
Boil together water, sugar, and kanten powder until rolling boil, stir frequently until all the sugar is completely dissolved.
Turn off the heat, then add the matcha paste into the pot and stir until well mixed. Pour the mixture into a baking pan to set. I use an 8 inch x 8 inch square baking pan as my mold.
Once it sets, transfer to the fridge to chill for 2 hours. Cut into small cubes.

To serve

Wash and drain the strawberries, then slice each into 4 to 5 slices.
Scoop some vanilla ice cream to a serving bowl, top with slices of fresh strawberries and matcha kanten cubes. Serve immediately.