Home / All Recipes / Japanese / Mebaru no Nitsuke - Simmered Rock Fish
Mebaru no Nitsuke - Simmered Rock Fish
Nitsuke (煮つけ) is a Japanese cooking technique to infuse food with soy sauce and sugar. If you are okay with eating whole fish - I know that most Westerners are not used to seeing a whole fish with eyes and tails presented as dinner item - then go ahead and use 4 whole rock fishes to make this recipe.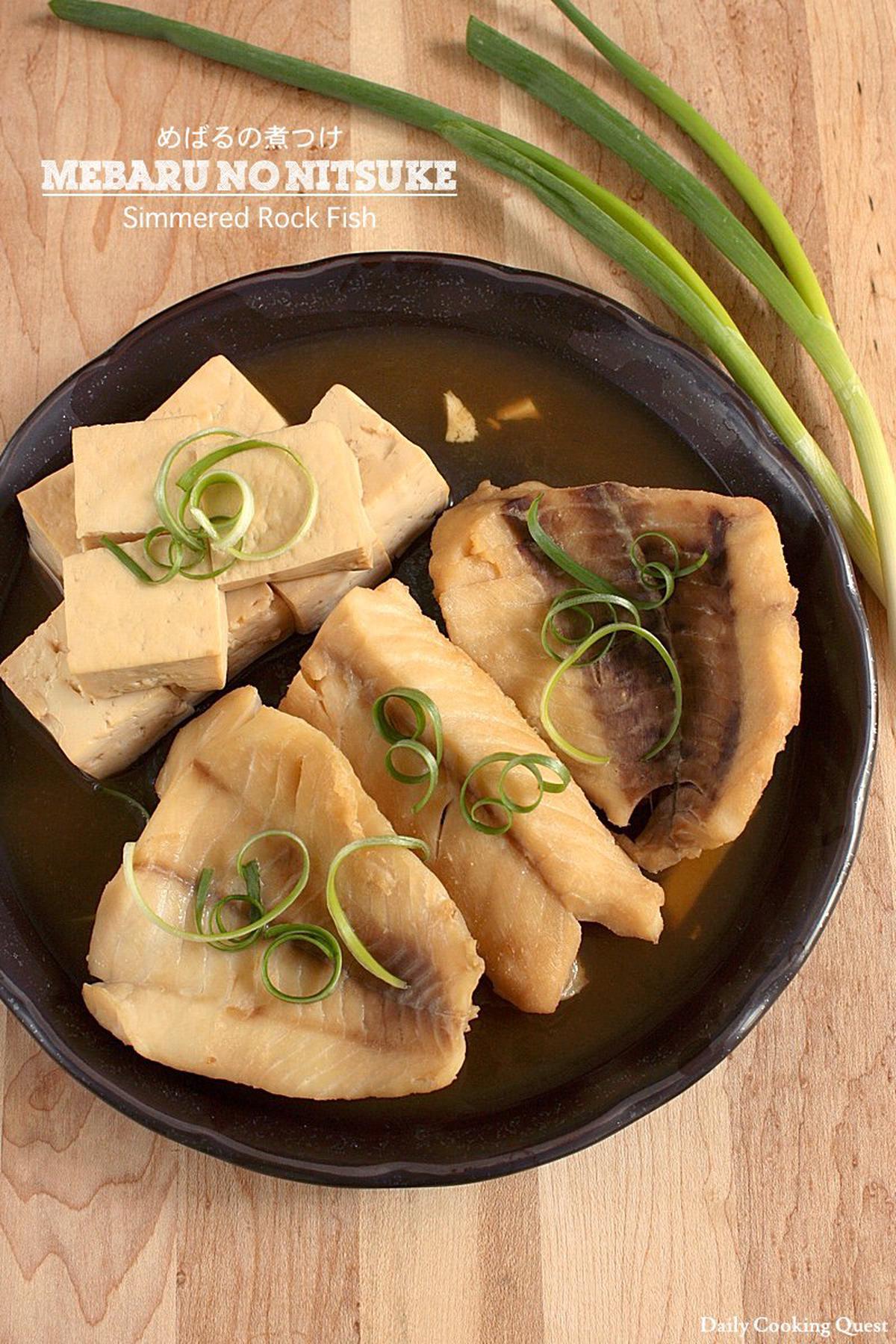 400 ml of sake is used to make this nitsuke, so if possible, use drinking sake since cooking sake has salt in it and the end result of the dish will be extremely salty. Any drinking sake will do, even the cheapest one will make your dish many times better than using cooking sake. If you buy your sake in an Asian grocery store, like 99 Ranch, Marina, or the likes, skip the cooking sauce section and head to the alcoholic drinks section where they stock beer, sake, wine, etc. You should be able to find many varieties of sake to choose from. Incidentally, you should also get your Shaoxing from this section as well (always choose the one with 0% salt!). In general, the saying "if you don't want to drink it, don't use it in cooking" is a really good advice to follow.
Mebaru no Nitsuke - Simmered Rock Fish
Ingredients
400 ml sake
200 ml water
3 tablespoon sugar
4 tablespoon mirin
7 tablespoon soy sauce
30 gram fresh ginger, thinly sliced
4 rock fish fillets (about 150 gram each)
1 block (about 300 gram) firm tofu, cut into 1 inch cubes
1 scallion, thinly sliced
Instructions
Place sake, water, sugar, mirin, soy sauce, and ginger slices in a pan. Bring to a boil.
Add rock fish fillets, cover (*), and cook over medium-high heat for 5 minutes.
Add tofu cubes, and cook for another 2 minutes.
Turn off heat. Transfer to a serving dish (or 4 individual serving dishes), garnish with sliced scallions.
Notes
(*) A drop lid (otoshi buta) is best, but a regular lid, not fully covering the pan is also OK.