Home / All Recipes / Indonesian / Mi Goreng Kampung
A rough guide on cooking a batch of Indonesian mi goreng (fried noodles) in your kitchen.
A plate of freshly fried mi goreng probably occupies the top spot in my list of comfort food. When I don't feel like eating rice, I always make some fried noodles and it will definitely cheer me up like no other food can. To be honest, the reason I haven't shared a mi goreng recipe is because this is one of those recipes that feels weird to have a set rule. Please use the recipe as a rough guide and free style it to suit your taste.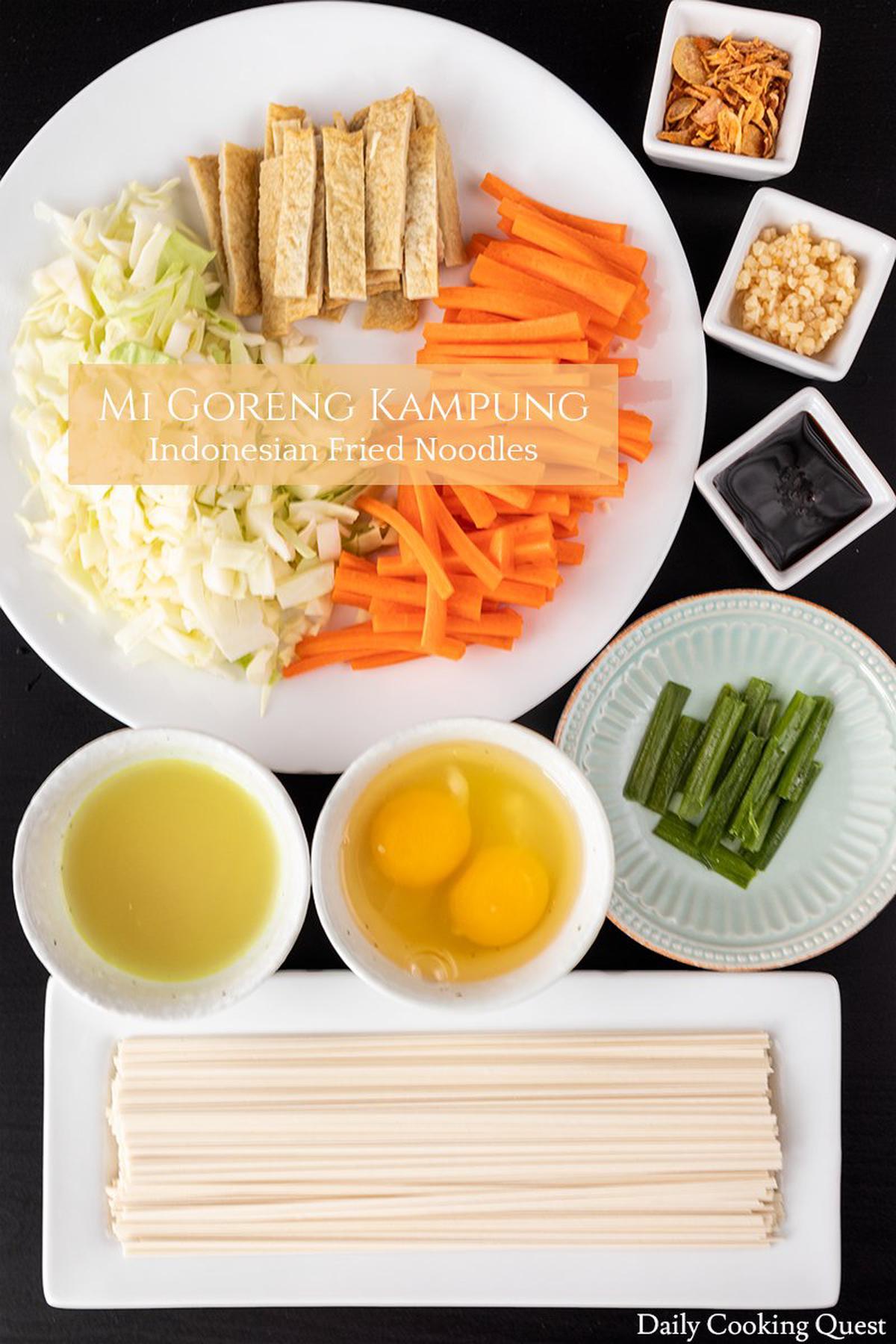 Which noodles?
To start, most Indonesian use Chinese fresh egg noodles to fry some mi goreng. If I were in Indonesia, I would definitely be using this since it is so commonly available one can even just pop in to the nearest convenient store to grab a packet. But since I now live in the States, a packet of fresh egg noodles is suddenly a luxury item, so I have been forced to make do with dried noodles.
I have tried this with everything from egg noodles to udon to all kind of Asian wheat noodles, so I know it will work regardless of which noodles you choose.
The key is to undercook the noodles from what is stated on the instruction label. For example, if your packet says to cook the for 5 minutes, I suggest stopping at 3.5 minutes, or 4 minutes, at most. This is because when we fry the noodles, it will be cooked further. If you already cook the noodle to its suggested time, your mi goreng will end up soggy, which is not good.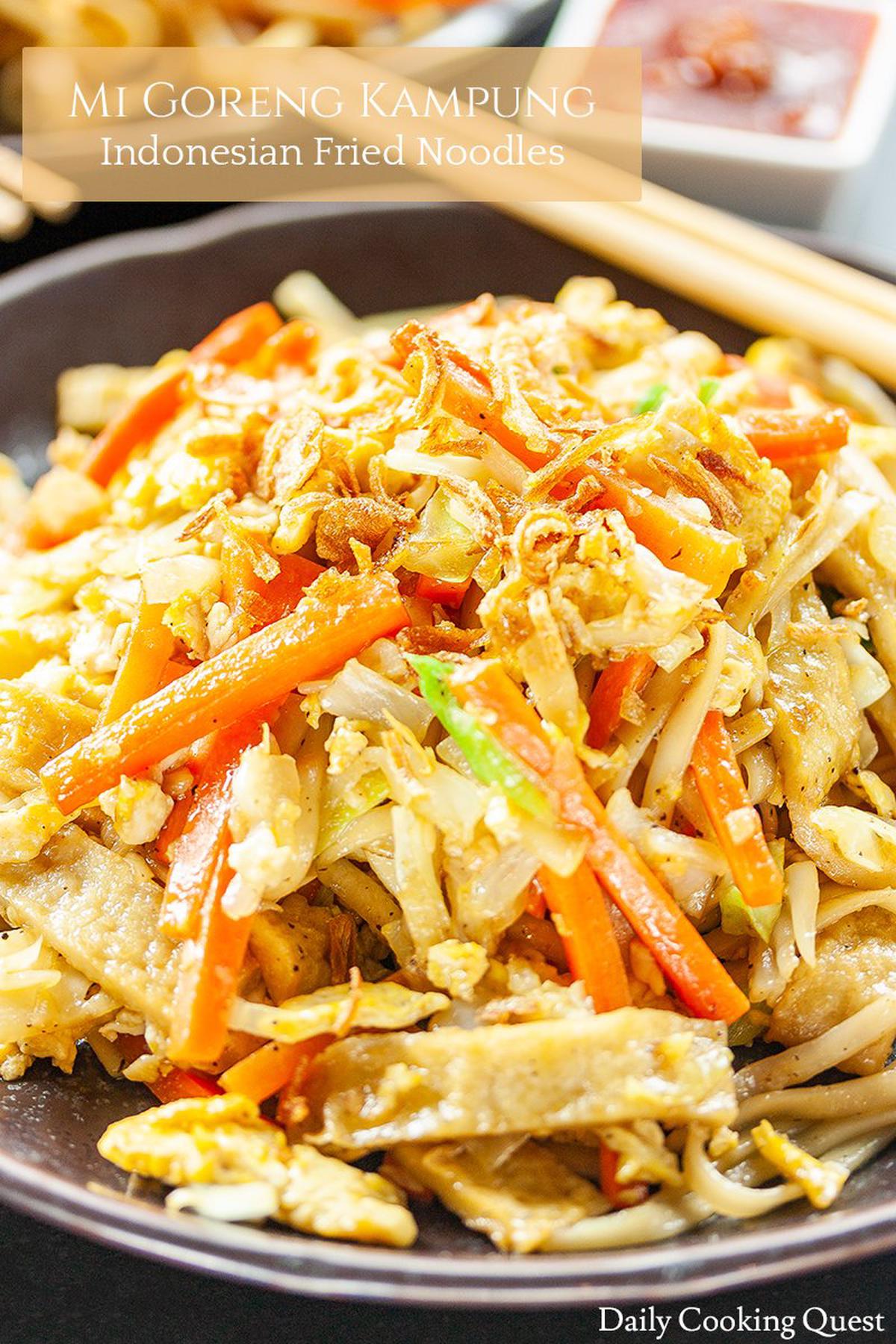 Use any vegetable/meat
There is only a very basic rule to fry up a batch of mi goreng. Most people include garlic, egg, kecap manis, and bawang goreng (fried scallion) as essential, which I wholeheartedly agree. To that, I would add fish sauce, pepper, and scallions. There should also be a mix of vegetables and meat, and here is where you can use whatever you like.
My usual go to is some thinly sliced cabbage and carrot, and some sort of bakso (meatballs) or fish cakes, or any thinly sliced meat that I have. If I am going meatless, then I will add some fried tofu cubes.
After reading this part, I am certain now you see why I hesitate for so long to share a mi goreng recipe. It's almost like there is no rule to what you can/cannot add. I would say if you are on a mission to clear your fridge from odd bits and ends, just dump them in your next batch of mi goreng. In short, have fun and happy cooking!
Mi Goreng Kampung
5.0 from 5 reviews
Ingredients
150 gram dried noodles (*)
3 tablespoon oil
2 cloves garlic, minced
1/2 cup thinly sliced cabbage
1 carrot, julienned
1/2 cup fish cake, cut into sticks (or any meatballs/thinly sliced meat/tofu cubes)
2 egg, lightly beaten
1/4 cup chicken stock
1 tablespoon fish sauce
1 tablespoon kecap manis (Indonesian sweet soy sauce)
1/2 teaspoon ground pepper
1 scallion, cut into 1-inch slices
1 tablespoon bawang goreng (fried shallot flakes)
Instructions
Slightly undercook dried noodles from the packet instruction. For example, if the instruction calls for 5 minutes, stop cooking at 4 minutes. Transfer to a strainer/colander, run the noodles under cold tap water to remove excess starch. Strain and set aside.
Heat oil in a wok over medium high heat. Sauté garlic until fragrant. Add cabbage and carrot, cook until cabbage is wilted. Add fish cake, cook until fragrant and golden brown.
Push all the vegetables and meat to one side, pour the egg on the empty side of the wok. Once the egg starts to harden, give it a quick scramble.
Add noodles to the wok, along with chicken stock, fish sauce, kecap manis, and ground pepper. Gently stir and toss so everything is uniformly coated with the sauce. Cook for about 1-2 minutes.
Turn off heat. Add scallions and bawang goreng. Give it a quick toss. Transfer to 2 serving plates and serve immediately.
Notes
(*) Chinese fresh egg noodles is the best kind to use. Otherwise, use dried Asian noodles, preferably dried egg noodles.