Home / All Recipes / Chinese / Mi Soa Bakso Babi - Mee Sua with Ground Pork Meatball
Mi Soa Bakso Babi - Mee Sua with Ground Pork Meatball
Mee Sua (Indoensian: mi soa) is a type of Chinese noodle made with wheat flour. This noodle is usually sold dried, and since it can be cooked in less than 2 minutes, this is really great to have around the house for preparing a quick meal. For the Fujian Chinese, mee sua is a celebration food, typically served in birthday parties. In my own family though, my Mom usually make this for us when we are not feeling well. If any of us is feeling under the weather, it is almost a guarantee that either congee or mee sua will soon materialized, or both :P Whenever I eat a bowl of mee sua, I will instantly feel better (or just happier). Congee has the same effect on me too. Now, if only I can get my hubby to learn how to make a bowl of congee or a bowl of mee sua. ♥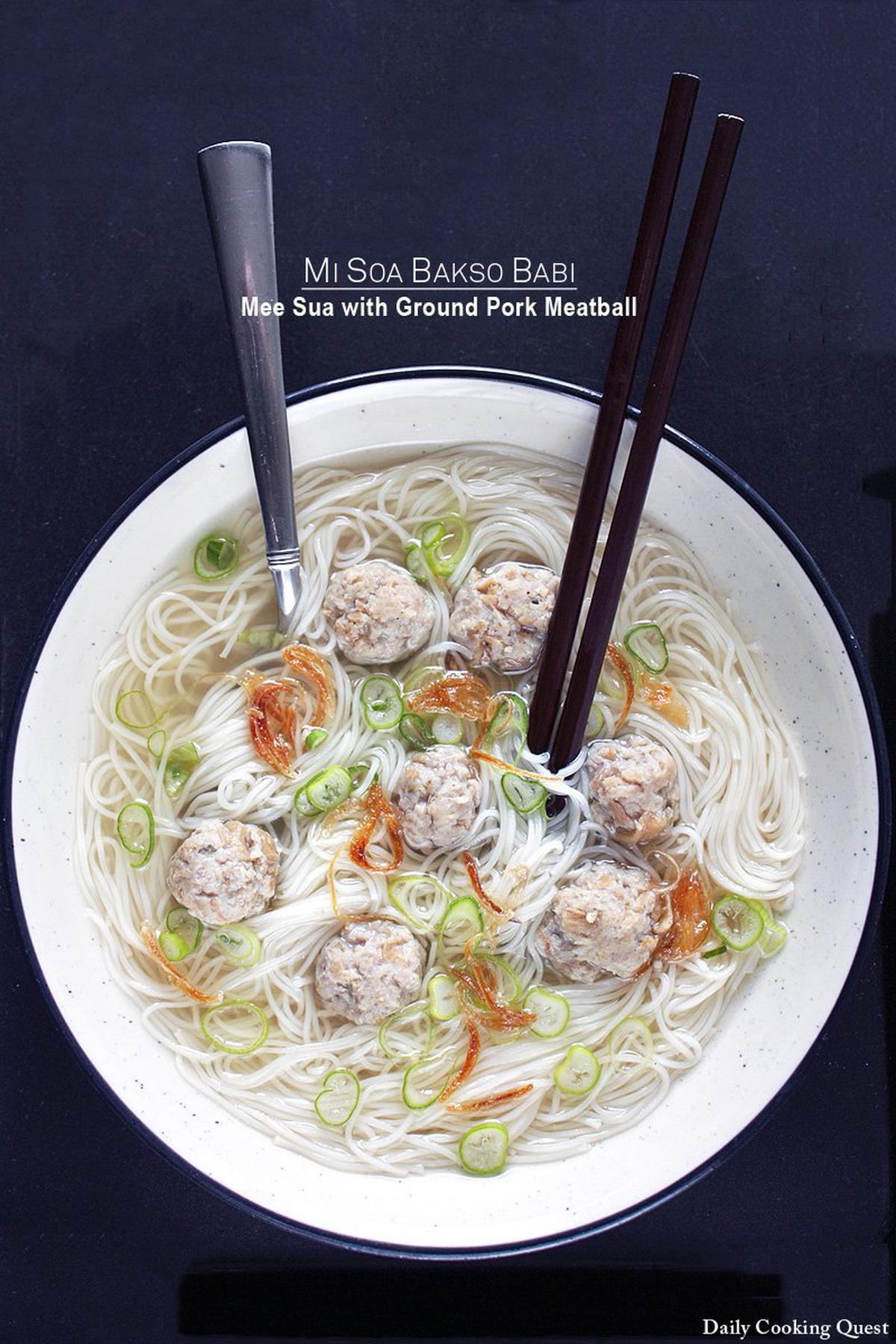 Mi Soa Bakso Babi - Mee Sua with Ground Pork Meatball
5.0 from 1 reviews
Ingredients
8 cups water
400 gram ground pork (Indonesian: babi cincang)
3 tablespoon Tianjin preserved vegetables (Chinese: dong cai), minced
6 tablespoon water
2 tablespoon tapioca starch (Indonesian: tepung tapioka)
1 teaspoon salt
1 teaspoon sugar
1/2 teaspoon ground white pepper
1 tablespoon soy sauce
1/2 tablespoon sesame oil
1/2 tablespoon salt
1 teaspoon sugar
250 gram mee sua (Indonesian: mi soa)
2 scallions (Indonesian: daun bawang), thinly sliced
deep fried shallot flakes (Indonesian: bawang goreng)
Instructions
Bring the 8 cups of water to a boil in a soup pot.
Meanwhile, mix together ground pork, dong cai, water, tapioca starch, salt, sugar, and ground white pepper.
Once the water boils, drop teaspoonful of ground pork mixture and cook until the meatball floats. Scoop the meatball and set aside. Repeat until all ground pork mixture is used up.
To make the soup, season the cooking liquid with soy sauce, sesame oil, salt, and sugar. Adjust the seasoning as needed.
Add mee sua into the hot soup and boil for 2 minutes, or until mee sua is tender.
Serve mee sua with some soup, pork meatballs, and garnish with scallions and deep fried shallot flakes.