Home / All Recipes / Chinese / Mochi Kacang - Steamed Mochi with Honey Roasted Peanut
Mochi Kacang - Steamed Mochi with Honey Roasted Peanut
Plenty of mochi can be found in Jakarta, from Taiwanese to Japanese. But they are all what I would consider as fancy mochi, filled with various kind of lovely fillings, such as the traditional peanuts and sugar, black sesame, mung beans, and red beans to name a few. They are usually elaborately shape and come in nice packaging, and pretty expensive to boot. I love the stuff, but I miss the mochi that I grow up with, the kind that is steamed and then roughly cut into small pieces and coat with chopped peanut and sugar, or the simplest of all would be the one coated with just icing sugar. And since I have no idea where to find one nowadays, I just make them myself when I fancy some. Oh, and notice that I am not frying my own peanut and then process them with sugar as how it would be done traditionally? My crazy short cut is to just buy a packet of honey roasted peanut and use that instead, easy! ♥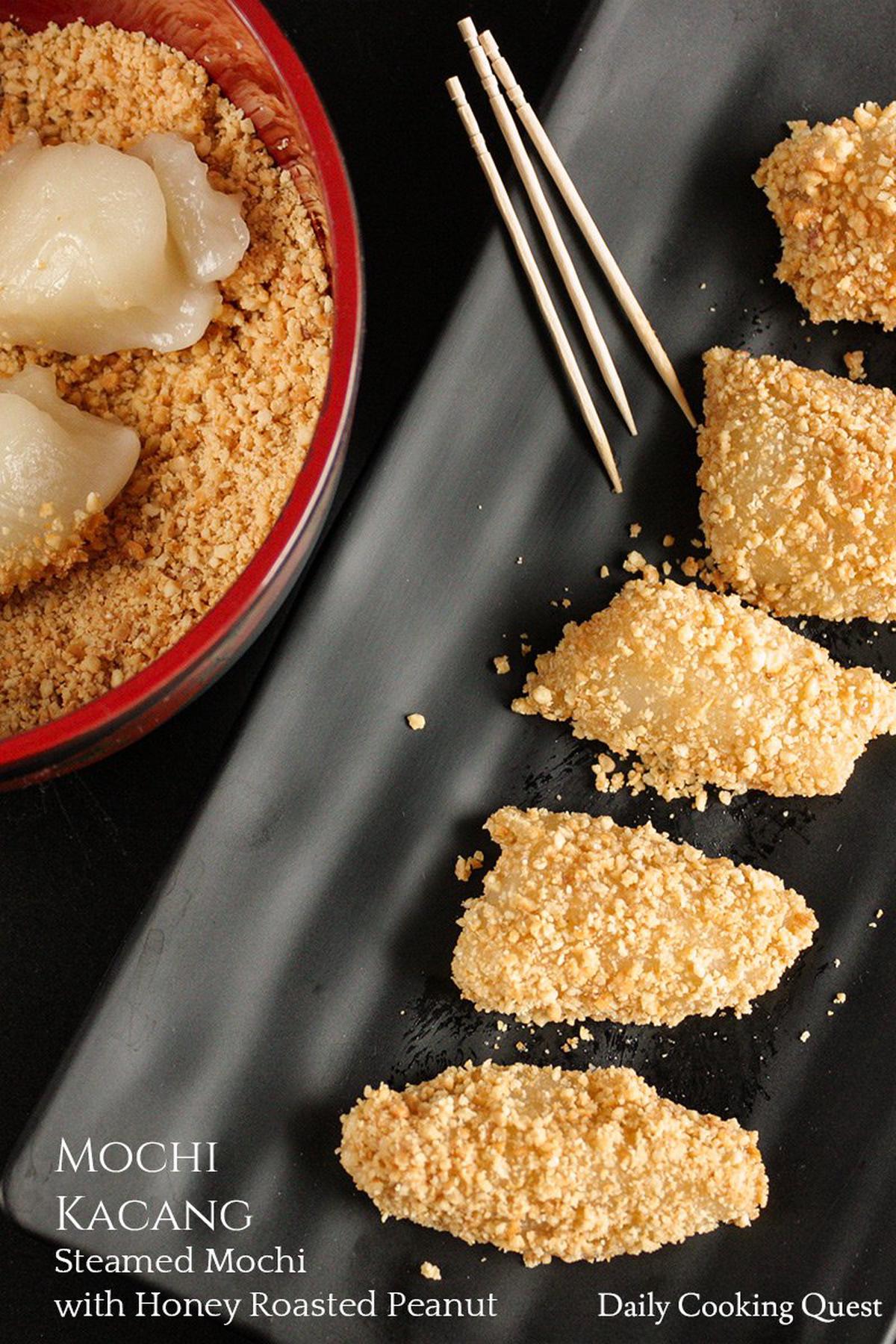 Mochi Kacang - Steamed Mochi with Honey Roasted Peanut
5.0 from 3 reviews
Ingredients
Mochi
125 gram glutinous rice flour (Indonesian: tepung ketan)
1 1/2 tablespoon sugar
3/4 cup water
Peanut coating
1 packet (80 gram) honey roasted peanut
Instructions
Prepare a steamer.
Oil a steamed proof bowl and set aside. The oil is there to make the mochi easier to remove from the bowl.
In a mixing bowl, mix together glutinous rice, sugar, and water into a smooth batter. Pour the batter into the oiled bowl.
Steam the mochi for 40 minutes.
Meanwhile, grind the peanut in a food processor and transfer to a shallow bowl/plate.
Once the mochi has finished steaming, remove from steamer. With a small oiled spoon, scoop out bite sizes of mochi and drop in the peanut to coat the mochi. Transfer the coated mochi to a serving plate and serve immediately while still warm.