Home / All Recipes / American / Mochi Laden Fudge Brownie
Mochi Laden Fudge Brownie
Try baking this unique fudge brownie with hidden sticky and chewy mochi surprise! You may never want to go back to eating plain fudge brownie ever again.
This year, Chinese New Year is going to fall on February 16th. Meaning, the big family dinner feast is on the 15th. Along with the usual savory spread, it is a tradition in our family to always have some sort of cake to close the feast. And… since 15th is just one day right after Valentine's day, I think this mochi laden fudge brownie can do double duty. Chocolate of course is always a favorite on Valentine's. As for mochi, Chinese will tell you that you definitely need some sort of sticky cake for New Year.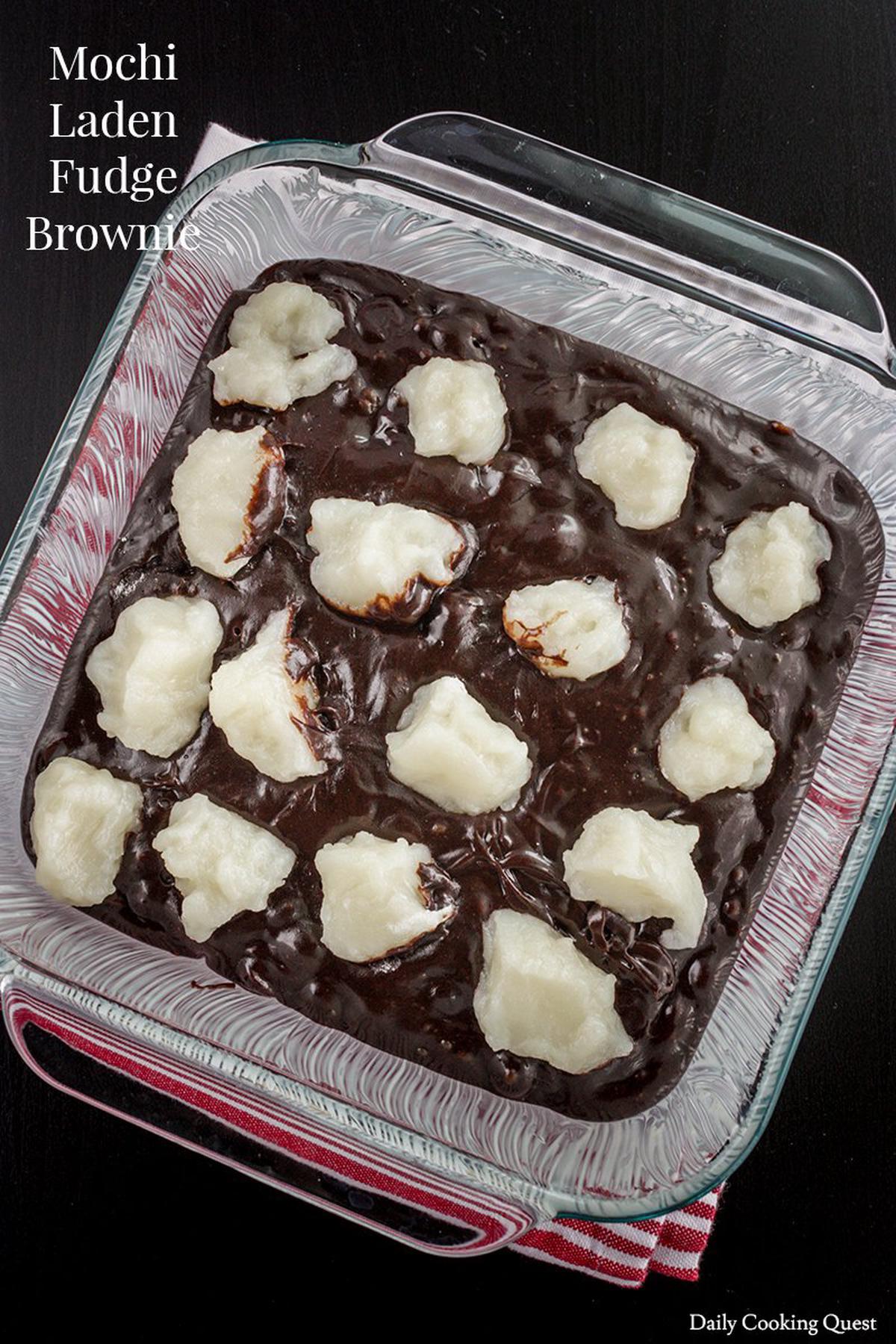 Fudge Brownie + Mochi
This brownie is inspired by Lady & Pups recipe, but I use my favorite fudge brownie recipe from King Arthur, modified for a 8"x8" pan. The amount of mochi is also modified to fit the more common 8" square cake pan.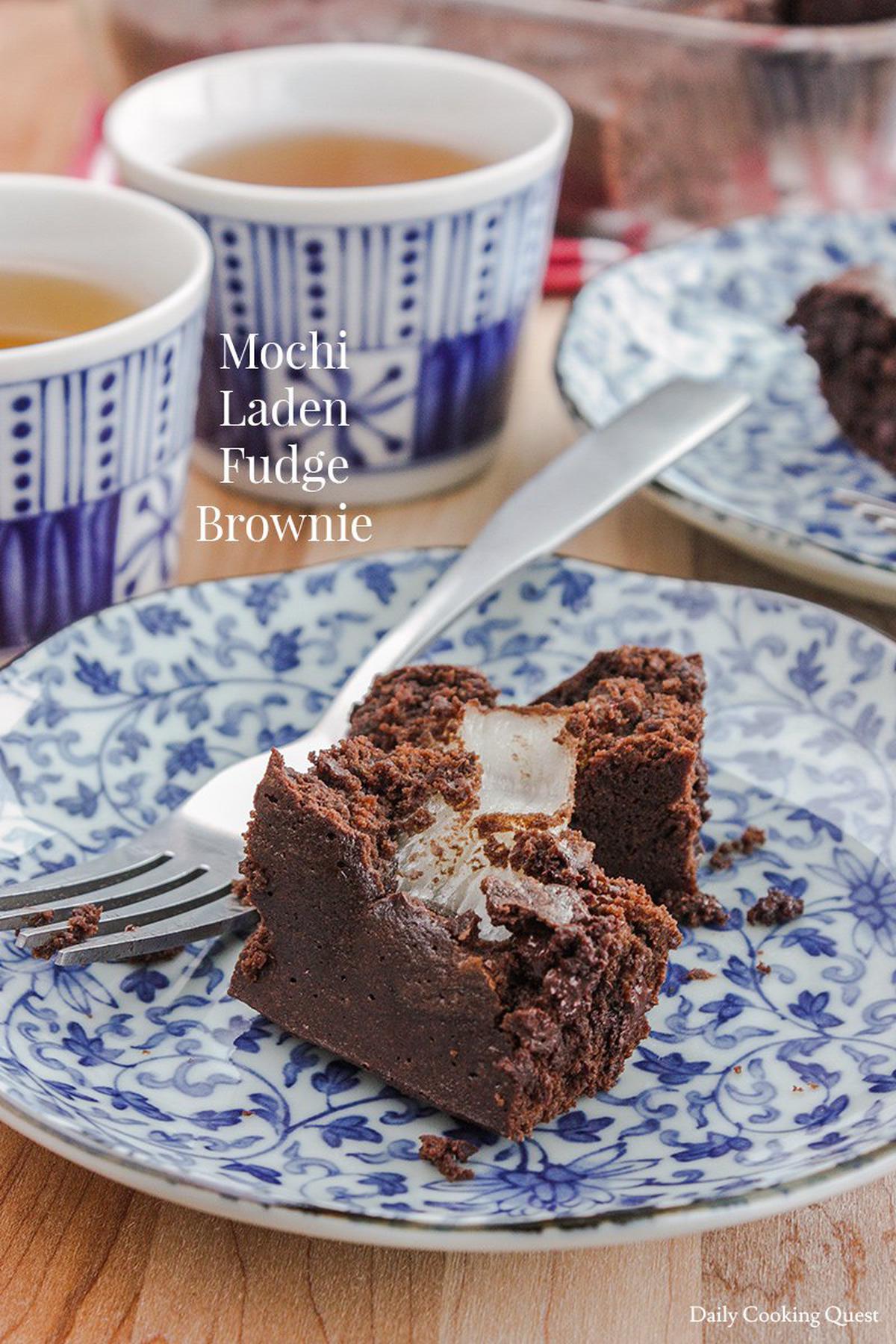 But I want more mochi!
If brownie is not your cup of tea, or if you simply are a die hard of mochi fan, you can of course use my chocolate mochi cake. Be advised though that if you choose that route, it is imperative that you stick to using Koda brand mochiko for the mochi cake, and still use Thai glutinous rice flour for the scattered white mochi. Whichever one you end up making, I hope you are going to like this cake as much as I do :)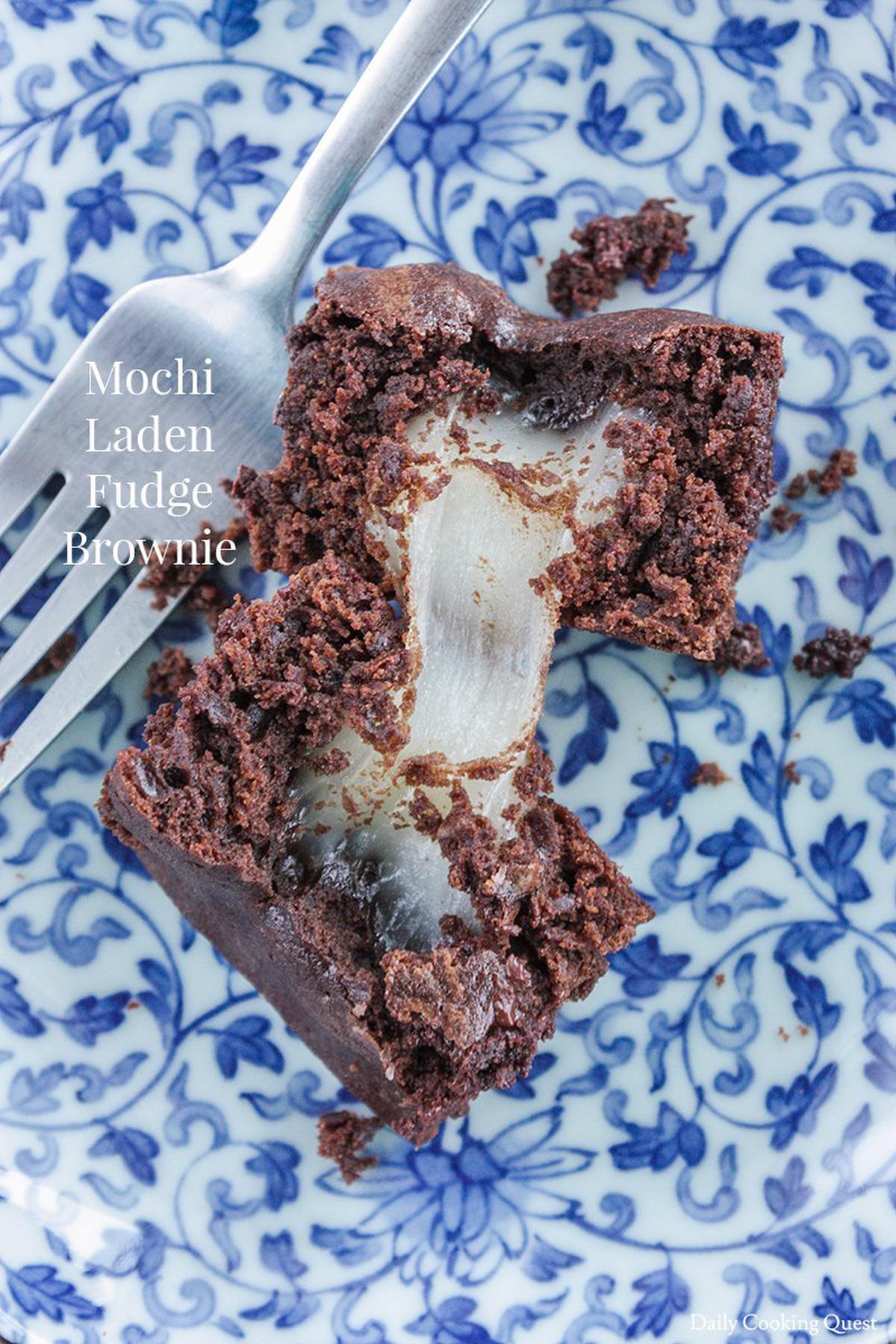 Mochi Laden Fudge Brownie
4.0 from 1 reviews
Ingredients
Mochi
75 gram Thai glutinous rice flour
2 tablespoon (30 gram) sugar
100 gram (6 tablespoon + 2 teaspoon) water
2 teaspoon vegetable oil
2 teaspoon all-purpose flour
Brownie
2 eggs
50 gram cocoa powder
1/2 teaspoon salt
1/2 teaspoon baking powder
1 tablespoon vanilla extract
1/2 teaspoon espresso powder (optional, but highly recommended)
1 stick (8 tablespoon) unsalted butter
150 - 200 gram sugar (depends on how sweet you like your brownie)
90 gram (3/4 cup) all purpose flour
125 gram (3/4 cup) bitter sweet chocolate chips
Instructions
Mochi

Whisk together glutinous rice flour, sugar, and water in a microwave proof bowl until smooth.
Cover the bowl, and microwave on high at 30 seconds interval, for up to 2 minutes total. Taking the bowl out at each interval and give it a stir with a wooden spoon (or chopsticks).
Add oil, then stir and fold with a stiff spatula until the dough is firm and chewy. Set aside to cool.

Brownie

Preheat oven to 350 Fahrenheit (180 Celsius) and generously grease an 8"x8" square cake pan.
Crack two eggs into a mixing bowl, and beat on medium speed with cocoa powder, salt, baking powder, vanilla extract, and espresso powder (if using). Stop when the batter is smooth, about 1 minute.
Melt butter and sugar in a small sauce pot over low-medium heat. You can turn off the heat once all the butter has melted. Pour this to the egg/cocoa mixture, beat/stir until smooth.
Add in all-purpose flour and chocolate chips, fold with a spatula until smooth, then pour the batter to the prepared greased pan.
Flour a work surface with 2 teaspoon all purpose flour, then turn the mochi out, and cut into 16 pieces. Scatter mochi pieces onto brownie batter, then use the end of a spoon/chopstick to push them until almost completely covered by the batter.
Bake in preheated oven for 25-30 minutes, or until a cake tester comes out clean.
Remove from oven, let it cool completely, then cut into 16 pieces and serve.