Home / All Recipes / Chinese / Mochi Sesame Seeds
Make hawker-style mochi coated with sesame seeds and sugar just like the one sold in many Asian countries.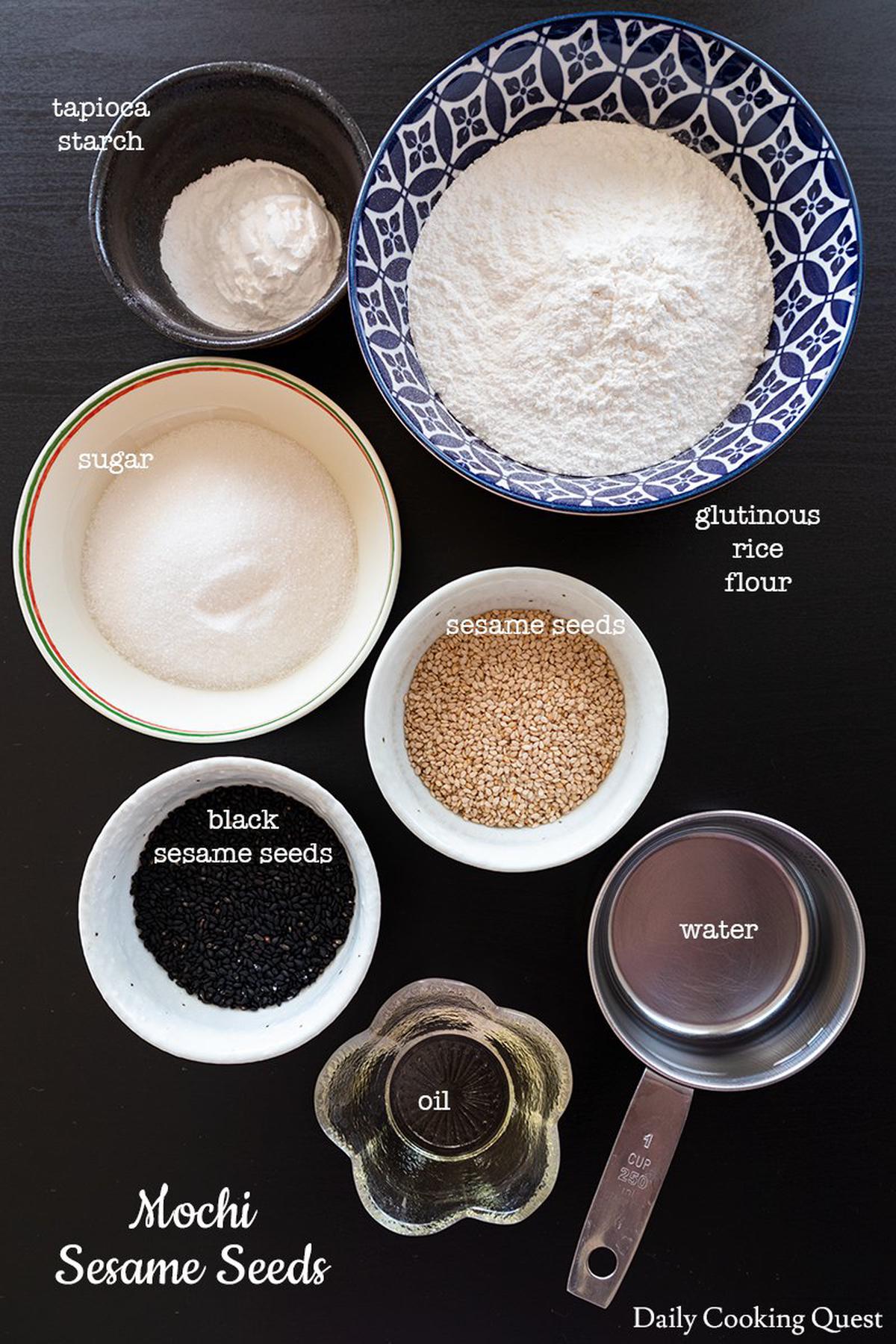 If you love mochi and want a super quick recipe to curb your mochi craving, then you need to make this ASAP. You probably need less than 15 minutes from start to finish, and it is a good thing too since you may want to make another batch, and another batch.
This is a good recipe to learn, not only because it is super easy, but also because this ticks all the boxes if you have guests coming. Vegan, nut-free, gluten-free, and dairy-free; everyone will be able to sample your treats and you will be a hero!
School Days Memory
When I say mochi, I mean Chinese version, not Japanese version. Anyone growing up in Indonesia, Malaysia, Singapore, and probably most Asian countries will definitely have a very fond memory with this snack.
I remember fondly the mochi seller on a bicycle with his tin box on the passenger seat, selling mochi to hungry school kids. It's definitely one of my favorite treats in school, and judging by the crowds, a lot of other kids too.
Being kids are fun, the hardest thing to decide is which treat to get for school breaks. :D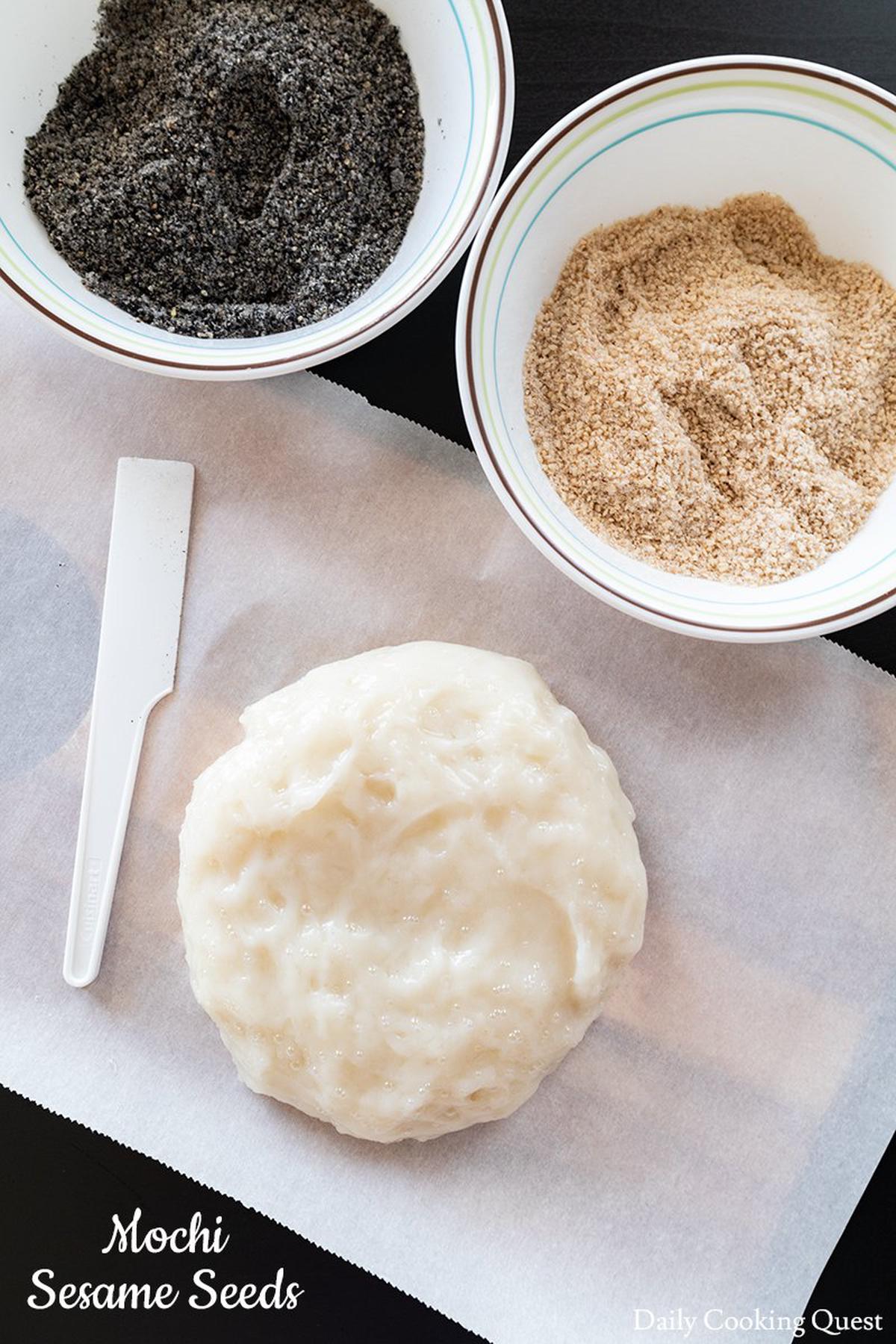 Microwave, parchment paper, and a plastic knife
This mochi recipe is easy because your microwave is going to do everything for you. If you don't have a microwave, you can go old school and steam your mochi.
But once you try using your microwave for making mochi, you kinda don't want to go back to steaming again, ever.
Next little help is a piece of parchment paper. I turned my cooked mochi on this and it will be so much easier to handle because it won't stick to your chopping block!
The same with using a plastic knife to cut the mochi, it's just so much easier, trust me.
Be sure to wait for the mochi to cool slightly until they are warm and you can handle them comfortable with your hands. Then, proceed with coating them with the sesame seeds and sugar mixture.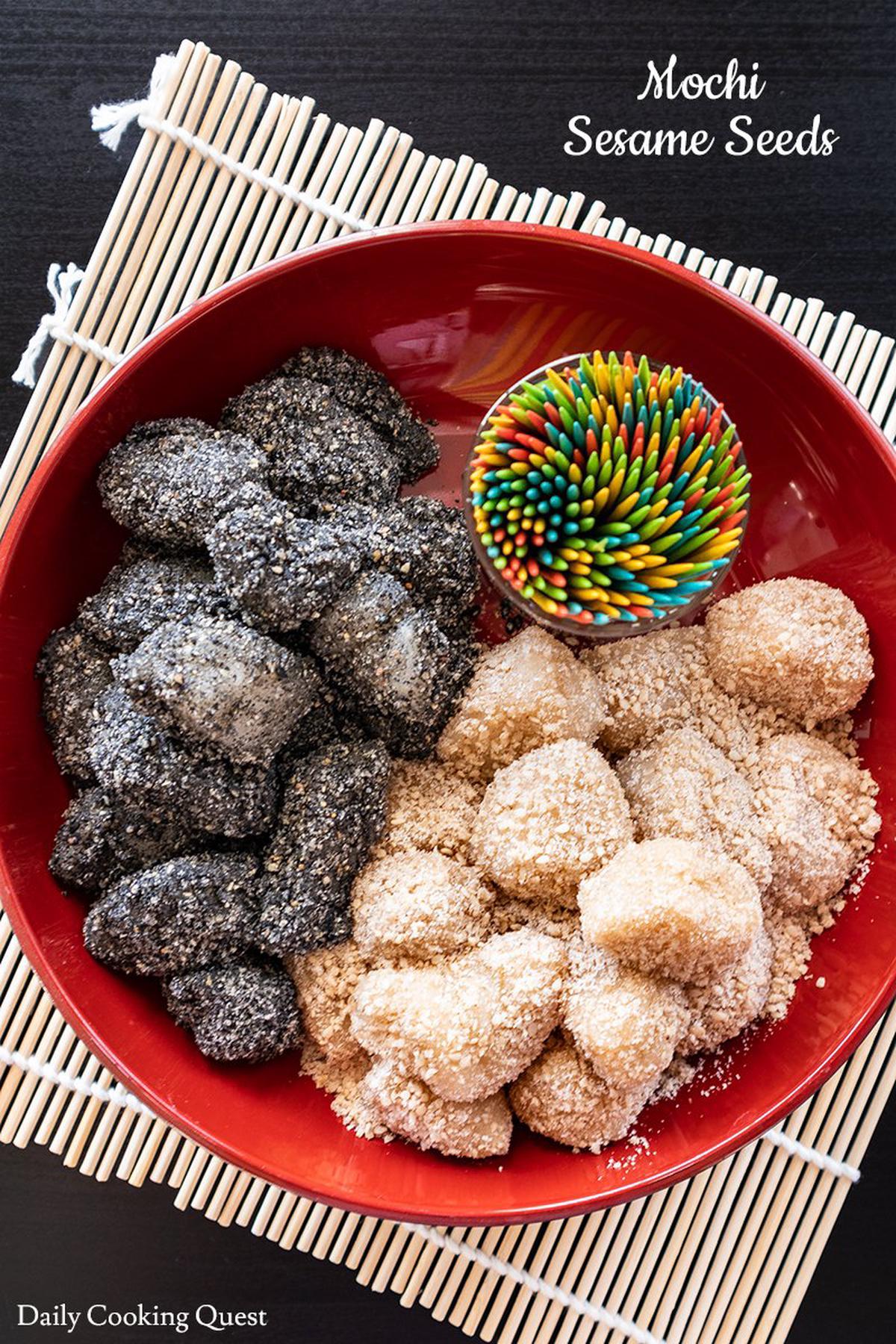 Sesame seeds + sugar
Technically you can use all black sesame seeds, or all plain sesame seeds. But if you have both kinds stocked in your pantry, might as well use both since I think the color contrast is very pretty.
You can buy pre-toasted sesame seeds, but you can also toast them yourself. Just place the required amount on a frying pan, and heat on medium until the seeds start to jump a bit.
You may want to stir them every so often so the seeds are evenly toasted. Once toasted, simply use a food processor to grind them to powder, and then mix with sugar.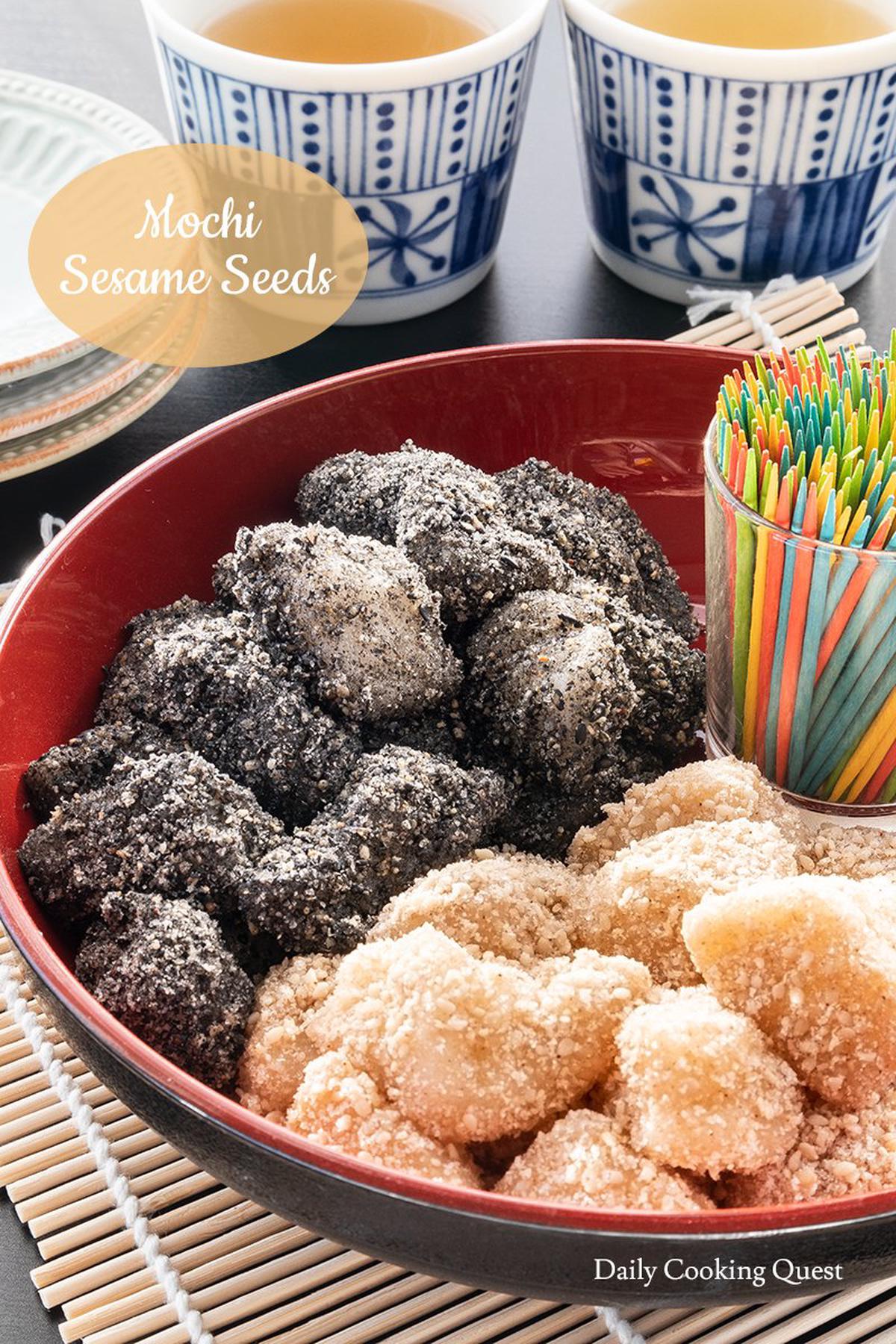 Allergic to sesame seeds?
If for whatever reason you cannot eat sesame seeds, then you can substitute with ground toasted peanuts. Another idea is to use roasted soybean flour (kinako), which you can get from Asian market selling Japanese ingredients.
Mochi Sesame Seeds
4.9 from 11 reviews
Ingredients
Mochi
135 gram glutinous rice flour
2 tablespoon tapioca starch
220 ml water
2 tablespoon oil
Sesame seeds coating
50 gram ground toasted sesame seeds + 40 gram sugar (mix together)
50 gram ground toasted black sesame seeds + 40 gram sugar (mix together)
Instructions
To make the mochi: In a microwave proof bowl, whisk together glutinous rice flour, tapioca starch, water, and oil until smooth. Microwave on high for 2 minutes, take it out and knead (fold) with spatula for 1 minute. Microwave again for another 1 minute, and then knead (fold) until smooth.
Transfer the cooked mochi on a parchment paper. With a plastic knife, divide into two portions. Cut each portion into bite size pieces. Let the mochi cools slightly until warm and comfortable enough to handle with your hands.
Coat one portion of mochi pieces with plain toasted sesame seeds and sugar mixture. And coat another portion with black toasted sesame seeds and sugar mixture. Serve immediately.