Home / All Recipes / Japanese / Mochiko Fried Chicken
I think the world is divided into two camps, the ones who love are in love with fried chicken, and the ones who are absolutely crazy about fried chicken. I am definitely in the later camp, and I am loving every bit of this mochiko fried chicken. It's summer and it's hot, but I don't mind frying these babies so I can have an awesome dinner. These are so flavorful on its own, but if you really must, go ahead and serve with your favorite dipping sauce.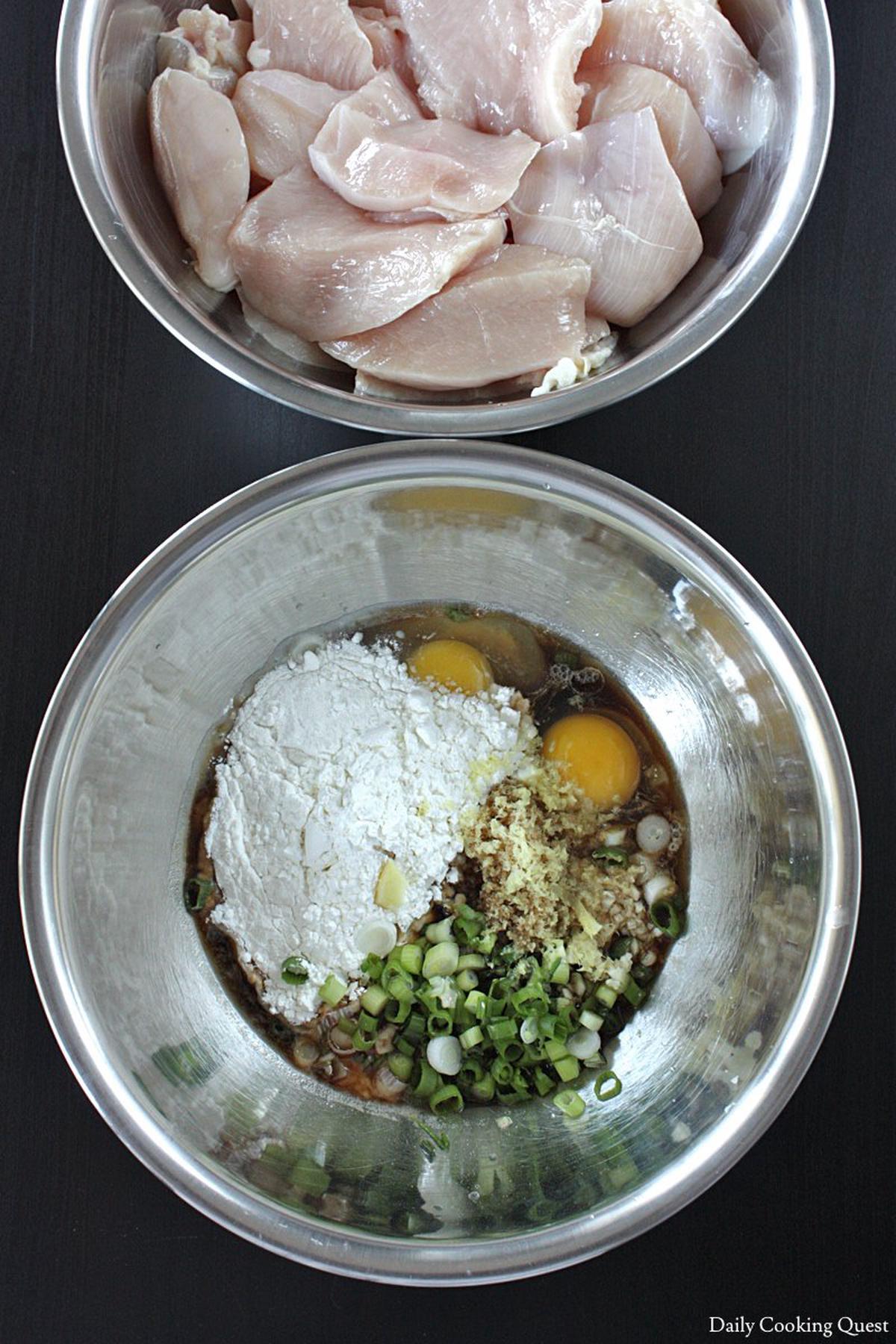 The Marinade
Mochiko is definitely the key to get that crispy skin. If you absolutely cannot find mochiko, your next best bet is rice flour. You will also need corn starch, soy sauce, sugar, garlic, ginger, and scallions. Slice chicken breasts into tiny chunks and let them soak in the marinade for at least 4 hours, preferably overnight.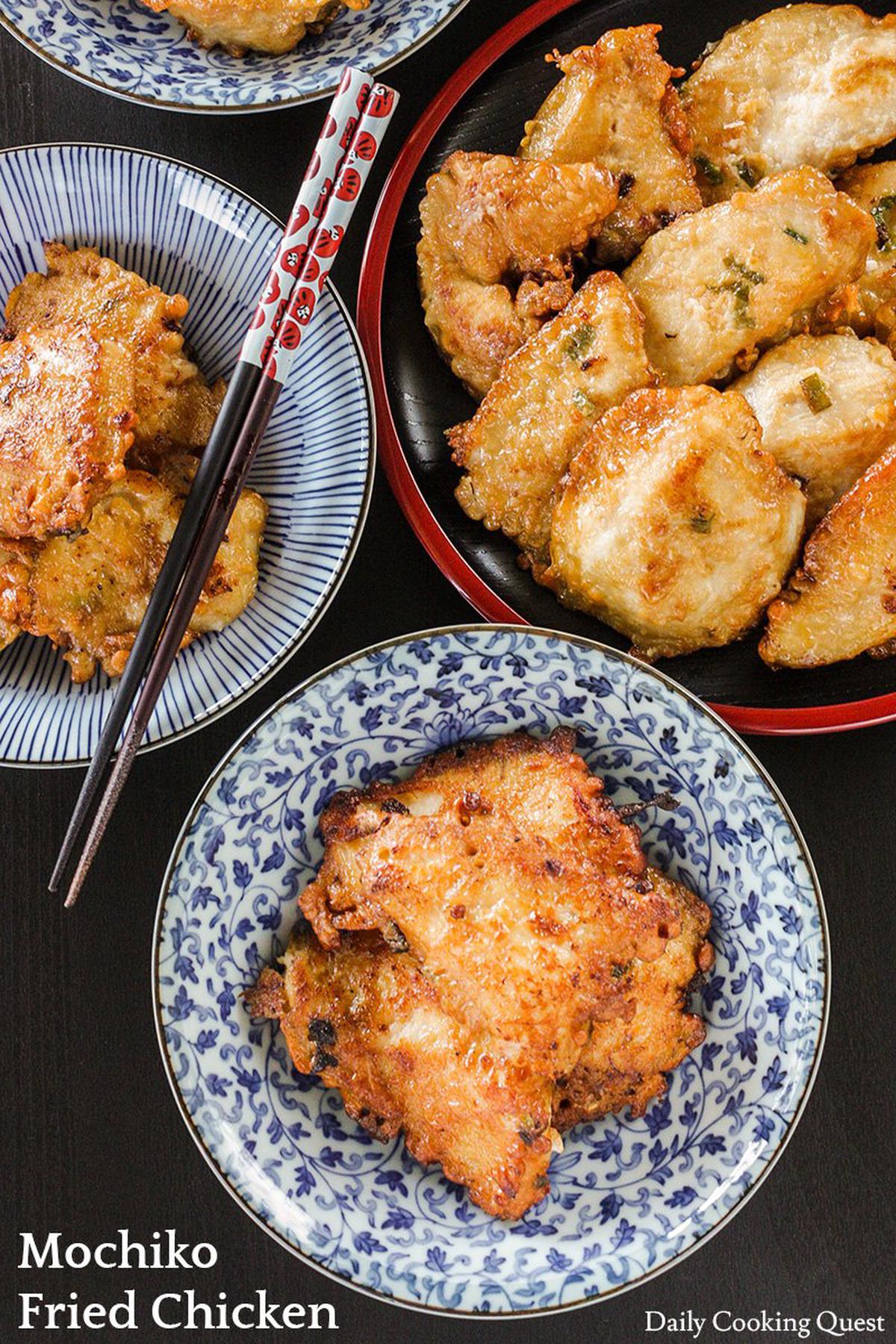 Frying the chicken
The way to fry the chicken is to shallow fry them, meaning you will need about an inch of oil in your frying pan. Shallow frying means the chicken pieces is only partially submerged in hot oil. If you are not averse to deep frying, you can go that route too. Serve the chicken piping hot, especially good with a tall glass of cold beer. Please don't drive afterwards :)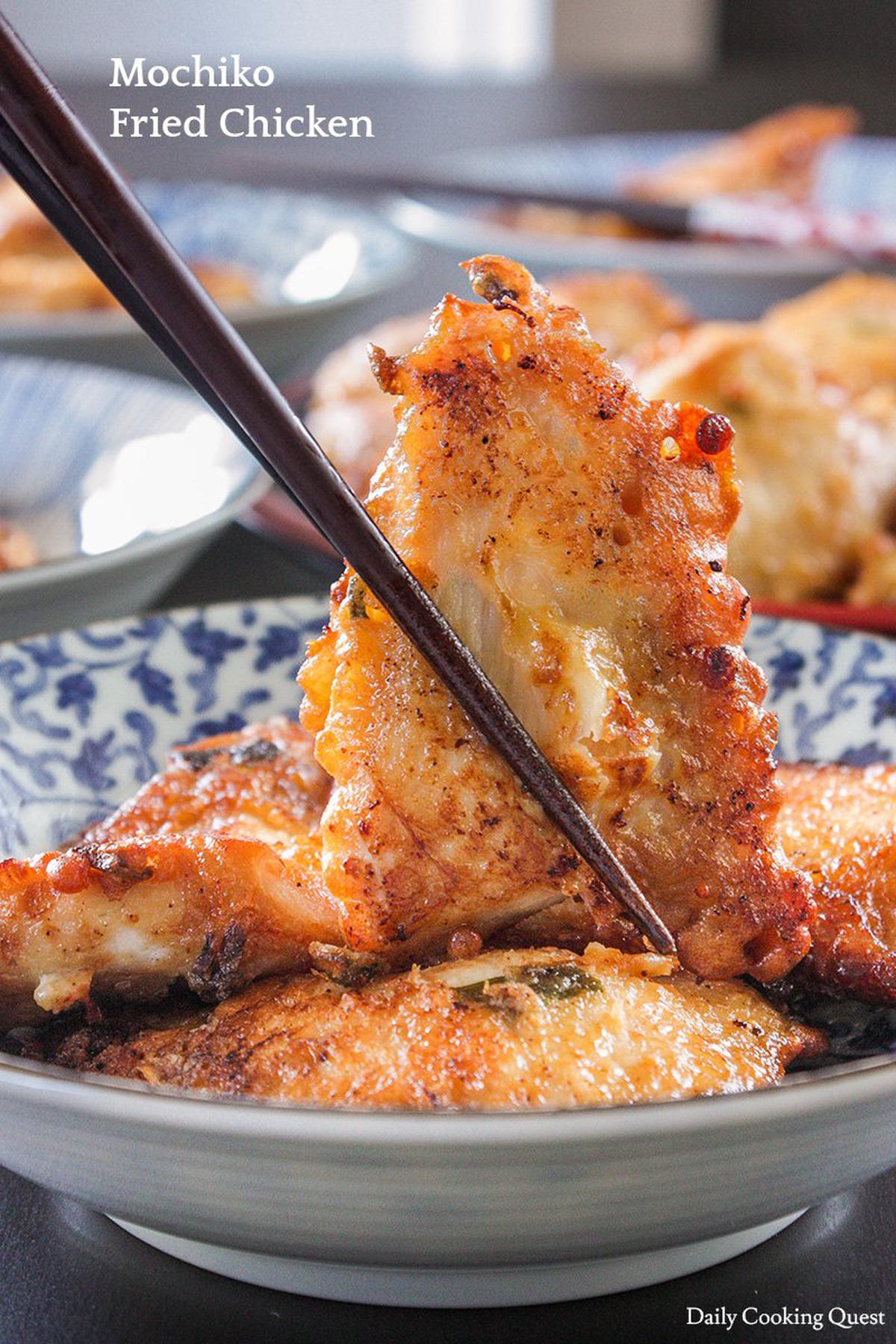 Mochiko Fried Chicken
Ingredients
2 pair of boneless skinless chicken breast, slice into bite size chunks
2 eggs
1/4 cup soy sauce
6 tablespoon mochiko
1/4 cup sugar
6 tablespoon corn starch
2 cloves of garlic, minced
1 inch ginger, grated
1/4 cup thinly sliced scallions
vegetable oil, for shallow frying
Instructions
Mix together eggs, soy sauce, mochiko, sugar, corn starch, garlic, ginger, and scallion in a mixing bowl to make the marinade.
Toss in the chicken into the marinade to coat evenly. Cover and refrigerate for at least 4 hours, preferably overnight.
Return chicken to room temperature prior to cooking. Meanwhile, heat 1" of oil over high heat until runny and shimmering, then reduce the oil to medium heat.
Gently lower chicken pieces, one at a time, into the hot oil. Fry in batches (about 5-6 pieces) until both sides are crispy and golden brown, about 3 minutes per side.
Place cooked chicken over a wire rack to drain excess oil. Serve hot.