Home / All Recipes / Indian / Naan Bread
Learn how to prepare Indian naan bread on a stove-top and cooked in a cast-iron skillet so you won't need a traditional tandoor oven (or a regular oven).
Have you ever seen the traditional way of baking naan bread? Naan is baked inside a tandoor, a large clay oven with a top opening. Once the dough is rolled into a flat circular shape, a skilled chef will quickly slap it to the inner side of the tandoor (which can be super hot!). Then once the side that sticks to the oven is cooked, the chef sticks her hand and flip and cook the other side. It's a fascinating thing to watch for sure, but one that I don't think I will ever dare to do. But, you can make your own naan bread at home, sans tandoor (or oven for that matter). All you need to have is a heavy bottom frying pan, or a cast iron skillet.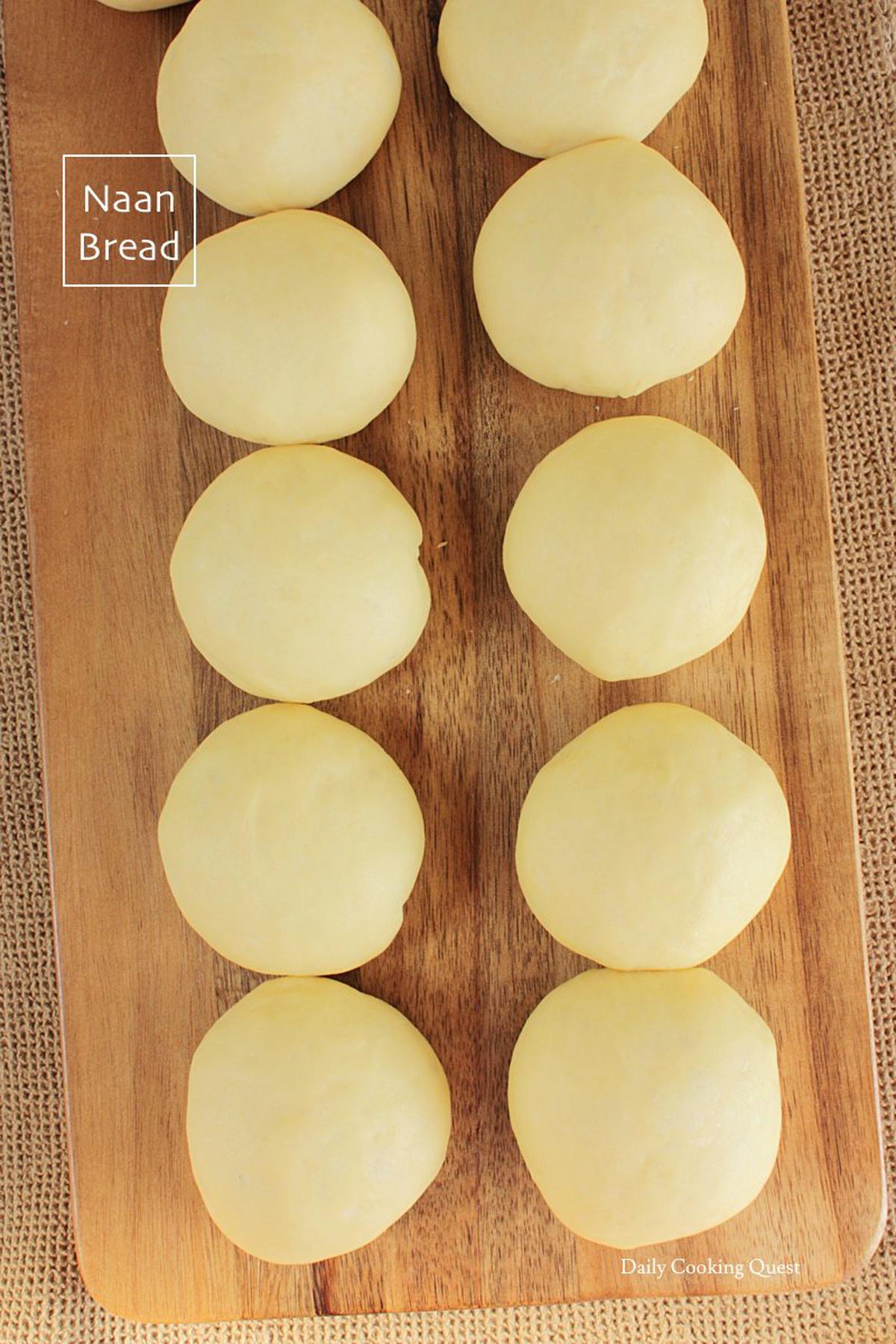 Nurture your yeast
Like all yeast bread, you start by mixing some active dry yeast with sugar and warm water, then wait until this solution becomes foamy. If after 10 minutes your yeast solution doesn't foam, your water temperature was probably too hot and it kills the yeast, or your yeast has expired. Either way, throw your failed solution and redo. If you proceed with the rest of the recipe with a failed yeast solution, you will be super disappointed.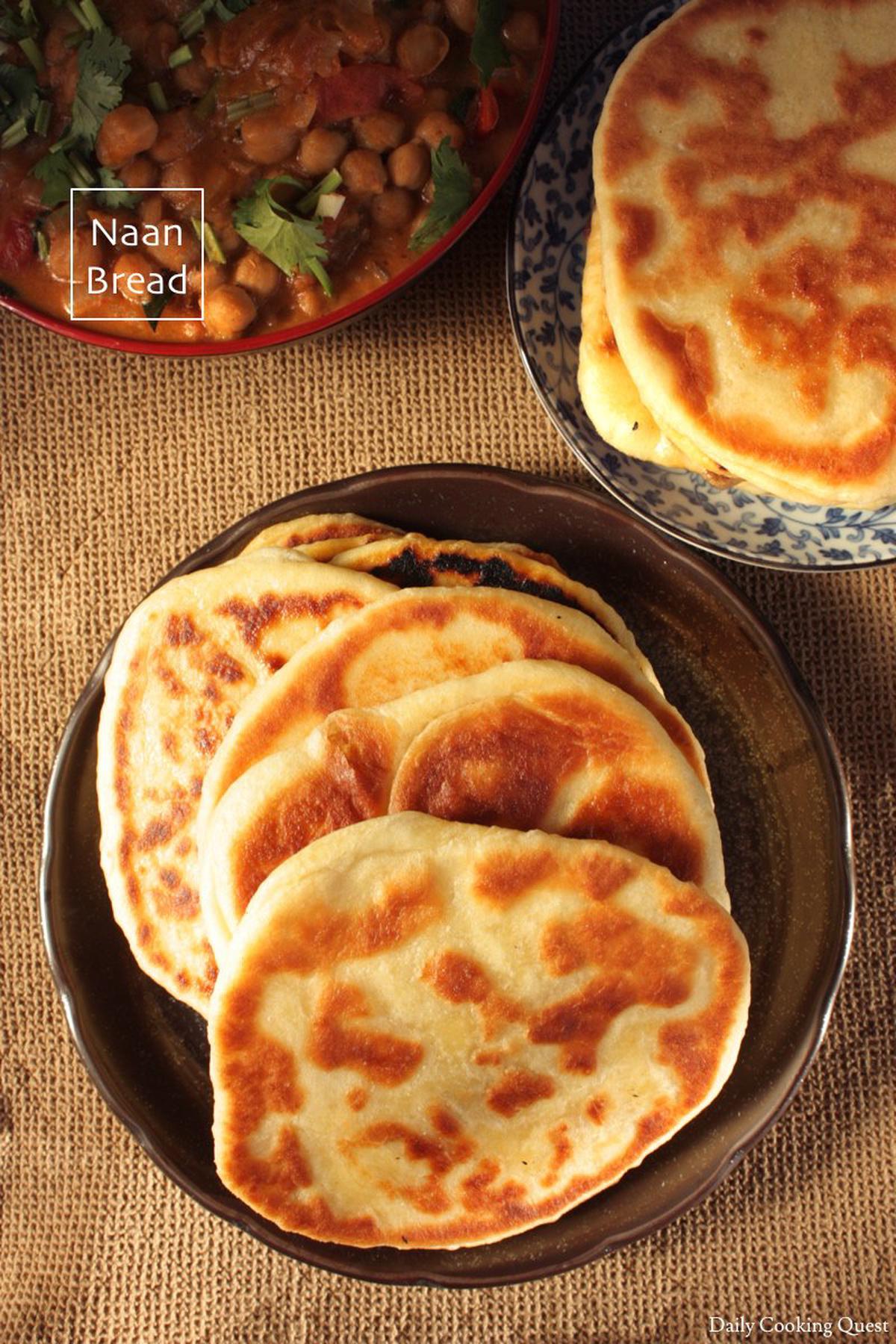 How much flour?
Every time I knead dough to make bread, the final amount of flour used seems to vary. If this is your first attempt at yeast bread, don't freak out. Each brand of flour behaves a bit differently, and depending on the humidity level of your kitchen, even the same brand can vary from time to time. The stated amount of flour in any yeast bread recipe is most likely the minimum you will need, though more likely than not, you will need to add a bit more (and sometimes a way bit more) for the dough to come together.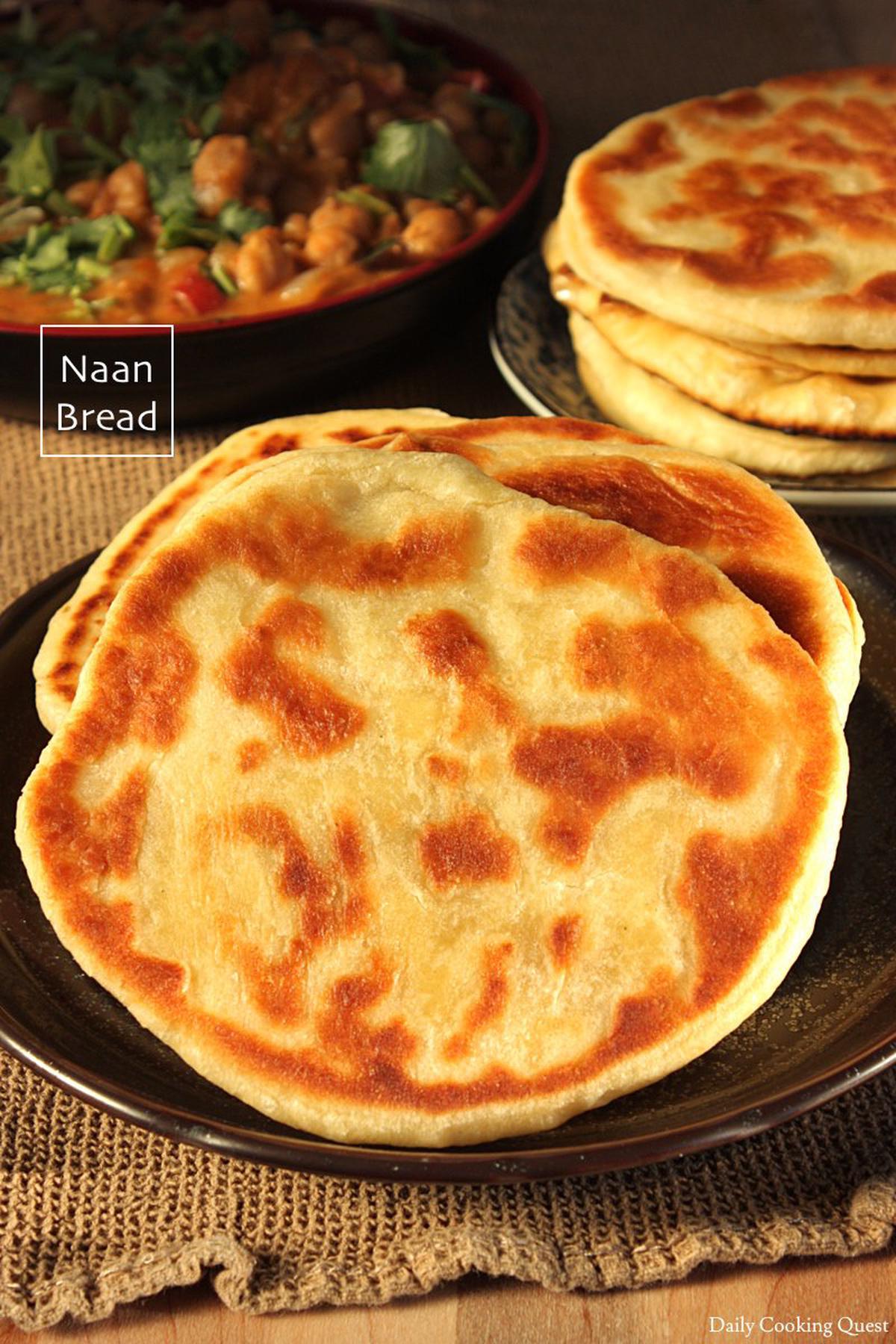 Heavy bottom frying pan or cast iron skillet?
You can cook your naan with either a heavy bottom frying pan or a cast iron skillet. From my experience, cast iron skillet gives a more charred look, but it produces a bit more smoke while cooking. If you decide to cook naan with a cast iron, make sure to crank up your exhaust to max, and open a window or two. In my current rental, my exhaust is this super tiny and weak version that comes attached to the bottom of a microwave. I was half way through cooking when I realized my apartment was full of smoke! Luckily it didn't trigger the fire alarm, but I switched to my heavy bottom frying pan, and it was smooth sailing. The only difference is that the version with heavy bottom frying pan is less charred compared to the cast iron version :)
The Recipe
Naan Bread
Ingredients
Naan dough
1/2 cup warm water (38 Celsius / 100 Fahrenheit)
2 teaspoon active dry yeast
1 teaspoon sugar
1/4 cup oil (olive/canola/vegetable)
1 egg
1/4 cup plain yoghurt (normal/greek)
300 - 400 gram all purpose flour
1/2 teaspoon salt
Other
olive oil (~ 12 teaspoon)
melted butter (~ 2 tablespoon)
Instructions
In a large mixing bowl, stir together warm water with active dry yeast and sugar. Rest for 5 to 10 minutes, or until foamy. Then whisk in oil, egg, and yoghurt.
In another large mixing bowl, place all purpose flour (start with 300 gram) and salt. Make a well, then pour in the yeast solution. Knead into a smooth, elastic, and non-sticky dough. You may need to add a little bit more flour if too sticky, a tablespoon at a time, and keep kneading until the dough is non sticky.
Place the dough in an oiled mixing bowl, and wrap with a wet kitchen towel or a saran plastic wrap. Let the dough proof until the volume is almost doubled. (*)
Once the dough has finished proofing, punch it down to release air bubbles, and knead again for 2 minutes. Divide the dough into 12 portions, each shape into a round ball.
Heat a teaspoon of oil in a heavy bottom frying pan over medium to medium high heat (or a cast iron skillet). Roll out one portion of dough at a time into a 5" circle, then add to the hot frying pan. Cook until the first side bubbles (~ 1 minute), then flip and cook another side (also about 1 minute). Repeat this step for the other 11 portions.
Once all naan bread are cooked, brush each with melted butter.
Notes
(*) In a warm kitchen, this should take about 45 minutes to 1 hour. In winter, you can make your very own proof box by preheating the oven to 200 Fahrenheit, then turn off the oven, and place your ready-to-proof dough in the oven. Whenever I do this, it takes about 40 minutes for the dough to rise.