Home / All Recipes / Chinese / Napa Cabbage and Tofu Soup
Napa Cabbage and Tofu Soup
A great soup starts with a great stock. With great stock at hand, even something really simple like napa cabbage and tofu soup can taste heavenly. For Chinese soup like this, I either use chicken stock or pork stock, both made with plenty of bones and ginger. I use pork stock for this recipe, but you can change it to chicken stock. If in a pinch, you can just use water for a vegetarian version. ♥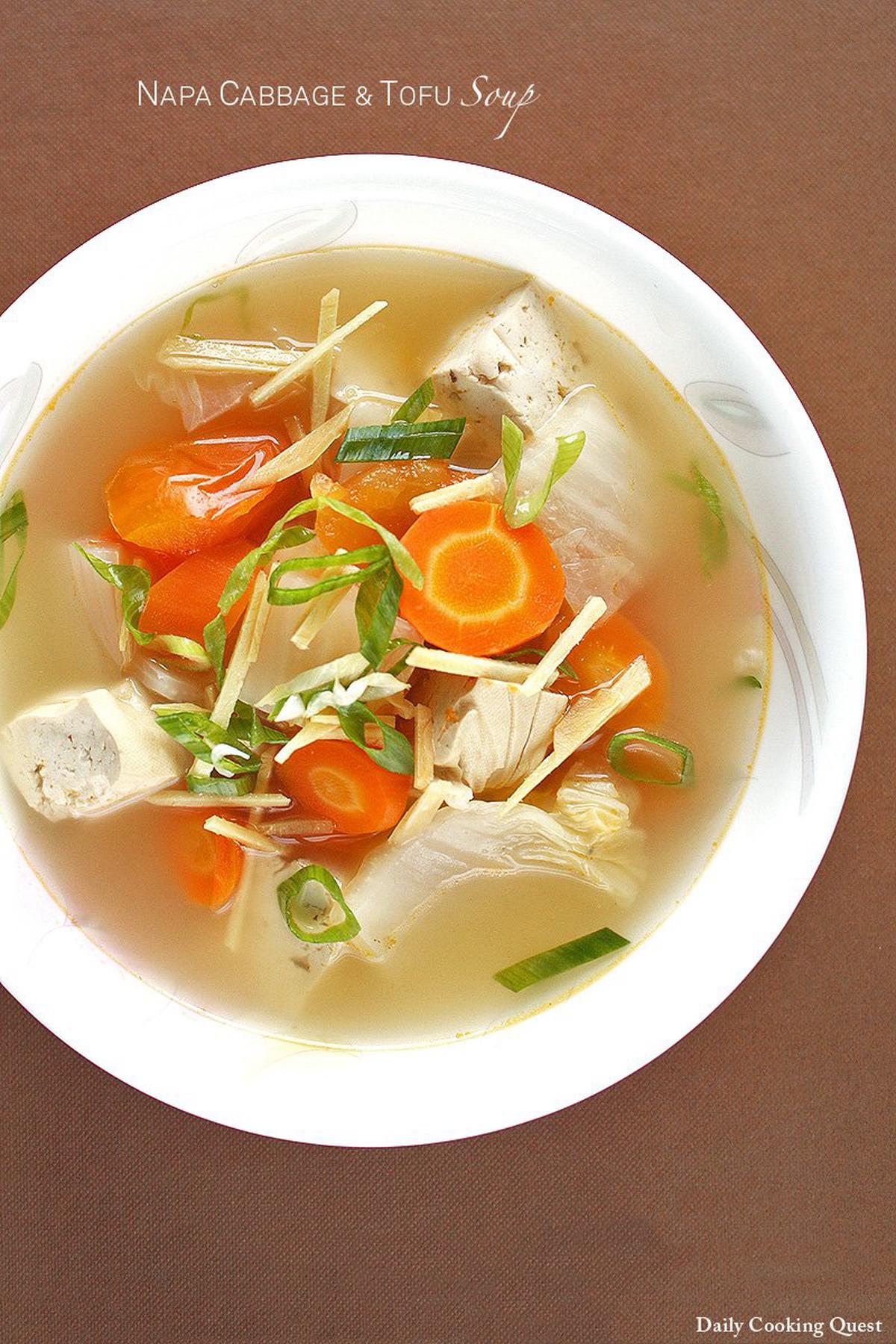 Napa Cabbage and Tofu Soup
5.0 from 1 reviews
Ingredients
500 gram pork bones
2 inch ginger, peeled and bruised
8 cups water
1 napa cabbage (about 800 gram), cut into 2 inch squares
2 carrots (about 200 gram), peeled and cut into wedges
2 tomatoes, cored and cut each into quarters
1 tablespoon salt
1/2 tablespoon sugar
1 firm tofu (about 300 gram), cut into 1 inch cubes
Garnish
2 scallions, thinly sliced diagonally
1 inch ginger, peeled and cut into match sticks
Instructions
Boil pork bones, ginger, and water in a big soup/stock pot. Reduce heat, cover, and simmer for 1 hour.
Remove the pork bones and ginger, then drain to remove scums and impurities from the stock. Return the stock to the pot.
Bring the stock back to a boil, add napa cabbage, carrots, and tomatoes. Season with salt and sugar, cook until carrots are tender and napa cabbage is almost translucent.
Add tofu cubes and cook for another 3 minutes. Adjust seasoning (salt and sugar) as needed. Turn off heat, serve hot and garnish with some scallions and ginger.